For affiliate links and as an Amazon Associate I earn from qualifying purchases.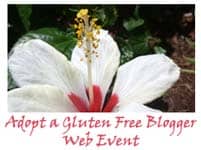 It's another month of Adopt a Gluten-Free Blogger, the gluten-free community event created by Sea (Book of Yum) (Unfortunately, Sea's blog is no longer operating.) The hardest thing about this adoption event is choosing who to adopt. There are so many great bloggers to choose from! (One doesn't have to adopt a gluten-free blogger, but the blogger does have to have a "gluten-free" category so that these recipes are searchable. Non-bloggers can also participate.)
Although I got a very slow start on participating in this long-standing event, I have participated as often as possible since my first adoption of Pete and Kelli Bronski of No Gluten, No Problem almost exactly a year ago.


This adoption makes my 10th and I decided to adopt Maggie of She Let Them Eat Cake (sadly, her blog is no longer active). Maggie and I met on Twitter and I felt an instant connection. She's a very positive, energetic, and sweet person who's so much fun to hang out with online.
Plus, the truth is I've always really liked the name Maggie. So today on a whim I looked up the definition of the name. I was so surprised to find out that the meaning of Maggie is actually a nickname of mine. (I won't tell you what that is; you can look it up if you like.) I guess Maggie and I are more connected than I thought—how cool!
But back to Maggie's blog … it's wonderful. Maggie's a big baker and has been since she was a little girl.
She's also a really terrific mom. Yes, I said terrific mom! Please don't be misled by her blog title. She Let Them Eat Cake is not an over-the-top, full of sugary, decadent sweets 24/7 type of blog. Not at all.
Maggie's family's health journey has them eating gluten free, dairy free, and egg free. Most of the time her recipes are also refined sugar free, too.
Her blog is full of great recipes that meet these requirements—recipes for things like bagels (yes, gluten-free, egg-free bagels that people love!), snack foods, cookies (like 12 Days of Christmas Cookies), and, of course, the cake featured in her blog name. How about Chocolate Almond Cupcakes happily decorated with a pirate theme (or a theme of your choice or just iced) for a little guy's birthday? Cupcakes are the thing now, but have always been "in" for kids' birthdays and school parties. Incidentally, along those lines, Maggie has a great post on Raising Gluten-Free Kids.
So which recipes of Maggie's did I make? Well, quite some time ago, Maggie shared an Almond Dream Milkshake recipe.
I wanted one on those shakes the moment I read her post title and then was completely smitten once I saw the photo. (Yes, you can be smitten with milkshakes!)
The ingredients definitely sounded like they'd make a dreamy liquid concoction—almond milk, almond butter, banana, and dates. I didn't have any almond butter or dates at the time, so months passed before I finally made this milkshake. But as the saying goes, the wait was so worth it!
When you are drinking this beautiful, luscious gluten-free, dairy-free, and refined sugar-free shake, you will definitely be the envy of others.
Oh, there is one problem though. Maggie says this recipe makes two shakes. I think she got that part wrong. As you can see from the photo, there was only enough for one! (We may all have learned about sharing in kindergarten, but we don't always have to practice it. Haha.)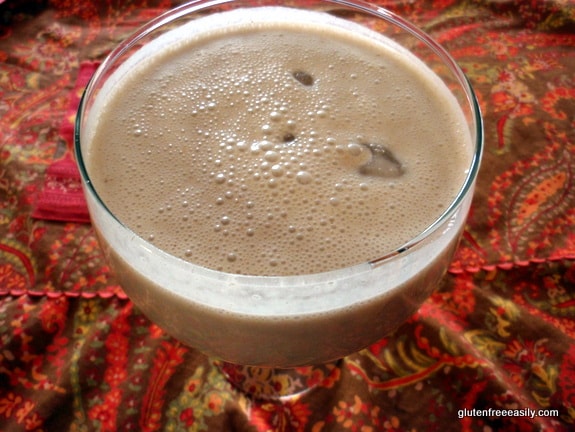 I also wanted to make one of the Maggie's cookie recipes. There are quite a few to choose from!
I was really tempted by her Quinoa Chocolate Chip Cookies as I've been keeping healthy quinoa flakes on hand, but in the end I couldn't resist making Maggie's Double Chocolate Chip Cookies.
On the one hand, one might think the only thing better than Chocolate Chip Cookies would be Double Chocolate Chip Cookies. However, truthfully, these were a bit of a gamble for me as I've never really liked chocolate cookies much.
Chocolate-covered or chocolate-dipped cookies, yes, but not always ones that have chocolate in the batter. Usually I need the contrast of a more vanilla type batter to make a chocolate chip cookie enjoyable for me. But Maggie's Double Chocolate Chip Cookies looked perfect, so I had to try them.
Verdict? Yes, they are perfect. Maybe it's the combination of coconut oil and dark chocolate chips that help make these cookies so good. They are so moist and of course "chocolatey," but not in a "death by chocolate" kind of way.
The chocolate in the cookie itself and the additional chocolate chips is not too much at all. I suspect it's balanced by the use of almond flour and the flax "eggs." I didn't want to grab one cookie after another like I often do, and Mr. GFE and I found these cookies only got better after sitting—always a sign of successful gluten-free baking!
Note: I cannot tolerate sorghum flour, and potato starch is not an ingredient I normally have on hand. So instead of Maggie's combination of sorghum flour, potato starch, and almond flour, I made a mix that equaled Maggie's total measurement of flour mix, but I used slightly more almond flour mixed with brown rice flour and cornstarch. That combo worked just fine.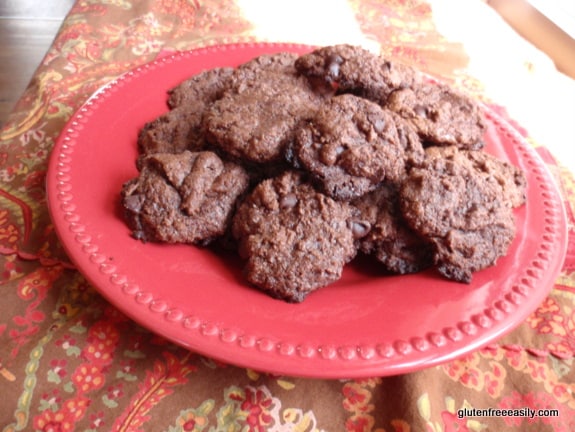 Last summer, I made Maggie's healthy, but decadent Chocolate Pudding (with a surprise ingredient!), but unfortunately I didn't take time to get a photo. And honestly, I could have made many more recipes of Maggie's for this adoption, but I'll save some for the future.
Veggie Chili, Roasted Carrot Hummus, and Almond Sesame Crackers top the list. See … I told you my nickname "twin" is about more than sugary desserts!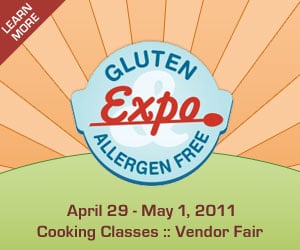 I'm hoping to meet Maggie at the Gluten-Free and Allergen-Free Expo in just a few weeks! And Maggie is hosting this month's Go Ahead Honey, It's Gluten Free carnival. Her theme is Springtime Brunches.
FYI–My other previous Adopt A Gluten-Free Blogger adoptions are shown in last month's adoption of Zoe (Z's Cup of Tea). Check that adoption out as well as all the rest. I haven't had a bad one yet! In fact, many of the recipes I've tried through my adoptions have made it into our regular menus; that says a lot.
Originally published April 5, 2011; updated August 3, 2023.