For affiliate links and as an Amazon Associate I earn from qualifying purchases.
This post is linked to Gluten-Free Wednesdays.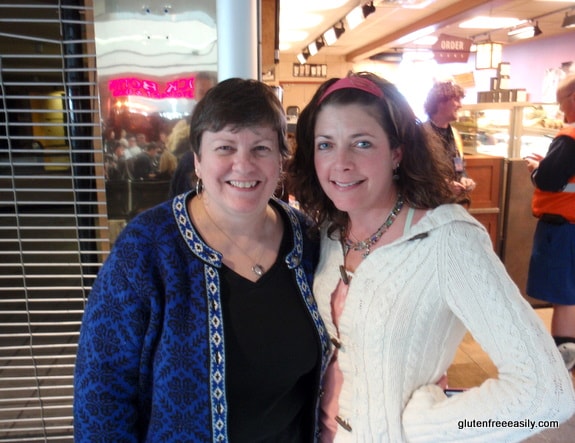 Me and Jules Shepard
Recently I was at BWI (the airport in Baltimore), waiting to fly out west to meet up with some friends for the weekend. It was a Southwest flight so I was watching everyone queue up well ahead of time. I was in group B, so I knew I had some waiting left. I was people watching as I always do at airports. Yes, sometimes I'm on my mini-netbook (which is love for travel!), but usually I'm people watching. A woman with a pink headband caught my eye. Pink headband and shoulder-length curly hair, casually dressed in jeans, a pink top, and a white sweater. A petite, cute, and friendly-looking gal. Something about her struck me as familiar. Very familiar, in fact. I realized that she looked like my friend, Jules, of Jules Gluten-Free Flour and Jules Speaks Gluten Free. However, I couldn't be sure it was Jules because I'd never met her in person before. We'd only chatted online and via email, so all I had to go on was the small photo on her sites and her adorable caricature in her email signature.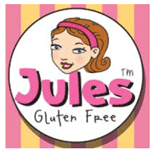 Then my mind started working, looking for confirmation that it was actually Jules. Jules lives near Baltimore, so she'd be flying out of BWI. But we'd just been chatting a lot online and I didn't remember her mentioning a trip. Finally, I decided I had to say something to this lady to see if she was really Jules. After all, if it was Jules, I didn't want to miss the opportunity to meet her. Plus what possible harm would it do to go over and see if it was actually Jules? If I was right, it would be absolutely wonderful to meet her in person! If it was wrong, I'd never see this "Jules twin" again and wouldn't really care if I made a fool of myself, I rationalized. I headed over and looked her right in the face. By then I was almost totally certain that it was indeed Jules, but still I said tentatively, "Excuse me, but are you Jules?" She smiled and looked at me seeking recognition in my face. I quickly said, "I'm Shirley Braden." So, of course, we hugged and started explaining where we were headed and why we were traveling.
It turned out that my final destination was going to be Jules' first stop. She was headed to the Expo West (the full name is Natural Products Expo West, but everyone calls it Expo West) in Anaheim, CA. Expo West, in simple terms, is a huge vendor fair. Jules was showcasing her Jules Gluten-Free Flour mix and had made hundreds of muffins for folks to sample. (And yes, they were all in her checked suitcase! Incidentally, Jules did a series of six posts on all the great gluten-free products she found at Expo West. The first one is here.) It was almost time for Jules to board and she was in the first group to board, so she said she'd save me a seat. (You can do that on Southwest, especially since the middle seats always go last.) A few minutes later I was seated beside her and we talked nonstop during the whole flight. The only moments we weren't talking was when we were eating her homemade snack mix (very good!) or sharing the pecans I'd brought with me. It was a delightful time for sure, but we also discussed some serious gluten-free concerns of ours, which led to some sharing of "insider info" by Jules.
Specifically, Jules gave me a brief heads up on the upcoming First Gluten-Free Labeling Summit, for which she is one of the co-founders. (John Forberger, a gluten-free triathlete is the other.) Because this info had not yet been released to the public, she told me just a little about the event, but I was every bit as excited as she was! Since that time the info on the Summit has been released, first via social media (and I shared immediately!) and finally this last week in an official press release for all outlets. So read on and then go sign the petition that goes to the Kathleen Sebelius, Secretary of U.S. Department of Health & Human Services; contact your Congresspersons to get them onboard; and even make a donation if you can. As I indicated in the title of this post, there's cake involved! It's gluten-free cake—score! Oh, and it's the largest gluten-free cake ever—fun stuff! Gluten-free cake and the passing of the requirements for a "gluten-free" label are indeed a very big deal!
I'm a firm believer in karma. Jules and I were meant to be on that plane together last month. And if you are wondering, she's every bit as wonderful as she seems to be! I appreciate her as a personal friend and I applaud her commitment to ensuring that gluten-free people can eat safely. But there was one more bit of "coincidence"  that day (although there are NO coincidences, right?) … a young man was sitting to the right of us on the plane. At the end of our flight, he told us that he'd been listening to our entire conversation. He explained that he's a medical student at George Washington University and had just last week learned about celiac disease. He proceeded to ask us many questions (which we happily answered; no, we are not medical professionals, but we are informed). He even hung around to take the photo above when we all got off the plane. Very cool! Now let's get to that cake and the icing that's needed for it … shall we?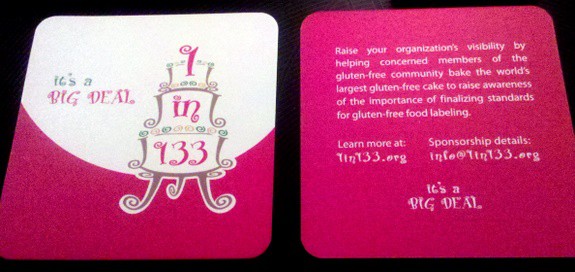 World's Largest Gluten-Free Cake Needs Icing of Long-Overdue FDA Labeling Regulations

Community leaders, food manufacturers, and researchers convening in DC for gluten-free labeling summit …

Prominent members of the burgeoning gluten-free community announced
today a collaborative "1in133" event on May 4 to bake the world's
largest gluten-free cake as part of an effort to draw attention to the
Food and Drug Administration's (FDA) delay in finalizing standards for
gluten-free food labeling. The name is derived from the fact that one
in every 133 people in the U.S. suffers from celiac disease or a
gluten intolerance issue.

To kick-off Celiac Awareness Month – globally recognized in May – the
1in133 event is being hosted at the Washington, D.C., Embassy Suites
Convention Center on May 4 and will culminate with a V.I.P. reception
for federal lawmakers, concerned members and friends of the
gluten-free community and gluten-free food manufacturers. With
pre-eminent guest speakers and information on a petition advocating
for the FDA to take action on determining a gluten-free food-labeling
standard, the 1in133 event will reinforce the need for such standards
and pressure the FDA to take action.

"This is a very serious autoimmune disease," cautions Dr. Alessio
Fasano of the University of Maryland Center for Celiac Research. "It
deserves equally serious food labeling laws."

Fasano, one of the world's leading researchers in celiac disease and a
leading proponent of a federally mandated gluten-free standard, will
attend as the 1in133 event's guest speaker.

Seven years ago the FDA was tasked with developing and implementing
such standards as part of the Food Allergen Labeling and Consumer
Protection Act (FALCPA). The delay in implementation and lack of
labeling rules has left millions of Americans with celiac disease and
gluten intolerance at risk of illness from contaminated food.

Currently, U.S. food manufacturers can claim "gluten-free" on product
labels without appropriately informing consumers if a product is truly
free of all potentially harmful ingredients. As a burgeoning market —
$560 million in sales in 2004 and projected sales of approximately
$2.6 billion in 2012 — gluten-free food products have brought many
newcomers to the space claiming gluten-free status on their labels
while not necessarily removing all potential allergens. Other
manufacturers are reluctant to label their products "gluten-free"
because there is no accepted standard. This disparate situation leaves
consumers who eat gluten-free to guess which products are actually
safe for consumption.

FALCPA was passed to protect food-allergic and celiac patients from
having to decipher ingredient labels through sometimes harmful trial
and error efforts. The law, which requires the top eight allergens to
be clearly listed on ingredient statements, did not require disclosure
of barley or rye, the other grains that are toxic to those with celiac
disease and other gluten sensitivities. The 2004 mandate for the FDA
to develop and implement gluten-free food labeling requirements would
fill that void.

The 1in133 event is the brainchild of Jules Shepard, noted gluten-free
author, baking expert and celiac community advocate, and John
Forberger, a winning gluten-free tri-athlete and active blogger. Event
sponsors include Whole Foods Market, The University of Maryland Center
for Celiac Research, The University of Chicago Celiac Disease Center,
the Gluten Intolerance Group of North America, Celiac Disease Center
at Columbia University and others. Event coordination is contributed
by Aaron E. Flores, Executive Chef, Embassy Suites D.C. Convention
Center."
A few additional notes: I've talked about Jules Shepard several times before here at gfe, most recently reviewing her great new cookbook, Free For All Cooking. John Forberger is the Philadelphia Triatholon Examiner and also authors the site, Celiac Secrets. You may remember "Chef Aaron," as he's kindly called, from his tenure with Disney (where he ensured that gluten-free visitors could eat safely, a record that continues today) and his numerous appearances at national gluten-free events. I won't be able to attend this Summit as I will be returning from presenting at the Gluten Free and Allergen Free Expo and subsequently visiting a dear friend outside Chicago, so unfortunately I won't be back in time. I'm asking as many of you as possible to go in my place. 😉 Even if you can't make it to D.C., please take a second right now to visit www.1in133.org to add your voice (and more) to support this historic event. Again, it's a BIG DEAL!