This post may contain affiliate links. If you purchase through them, your cost will stay the same, but gfe will receive a few cents for every dollar spent. Thanks for supporting gfe!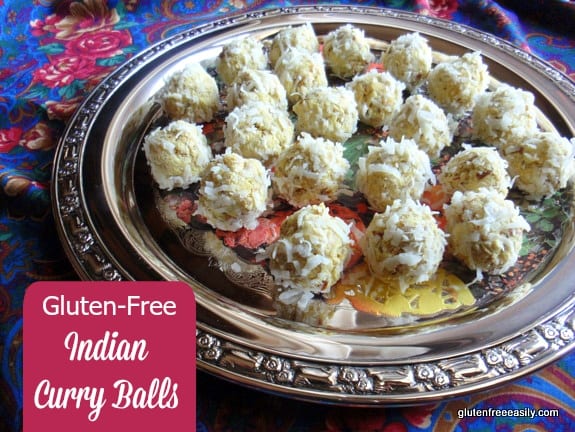 One of my support group members, Joy, brought an appetizer—Indian Curry Balls—to our holiday meeting. These little bites were attractive, very tasty, and very well received! When I was trying to come up with an entry for Maggie's (She Let The Eat Cake) theme of Foods That Heal for this month's Go Ahead Honey, It's Gluten Free! event, I thought of Joy's recipe. The ingredients (which I'm listing in order of weight, as is done on manufacturers' labels) were chicken, almonds, coconut, cream cheese, chutney, mayonnaise, curry powder, and salt. While not all of those ingredients stand out as healing foods, some of them certainly do.
I thought I'd share Joy's recipe today with my slight adaptation and then a second version I made using chickpeas (garbanzo beans) and a few other adaptations I used to make these Indian Curry Balls both dairy free and vegan. I took these Indian Curry Balls to work to share with my co-workers and then shared some with Mr. GFE for an appetizer later that evening; both versions got two thumbs up from all! I'd happily serve either or both for any holiday event or celebration of any type (maybe even Friday night qualifies, huh?). In fact, I've already added these Indian Curry Balls to my menu for our biennial Valentines Day's party, to be held next in 2013!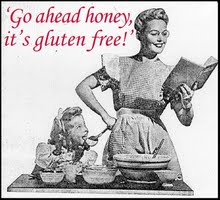 Before we get to the recipes themselves, let's explore their Foods that Heal components. We'll talk about the healing ingredients in both versions of this recipe. In the first version, Chicken is the star. It's long been lauded for its healing powers in chicken soup; actual research shows the claims are true. "Researchers also suspect that part of the healing power of chicken soup lies in the bird itself. Chicken contains a natural amino acid called cysteine, which is chemically very similar to a drug called acetylcysteine. Doctors use acetylcysteine to treat people with bronchitis and other respiratory infections." Chicken also contains vitamins and nutrients such as niacin, selenium, and B that offer protection from cancer, Alzheimer, and cognitive decline, and ensure cardiovascular health.
Almonds … so many of us love them! They're a high-fat food—monosaturated fats—that are really good for your health. Read all about the benefits of almonds here.
Curry Powder is comprised of many healing spices. Curry powder contains turmeric, which in turn contains curcumin. It's the curcumin that offers the most benefits. It's a super nutrient and natural polyphenol, which you can read all about here. (Note that there are curcumin supplements, but the optimum benefits come from ingesting curcumin through food.)  But the most important thing to know is that adding a 1/4 to 1/2 teaspoon of curry powder to your favorite food "provides a layer of antibacterial and anti-inflammatory properties. All the various components of curry also provide antioxidants such as vitamins C and E, which are key nutrients in supporting the immune system."
So the two versions of this recipe have you covered! A little side note … for a long time, I was resistant to Indian food. It was Diane's hosting event for Go Ahead Honey a while back with the theme Scared Silly that had me come of my hiding place and try curry.  I made a dish that I called Bombay Potatoes Meet Chickpeas Tomato Curry. Boy, how silly I was … now I'm a curry fan! Did you know that you can use curry in sweet goods, too? Check out these Peanut Butter Cookies Scented with Curry over at Monica's (A Life of Spice) blog! (Note that this cookie recipe is not gluten free, but could easily be adapted.)
Raw Coconut Flakes are made from coconut meat and contain a large amount of saturated fat, but these fats are medium chain fatty acids. Medium chain fatty acids are broken down much faster than long chain fatty acids, so they do not contribute to high cholesterol, as long chain fatty acids do. In fact, according to "The Philippine Journal of Cardiology," the fat in coconut may possibly help to lower bad cholesterol levels and increase good cholesterol levels. 
In the second version, my beloved Chickpeas (Garbanzo Beans) "rule." Chickpeas provide an excellent source of molybdenum, a trace mineral that is needed to detoxify sulfites. "Sulfite-sensitive folks who are deficient in molybdenum may experience symptoms such as headaches, a racing heartbeat, or confusion." Molybdenum also has a role in dental health. Chickpeas are a very good source of folic acid, fiber, manganese, protein, iron, copper, zinc, and magnesium. Because of the fiber they provide, chickpeas can also help lower cholesterol and improve blood sugar levels.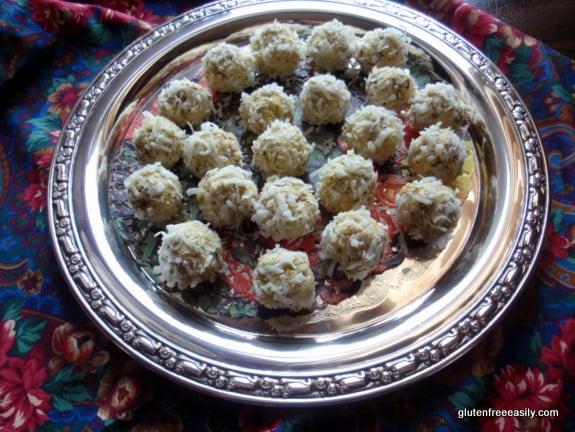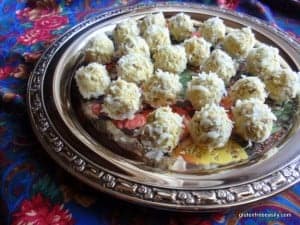 Print
Joy's Indian Chicken Curry Balls
This recipe is slightly adapted.
Ingredients
4 ounces cream cheese, slightly softened
1 ½ tsp jam (your choice of flavors) and 1 ½ tsp gluten-free Worcestershire sauce (or substitute 1 tbsp chopped chutney, or amounts to taste, in place of the jam and the Worcestershire sauce)
2 tbsp mayonnaise (soy-free Vegenaise works well for a soy-free option)
½ tsp salt
1 cup chicken (or turkey), cooked and chopped
1 tsp curry powder (or more, to taste)
1 cup slivered almonds
½ cup grated unsweetened coconut/coconut flakes (see notes)
Instructions
Add softened cream cheese and mayonnaise to a large bowl.
Beat together using a wooden spoon.
Add chicken. Add slivered almonds (crumbling some with the wooden spoon as you stir). Add jam and Worcestershire (or chutney), salt, and curry powder.
Shape into walnut-size balls.
Roll balls in coconut. Chill.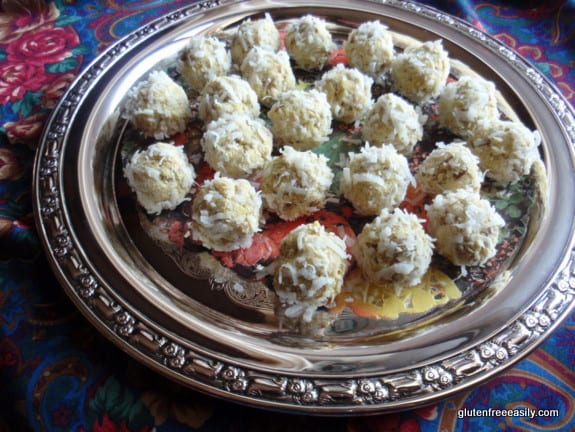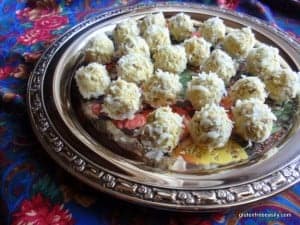 Print
My Indian Chickpea (Garbanzo Bean) Curry Balls
Ingredients
1/4 cup vegan mayonnaise (I used soy-free Vegenaise)
1 ½ tsp jam (your choice of flavors) AND 1 ½ tsp gluten-free Worcestershire sauce (or 1 tbsp chopped chutney; or additional amounts to taste of either, in place of the jam and the Worcestershire sauce)
2 tbsp coconut cream (cream skimmed off top of canned coconut milk after sitting in fridge for 24 hours)
½ tsp salt
1 tsp curry powder (or more to taste; I used more for this version)
1 cup chickpeas (e.g., canned chickpeas, rinsed and drained), hand mashed pretty well or run through food processor some
1 cup slivered almonds
1 cup blanched almond flour (more or less as needed)
½ cup grated unsweetened coconut/coconut flakes (see notes for additional info)
Instructions
In a large bowl, stir together mayonnaise, jam, Worcestershire sauce, coconut cream, salt, and curry powder.
Add chickpeas.
Add slivered almonds (crumbling some with the wooden spoon as you stir).
Add blanched almond flour. Start with half a cup; add more as needed.
Mix well. Remove some of the mixture for tasting. Add additional jam and Worcestershire sauce (or chutney), and/or curry powder to taste if needed.
Shape into walnut-size balls. Roll in coconut. Chill.
Notes
Use whatever jam, jelly, preserves you have on hand. I had two tiny gift jars of jam. (You know … the ones that only contain about 1 to 1 ½ ounces.) I used the Red Raspberry & Pomegranate flavor in the Chicken Curry Balls and the Raspberry Peach Champagne Jam in the Chickpea Curry Balls. Use unsweetened coconut, sweetened coconut, or a combination of unsweetened and sweetened coconut to coat the balls. I grated my coconut flakes more finely in my mini-chopper so they would adhere better. Chickpeas are not as firm as chicken so more "structure" may be needed; adjust amount of almond flour as needed. I used more curry powder in the vegan version as the chickpeas were not as flavorful as the chicken I had baked in coconut oil with a sprinkling of salt and pepper. Because chickpeas are less firm than chicken, the vegan version requires more chilling time. In appearance, both versions look identical unless you use more curry powder in one over the other and then the version with more curry powder will have a darker yellow color because of the turmeric in the curry powder.