For affiliate links and as an Amazon Associate I earn from qualifying purchases.
Hydration. Yes, that's the topic of the final week of Hallie's (Daily Bites; sadly, this site is no longer active) New Year, New You! event, which she has co-hosted with Lexie (formerly of Lexie's Kitchen, now of Flo and Grace) this month. I hope you've been following along each week. A bevy of fantastic bloggers have provided some truly terrific posts—all designed to help each of you transition to the best new you that you can be! We're all right there with you, too. The previous topics were Eat More Produce, Snack Smart, Swap Your Sweeteners, and today's topic Stay Hydrated with My Two Favorite Solutions—all factors we need to consider when trying to "revamp" ourselves or simply make sure we stay on the right track.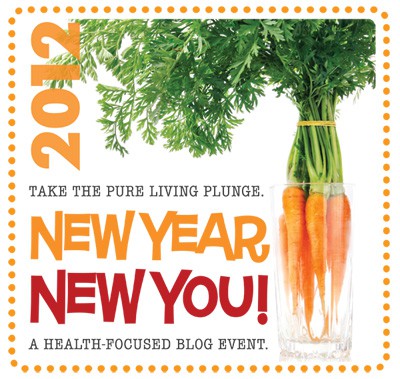 When Hallie asked me a while back if I'd join the event and write on this topic, I couldn't have been more thrilled. This topic of hydration is one that was made for me. Oh, wait, I should tell you that this is going to be a long post .. even by my standards. You might want to grab some water or a cup of tea before you start reading. In other words, hydrate while you read about hydrating! Ad interestingly enough, since I agreed to share my thoughts on hydration, all kinds of information on the importance of hydration and hydration "tools" have been magically appearing via a multitude of sources! I'll share several today, but first let me tell you about my first thoughts when I agreed to post on hydration.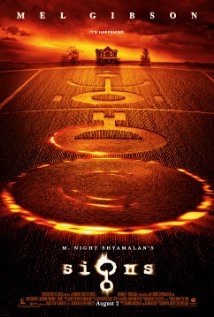 I flashed back to the movie Signs and a comment that Son had made to me at the time. Do you remember that particular M. Night Shyamalan movie from several years back (2002 to be exact)? The Hess family has mysterious crop circles appear in its farm's fields. Then crop signs start appearing elsewhere in the world, one after another. Animals, including the family's own dog, start behaving very oddly. As the story progresses, there are many more signs and they all point to something very frightening … aliens. What does this all have to do with hydration? In the movie, the daughter Bo, played by Abigail Breslin, has unfinished glasses of water everywhere, which somewhat perplexes the other members of her family. In fact, she has an outright fixation on water. Ironically, at the climax of the movie, it's that very water, gathered from all those half-empty glasses, that allows the family to destroy the aliens. Far-fetched? Yes, but most movies are, aren't they?
Here's Bo's (Breslin's) most famous line in the movie:
"There's a monster outside my room, can I have a glass of water?"
Hearing that line or even thinking of it makes me laugh every time. But hey, water is important!
The trailer for the movie, which includes that scene and much more, still gets my heart pounding! Watch it if you love scary stuff and/or need an adrenaline rush! About 1:20 in, you can hear Bo's famous "water quote." The trailer also includes a bit more dialogue between "Bo" and her father, which makes me chuckle a bit more. She also talks about "contamination," which I'll address later (and for once this contamination has nothing to do with gluten).
But wait, there's more. As we were leaving the movie theater from seeing Signs years ago, Son commented that I was like the girl in the movie. Surprisingly, I didn't immediately get what he meant. He said, "Mom, you have glasses of water everywhere."
Wow. He was right. And guess what? That's still true now. I have water on the end table beside me. I have water on my nightstand. I have water on the counter where I take my supplements. At work, I have a water bottle. In the car, I have a water bottle. It's not just containers for water, I often have a mug of half-finished tea to be drunk, both at home and at work.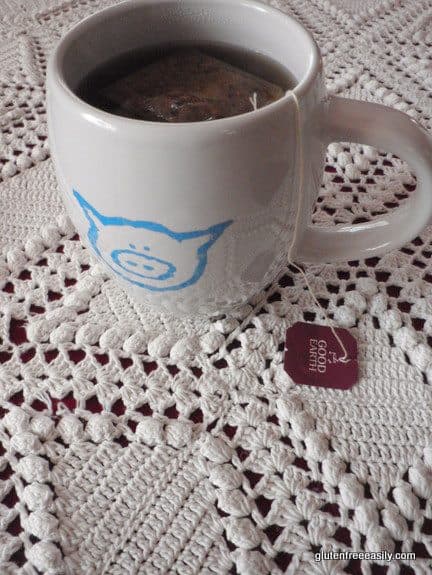 I like having liquid refreshments readily available. Having the right ones on hand is a major requirement if one wants to stay hydrated properly. But I gather up my glasses and mugs at the end of each day because otherwise they get "contaminated," or as Bo said in the movie, "it tastes old." Art imitates life, or life imitates art? But I digress.
The temperature of the beverage usually doesn't matter to me. Tea usually starts out hot but if I get distracted and my tea is room temperature when I come back to it, that's fine, too. Or maybe I add a few ice cubes and make it iced tea at that point. Sometimes I have three different beverages going, a trio of beverages on coasters in a line.
And while I'm flexible on the temperature of my beverages, when it comes to the containers themselves? Not so much. Even before everyone was made aware of Bisphenol A (BPA) concerns, I have always detested drinking out of plastic containers. BPA-free or not, I'm not a fan of plastic. Ideally, I want true glasses or ceramic mugs to house my liquids. The beverages taste better, especially the water.
By the way, I come by my love of water. I grew up in a home where something to drink almost always came from a big glass pitcher in the refrigerator—"ice water." Simply water that was chilled. When my dad comes to visit on a hot day and inevitably ends up helping up out with a task or two, when I ask him what he'd like to drink, he almost always responds "I'll take a glass of ice water, please."
While my house has water vessels everywhere, I like to have a full bottle of water with me for travel, when it's possible (airports excluded of course). My current water bottle is one that I won from a giveaway over at Alison's Sure Living site. It's a Lifefactory bottle. Alison's husband works for Lifefactory and she gave away several at once.
Lifefactory bottles definitely meet my standards! The bottle itself is glass, the attractive outer covering and tops are plastic, but BPA-free plastic. Specifically, they're silicone sleeves.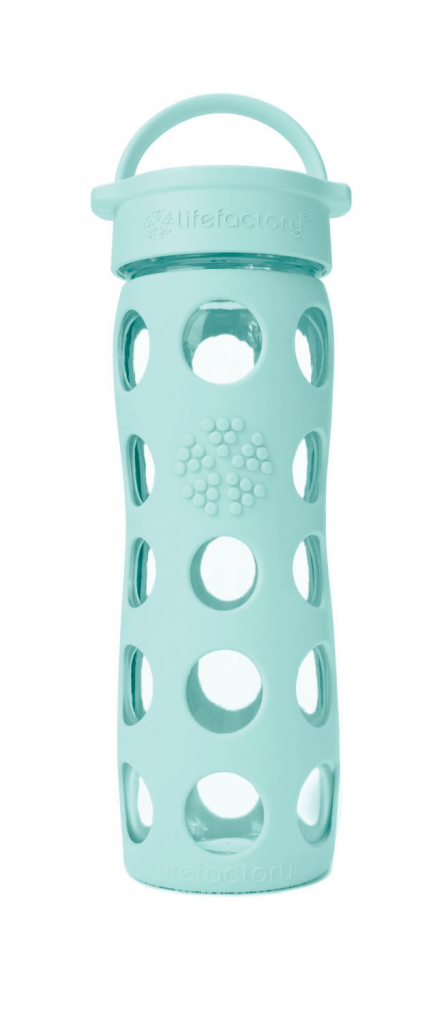 But if for some reason, Lifefactory bottles don't appeal, there are several other wonderful bottle options. How about a very cool eco-friendly Bamboo Bottle? Son sent me the link on this one. (Unfortunately, this company no longer seems to be in business but there are several other companies that make bamboo water bottles in existence today.) I love its look and the specs are great, too.
He said the Lifefactory bottle was too feminine for him so he ordered a Bamboo Bottle. A somewhat outdated statistic shared on Bamboo Bottle's blog is that Americans throw away 2.5 million plastic bottles every hour. That number is staggering.
I think using our own water bottles whenever possible just makes sense. I even noticed that Hallie had her Lifefactory bottle with her when we met at the Gluten-Free and Allergen-Free Expo last year. Emptying it out and carrying it in one's travel bag does make sense. I do drink from whatever is available when I am on travel, but I know I'd feel a whole lot better not using plastic bottles or Styrofoam cups at conference sessions or in my room. (Note: I still won't fill my bottle from a water fountain though. It only takes seeing one person put his mouth on those to make me steer clear. Ewww.)

Another big concern I have with water is not just the container I store it in, but what's actually in the water when it comes out of the faucet. Contamination concerns. Or what I'm told is "safe" is not safe in my eyes. Those concerns hold true for my water at home, too. Even though we're in a rural area, we're also in a subdivision and have public water. I am not fond of it. At all.
The water gets tested periodically and we get reports from the VA State Health Department. I'm pretty sure that the timing of our water smelling like chlorine correlates with the state's testing schedule. Chlorine will evaporate out of water (as Kim mentioned in her terrific post on Making Water Kefir), but there's much more I'm concerned about. We religiously use a Pur pitcher water filtration system, which admittedly makes a big difference in taste and smell, and while I know that it effectively removes much that is undesirable, there's still a lot left in our water that I don't want in my body. Luckily, there is a far, far better solution on the market. The Berkey Walter Filter System. Read my review of the Berkey that's designed for smaller families and travel situations.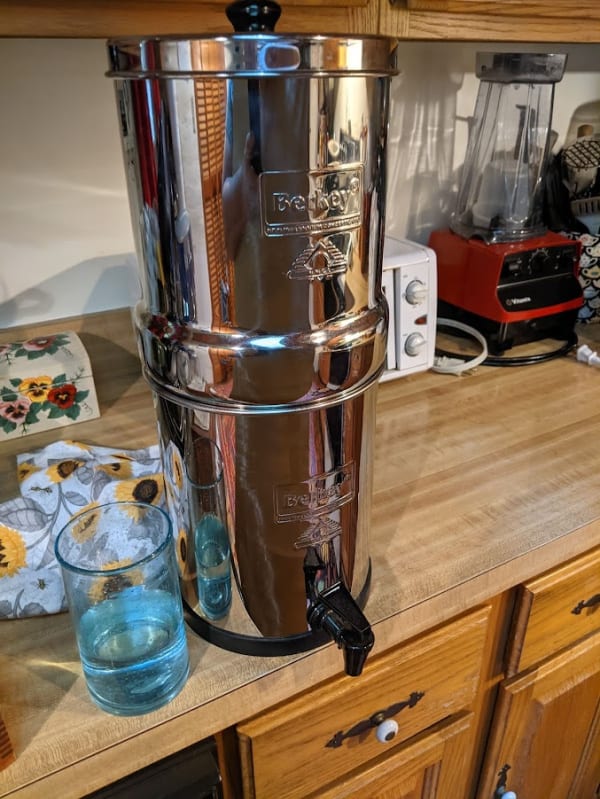 Now I've talked a lot about water and my own obsessions and methods of storing it, how I like to drink it, etc., but how much do we actually need to drink each day? Comments from medical personnel in response to a recent study in The Journal of Nutrition stated that "For most healthy people, six to eight glasses of 8 ounces of water a day is what we recommend." The doctor went on to say that "The effects of even mild dehydration are likely to be even more pronounced in high-risk groups, such as the elderly and young children."
I've also seen direction on using your body weight as a guide, dividing that number by two and drinking that many ounces of water each day. So if you weigh 150 pounds, drink about 75 ounces of water daily. Now some of you are thinking "hey, wait a minute, I heard TV Dr. X say that was a myth." Yes, I've heard it, too, but I don't believe it and here's why.
Immediately after some television doctors tell you that no, you really don't need that much water, you can get your fluids from other sources," they go on to say, "like sodas and sports drinks, or from the foods you eat." Well, to me and many others, that totally discounts what they are saying.
Sodas and sports drinks are not necessarily good sources of hydration. First of all, sodas usually come with high amounts of caffeine. Even if they are caffeine free, there are high amounts of sugar or artificial sweeteners (which are far worse in my opinion and that of many others) and they often are heavy on artificial coloring and food dyes. And while we do get hydration from the foods we eat, unless you are eating ample amounts of fruits and vegetables, you are not getting much.
Think about typical Standard American Diet meals; there's really not much in the way of hydration. Clearly, sodas, sports drinks, and most meals are not good choices for hydration, so those statements on the amount of hydration needed being a myth get discounted in my opinion when you consider those details.
The "takeaway" from the study I mentioned was the following: "In a new study of 25 healthy women, mild dehydration dampened moods, increased fatigue, and led to headaches." Mr. GFE and Son have both definitely noted that I must have my water and other beverages to be a really nice, happy person. Maybe that's why they don't mind my water containers everywhere. You can see a high-level summary of the study titled, "Even Mild Dehydration May Cause Emotional, Physical Problems" here on Medscape. (Note: You may have to register to see the article; registration is free.) The article also mentions that a similar study was conducted on men some time ago and the results were pretty much the same. Even mild dehydration affects us adversely.
The article also reiterated other points that I've also heard discounted, namely that thirst indicates dehydration and that urine color can act as an alert for your hydration level. "You are often already dehydrated once you become thirsty, but subtle cues like a headache and/or fatigue can be your body's way of telling you to drink more water, Armstrong says." Knowing the signs of dehydration can also keep you out of the danger zone. Another sign is dark urine. "Your urine should be a light yellow color," states Dr. Robert Glatter, an emergency medicine physician. There are a few exceptions stated in the article (individuals with congestive heart failure and others with certain kinds of kidney disease may want to limit their fluid intake and should consult with their doctors on how much they should drink), but most of us do not fit into those categories.
Although our skin does not usually come to mind when we think of our body's organs, it's our largest organ. Many beauties when asked how they keep their skin so beautiful will tell you that they are fastidious about getting enough water. That's another statement that gets shot down by the myth-buster tv doctors, but you may have noticed when looking at your own face in the mirror, that it looks healthier (and happier!) and is more likely to glow when your body receives adequate and nourishing hydration.
Dr. Christine Doherty, who so graciously shared her Super Juice recipe with us here on gfe, says that she often is told that her skin glows. If you take a look at her photo, I think you'll agree. And who wouldn't want to hear that?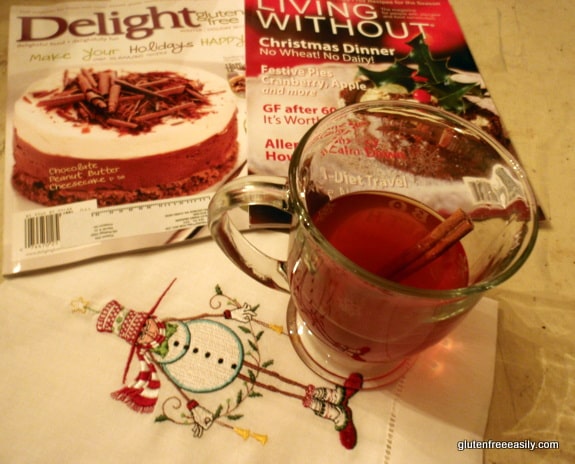 Dr. Christine Doherty's Super Juice
I've actually had an allergist personally tell me that many of his patients' seasonal allergies and sinus issues would be greatly improved or even alleviated if they consumed adequate amounts of water, as well as other healthy, non-caffeinated, sugar-free, artificial sweetener-free beverages. And when we share our detox tips and recipes for blog events such as our Eat Fresh and D-Tox Your Life, those are exactly the liquids (and recipes made from them) that come into play.
As I was thinking about writing this post I was thinking about water and other beverages, plus fruits and vegetables that contribute to hydration … the juicy apple, the refreshing cucumber, and more. But I was largely focused on whole foods. Then I posted a photo of my "Pantry" Black Bean, Corn, and Salsa Soup on my gfe Facebook page. One pregnant reader, Jennifer, instantly replied that she had been suffering from morning sickness and was relying on soups for her hydration; she asked me to share my recipe as soon as possible. I was very sorry to hear that she was suffering so, but at the same time, I was so grateful that she'd found a strategy to stay hydrated and that she offered that reminder to all my readers.
I hadn't thought of hydration from soups for this post, but simple, healthy broths and soups are certainly a great way to get hydrated. When I've been very ill in the past, often that mug of chicken or even vegetable broth hydrates me and gives me just enough nourishment to be able to rest well and heal better.
Some people say that they forget to drink their water or to hydrate with other good beverages or sources of liquid. That is obviously never true of me from my beverage fixation. I only don't get my liquids in when I have no access to them. However, if you have an issue with forgetting, one tip I've read that makes sense is to drink a glass of water, etc. on the hour. If the clock strikes 8 o'clock, 9 o'clock, etc., it's time to have another glass or mug! If you're not tuned into the time that keenly, set the alarm on your cell phone.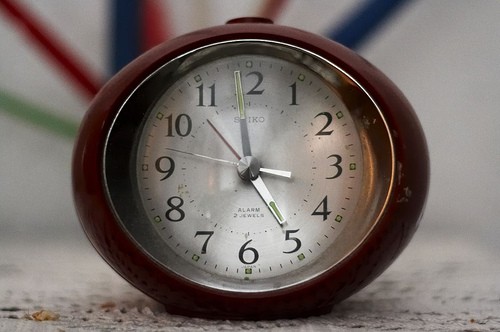 photo credit: Antonia MartiNez on Flickr
Now while others have been sharing some great recipes to keep you hydrated for this event, I am not. Instead, I'm going to share with you two discoveries this year that revolutionized even my already fairly diligent "drinking habits" First, was Zoe's (Z's Cup of Tea) post on cucumber water. No more complicated than it sounds … it's a non-recipe if you will. Slice cucumbers and leave them in a pitcher of filtered water in your refrigerator for several hours (preferably overnight).
It is impossible to convey how refreshing and hydrating cucumber water is! It is heavenly. I am not exaggerating. Do try it. I filled a massive pitcher with cucumber water for my support group during the dog days of August and it was gone in minutes. I added more cucumber slices and water to the pitcher right on the spot and even though that didn't produce optimum cucumber water, that pitcher, too, disappeared over time. (This happened while there were several other great beverages like decaffeinated tea available, too, and that even included some sweet tea made with coconut sugar!)
While cucumber water is optimum during the hot months, I wouldn't rule it out this time of year either. If you enjoy cold drinks of any kind during the winter months, then you're still likely to enjoy some cucumber water now, especially if you have cucumbers available. If you have a nice English seedless cucumber left over from your salad fixings (I do, I do!), you might want to just make a glass or small jar of cucumber water and see what you think. Hydration is the goal, and this option is so much better than adding one of those flavor pack thingies to your bottled water.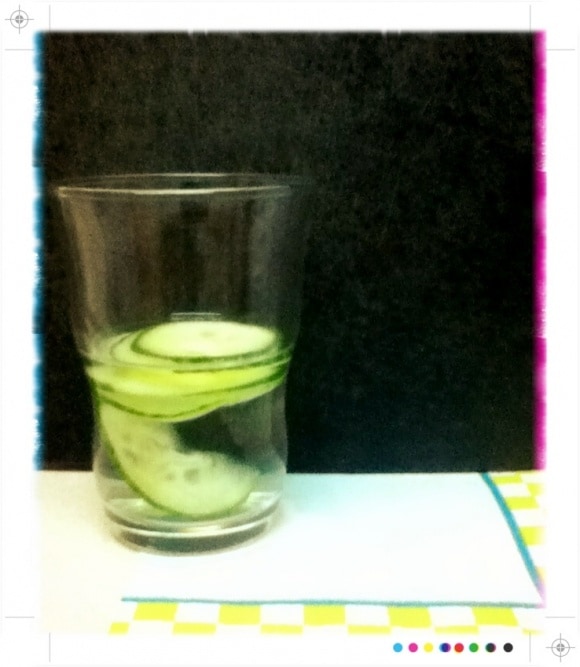 photo courtesy of Z's Cup of Tea
Last, I adore tea. Decaffeinated tea is my very favorite, so that can count as part of my water for the day, right? Well, maybe. Again, despite those statements from numerous health "gurus" that all beverages count as part of one's "water" for the day, in general, I think not. Allow me to explain.
The truth is I typically drink my tea with some sweetener and to reiterate what I stated earlier I don't think that a serving of sweetened tea merits the same "value" for hydration as a serving of water. The sweetener provides a, uh, complication in my mind. Likewise, caffeinated beverages are a complication in my opinion. Caffeine actually has dehydrating effects. I will drink caffeinated tea upon occasion (if that's the only option), but I much prefer decaffeinated. You see in addition to the fact that caffeine is dehydrating … caffeine and I are not good friends.
We pass by each other and smile when chocolate is involved, but that's the extent of our friendship. (When I was trying to figure out the source of my gastrointestinal issues before I was diagnosed as gluten intolerant, I actually looked to caffeine as the source of my problems. It was not, but I do better without it.)
But here's the best news of all, finally, after decades of trying and trying to enjoy tea without sweetener, I have found one that I totally enjoy "black" and it's all thanks to my dear friend Kim (Cook IT Allergy Free)! When a few of us blogging buddies got together back in October, Kim brought along some Good Earth Sweet and Spicy Tea, the decaffeinated version.
One cup of this stuff and I was hooked! If one lets the tea steep for a good while, NO sweetener is needed at all. This tea is beyond wonderful. I absolutely love it—either hot or cold. The ingredients? Red rooibos, chicory root, rosehips, cinnamon, lemongrass, peppermint, papaya, chamomile, panax ginseng leaves, anise seed, dandelion root, ginger root, orange oil, and orange peel. It contains no sugar, artificial flavors, colors, or preservatives.
While there are clearly no ingredients that contain gluten, I have found no information that shows this tea is certified gluten-free. I've seen it advertised on other sites as "free of gluten ingredients," but we all know that is not a guarantee of gluten-free status. However, many of my gluten-free friends have been enjoying it with no issues, even more of them since I made an iced tea version for our last meeting. That disappeared as quickly as the cucumber water did, and there were only a dozen of us present. But please do your own research and make your own best judgment.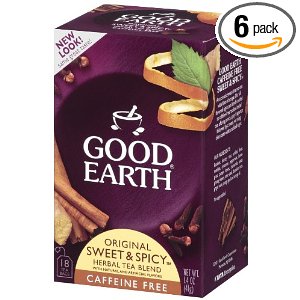 Whatever healthy liquid refreshment you choose, go forth and hydrate! Of course, you can stay hydrated with my two favorite solutions plus water if you like!
Originally published January 26, 2012; updated February 12, 2022.