For affiliate links and as an Amazon Associate I earn from qualifying purchases.
Today I'm sharing my review of the Travel Berkey Water Filter System. Several months ago, the folks at Big Berkey Water Filters sent me one of their fairly new products, the Travel Berkey, in compensation for an unbiased review of this new, smaller Berkey. Berkey says that its Travel Berkey is its most compact system.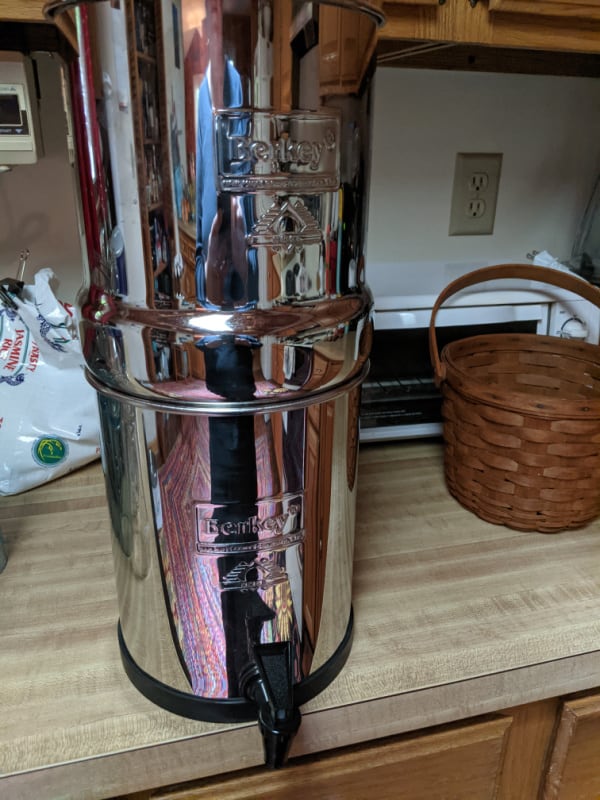 I've been intrigued by Berkeys for years as numerous friends own and love them. But by the time I learned about Berkeys, there were only two of us at home and their water filter system seemed like much more than we needed.
Then I learned, via a review and giveaway on my friend Linda's site, Gluten-Free Homemaker, that Berkey now offered this smaller—but not small—Travel Berkey. I entered the giveaway and won!
I was thrilled! But my first thought wasn't to use the Berkey myself but rather to save it to give away in my next March Muffin Madness event. That much-loved gfe signature event ending up getting delayed a year and then delayed once more so that prize Travel Berkey has stayed in my closet (with other prizes for future events). So when Berkey contacted me to try out their Travel Berkey, it seemed like I was finally destined to actually have my own Berkey!
First, you need to know that you don't have to actually travel to use a Travel Berkey. It's simply a Berkey that is small enough to be used for some travel situations. For example, if you're renting a vacation home, staying in a camper or motor home, or even tent camping, the Travel Berkey can be your water filter system during that time. It can even safely filter water from a stream, which is pretty phenomenal, and ideal for camping in remote locations.
The Travel Berkey is also a terrific at-home water filtration option for an individual or a smaller family. My household is either one person or three people these days. The Travel Berkey works well in either situation. When it's three of us, we're simply filling the Travel Berkey more often than when I'm the only one here. Usually daily. I like to fill it before I go to bed so we'll have fresh water ready in the morning.
Just how small is the Travel Berkey? The two-part stainless steel container stands 19 inches high and is 7.5 inches in diameter. It holds up to 1.5 gallons of water. The filtration chamber sits above and on top of the reservoir with the spigot.
My Travel Berkey sits on the counter near my sink and I am happy to say that we quickly adapted to its permanent presence there. Even with the Berkey in front of a cabinet, you can still open the cabinet as the top of the Berkey sits just below the doors of kitchen cabinets installed at standard height.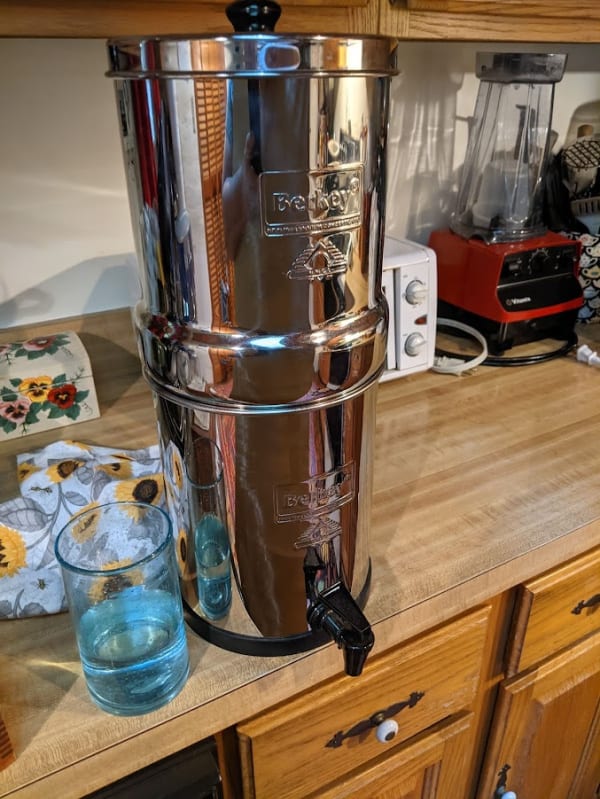 To assemble our Berkey, we read the instructions but also decided to watch one of Berkey's YouTube videos. (There are also videos on Berkey's website under the "Resources" tab.) Priming the purification elements seemed a bit intimidating after reading the instructions alone but the video showed us how easy that step was to complete.
The only "issue" we had was that when I started filling the Berkey, some water leaked out at the spigot. It turned out that I simply had not tightened the plastic spigot enough when I inserted it. Another hand turn of the spigot and the problem was resolved.
Our system came with two black filters, also referenced as purification elements. The list and percentage of contaminants that these filters remove are fairly astounding in my opinion. Berkey also offers white ceramic filters, which are called fluoride filters. They do remove 97% of fluoride per Berkey but they remove much more than that. Go to Berkey's site using the links above to find out exactly what is filtered by each type of filter. The water that comes out of the Berkey Water Filter system is truly amazing as far as how "clean" it is.
Admittedly, I did a double-take when I saw the price of the filters because two black filters are about half the cost of the Travel Berkey filtration system itself. It might be easy to see the cost and initially think you should stick to your pitcher filters or even keep buying bottled water but that would be very, very shortsighted as the life of the filters is pretty astounding and the cost savings end up being substantial.
The facts are that each set of Berkey's black filters will last for up to 6000 gallons, or about 5 years—all the while removing over 200 contaminants. Wow, right? I think that reality is truly incredible! Their filters and their whole systems are beyond a bargain when you consider that fact along with all their other features.
How much would you end up spending in 5 years on other filters? Specifically, filters that barely remove any contaminants in comparison to Berkey filters. And the alternative of buying bottled water is not only a costly premise but one that ensures our landfills are filled quickly as such a small percentage of plastic is currently recycled.
How does the water taste after going through the Berkey filter? Absolutely wonderful! I am on a community water system and there are times when chlorine can be both smelled and tasted in our water. Berkey's website tells me that likely means that chloramines have been used to treat my water. Ugh. Thankfully, Berkey's filter system removes those along with the 199 other contaminates.
I've used some type of water filtration system for many years—both at home and at work (outside my home). Most often, I used the readily available pitcher filtration systems that are made by a number of companies. Those filtration systems made my water drinkable as far as removing any offensive tastes and smells, but the Berkey system really is a total game-changer as far as removing undesirable elements and ensuring an amazing water taste.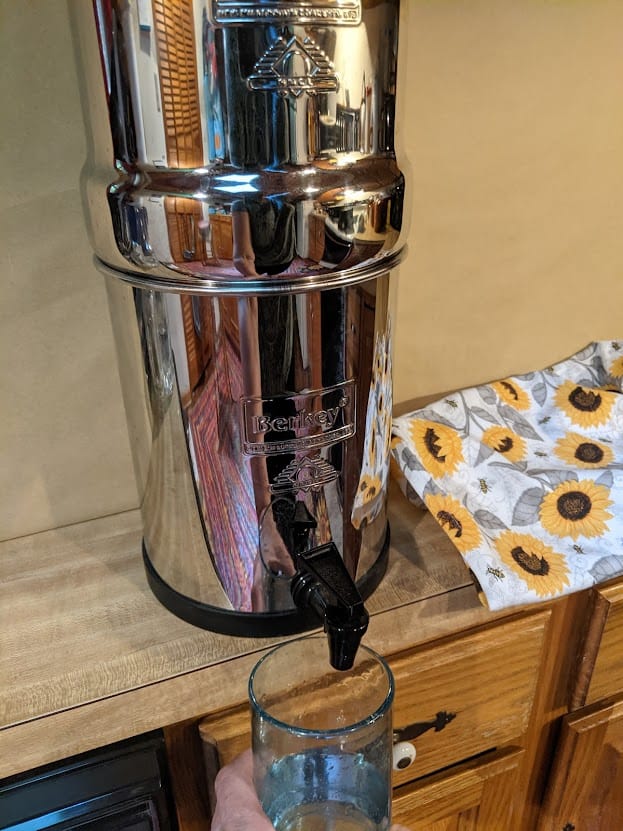 Honestly, I don't know how to properly describe the taste of great water. I simply know that the water that results from using the Travel Berkey is great water and that I far prefer drinking it over any other filtered water at home or any bottled spring water that I've tried (and I've tried many brands over the years).
If you've been looking for a more environment-friendly, supremely efficient water filtration system, I definitely recommend the Berkey. I love the fact that this Travel Berkey will be a better fit for smaller households (1 to 3 people) and also an option for Berkey lovers who already have a larger Berkey in their home but enjoy traveling and need an easily transportable Berkey option for their travel.
There's a whole lot more info on the Big Berkey Water Filter site if you want to check out the Travel Berkey or any of their products (as you can see in the top photo above, they have a Berkey sized for every household).
Do you have a Berkey? Please tell us about it if you do!
Originally published August 16, 2021; updated August 19, 2021.