For affiliate links and as an Amazon Associate I earn from qualifying purchases.
Several months ago, I had never heard of Crab Fries but when they kept coming up on menus and in conversations, I knew that I had to make them! My Crab Fries ended up being gluten-free Crab Fries with Cheese and Bacon. An excellent and delicious decision if I do say so myself!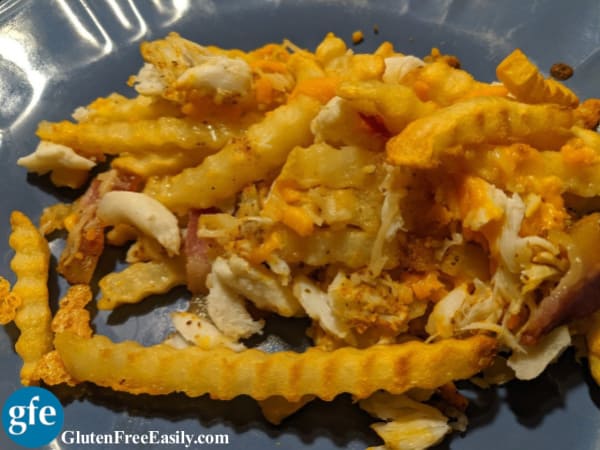 It all started when a dear girlfriend and I visited a favorite spot, Old House Vineyards, which is not far from her mountain cabin. Old House is a favorite of many because it offers a family-owned winery, distillery, and brewery, as well as dining provided by a local food service run by three sisters.
I'm quite a fan of Old House's Agave Nectar Spirit, aka "the Virginia version of a tequila"—legally, they can't call it tequila as it's not made in Mexico. When Virginia started allowing alcohol to be shipped within the state from vendors rather than our Alcoholic Beverage Control (ABC), I signed up immediately to try out my preferred products (tequila, rum, and vodka) from several distilleries. Old House's Agave Nectar was heads and tails above all the other products that we tried. But I digress a bit.
There were several items on the menu of the day that were labeled "GF" but when I inquired further, I discovered that they really weren't GF at all because they were fried with gluten-full items. Sigh. How many times have we all experienced that situation before?
It's really disappointing when that kind of thing happens and I always "nicely" make it clear that such items are not actually gluten free. Then I move on to order what I know that I can safely eat, asking more questions about the food preparation if necessary. Always without indignation or outrage.
Because as I've shared previously in my post Educate, Not Eviscerate, as tempting as it might be to be a little outraged in such circumstances, being ugly really never furthers our gluten-free cause, so to speak. Nobody wants to learn or change if they're being basically yelled at or "fussed at." In fact, they don't even hear what you're saying when that's the situation.
There's also the fact that the person you're speaking to may simply be a server who has no knowledge of and no control over food preparation. Sometimes I speak to management about the matter, sometimes I just let it go for the moment so I can simply eat and go about my day.
I decided to simply enjoy some of the safe, packaged item offerings, ones that I knew would be both filling and delicious with my glass of Vidal Blanc. In this case, Crunchmaster crackers and Marcona almonds (I adore Marcona almonds!). That combination was more than enough to satisfy me as I knew that we'd be back at my friend's cabin to enjoy dinner not much later.
My girlfriend selected the Crab Fries, which were not gluten free. As she does not need to eat gluten free, that wasn't a problem for her. The menu described the Crab Fries as "fries topped with creamy Old Bay cheese sauce & lump crab." They sure sounded amazing and they looked really delicious when they arrived. Not surprisingly at all, she quite enjoyed them!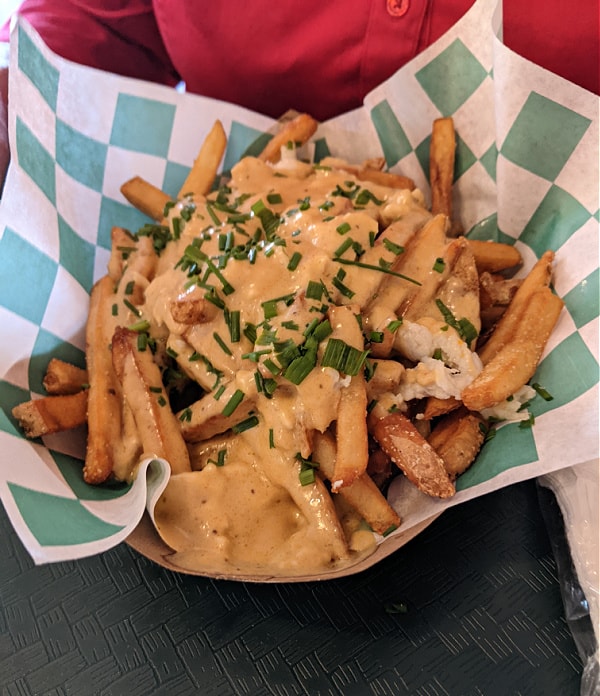 A month later I was visiting my sweet friend Kathryn (ChaCha's Gluten-Free Kitchen) and her husband in North Carolina and Crab Fries came up again. Some other friends of theirs had been visiting and had mentioned that their son had ordered Crab Fries at one of their family's favorite restaurants in the Outer Banks.
Kathryn said she Googled "crab fries" right after her friends left and found many variations. She ended up making her version from "skinny" fries (aka shoestring French fries), crab meat, Old Bay seasoning, fresh parsley, and ready-made garlic sauce. She said the resulting Crab Fries were wonderful and they have made that version multiple times since. And they haven't been disappointed yet!
I wasn't back home for a day or two from visiting Kathryn before I decided to make my own Crab Fries. And they were good. Oh, so good! Let me tell you how I make mine.
First, it's important to note that the way I make Crab Fries is more of a concept than a true recipe. That's because I didn't want to make a true sauce and I didn't have what I thought was an appropriate ready-made sauce on hand (although I definitely want to try the garlic sauce that Kathryn used in the near future).
Instead, I simply made my Crab Fries by topping French Fries with crab meat, shredded cheese, small pieces of bacon, and a sprinkle of Old Bay seasoning. The results looked so appealing and they were in fact, absolutely delicious!
I've made my Crab Fries for myself several times now and they always hit the spot. Because my Crab Fries fill a small baking sheet, I always have leftovers. Sometimes enough for two meals and sometimes enough for just one meal. Haha. Yes, they're that good, folks!
Son and J were just here visiting and I made Crab Fries for them. They also loved them! We had some leftover Dipping Sauce for Stone Crab Claws (a recipe that I'll be sharing soon) from the previous night and Son drizzled some of that over his Crab Fries. Sorry, no photo of that combination but he said it was absolutely wonderful!
For those of you who know that Son eats both gluten free and dairy free, yes, I made these gluten-free Crab Fries with Cheese and Bacon using dairy-free cheese. Specifically, Follow Your Heart shredded cheddar and shredded Parmesan. So, if you also eat dairy free, please know that you can and will enjoy these Crab Fries as much as the folks who make them using dairy cheeses!
If you're a crab lover, I hope you'll give these gluten-free Crab Fries with Cheese and Bacon a try! Of course, if you prefer different toppings and/or seasonings, of course, go for it! You can add your own favorite toppings and seasonings in addition to the fries and crab meat. Please come back and share your favorite way to make Crab Fries in the comments here after you give them a go!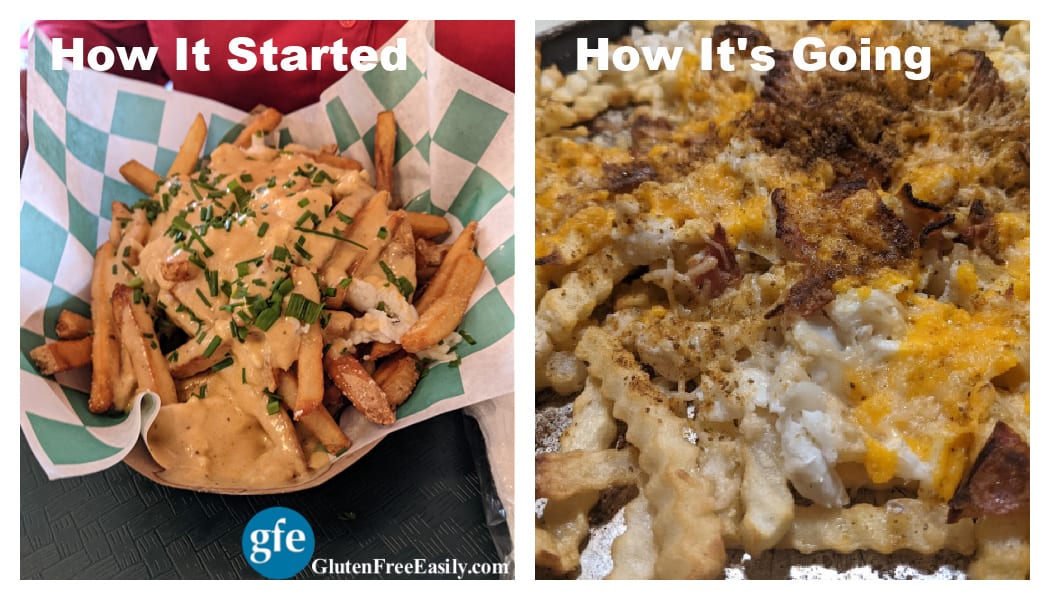 More Crab-Themed Recipes
~ Keto Crab Cakes (Air Fryer or Skillet)
~ Two-Ingredient Crab Ball Appetizer
Gluten-Free Crab Fries with Cheese and Bacon Recipe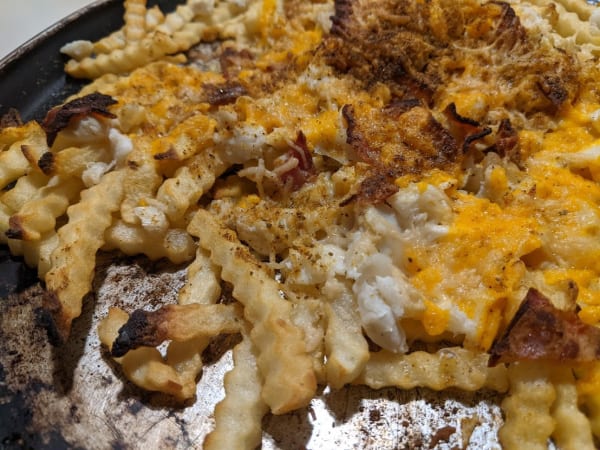 Yield: 2 to 3 servings
Gluten-Free Crab Fries with Cheese and Bacon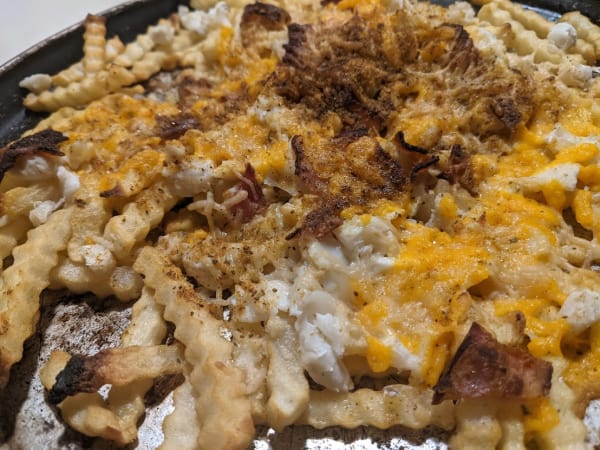 If you're a French fry lover and a crab lover, you're going to love this yummy combination of French fries topped with lump crab meat, shredded cheese, bacon pieces, and Old Bay seasoning!

Prep Time 5 minutes

Cook Time 15 minutes

Total Time 20 minutes
Ingredients
Gluten-free French Fries (frozen or homemade), enough to fill a small baking sheet
One pound lump crabmeat (frozen or canned works fine; drain if needed)
Three or four fully cooked bacon slices, cut into small pieces (I used precooked bacon to save time)
Shredded cheese of choice (I used a mixture of cheddar and Parmesan), about ½ to 1 cup total, to taste
Old Bay seasoning, a couple of sprinkles, to taste
Instructions
Cook fries according to package directions if using frozen fries but remove them from the oven two or three minutes before directions state.
Top French Fries with crab meat.
Top French fries and crabmeat with bacon pieces.
Sprinkle shredded cheese over all.
Sprinkle with Old Bay seasoning.
Place Crab Fries back in the oven for two to three more minutes until cheese melts. If you're looking for more melty/slightly crunchy results, you may wish to place the baking sheet under the broiler for a minute or two until the cheese is perfectly "melty."





Notes
You can double or triple this recipe as needed. I used a much larger baking sheet---a half sheet---and doubled the recipe for Son, J, and me because I wanted to have enough for our dinner but also have some leftovers for myself the next day after they left.

Originally published September 2, 2021.