For affiliate links and as an Amazon Associate I earn from qualifying purchases.
Educate others on living gluten free, not eviscerate them. I believe this approach is critical to us living gluten free in the best possible way.
Remember when you first went gluten free, either because of a diagnosis from a medical professional or because you decided it was best for your health? Remember how overwhelmed you felt?
I suspect that you felt totally clueless at first. It's possible that you'd never even heard the term "gluten" before you had to go gluten free. Or, if you had, it had been in regard to someone else's need to go gluten free and you'd had a vague idea, but you hadn't really gotten it.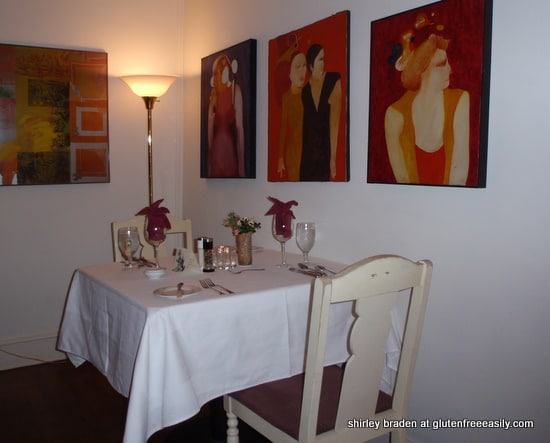 Now fast forward a few weeks after you'd gone gluten free, you go into a grocery store or a restaurant and you start talking to a clerk or a server about needing gluten-free options. In return, you get what we Southerners call "the deer in the headlights look" or you get responses like "that bread is okay for you—it's white bread"; "the cook says we don't serve gluten anymore"; and "there's no glucose in that dish."
You may feel your blood pressure rise and you may get huffy or you may even find yourself raising your voice with the staff because you're annoyed with their ignorance. Next thing you know you may be marching out of the establishment, you're calling all your friends going on and on about what idiots these people are, you're blogging about the horrid experience, tweeting about it, posting a little rant on Facebook or Instagram about the "stupid" server you had, and the like—basically, indicating that you'd like to rip this ignorant person to shreds.
Hmmm. Now remember just a short while earlier you didn't know what gluten was yourself. You had no idea what cross contamination meant.
You may have even been one who thought that only wheat bread contained wheat, that white bread was … well, white bread was something else. But now maybe you're an expert and/or a victim, and … maybe one an attitude.
The fact is that many people eat the Standard American Diet (SAD—great mnemonic there for sure), which is heavily laden with processed foods. Most are not taught to even consider what is in their "food."
The fact that you are reading this probably means that's not the case now, but it could have been at one time. Most folks just look at labels for calories and fat grams, if that, and nothing else.
As a society, we've gone so far over on that processed food spectrum, that it's unbelievable really. (If you want to read more on these topics and the impact to our health, I suggest reading Michael Pollan's book, In Defense of Food. Pollan covers these topics very well.)
Frequently, new readers find their way to gfe from online searches to find out if food items like bananas, brown sugar, mushrooms, and honey are gluten free. Of course, these items are gluten free (no wheat, rye, barley, or contaminated oats in those particular foods), but the point is many of us don't know what's what when it comes to our food any more.
The products that are generally being consumed are so far removed from actual food. I mean we have a plethora of food scientists now for goodness sake.
These food scientists work for major food corporations creating new products daily that will make you want to consume more and more. Read the gobbledy gook on some packaging and you'll see how far we've come from what I always refer to as "real" food, most call "whole food," and what Michael Pollan defines as what your great-grandmother would recognize as food.
Think back on that one for a moment. How many things in your pantry, refrigerator, or freezer would great-grandma recognize? What she would recognize as food is what we want to be eating, but, really people in general have come to accept terms like carageenan, maltodextrin, polysorbate 60, disodium EDTA (preservative), monosodium glutamate, and the ubiquitous high fructose corn syrup.
They probably have no idea what those terms constitute, but they don't give them a second thought. So, your food staff personnel really might not have a clue on "what's what" when it comes to the food they are serving. I'm not saying that's a good thing at all, but it is often the reality.
But, my point is why do some of us choose to vilify folks rather than educate them and work with them? Oh, I get the frustration part. All of us who are gluten free (and many perhaps eating a more restrictive diet than that for health reasons) deal with the frustration of dealing with uninformed food service personnel and sometimes you do want to bang your head against a wall for a few moments—particularly if you've had several bad experiences back to back.
And, of course, I get the concern for our safety. If you're like me, you will not knowingly, intentionally eat gluten. You know the ramifications and they are not pretty, whether you have immediate, outward symptoms or not. (Remember:  If you have a gluten issue, any gluten ingested damages your body. And, please don't tell me that you still eat gluten in small amounts occasionally and your follow-up testing is normal. Studies and clinical casework have shown that it can take a long time for the blood testing to show that damage is being done. But, that's a subject for another day.)
And, I get that you want to pass the word on to others to help them know which establishments understand the gluten-free diet and which ones don't. I also understand that we expect a restaurant with a gluten-free menu to be able to provide truly gluten-free food without our constant questioning and issuing of reminders to them on how to do that.
But, isn't there some middle ground here? Will treating uneducated personnel badly, berating them, and making demands cause establishments to be more gluten savvy and serve you better? I don't think so.
What do our attacks or ugliness do to the individual they are directed at? Would you want to help someone who has treated you that way? These are human beings we're dealing with … folks just like you and me, but just not "up" on their gluten knowledge … yet.
The fact is that we're all ignorant (i.e., uninformed) on different subjects.
You may know all about the Paleolithic Era; the closest I might get to knowledge of that time period is seeing the cavemen on the Geico commercials. I may know how to converse in five languages … you may bungle your way through ordering off the menu at the Mexican restaurant.
The urbanite travels via subway like breathing, but may not know how to actually drive a car. Conversely, the country dweller might have no knowledge of the subway, but could certainly take the urbanite on a fine Sunday drive pointing out local landmarks in the family sedan.
We all have our areas of expertise and our areas of ignorance. That's life. We just can't know it all and we just don't have an interest in all subjects (or at least not all the time).
I like to think this reality is a good thing because there's always something to learn and always a new connection or interest that leads us on the next quest for knowledge. And, with 97% of individuals with celiac still undiagnosed (at the time I'm writing this), it's clear that physicians who've had years of medical training don't "get" this condition, why on earth would we expect everyone else to "know"?
Many times when patients are diagnosed with celiac/non-celiac gluten sensitivity, they are sent out the door with a referral to a nutritionist/dietitian. While that can be a perfectly fine practice, it indicates these doctors don't know about eating gluten free either.
Yet, we expect the restaurant personnel to be "up" on gluten. It doesn't quite seem reasonable in that light, does it?
Yes, as I indicated earlier I know that there are restaurants that participate in gluten-free awareness and safe eating programs. They advertise as gluten free and their personnel must go through mandatory training on their gluten-free menu and safe practices.
I get that. But, even if we encounter problems with eating gluten free safely at those particular establishments (and I have several times), which approach best serves our purpose? Education or evisceration?
How will you feel after you've stamped your feet, huffed out the door, and later raked the personnel and the establishment over the coals to your friends and family in conversation and on social media? Behaving this way is not empowerment, and I really don't think that your server or manager will rush to come up to speed on gluten after you left … they'll just be immensely relieved you're gone.
Follow-on negative publicity is not likely to inspire positive action either. Unfortunately, it is very likely that the individual and the management will have a very wary, if not very negative, reaction to the next person who walks through the door and mentions gluten.
The outcome may be that they just state that they can't serve you safely (we see this a lot with products I believe), even though they may have some perfectly safe gluten-free options. We don't serve ourselves well by being "put upon" victims in these scenarios and we are not encouraging gluten education and improvement of the overall situation.
Now, to be clear, I have been very frustrated myself at dining situations, but for me, it's not a lack of knowledge that gets me riled up. It's when folks dismiss my needs or don't want to learn the basics to help me eat safely.
I started feeling ill after eating my appetizer in a very fine restaurant once (after doing my usual amount of quizzing with the server and the chef on dishes that looked safe). The chef came out and was clearly annoyed that I had been re-questioning the server about the gluten-free status of my dish.
He stated there was no gluten in my dish (looking at me like I was one of those people). Then he suggested that I have the crab cakes instead because they were made from Panko breadcrumbs, which he said were gluten free.
To be clear, he was not talking about gluten-free Panko breadcrumbs. He was talking about "regular," gluten-full Panko breadcrumbs. I was shocked because the information he was telling me was incorrect, and I'm sure my opinion of the information he was sharing showed on my face.
I am one of those people—no poker face here. However, I still managed to tell him politely that Panko breadcrumbs were not gluten free. He told me they were gluten free because the restaurant's consulting nutritionist had told him they were.
By this time he was clearly irritated with me and very curt and dismissive, and I was equally vexed. No, I was more than vexed, and it was clear he was not interested in being educated. He was already certain he (and the consulting nutritionist) knew it all.
I think for just a moment or two as I talked to him I could imagine my head spinning around like Linda Blair's character in The Exorcist. Really, I was appalled at his lack of knowledge and his very poor attitude.
I expect chefs with professional training to know not only how to make food, but to know what's in each dish they've prepared and which ingredients constitute allergens (including gluten). I maintained my cool. However, I did not eat another mouthful of food there because I had no confidence that anything was safe for me to eat.
I would have far preferred an educational exchange, but it just was not happening that time. Unfortunately, I did not feel that any further attempts to educate that particular chef would be welcomed or heeded.
However, an experience on our recent trip is the type of situation I have in mind when I recommend educating, not eviscerating. At one B&B we stayed at, we were the only couple who had stayed overnight.
The young lady cooking breakfast said she'd cook anything we'd liked. She was not a trained chef or even the regular cook; she was just a member of the staff who'd been asked to pull kitchen duty.
She told us she could make French toast for us if we'd like. Then I reminded her that I could not eat gluten: wheat, rye, barley, and oats. Then she said "I'll use white bread." I told her nicely that white bread is still made from flour, which is all ground from wheat, unless it's special, gluten-free flour like rice flour. She was very surprised.
Finally after some discussion (during which she seemed genuinely interested in learning about gluten and feeding me safely), we decided that she could make scrambled eggs and bacon for me. Mr. GFE ordered the same to eliminate the cross-contamination concern between our two dishes.
We talked about using a clean pan, clean utensils, keeping other gluten-containing foods away from the prep area, etc. But, then she came back with a bowl of fruit with lovely, but gluten-containing muffins positioned all around the edge.
I informed her, again nicely, that with celiac/non-celiac gluten sensitivity one couldn't eat anything that has been touched by food containing gluten. She was very apologetic and still interested in learning more about the diet and how one knows one should be eating gluten free. Because she didn't have any other guests to wait on, she chatted with us for quite some time about the ins and outs of eating gluten free and the symptoms of gluten issues.
The fact that the B&B's stand-in cook/server made a mistake placing the muffins on the fruit did not upset me terribly. Certainly, I didn't eat any of that food, but if you could "get" the gluten-free diet that quickly, well, we wouldn't have gone through the learning curves we all did, right? But, talking to folks in food service and answering their questions is the type of education that I am talking about.
Maybe you're thinking why would anyone want to do that or who has the time? Well, first, why wouldn't you want to do it? What harm is it to talk to people and educate them and, thereby, help the next gluten-free person down the road, or perhaps help your server see that they or a friend/family member could have gluten issues? And, frankly, life is nothing if not about connections with people … even the usually brief exchange that takes place between the guest and the server.
And, what else were you doing anyway? This is important stuff.
Personally I believe that all of us who have gluten issues have a responsibility to educate and help others in regard to determining if they have gluten issues and showing food service personnel how to serve food gluten free and how to eat gluten free. It really doesn't have to take very long to implement this approach—numerous kind, patient conversations here and there.
We learn better in short spurts anyway … who can take it all in at once? If you're one who is a bit shy about this type of thing, gluten-free dining cards can be helpful. (They can be especially critical if you're traveling to a country where a different language is spoken.)
The gfe thinking comes into play here, too. If you show establishments and their staff members how to feed you safely with resources on hand or without having to buy tons of specialty products that are costly or may go bad quickly, they will be much more willing to do so. Sometimes you might be the one who lets them know that a particular dish of theirs is gluten free if you confirm with them that the ingredients are gluten free and it's free of cross contamination.
Suggesting that they keep a gluten-free flour mix or almond flour in their freezer as a breading option, reminding them that safe brands of cornmeal can be used in many dishes, suggesting having corn tortillas on hand as an alternative to flour tortillas, talking to them about cross contamination, etc., can all go a long way in giving them and the gluten-free customer more options.
You can also recommend existing training programs designed to teach them how to serve gluten-free food and attract customers. I've actually printed out information on these programs and shared them with food service management and chefs before. They have been appreciative—especially when they realized that being labeled a gluten-free restaurant through reputable sources will bring them additional customers and revenue. Gluten-free diners who have eaten safely will return to the establishment—in fact, we are a very loyal bunch.
There are really very few occasions when we can't follow the education approach. Pete of No Gluten, No Problem just did a post the other day on the "teachable moment"  for sharing this type of information.
As he pointed out, sometimes the moment presented is not a teachable one due to situational circumstances. Then, we just do the best we can to get safe gluten-free food without teaching a gluten lesson. But, there are actually many, many times when we can educate staff members on helping us eat gluten free safely and very well.
Not only has this approach ensured that I have eaten safely at many places over the years, but sometimes it's helped food service personnel see their own issues regarding gluten and inspire them to get tested. It's also brought me new friends and new readers, and for that as well, I am very grateful!
Other Important Discussions to Help You Live Gluten Free Easily
~ 5 Things You Need To Know When You Are Gluten Free
~ They Just Don't Understand Living Gluten Free (Part 1)
Originally published September 5, 2009; updated July 19, 2018.