For affiliate links and as an Amazon Associate I earn from qualifying purchases.
Although I think these are the 5 things you need to know when you go gluten free, it will take some time for you to fully understand all of them. This is a listing that you might want to re-read at different times along your gluten-free journey and see "anew," so to speak.
These 5 things might not all make sense until you've been gluten free for quite some time. But I think it will be helpful to consider these 5 Things and keep them in the back of your head as you face different challenges along the way.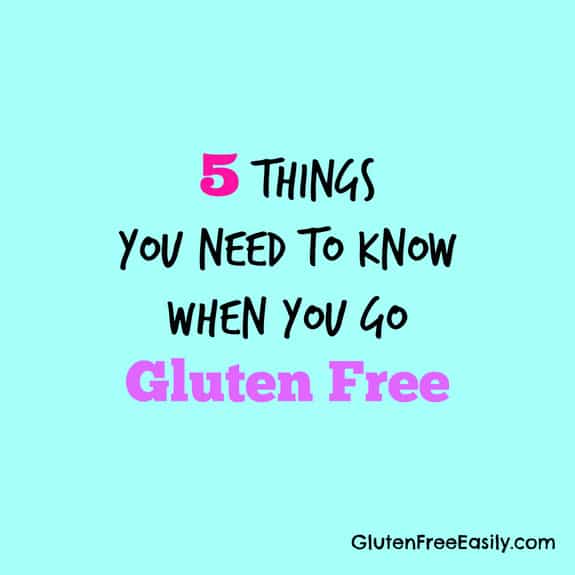 This list is not an all-inclusive one at all. It's simply what's been on my mind when helping folks make the transition to gluten-free living and seeing them well into their journeys. So I'd love it if after reading my 5 Things that you'd add your own "things you need to know when you go gluten free" along these same lines in comments or give your thoughts on the five that I've shared.
5 Things You Need To Know When You Go Gluten Free
1. How You Start Out Living Gluten Free Is Not How You Will Eventually Live Gluten Free
The first few days, weeks, and even months of living gluten free are not a cake walk—pun intended. Many of us are shocked at our diagnosis. We may be grieving the loss of favorite comfort foods. We are learning to live with not being able to pick up just anything to eat on the road or grab a bite with a friend at an old favorite eating establishment that should probably be renamed "Gluten, Gluten, and More Gluten."
Some of us end up barely eating anything at first because we don't know what to eat. We're scared of harming ourselves by eating products that might contain hidden gluten or we've tried a few ready-made gluten-free products and they tasted awful.
Yes, horrible gluten-free products still exist, but there are some terrific gluten-free products that you will learn about (and add to your kitchen shelves) over time. And it's when you stop relying on products and start embracing real food that's naturally gluten free as your main source of gluten-free food that you'll really start relaxing and enjoying living gluten free.
That last statement will seem contradictory to those of you who have learned to rely on convenience foods and have avoided cooking, but I promise you that it is true. That concept is the whole backbone of my gfe approach.
And I'd be remiss if I didn't mention that many who start out "just gluten free," end up being "more free." We can't conceive of such at the beginning. "Just gluten free" seems impossibly hard, but over time we might find out that our bodies do so much better without other foods, too.
Those foods are different for all of us. We each have to find our own individualized program that allows us to be at our peak performance daily. (We don't have to be athletes to want that for ourselves and our families.) And my "Shirley plan," your plan, "Susie's plan," etc. will all be different—except for being gluten free, of course—and that's perfectly okay.
2. The "Experts" Are Not Always the Experts; You Need to Become Your Own Expert
Usually at the beginning of our gluten-free path, there are lots of "experts" telling us what we should do and how to do it. The "experts" can be medical professionals, like physicians, dietitians and nutritionists, but they can also be family members and friends, bloggers, health store staff members, etc., all trying to weigh in and tell you what to do.
Listen to all the guidance, but don't necessarily heed it all. Become your own gluten-free expert over time—both an expert on what living gluten free truly means and an expert on listening to your own body.
While there are some amazing medical professionals helping gluten-free folks every day, changing their lives for the better, and, thankfully, most of us have had a few such individuals playing a major role in our return to health (and we'll be forever indebted to them), there are also horrid ones, who are giving bad and outright dangerous advice.
Two quick examples:  A local gastroenterologist told one of our support group members that she had damaged villi, but not enough to constitute celiac disease. He told her to keep gluten in her diet, but eat it only to the point that she got diarrhea (her main symptom) and then cut back on gluten.
Another support group member who experienced other symptoms after going gluten free was told by her neurologist, "well, maybe you'd feel better if you ate some gluten."
As a gluten-free support group leader and blogger, I hear these horror tales all the time and have plenty of my own pretty awful personal experiences. I have educated myself over time on what is "absolute truth" and what is not, which "gluten-free" products and ways of living work for me and which do not, and you will, too.
When you need medical help for ongoing issues related to celiac/non-celiac gluten sensitivity, seek out excellent health care professionals and those who truly understand these conditions via other friends and family who have celiac or NCGS. Fellow support group members, members of online gluten-free forums, etc. can be a good place to start.
3. Going Gluten-Free Gives You the Unexpected Gift of Learning Everything That Is In Your Food, Not Just Gluten
There's often some pivotal point in our lives when we really start looking closely at what we are eating. Going gluten free can be that point for many.
Before going gluten free, I really had no idea what I was eating most of the time when I was eating a processed product. I never looked at the ingredients on the label.
Now I'm not talking about looking at calories and fat grams. I looked at those for years and still had no clue what I was eating. Plus, what I thought constituted a healthy product at the time was anything but healthy.
Well, it turns out that reading the label of a food product to determine if it contains gluten is pretty eye opening. At first, we might fixate only on the gluten component—and we most definitely need to get that part right for sure—but then we start getting curious about what all the other ingredients are.
We might start out looking up these odd, chemical sounding names to see if the ingredients contain gluten, especially hidden gluten (something that is becoming less and less of a problem today because of the gluten-free labeling laws) , but then we learn what these ingredients are and their sources and we decide, "Nope. I don't want to eat that." The end result is that we not only ensure that food is gluten free, but we also ensure if it passes our own standards.
Much that qualifies as food today is not truly food. Michael Pollan did a really good job in his 2008 book, In Defense of Food, of explaining how the FDA changed its rules in in the early 70s to allow "edible food-like substances" created by food scientists.
When I read the data he shared, I was absolutely shocked at how much our "food" has changed and what is not only allowed as ingredients in food products, but also how products can be labeled as "x" when they contain not even a little of "x."
Pollan also shares how wheat, corn, and soy are the primary ingredients in foods today and, therefore, the main things most in the U.S. are currently eating. In Defense of Food is also well known for the food rules Pollan shares, which he recaptured and greatly expanded upon in his 2009 publication, Food Rules:  An Eater's Manual.
Both are New York Times bestsellers and totally eye opening. By the way, my friend Melissa (Gluten Free for Good) also has some simple rules for food—20 of them—that are also very much worth a read.
4. It's Not About Everyone Else, It's About You and Staying Safe So You Will Heal
Many of us have spent our lives getting along with others, catering to others, not making waves, etc., and this often can be especially true for those of us who are women. As mothers, wives, best friends, and so on, we're used to taking care of others and making sure others are happy, sometimes setting our own needs aside. The same can be true of men as well, of course—especially those who are parents, caregivers, and so forth.
So it can be difficult for many of us to speak up, ask questions, make sure we're served first at a group event, etc. to ensure that we stay 100% gluten free. But you absolutely need to do that and you will learn how to do it in a way that keeps you safe and is also gracious.
Yes, there will be people who make life difficult for you, question you, make fun of you, etc., but you are doing this for your own health, so you must remember that and go forward in making yourself the top priority and staying safe. (Note:  If you need help in learning to deal with others who don't understand, please read They Just Don't Understand, Part I and Part II.)
And the Most Important Thing of All That You Need to Know …
5. You Hold the Power
There are many, many great resources for gluten-free living … knowledgeable individuals, blogs, cookbooks, some products, recipes, etc. They will help you and can potentially change your life for the better, make gluten-free living easier, etc. But the main thing you need to know is this wisdom from The Wizard of Oz: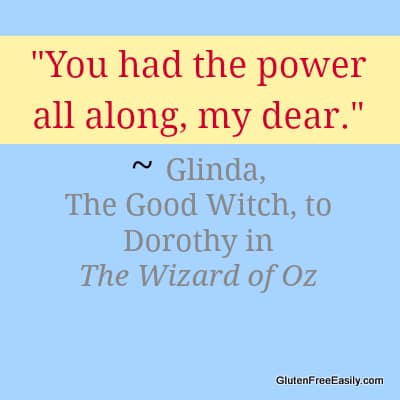 Yes, Glinda, The Good Witch, said it after the fact, so to speak, after Dorothy had been through all of her struggles. She didn't immediately tell Dorothy about the full power of her acquired ruby slippers and, more importantly, the power of her own spirit because she didn't feel that Dorothy was ready for that information yet.
She felt that Dorothy had to travel the yellow brick road and learn much along the way. Likewise, you might not realize this wisdom regarding your own strength until much later in your gluten-free journey.
As we've already discussed, most of us feel anything but powerful at the start of our gluten-free journey, but at some point you will appreciate the fact that you were really much better equipped to deal with this challenge than you ever imagined and you will be absolutely amazed at how far you've come.
Yes, it's corny to say that the gluten-free journey is a yellow brick road with numerous pitfalls and challenges along the way with the end point being Oz initially—which is not exactly as expected—and then a return to home. But it's a really great analogy for what many of us experience after going gluten free.
It takes a journey of learning and many twists and turns before we find our power to return "home"—i.e., feel comfortable, happy, and healthy living gluten free. Those magical ruby slippers were always there for you, whether you realized it or not and, hopefully, things will turn out far, far better than you could have possibly imagined!
Please also check out 11 Gluten-Free Recipes That Will Make You WANT To Eat Gluten Free.