This post may contain affiliate links. If you purchase through them, your cost will stay the same, but gfe will receive a few cents for every dollar spent. Thanks for supporting gfe!
Today is week 2 of the Holiday Food Fest. The sweet and talented Alta of Tasty Eats at Home is hosting this week's theme of Fall Dishes.  To me, Fall + Holiday = Thanksgiving. When you set aside the turkey, ham, side dishes, and desserts,  Thanksgiving and all the special dinners during the holiday season mean one dish for sure—my sister's now gluten-free Crab Casserole.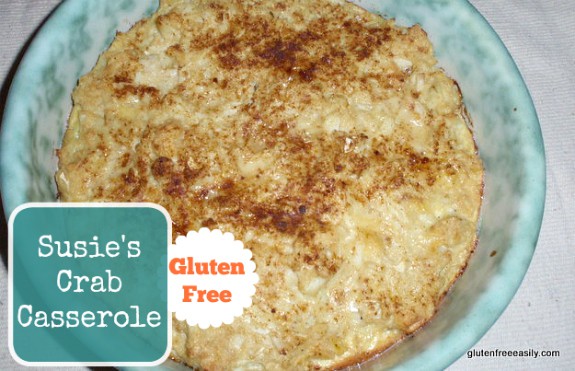 Where I live in Virginia—in King George county, which borders the Potomac River—we are lovers of all things crab. Specifically, we love the Maryland blue crab. We eat our first steamed crabs usually in April or May and we don't stop eating them until late October. We have many fond memories of Indian summers spent eating steamed crabs on the picnic table on the porch or under a shade tree that was already spectacular in its fall foliage.
Mr. GFE fondly refers to the blue crab as the "elusive crustacean." It's not uncommon for folks to have one or two crab pots set out in the Potomac or one of its tributaries. They steam a bushel of crabs every weekend during the summer. If you're lucky, these crabbers are either your family or your friends. Others are sure to visit their local waterman and/or seafood dealer for a bushel of crabs hot off the cooker for Memorial Day, Father's Day, 4th of July, Labor Day, and just about any celebration that occurs during crab season. Crabs are meant for both celebrating and socializing—so crabs equal good times.
So what do we do when colder weather arrives and crab picking season ends? Do we give up crab meat for 6 months? Heavens, no. We make dishes that contain crab meat that we've picked and frozen during the summer, or we head back to our local waterman/seafood dealer and buy a pound or two of crab meat that he's picked and frozen for the winter. I'm in that latter category, although I do remember one winter when we feasted on flounder stuffed with crab meat several times. We'd caught the flounder while fishing in the Chesapeake Bay off my parents' summer home. We always caught and ate crabs when visiting there, too. That particular occasion, I had picked enough crab meat to stuff the flounder before freezing. Those stuffed flounder made for an exceptional meal in January when the cold north wind was howling.
My sister found this crab casserole recipe many years ago and it's become a winter season favorite. She makes it gluten free for me by just replacing gluten-full bread with gluten-free bread. I started making it myself for those holiday meals with Mr. GFE's side of the family. I've made it with all kinds of gluten-free bread, both store-bought loaf bread and from "bread" I've made, like cornbread or corn muffins.
In fact, it was in this dish that I originally used Van's frozen gluten-free waffles as a substitute for gluten-free bread. One Thanksgiving morning when I went to put together my casserole, I realized I hadn't bought any gluten-free bread in preparation. I remembered that I had the waffles in the freezer, toasted two, crumbled them, and then threw them in with the other ingredients. I was worried how the casserole would turn out, but everyone said it was the best crab casserole ever. So, you really can't go wrong with whatever gluten-free bread you use in this recipe.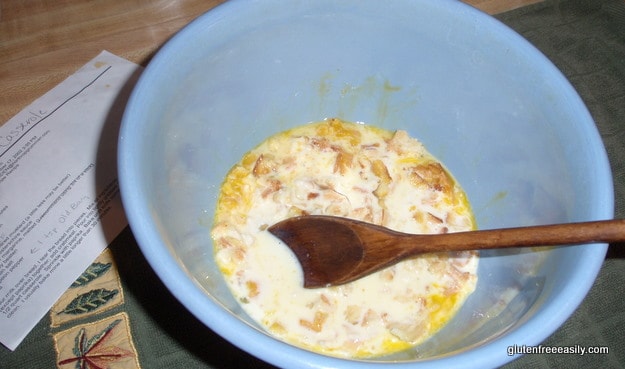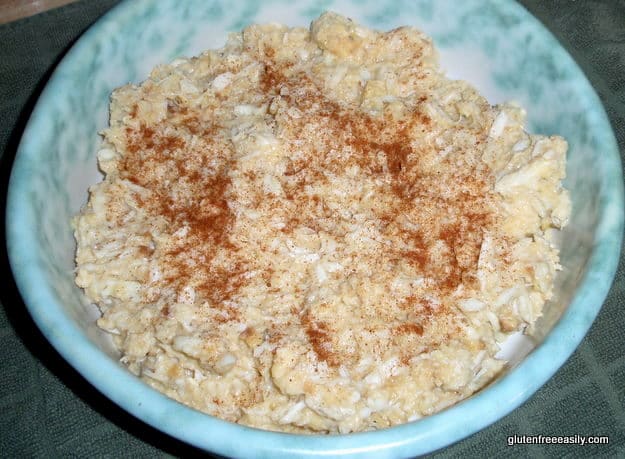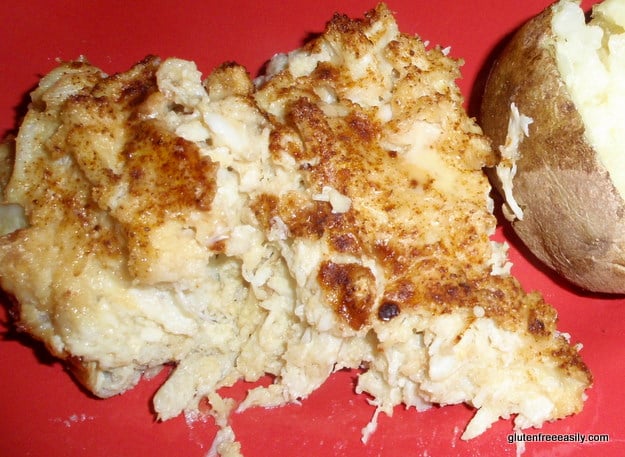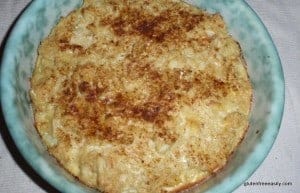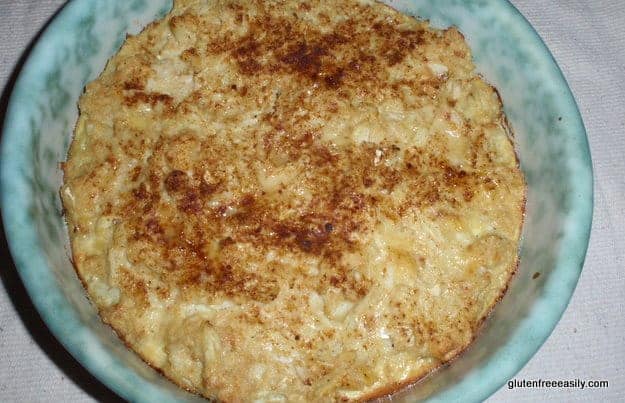 Print
Susie's Gluten-Free Crab Casserole
My sister Susie's Divine Crab Casserole turns any event into a special occasion! She was making this recipe long before I went gluten free but it was easy to "convert" this casserole to gluten free. She also makes it dairy free (by using Earth Balance soy-free spread or sticks and ensuring the bread she uses is dairy free) for gluten-free, dairy-free Son. All versions taste just as fabulous as the original!
Ingredients
1 pound crab meat (Susie says to use backfin, but I use the "special," which is a mix of backfin, and leg and claw meat---it's much more reasonably priced, although crabmeat is pricey)
½ cup milk (or non-dairy equivalent)
3 slices of gluten-free bread (see notes)
1 ½ - 2 tbsp prepared mustard (I use Dijon)
1 tsp Worcestershire sauce (I use Lea & Perrins)
¼ cup (1/2 stick) butter or non-dairy equivalent, melted (this is half the original amount and you might even cut back a little more)
3 eggs, slightly beaten
½ tsp salt
½ tsp pepper
1 ½ tsp – 1 tbsp Old Bay seasoning (or similar, to taste)
Paprika (for sprinkling on top)
Instructions
Preheat oven to 350 degrees Fahrenheit.
Beat eggs slightly in bowl.
Crumble bread into pieces; add to eggs in bowl.
Pour milk over bread, and gently stir all together.
Add and mix all ingredients (except paprika).
Pour into a lightly greased casserole dish (about 1 ½ qts).
Sprinkle with paprika.
Bake until knifes comes out clean, about 40 minutes.
Notes
Serves 8.Adapted from the V.I.P. Cookbook: A Potpourri of Virginia Cooking, Vol. 7.
I use whatever gluten-free "bread" I have available, like tapioca loaf (which admittedly I think is terrible in most cases, but is readily available and works well in this recipe), or 1 ½ to 2 Van's gluten-free waffles, or Canyon Bakehouse gluten-free bread. You need about one cup of your fresh bread "crumbs."
Don't forget to check out all the Fall Dishes over at Alta's Tasty Eats At Home! The giveaway this week is a really fun apron from Flirty Aprons. Too late to get in on this week's roundup? No worries … next week is another theme and one you won't want to miss—Gifts of Good Taste! This event is hosted by Phoebe at Cents to Get Debt Free, so please share your favorite edible gifts. Phoebe will be giving away a Digital Precision Pro Kitchen Scale—nice!
By the way, Mr. GFE is loving this Holiday Food Fest event as he usually doesn't get to enjoy Susie's Gluten-Free Crab Casserole this early in the fall! He was practically following me around the kitchen waiting for it to be ready! I have to admit that it was also nice to get out the very special handmade pottery that my dear friend, Cindi, gave me years ago. It's really too pretty and special to only use one time each year … it's a fir tree after all—aren't fir trees around all year long?