For affiliate links and as an Amazon Associate I earn from qualifying purchases.
Today I'm sharing gluten-free Popeye Protein and Fruit Bars as my entry in this month's Go Ahead Honey, It's Gluten Free! event.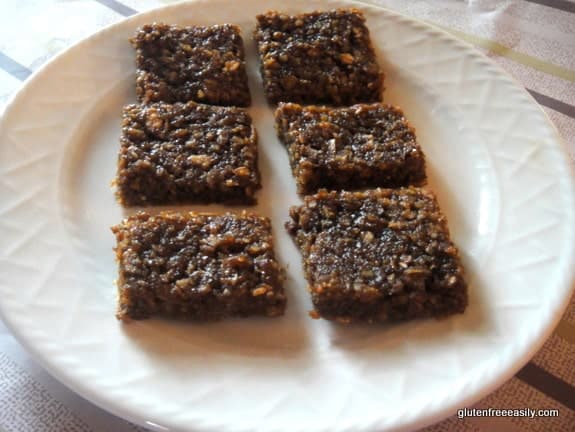 Ali (Nourishing Meals) is one of the hosts. She selected Ideas for Packing a Healthy School Lunch as her theme. This topic is a terrific one for Ali to host because she does such a great job with school lunches herself. Well, actually, she's not the one packing her children's lunches; she's taught them to pack their own healthy lunches using a very clever chart she developed.
I really wish I'd had this chart when Son started school. Ali shares her chart and shows how one of her daughters uses it here in her Go Ahead Honey kickoff post.Because Son is long past school age, I haven't packed "kid lunches" in quite some time. But, of course, we all need healthy lunches. And, really, when I think back to lunches that I packed for Son and myself over the years, ours often had common ingredients. Some were yogurt, fresh fruit, nuts, my homemade baked goods, and leftovers. Son went through a phase where he loved taking a small thermos with hot soup or leftovers.
I'll admit that all his lunches weren't super healthy. Yes, I packed my share of gummy treats and oddly colored yogurts that really didn't offer anything in the way of nutrition. I like to think that the good stuff balanced out the bad, but I didn't have my eyes fully opened to all the negatives of so much of the processed stuff until I went gluten free several years later.
Son did always appreciate just plain fruit though. I think it's important to have an appreciation for fruit and veggies, just as they are—the simple goodness of them. I was saddened recently to find out there's a campaign to get kids to view baby carrots as the new junk food. "Baby" carrots packaged in colorful plastic bags. And it seems that most baby carrots aren't truly baby carrots. Did you know that? They are just small "cut outs" of larger, mature carrots. True baby carrots still look like carrots. You also might want to read more about "baby carrots" and the processing they go through here. Personally, I'm happy to buy mature carrots and slice them or cut them into carrot sticks. But, let's get to today's recipe.
Katie Kimball (Kitchen Stewardship) is a mom who tries to ensure her kids get the best nutrition. Unsulphured blackstrap molasses offers much in the way of nutrition but has a strong taste. Katie added the molasses to energy bars she concocted—energy bars that contain a host of healthy ingredients—and called them Popeye Bars, with emphasis on the muscle-building factor of these treats. Knowing they are eating Popeye Bars, her kids eat them up!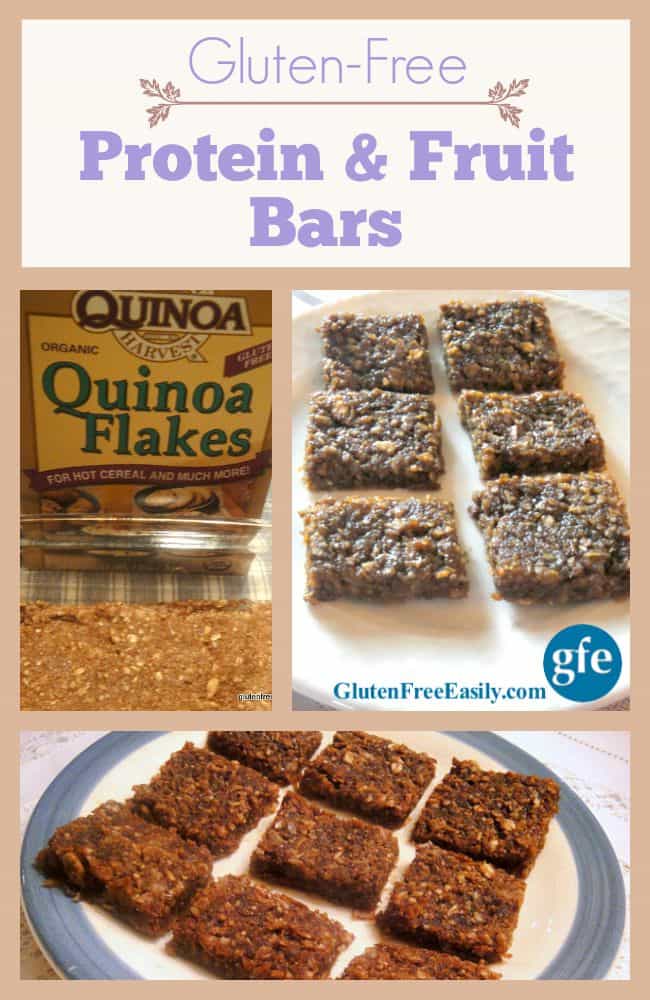 I'm sharing my adaptation of Katie's recipe. If you haven't already scrolled down to check out the ingredients, there's no spinach in this recipe. I know that's what you were thinking! Me, too, actually. I even thought about trying to sneak some in (me being the ingredient renegade and all that), but decided that the molasses to muscles approach from Katie was sufficient.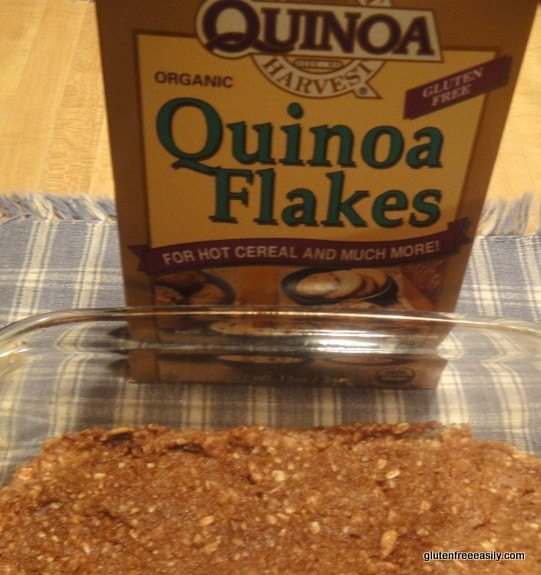 Having let the spinach slide, I wanted to use another ingredient that packs a nutritional punch—Quinoa flakes are often used like oats or substituted for oats, which is the reason I thought they'd work well in this recipe.
Quinoa is an ancient grain, which is considered a complete protein source. In fact, it has far more protein than any other grain, as well as valuable amino acids. (I want to try quinoa flakes in a hot breakfast cereal next.)
Second, I wanted to make an apple recipe for the SOS Kitchen Challenge, co-hosted by Ricki Heller (formerly Diet, Dessert, and Dogs) and Kim of Affairs of Living. Apples were chosen as the ingredient for the challenge. I had lots of ideas when the challenge was announced, but— per usual—ran out of time bringing them to fruition. (Sorry, just had to say it!)
So, adding apples to these bars seemed like a good solution to meet that challenge. I'm a big fan of apples, plus, an apple works well with these ingredients for both its texture and flavor. I substituted twice the amount of apples for the raisins in the original recipe.
UPDATE: On April 4, 2023, Gluten-Free Watchdog issued a new statement, Gluten-Free Watchdog Cannot Recommend Any Brand of Gluten-Free Oats. Read the full statement here. This statement was followed by details on recent testing results of gluten-free products that contain oats., which showed 30% of the labeled gluten-free oat products tested contained quantifiable gluten.

This statement was followed by details on recent testing results of gluten-free products that contain oats, which showed 30% of the labeled gluten-free oat products tested contained quantifiable gluten. I'm not eating any oats and I urge all of my readers who eat gluten free for medical reasons to also abstain.
Otherwise, I added pecans, sunflower seeds, and certified gluten-free purity protocol oats … changing out the amounts of other ingredients to do so. I figured out that Katie had used 3 ¾ cups total of "dry" ingredients—nuts, chocolate chips, raisins, etc.—so I just kept to that total when doing my adapting. This approach worked well.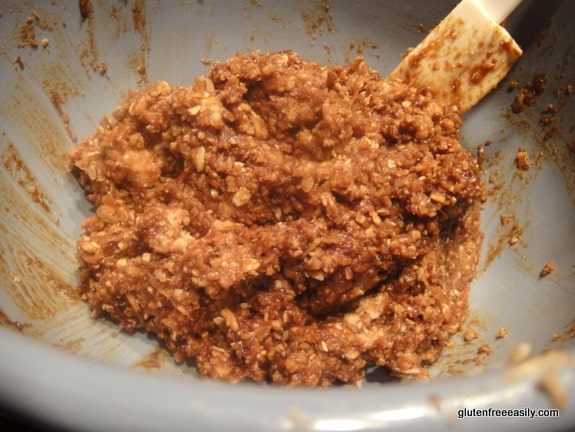 I was a little worried that the bars were thin, but Katie says they should only be about ½ inch tall. Well, my bars are actually thinner than that, so I might make them in a smaller pan next time.
These Popeye bars are the perfect treat to go in a lunch box to eat with lunch or perhaps for snack time at school. They are nutrient dense, but pretty much have the taste and texture of a Larabar. The sunflower seeds don't get fully blended/processed, so they still offer a nice crunch in these Popeye Bars.
Similarly, the coconut flakes still provide some nice texture, even after processing. I liked both the sunflower seeds and coconut in this recipe very much. I'll eat an occasional Larabar when on travel, but I'd much prefer making these and taking them on my travels. In fact, I might need to make a batch for my flight out to San Francisco with Diane for BlogHer Food next week!
More Gluten-Free Lunchable, Snackable Recipes
~ 50 Gluten-Free Nut-Free Lunch Box Treats Your Kids Will Love featured on gfe
~ Black Magic Bars from gfe
~ Chocolate Cherry Cashew Homemade Kind Bars (No-Bake) from Go Dairy Free (use gluten-free option)
~ Granola Bars from Everyday Gluten-Free Gourmet
~ Granola Bars from gfe
~ No-Bake Donut Holes from In Johnna's Kitchen
Gluten-Free Popeye Protein and Fruit Bars Recipe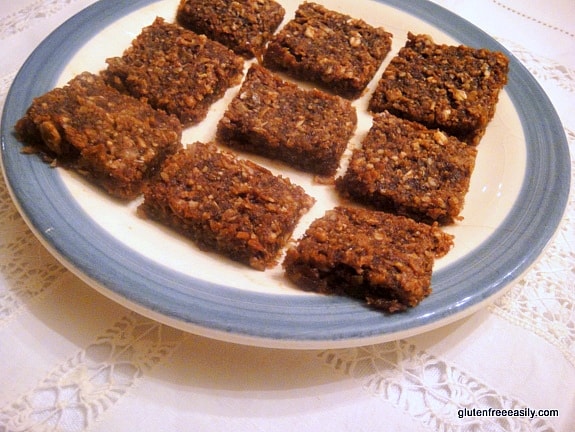 Yield: 12 bars
Popeye Protein and Fruit Bars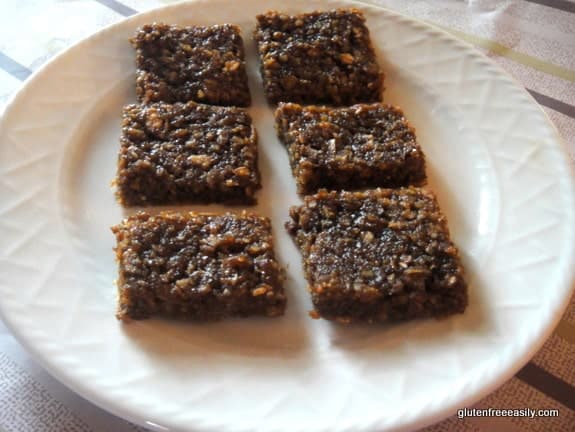 These Popeye Protein and Fruit Bars don't contain the ingredient that is most often associated with Popeye but they are packed with healthy muscle-building ingredients and they also taste great!

Prep Time 5 minutes

Cook Time 45 minutes

Total Time 50 minutes
Ingredients
½ cup walnuts
¼ cup pecans
1 cup peeled, chopped apple (I used 1 golden delicious)
½ cup almond flour
½ cup quinoa flakes
½ cup coconut flakes/shredded coconut (preferably unsweetened)
¼ cup certified gluten-free purity protocol oats
¼ cup sunflower seeds
¼ cup unsulphured blackstrap molasses (or maple syrup or agave nectar)
1/8 cup honey (or maple syrup; I used raw honey from our bees)
1 tsp cinnamon (optional)
½ tsp nutmeg (optional)
Additional drizzle of honey (or maple syrup or agave nectar) for binding and/or sweetening, if needed
Instructions
Preheat oven to 250 degrees Fahrenheit. Grease 9 x 13 (or similar sized) baking dish or cookie sheet with sides.
Add walnuts and pecans to food processor and process 30 – 60 seconds until almost ground.
Add apples and continue processing about 30 more seconds or so until the apple pieces are very finely chopped and blended into the nut mixture.
Add almond flour, quinoa flakes, oats, and sunflower seeds, processing about 15 seconds or so.
Add in molasses, honey, cinnamon, and nutmeg; process until just combined. If mixture does not yet appear to be spreadable, drizzle in a tad more honey. Process just a few seconds.
At this point, if your mixture appears well combined, you can go ahead and use a spatula to spread mixture into your greased pan. However, I wanted to check out my mixture and taste it first, so I added it to a bowl and stirred some there, pulling out a bite to eat, before adding it to the pan.
Bake for about 45 minutes for chewy bars; longer for crunchy bars. As Katie advises, be careful not to overcook as the taste of burned molasses is not pleasant.
Cool. Cut into squares using a pizza cutter. Keep refrigerated.
Notes
Adapted from Katie Kimball at Kitchen Stewardship

Preparation - I used olive oil to grease my glass baking dish.

Chocolate Chips - Katie's original recipe called for ¼ cup chocolate chips. I didn't have any, but they would probably work well in this variation even with the apples.

Food Processing - Times may vary; I have a very old food processor so it takes longer than the new, improved ones.

Sweeteners - Since even blackstrap molasses is considered refined, you can use either maple syrup or an agave nectar that you do not consider refined/processed. Maple syrup can also be used in place of the honey. The main thing here is to keep the amount of the liquid ingredients the same. You can use all honey or substitute your preferred ingredient for the total amount, but Katie says that if you remove the molasses then you'll simply have to call them energy or protein bars. For those who eat molasses, Popeye bars sound like so much more fun, don't they?

Katie used a combination of molasses, maple syrup, and just a drizzle of honey for binding in her original recipe. My version has a stronger molasses taste, which I like, but if you don't, you might want to vary your choice of sweetener amounts to be less molasses and more of the other(s).

Spices - I forgot the cinnamon and nutmeg. While I didn't feel the recipe was missing anything, I'm sure the cinnamon and nutmeg would add nice flavor.

Storage - Although I originally kept these refrigerated as Katie advised, leaving them out didn't cause a problem. I rather liked them better at room temperature. So storing in a lunch box until lunchtime will not be a problem.

Originally published September 27, 2010; updated April 17, 2023.