For affiliate links and as an Amazon Associate I earn from qualifying purchases.
Today's Tomato Rosemary Mint Ice Cream admittedly might sound odd. But I assure you that it's delicious and it comes with a tale of inspiration.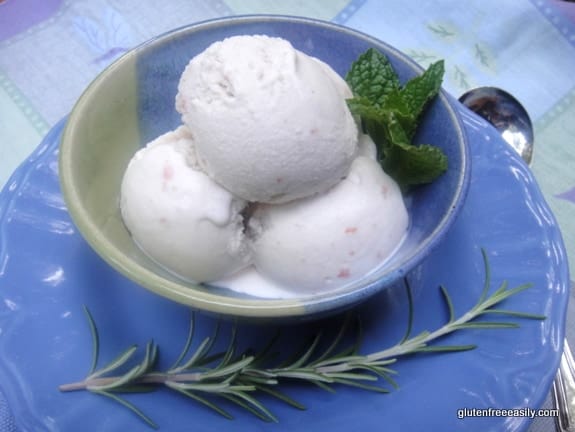 My friend, Jack, is an ice cream maker extraordinaire. It's not an exaggeration to say that he makes ice cream several times a week and I'm talking throughout the year, not just during the summer.
His wife, who is one of my dearest friends, even ordered personalized ice cream cartons for him. Note: If you have an ice-cream making friend, this is a fun and well-received gift!
Recently, Jack and his ice cream making finesse have been featured locally in newspapers and on television. One very hot summer day in August, I happened by Jack and Fred's for a late afternoon visit.
Jack offered cool and welcome fortification with first some limeade and then a small sample of his rosemary mint ice cream. It was creamy, yet light and refreshing. I asked for Jack's recipe and he happily obliged with that one and a few others he'd told me about.
I didn't actually end up using Jack's recipe (because his method included dairy, eggs, and required heating. I'm trying to stay dairy free and I'm lazy—ha!
However, the recipe that I came up with–the Tomato Rosemary Mint Ice Cream—is definitely Jack inspired. I had certainly never considered using rosemary in ice cream before. And, even if I had, I doubt I would have added both rosemary and mint.
I would have thought that those two members of the herb family would be in opposition in a recipe particularly in one such as ice cream where they'd both be "front and center." However, the rosemary and mint do work together in this wonderfully creamy ice cream, without either being overly strong at all.
Curious on what made me do a crazy thing like adding tomatoes? Well, after I mixed up the herb-infused coconut milk and honey, the mixture didn't look or taste like much of anything. The herbal flavors were there, but they were very mild.
Jack had used crème de menthe in his version and that probably would have worked a small miracle in my basic recipe. However, I wanted to use ingredients that most everyone has on hand and I actually wanted to skip the alcohol this time.
Although I certainly do add alcohol to ice cream (it actually helps minimize crystallization), including it seems almost like cheating to me. All ice cream flavors taste good with a little Grand Marnier or Crème de Menthe added!
So I needed something else to add some oomph and to complement the rosemary and basil.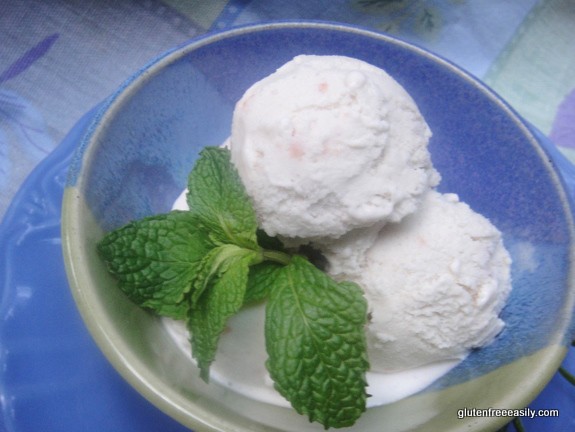 On my kitchen counter were two peaches and two tomatoes. The typical person, having already used the unusual rosemary-mint combo, might have opted to add the two peaches—which I think you'd agree are pretty traditional ice cream ingredients.
While I do think the peaches would have been lovely in this recipe, the "ingredients renegade" in me went with the tomatoes. They were very ripe and wouldn't you think that tomatoes, rosemary, and mint just naturally go together? Well, they do—even in ice cream!
Tomatoes are, of course, a fruit and folks often eat them whole just that way. I halved and seeded the tomatoes, pulled off the skins, and chopped them fairly fine. The chopped super ripened bits looked much like watermelon.
Admittedly, looking at the ingredients and the mixture of them, I was still doubtful I had made the right ingredient choice. However, the resulting ice cream is a surprise. A very pleasant surprise.
The ice cream is somewhat savory but still adequately sweet. And it seems "light" overall with the subdued rosemary and mint flavors.
However, it's the tomato bits that are the biggest surprise. They stay super frozen and provided a satisfying, but "giving" crunch and are as sweet as many fruits.
I asked Mr. GFE to take a bite and guess what was in the ice cream. His first response was, "Wow, this ice cream is cold, very cold." Then he responded, "Peaches?"
Was it the power of suggestion since the passed over peaches remained on the counter? Or was it just that the tomato bits taste so nicely fruity? They really do and I love that.
I also love that the tomato bits themselves stay very frozen. They make the ice cream seem very cold as Mr. GFE said, even after the rest of the ice cream starts melting.
This recipe is gluten free, dairy free, vegetarian, vegan, and refined sugar free. Well, excluding the molasses on the latter.
Molasses is considered refined it seems, but there's such a tiny amount in this recipe. I used it in this ice cream for just a touch of more complex sweetness and for its coloring.
Before adding molasses, the basic ice cream—excluding the peppermint-look from the bits of tomatoes–was super white. That white of coconut milk that looks much like the white of brand new white sneakers. A girl almost needs her shades to work with such a bright white, but a touch of molasses made this ice cream a much more appealing hue.
Beige … ecru … ivory … whatever your label, it's lovely as a backdrop for the tomato bits. Incidentally, either regular or unsulphured blackstrap molasses can be used. Blackstrap molasses actually has more nutritional value, but for such a small amount, that would be negligible.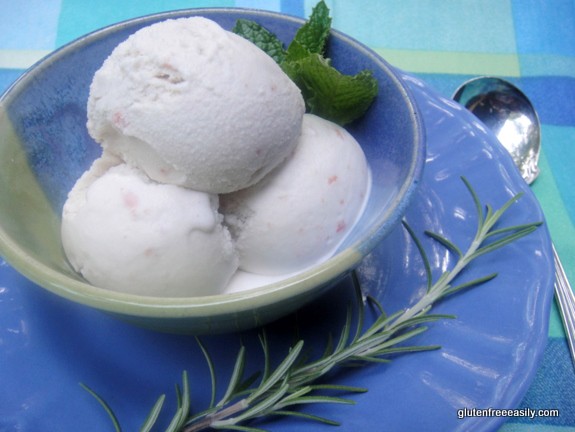 Yield:
Tomato Rosemary Mint Ice Cream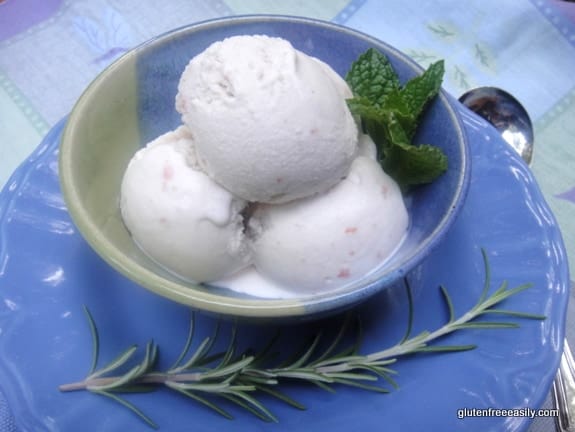 This ice cream flavor combination is a surprise. A very pleasant surprise! The bits of tomatoes are fruity and stay super frozen and they're complemented well by the coconut milk-based ice cream and the rosemary and mint.
Ingredients
3 ½ cups, full-fat coconut milk, chilled (total amount; part "infused," see instructions)
2 small very ripe tomatoes, seeded, peeled, and chopped—about ½ cup
2/3 cup honey
¾ tsp molasses
one 8-inch sprig of fresh rosemary
Several pieces of fresh mint, chopped if you wish for stronger flavor (maybe the equivalent of a "loose" cup)
Instructions
Pour about 2 ½ cups of coconut milk into a large jar or bowl that you can cover. Add rosemary and mint; stir.
Refrigerate overnight (or longer if you want a stronger flavor). Remove rosemary and mint with tongs, shaking excess coconut milk off into jar or bowl as you do so; discard herbs.
Pour coconut milk through a fine mesh strainer into a 4-cup measuring cup.
Add additional chilled coconut milk until you reach 3-½ cup level.
Transfer coconut milk mixture into a large clean bowl (to ensure there are no herbal bits). Stir in tomatoes, honey, and molasses. Mix well. (I used a mixer.)
Pour into already frozen ice cream tub/bowl of ice cream maker and churn about 25 to 30 minutes. Freeze additional time if needed. Enjoy alone or as a topping to an overly sweet dessert!
Notes
Did you know that you can buy an extra tub/bowl for your ice cream maker? This is especially handy if you have a large family (or entertain often) and need double batches or are in an ice cream making mood and just don't want to wait another 24 hours for your tub to refreeze. My support group member, gfe reader, and friend, Jennifer R., shared that very helpful tip. For her family of five, 1 1/2 quarts of ice cream is just not enough!
I wonder if any of you, my dear gfe readers, will be adventurous enough to make this recipe. Or perhaps you'll just adopt my ingredient recklessness and make an equally wonderful, but unusual concoction of your own!
Originally published September 24, 2010; updated August 29, 2018.