For affiliate links and as an Amazon Associate I earn from qualifying purchases.
Today I'm sharing an updated version of my Quick and Easy Chicken Tortilla Soup. It's a favorite here at gfe!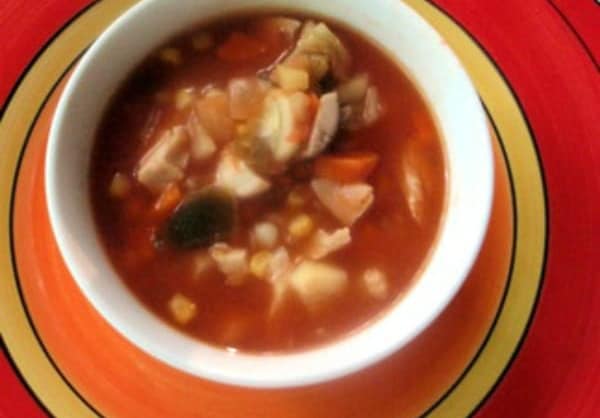 This zesty soup recipe is a favorite of ours. Adapted from a recipe from Better Homes and Gardens magazine long ago, this recipe uses a combination of whole foods and some "mainstream" ready-made items—namely broth and salsa—that are naturally gluten free.
Homemade broth and homemade salsa can be easily substituted for the ready-made options to eliminate all processed foods and make this soup even more delicious. Bonus … it all comes together quickly and easily!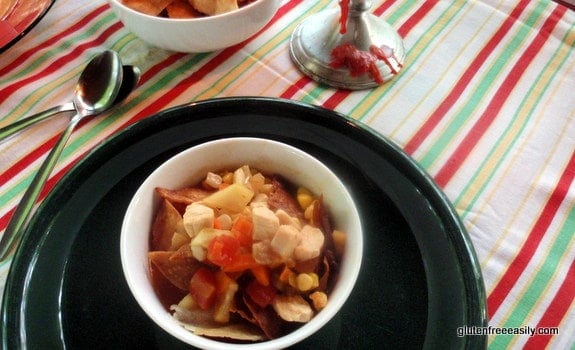 The salsa is the "secret" ingredient in this recipe. It always adds exactly the right amount of flavoring. There's no need to add additional seasonings, tomatoes, or onions.
The tortilla strips that are used as topping make this soup extra tasty and special. They can actually be used as a topping or "crackers" for any soup or as a crunchy little snack—very tasty with a nice cracker texture and also very economical.
They're so good that they may be somewhat addictive actually. Sometimes there might appear to be as many tasty tortilla strips as soup. (See below.)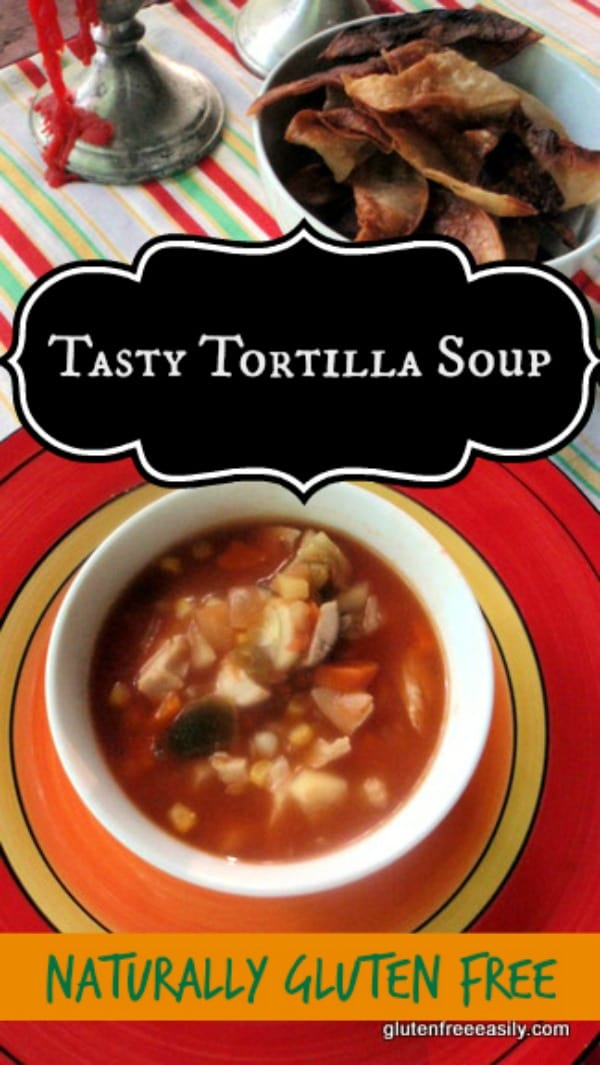 Several of our support group members have been using tortilla strips in place of gluten-free crackers since I first served them Quick and Easy Chicken Tortilla Soup at one of our meetings. As long as you have a bag of gluten-free tortillas on hand, you can make your own "crackers" any time.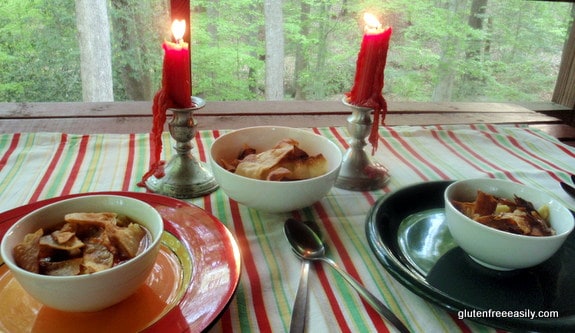 This recipe is a very flexible one. I always use the vegetables I have on hand, but sweet corn and zucchini are so nice in this soup that I try to always include them. Mr. GFE would say "and mushrooms, too" but he always says that about mushrooms (at least in savory dishes!).
If it's just two of you eating and you don't want leftovers, you can easily halve the recipe or if you are cooking for a crowd, you can easily double the recipe. Whatever route you take, I'm sure you'll enjoy this one!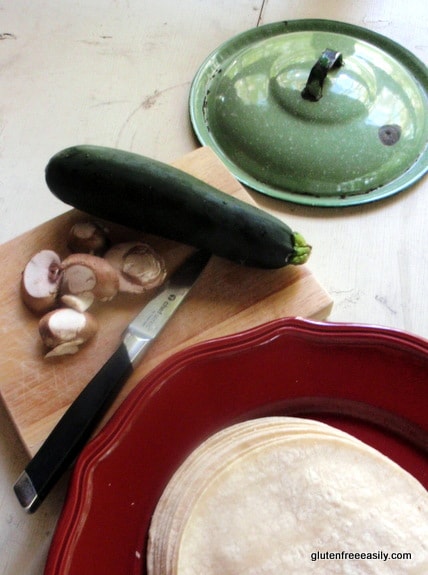 Other bready options to serve with this soup versus the tortilla strips are my Flat and Firm Cornbread or Super Easy Popovers. My Tender Corny Almond Muffins or Marvelous Cheese Muffins would also be great with this soup.
We eat this soup year round but it also works well for Cinco de Mayo. If you need more Cinco de Mayo recipes, be sure to check out A Dozen+ Gluten-Free Cinco de Mayo Recipes to Get Your Celebrations Started! and A Bountiful Bread Basket, Part 4: Top 30 Best Gluten-Free Tortilla and Wrap Recipes.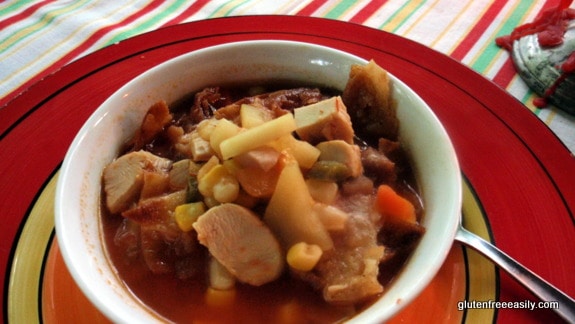 Quick and Easy Chicken Tortilla Soup Recipe
Yield: 6 servings
Quick and Easy Chicken Tortilla Soup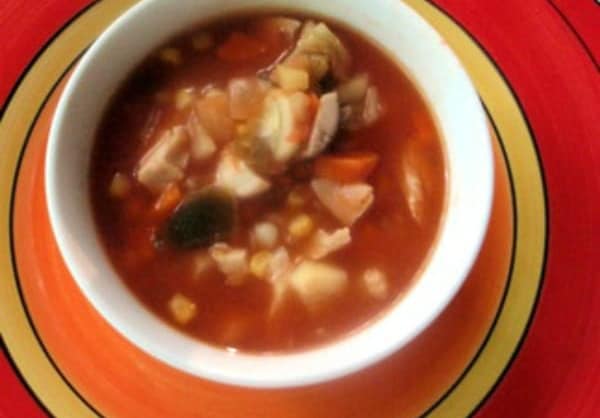 Ingredients
28 ounces broth (chicken or vegetable)
1 jar (about 15.5 ounces) red or green salsa (see notes)
About 1 ½ cups of corn kernels (I used a frozen baby gold and white corn mix)
About 2 cups of additional vegetables of choice, cooked or uncooked (like diced zucchini, finely diced carrots, sliced or diced mushrooms, etc.; see notes)
2 cups cubed cooked chicken (or turkey)
Tortilla Strips for Topping/"Crackers"
About four 6-inch corn (or other gluten-free) tortillas, cut into wide strips (I use my kitchen shears)
Cooking oil (I like coconut oil or light tasting olive oil)
Instructions
In a large saucepan/pot, combine broth and salsa and bring to boil over medium-high heat. When the broth/salsa mixture reaches boiling, stir in vegetables. (If using fresh raw vegetables, you'll want to add them at the same time as the broth/salsa mixture and cook a few minutes longer to ensure they are cooked completely before serving.)
While the broth/salsa mixture is heating, cook tortilla strips in oil at medium-high until crisp and light brown (they cook quickly) and then remove to drain on paper towels.
Reduce heat to a simmer and continue simmering until the vegetables are almost done/cooked through. Add chicken (or turkey) and cook a little longer until soup is heated through (usually about 5 to 10 minutes longer).
Serve in bowls topped with tortilla strips, or with tortilla strips on the side, which you can break up more if you wish.
Makes about six bowls of soup (soup mug size).
Notes
I often make my own broth from simmering a rotisserie chicken carcass. But, I also make my chicken broth sometimes by using gluten-free chicken base (I use Orrington Farms brand; Better than Bouillon states their brand is not GF). If using canned broth, be sure it's gluten free. Use vegetable broth for vegetarian/vegan option.
Select your favorite salsa with your favorite level of spiciness. I use either mild or medium red salsa most often. (I always choose one that does not include high fructose corn syrup.) This recipe is especially terrific with organic or homemade salsa.
For draining the tortilla strips, I always place newspaper under one paper towel for extra absorption. (I remember reading that our local newspaper is printed with vegetable-based dyes, so I feel safe doing that.)
This soup can also be served with avocado slices, lime wedges, sour cream, and/or cilantro, if you wish.
Originally published May 5, 2014; updated March 24, 2023.