For affiliate links and as an Amazon Associate I earn from qualifying purchases.
Today we're talking about muffins. Marvelous Gluten-Free Cheese Muffins, to be specific.
Tired of hearing about brackets and having your favorite television shows preempted by college basketball games for the traditional March Madness? Then switch from brackets and goal "baskets" to baskets filled with something else—muffins!
These last three days of March I'll be sharing some scrumptious muffin recipes for what I call March Muffin Madness (MMM). Even if you are a sports fan, there's no reason you can't enjoy some of the muffins I am going to share while watching the Final Four. Muffins like these Marvelous Gluten-Free Cheese Muffins!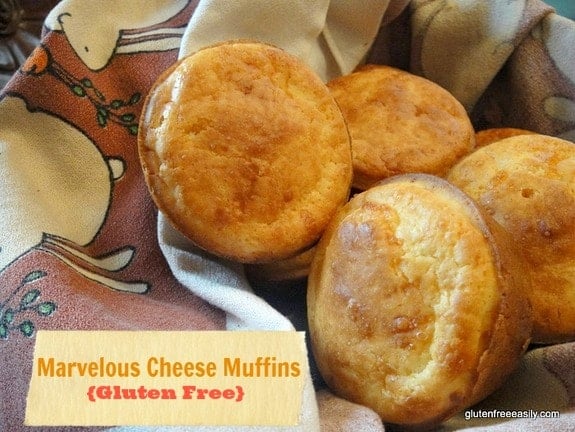 This Marvelous Gluten-Free Cheese Muffins recipe is one that hasn't been pulled out of the recipe box in a while. I don't know that I've made this recipe since going gluten free. I am not sure why because it's a wonderful recipe that is terrific served with a meal, especially soup, or on its own as a tasty treat.
With the popularity of my Garlic Cheese Biscuits (you can read comments on the post and reviews here at Casey's beautiful Live Your Art blog and here in Tiffany's post on the ever helpful Triumph Dining's blog—thanks so much to both of them!), I'm betting these will soon become new favorites for many, too. I mean who doesn't like a good muffin? Or cheese? And savory muffins can be as delightful as sweet muffins.
As soon as these muffins come of the oven, you'll want to break one open and perhaps spread a little butter (or honey butter, as is Mr. GFE's preference) on each and enjoy. That's exactly what Son did when he walked in the door about 15 minutes after the muffins came out of the oven. I had just finished snapping a few photos of them with a mug of my homemade chili.
Even though Son lives an hour away, his food timing is often amazing! Well, you know what happened next. He devoured a mug of chili and way too many cheese muffins to count. In fact, I had to snatch two out of the basket to take to Mom and Dad with a jar of chili for their soup-of-the-month gift (one of my gifts to them at Christmas).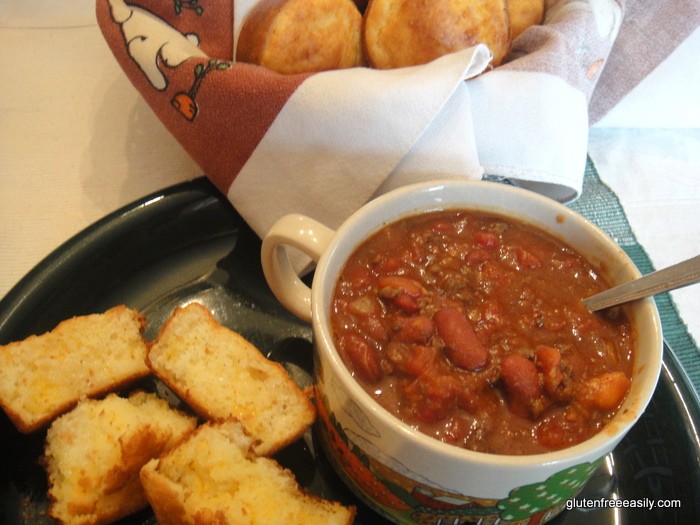 That meant we now had no muffins left to go with chili for dinner. Mr. GFE was away from home and hadn't had any.
So, after delivering Mom and Dad's chili and muffins, I made another batch. The second time I opted for mini versions figuring the odds were that we'd have at least some left to go with dinner. This line of thinking worked, but honestly only because Son had left to visit some friends at that point!
When he returned, which was after we'd gotten to enjoy some muffins with our chili, he immediately devoured the rest. He popped one bite-size cheesy morsel after another into his mouth. His defense, "Mom, you know I love these!"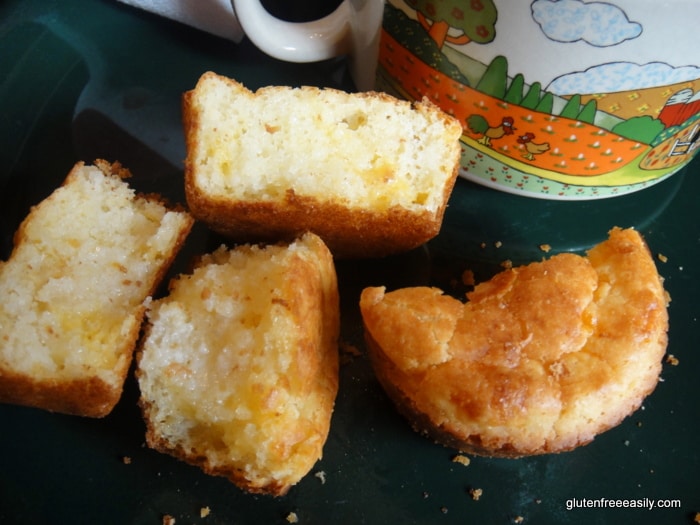 Well, I'm like any other mom out there, I like to see Son fed and happy so I didn't mind at all. And, yes, he went home with the rest of the chili, too.
These muffins are a little crisper than most muffins on the outside, but not hard at all. The inside is especially tender and moist. They are mildly cheesy.
Of course, you can control how intense the cheese taste is by the type of cheese you use. I used your basic sharp Cheddar cheese, which I grated myself.
I far prefer grating my own cheese. It only takes a few seconds and hand-grated cheese is much finer and melts better. Some of the pre-packaged grated cheese melts into a big puddle of grease in my opinion. I am sure that some of it is cheese "food" and not even real cheese.
Finally, when you grate your own cheese, you know exactly what you are getting; there's no need to read a potentially long label like there is when you use store-bought grated cheese. These muffins are indeed marvelous (or "mahhhhvelous" as Billy Crystal would say). I hope you'll try them!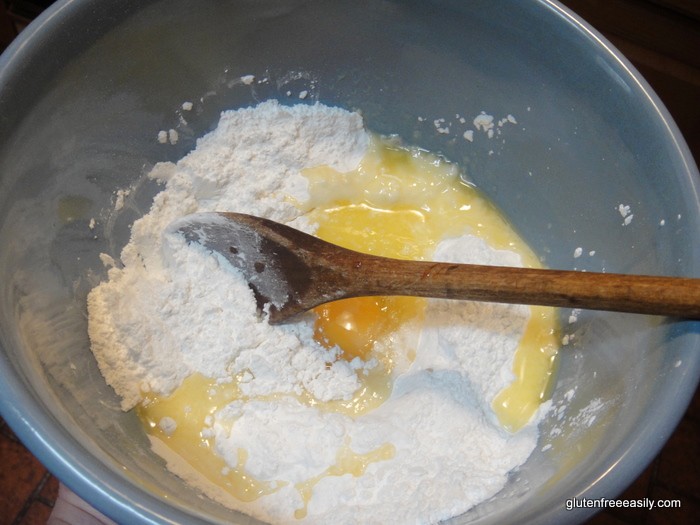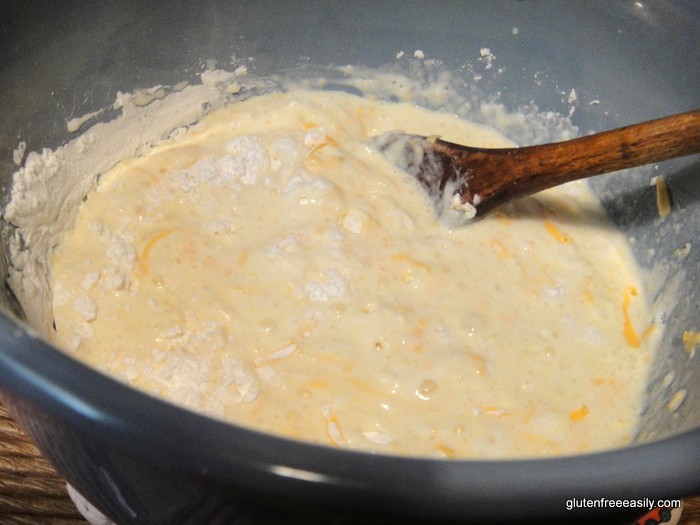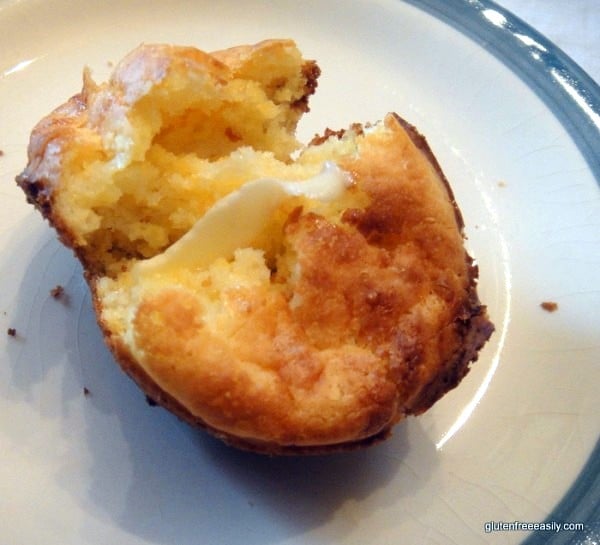 Check back tomorrow for a sweet muffin recipe. These muffins will be sweetened in a whole new way (at least to me) to make them refined sugar free. They will also be dairy free, and of course, gluten free. But for now, make some cheese muffins and see how long they last at your house!
Marvelous Gluten-Free Cheese Muffins Recipe
Yield:
Marvelous Gluten-Free Cheese Muffins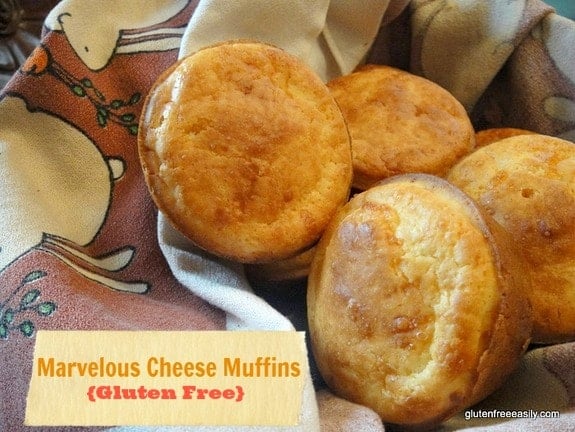 Muffins are so easy to make and these Marvelous Gluten-Free Cheese Muffins are a wonderful accompaniment to any meal! They're fantastic with soup and chili. I also like making them as mini muffins and serving them with tea, too.
Instructions
Combine first four ingredients in a large bowl.
Add cheese and mix well.
Make a well in the center of mixture. Add melted butter, then milk (to help cool down the butter some), and finally the egg.
Stir until moistened, breaking up any flour chunks.
Spoon into greased muffin tins. Fill 2/3 to ¾ full. Bake at 400 degrees Fahrenheit for about 25 minutes.
Notes
Makes 1 dozen regular-sized muffins or about 30 mini muffins.
I like making this recipe with larger eggs; the little extra egg factor adds to the tenderness of the muffin I believe.
Adapted from a Janet Filer's submission to Southern Living.
Originally published March 29, 2010; updated October 24, 2018.