For affiliate links and as an Amazon Associate I earn from qualifying purchases.
This post is linked to The Gluten-Free Lifestyle Blog Carnival.
Caveat: I'm not sharing these photos because they are of great quality (some are actually of pretty poor quality), but I'm sharing them because I thought you might enjoy seeing them just for the content!
All of these folks were attendees at the Health Fair I supported yesterday at Stafford Elementary School (SES) in Stafford, VA. (Side note … I did my student teaching at SES long, long ago.) They came to my exhibit for information on eating gluten free and/or to sample my Flourless Peanut Butter Cookies. I made one batch with part creamy peanut butter and part creamy sunbutter. Another batch was made with chunky peanut butter and mini chocolate chips. By the way, Chaya just featured a similar recipe for flourless cookies made with almond butter for Passover (or as she rightly says, any time of the year!). You can check them out here.
There were the very young. (She wouldn't try the cookie until mom had a bite and liked it.)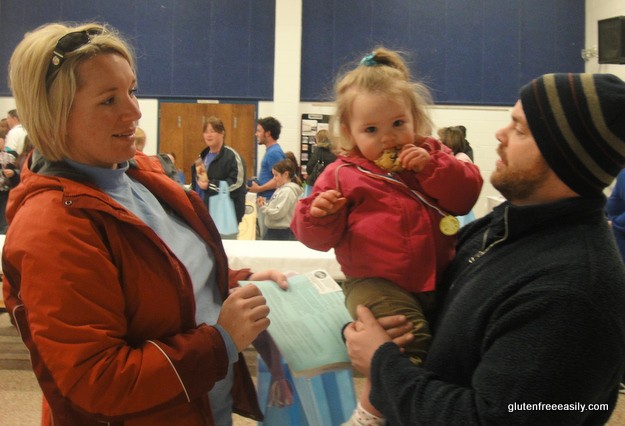 The SES students …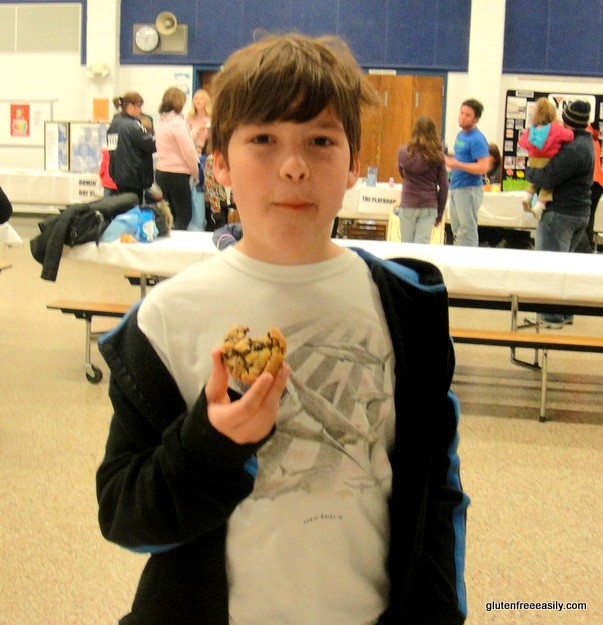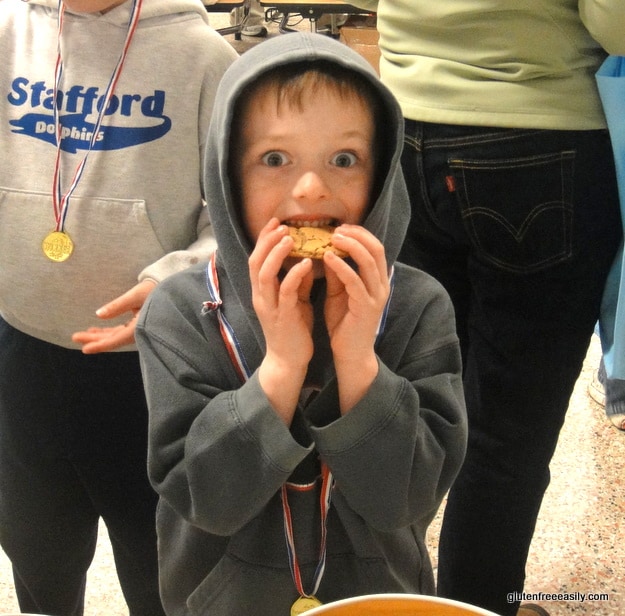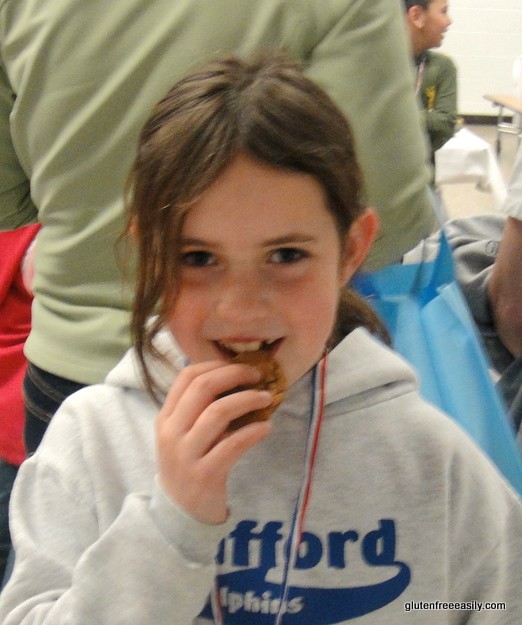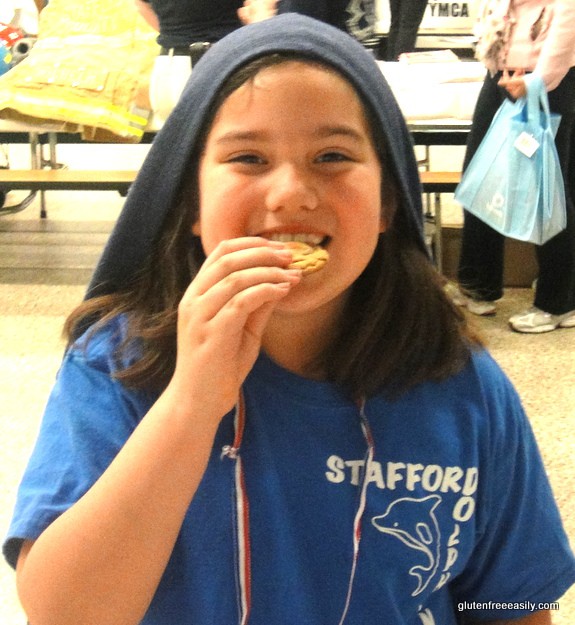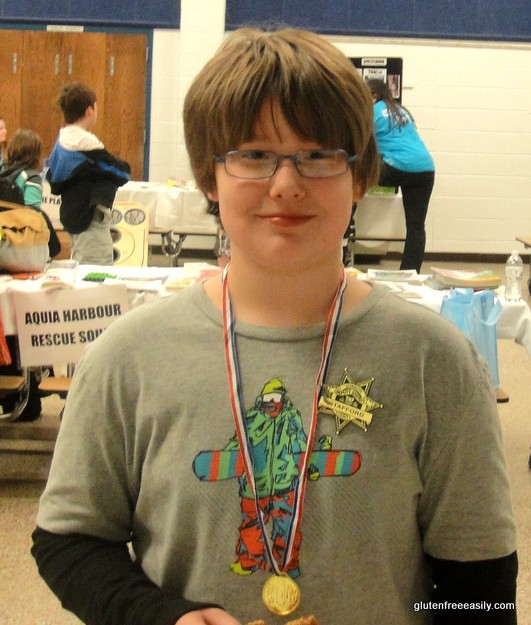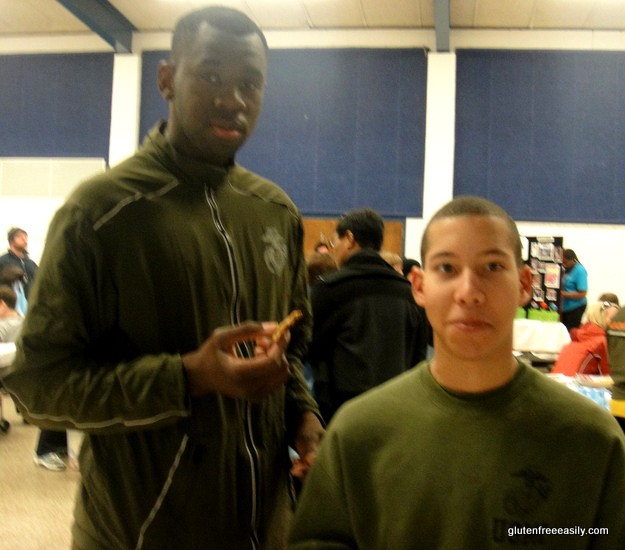 The few, the proud, the Marines (above) … One (below) even came back for another cookie. (Another asked if he could have a banana from my "real," naturally gluten-free food display. Of course, I said yes. I'm always happy to share real food!)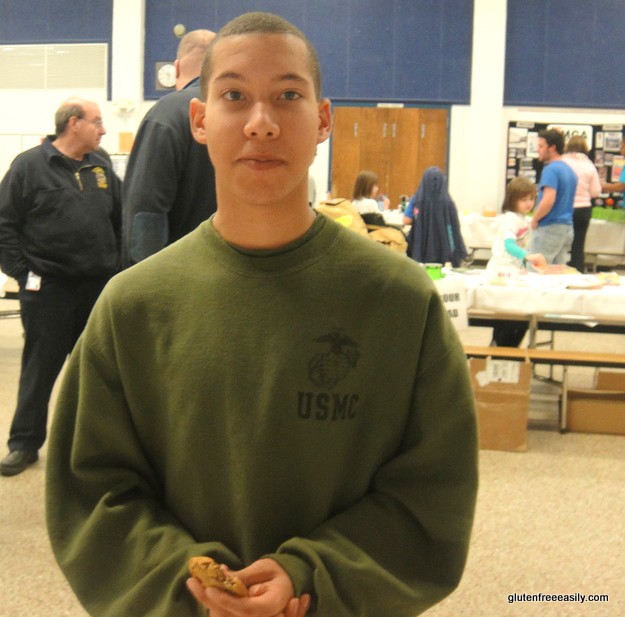 The Zumba instructor for this event stopped by after leading several lively sessions on stage. Many joined in … even some of the stoic Marines.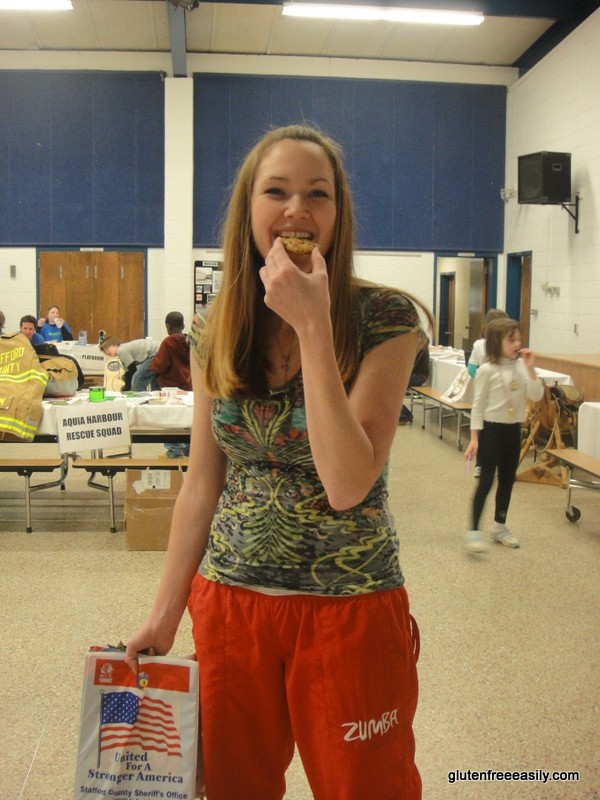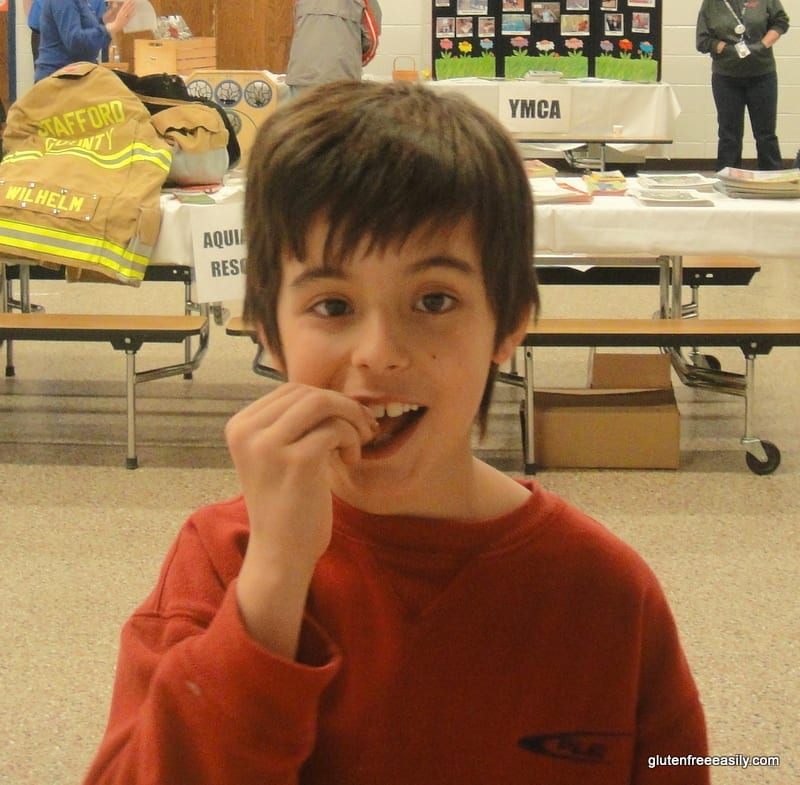 The youngest son of one of the health fair organizers came by when the cookie tins were starting to get low. Notice Elana's (Elana's Pantry) Gluten-Free Almond Flour Cookbook on the table. Elana graciously donated several cookbooks to me recently. She told me to use them as I wished. So, I've been sharing them as door prizes at my outreach events. The winners have, of course, been thrilled.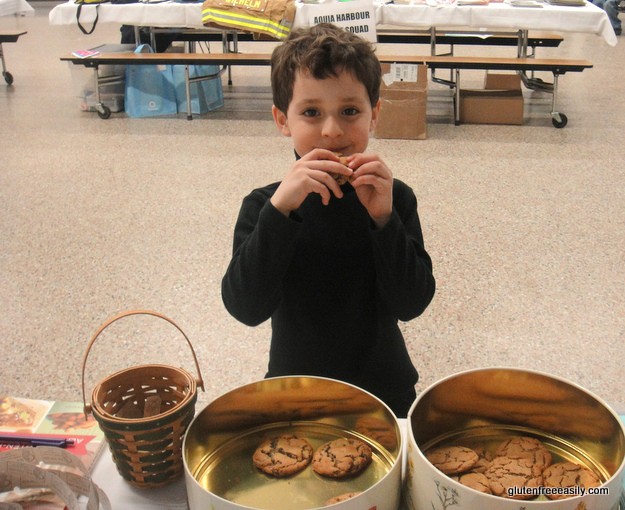 This young lady had stopped by one exhibit that was offering "glow" necklaces and bracelets. I wonder if the idea to use the bracelets to modify her earrings was hers. No matter. She looked so cute.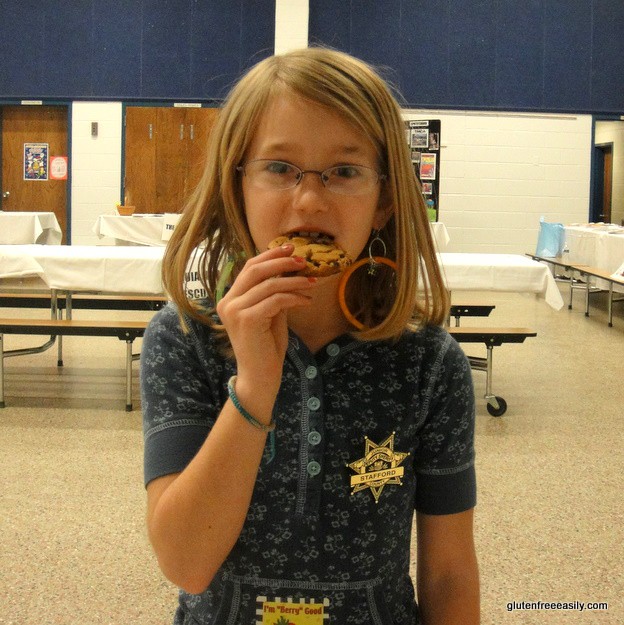 After running to my table with his sister, this little guy turned very serious when I took his photo.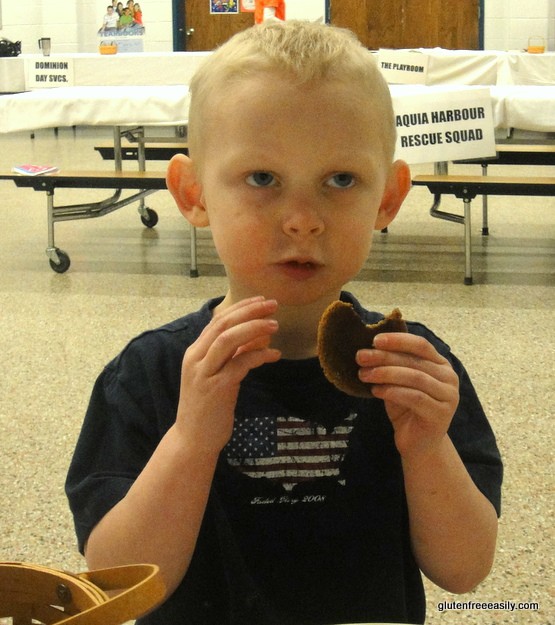 This high-energy fellow was all over the place during the event, but finally came by for a cookie.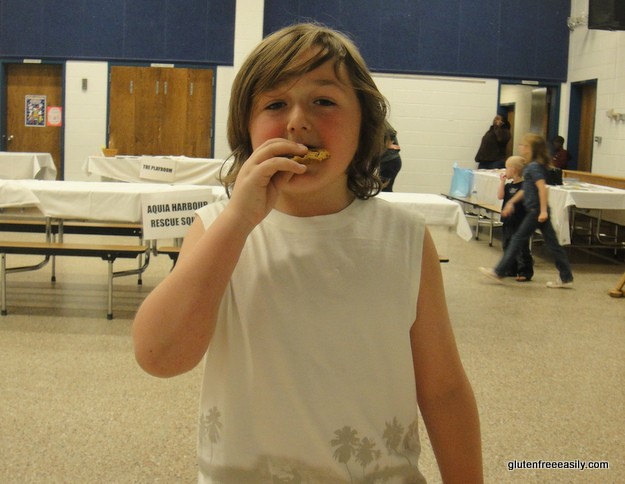 The local law enforcement (who also had an exhibit) stopped by. When this deputy sheriff agreed to have her photo taken for my blog, she said, "At least I'm not eating a doughnut, right?"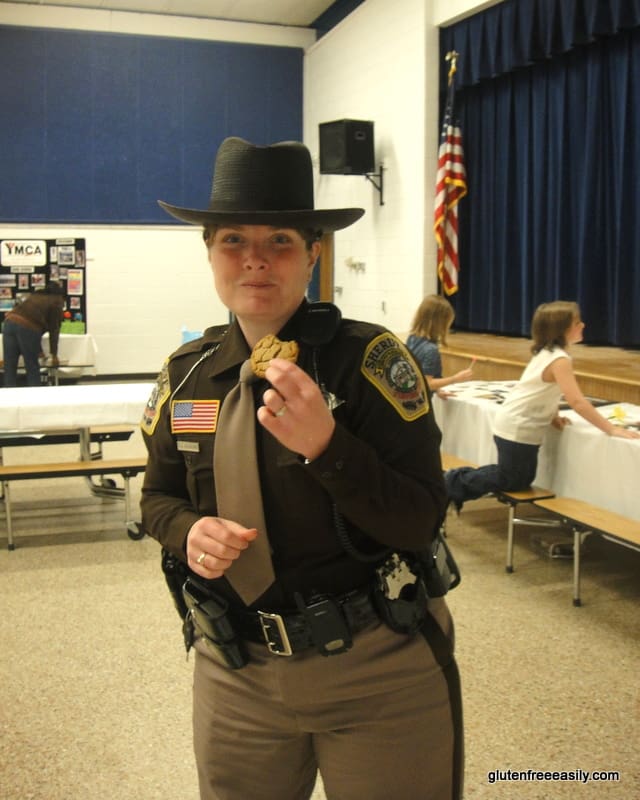 I will be the first to admit it … I lure people into my awareness efforts with my flourless cookies. I'll share more on my community awareness/outreach efforts another time, but the easiest way to spread awareness is to feed people great gluten-free food. Make it yourself and make it the gfe way—naturally gluten free (as these flourless cookies are) or easily made gluten free with a simple substitute here and there. And, real food always works best! I will mention that if you are interested in attending an event, you can always find info on upcoming (and past) events by clicking on the Support Group and Events tab at the top of the page. (Be sure to scroll down to see all events.)
Oh, and here I am … showing off other gluten-free books and cookbooks by my favorite authors (all available through Amazon via my Books tab at the top of the page, if you wish). If you follow my blog and know which giveaways I've already done, look at the photo closely and you'll see which giveaway is still to come … for another fantastic cookbook …  and very soon.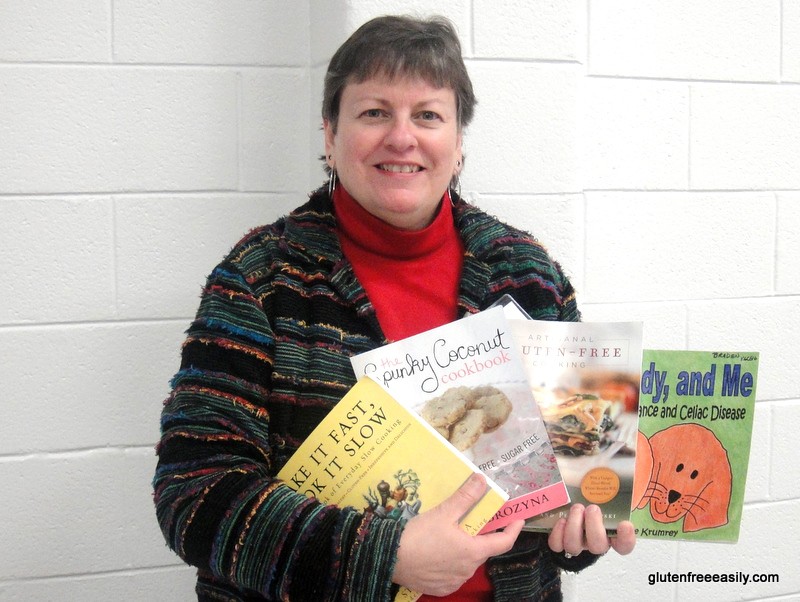 Don't forget to join me tomorrow for the start of three days of March Muffin Madness. 
Shirley
Not just gf, but gfe!