For affiliate links and as an Amazon Associate I earn from qualifying purchases.
Homemade Vanilla Extract and Honey Butter. These are two of my very favorite food gifts!
Holiday food gifts are always welcome. Especially when the food gifts are ones that everyone loves.
Homemade Vanilla Extract
My very favorite holiday food gift to make is Homemade Vanilla Extract. Homemade vanilla is so easy to make and wonderful for baking and other cooking.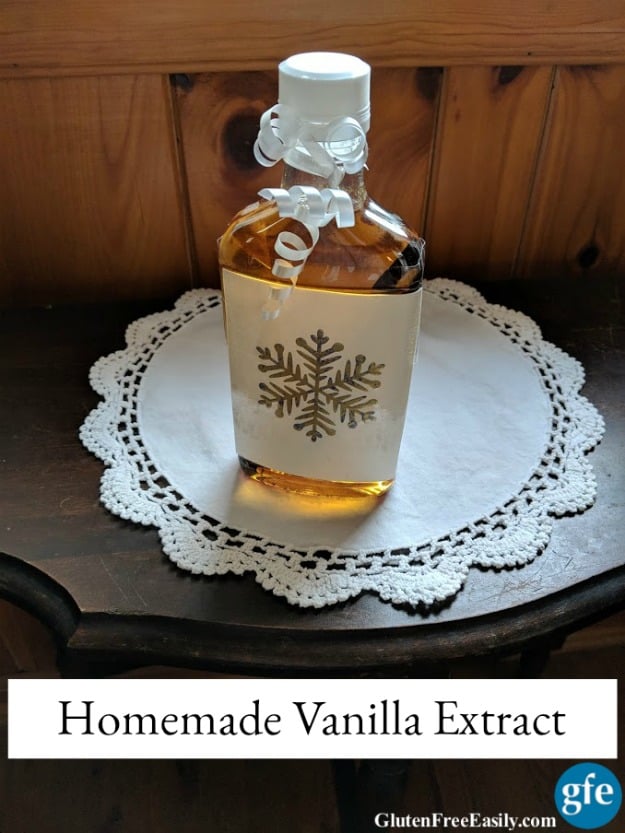 It's also very economical for the avid cook. It's a favorite of my friends and family.
I usually give my homemade vanilla extract every 2 years, because most folks don't go through a bottle this size in a year's time.
By the way, I have to confess that I love that all the recipients of my vanilla extract will think of me kindly every time they use it.
Family and friends love this gift so much that they even let me know when they need a new bottle! That makes my holiday gift planning even easier, of course.
For gift wrapping, attach your label and a decorative bow/ribbon. "Curly" ribbon is great for the neck of the bottle.
You can also easily attach a little gift tag. Gift tags are easy to make from old Christmas cards by cutting out an image that you like that is the right size for the gift, punching a hole at the top (in a place that won't ruin the image), and then running the curling ribbon through the hole before you tie and curl the ribbon with scissors.
Homemade Vanilla Extract Recipe
Yield: 1 bottle
Homemade Vanilla Extract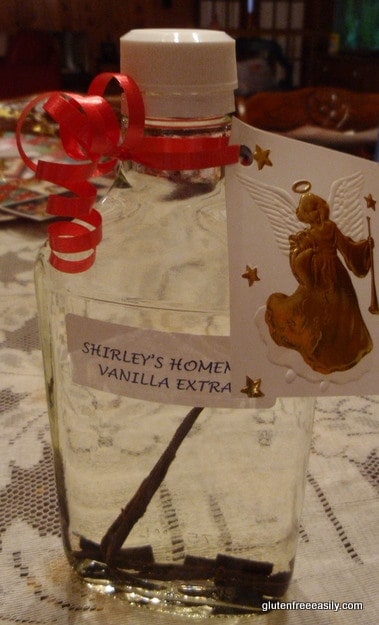 It's very easy to make homemade vanilla extract and also very economical. Homemade vanilla extract also makes a wonderful gift.
Total Time
42 days
20 minutes
Ingredients
Pint of vodka (or rum, or another liquor of your choice; some folks like brandy and cognac, but I prefer the more neutral-flavored vodka)
Two vanilla beans
Instructions
Soak label off vodka bottle by submerging bottle in water (up to top of label) for a few hours.
Either cut vanilla beans into 1-inch pieces or split/cut in the middle using a knife, but do NOT cut all the way through so that the bean separates into two pieces. See photo below for both methods. I prefer the splitting method because I think the beans looks nicer in the bottle this way.
Add vanilla beans to bottle of vodka. (If the bottle if filled to the top with vodka, you'll want to remove some of that so that the vodka doesn't overflow when the vanilla beans are added.
Shake or turn every few days. Keep in a cool, dark cabinet for at least a month, preferably longer..
Notes
I don't usually buy my vanilla beans from the grocery store because they are not usually high quality at my grocery store and they are typically more costly. Madagascar vanilla beans are popular. I've usually bought the Tahitian ones though (that actually come from Papua New Guinea now it seems). I've gotten my vanilla beans through Penzey's, The Spice House, and Amazon. 
You can save money by buying a large bottle of vodka, using recycled bottles, and ordering your vanilla beans online in larger quantities. Just be sure if using recycled bottles that they allow for easy pouring, are a similar size to pints, and that they don't retain a strong smell (i.e., don't use a jar that formerly contained pizza sauce).
I read one opinion that unless you use six vanilla beans per cup of alcohol, you are making vanilla-flavored alcohol. Well, I've been using this ratio for years and have been happy with the results.
The vanilla doesn't have to be ready for use when you give it as a gift. Recipients usually love watching the vanilla get extracted and already have vanilla extract on hand that they can use until your gift is ready.
I just made the bottle of vanilla extract shown in the first photo so no extraction has taken place yet. In a very short time, the extraction process will be evident as the vodka begins to turn amber.
You can see the extraction happening in the second photo. With those bottles, I used more beans that I usually do because I wanted to use all the beans that I had immediately. I also used both approaches to see which approach extracted the vanilla more quickly.
For the two bottles on the left, I cut the beans through the center, but did not split them apart completely. For the bottle on the right, I cut the vanilla beans into 1-inch sections. As you can see, the bottles on the left are becoming vanilla much more quickly. So if you need your vanilla extract sooner rather than later, use the approach where you split the bean in the middle, but not from end to end.
Homemade Honey Butter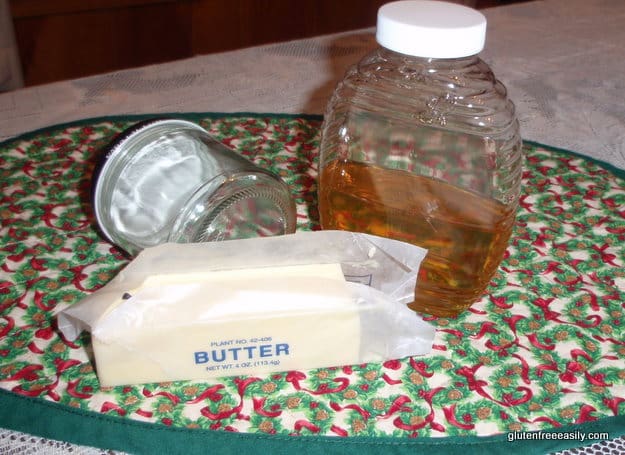 Because we keep bees and our bees make the world's best honey (yes, we're biased), I'm always looking for great ways to use honey in cooking or as gifts.
Honey butter is one of those little niceties that some restaurants offer with their bread. It's so easy to make and is really appreciated by the recipients. It's such a special accompaniment to a loaf of homemade bread or some homemade rolls or muffins.
You will be tempted to make a lot of honey butter to make as a gift, but a little goes a long way. The jars shown are bouillon jars that I've recycled. Smaller jars might be even better.
The very small jars that jams and jellies sometimes come in would be perfect, especially to go with a bread gift.  The following recipe produces just the right amount of honey butter to fill one of the bouillon-sized jars though.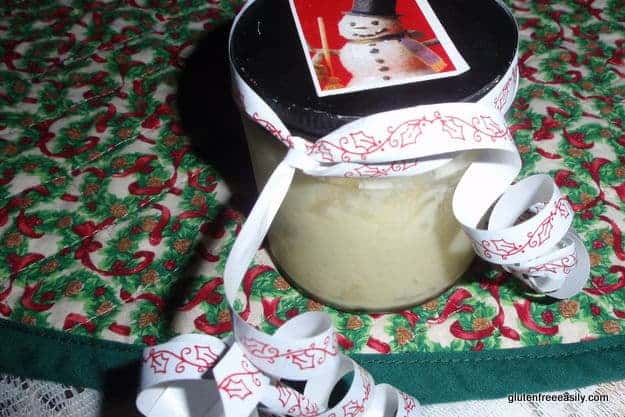 Homemade Honey Butter Recipe
Yield: 1 cup
Homemade Honey Butter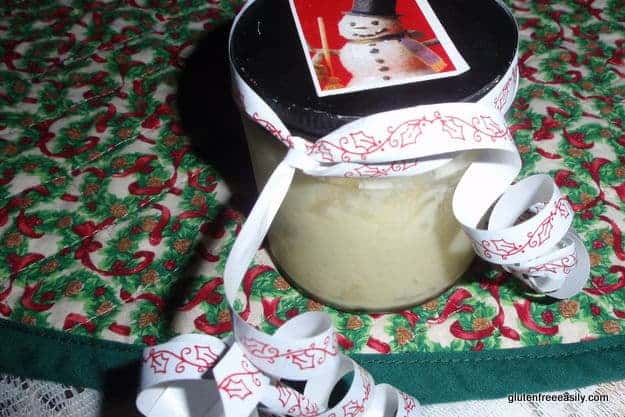 A schmear of this homemade honey butter truly will makes any bread taste special. Super easy to make and always well received!
Ingredients
1 ½ sticks (3/4 cup) of butter, softened (see notes for non-dairy options)
¼ cup honey (or less, to taste)
Instructions
Place softened butter in a deep bowl.
Cream butter with your mixer or a wooden spoon. Gradually add honey and mix using a low speed if using a mixer.
Spoon into the jar.
You can "wrap" your jar of honey butter now and then refrigerate or wait until right before gifting if you are worried about your wrapping getting disturbed or damp in the refrigerator.
Notes
I place a nice gift label on the lid and just tie a bow around the lid. The label shown in the photo was actually part of a book of stamps. I always save any parts I can turn into labels or stickers. I just hate to waste things.
Cost wise, this gift can be very reasonable. The butter cost me about 75 cents and, of course, the honey was free (setting aside our costs for maintaining the bees).
It would be pretty easy to make dairy-free honey "butter" using Earth Balance buttery spread that comes in a tub. Slightly soften spread by sitting the container on the counter for a few minutes. Remove spread to a medium-sized bowl. Add honey. Mix well. Place honey buttery spread back in the container, which you can wrap with wrapping paper (foil wrapping works well). Save any excess to another refrigerated container for yourself.
I also made a sample batch using coconut oil instead of butter and I liked it, but it does have a pronounced coconut flavor.
Homemade goodies like these are perfect for assembling together in baskets, too. I actually had more planned to share, but we had a thunderstorm today, lost power, and I lost my file, so I promise to give you some more easy gift ideas soon. Have fun with your gift making!
Other Gluten-Free Holiday Recipes To Grace Your Table
Last, don't forget … the Thanksgiving Progressive Dinner Party is still going on. Today's posts are recipes for side dishes.
Diane of The Whole Gang dished up Stuffing with Pancetta Sage Sausage … oh my! Mouthwatering.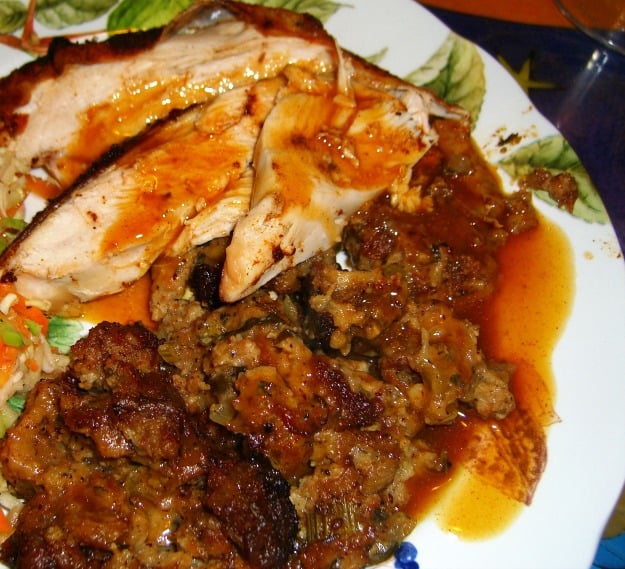 For another stuffing option, check out Stephanie's (A Year of Slow Cooking) Corn Bread Slow Cooker Stuffing. Who doesn't like cornbread? And made in the slow cooker? The best.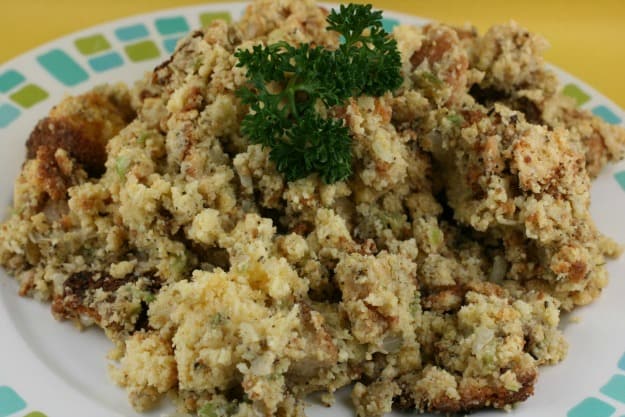 You really can't go wrong with either of those stuffing recipes. Just go take a look at them—they make you want Thanksgiving dinner right now!
Ali shared a beautiful Pear Pomegranate Salad with Orange Vinaigrette, yet another recipe in our Progressive Dinner that features arils, more commonly known as pomegranate seeds.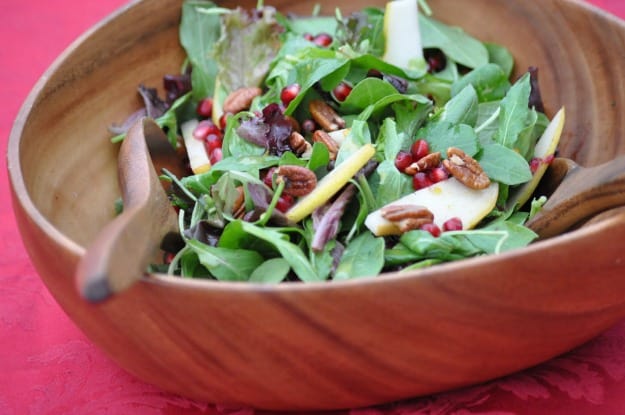 November happens to be National Pomegranate Month. I can only imagine the amazing burst of flavors in Ali's salad, especially from the crunchy arils!
Originally published November 20, 2009; updated December 6, 2018.