For affiliate links and as an Amazon Associate I earn from qualifying purchases.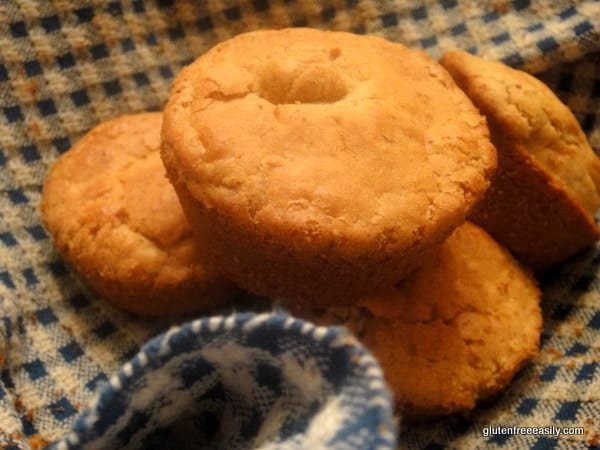 Last week, I saw a post that Ari had linked up to the Slightly Indulgent Tuesday roundup (at Amy's Slightly Sugar and Gluten-Free) from her blog, The Frugally Rich Life. The description was "Sweet Milk—An alternative to even honey or agave." I immediately checked out Ari's post. She had written briefly on making "sweet" milk and using it to sweeten baked goods. I had heard the term "sweet" milk used before, but not in this context. Some very old cookbooks I've used often referred to regular, whole dairy milk, as sweet milk. That term was used to distinguish it from buttermilk. I've also seen sweetened condensed milk referenced as "sweet" milk. However, the "sweet" milk Ari wrote about was made by soaking raisins in milk for a period of time. The milk is then drained off and the raisins are set aside/discarded. The "sweet" milk is then used to sweeten baked goods in lieu of sugar. I was intrigued by this concept to say the least.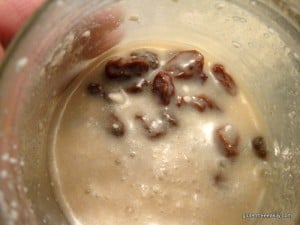 One of the recipes I planned to share for these three days of March Muffin Madness was a very basic sweet muffin that I had made previously with black walnuts or pecans. The recipe called for both milk and sugar so I decided to try it using the "sweet" milk only, replacing both the milk and the sugar. The version Ari used called for reconstituted non-fat dry milk. However, I wanted to make the recipe dairy free and bake the muffins the next day, so I soaked my raisins in coconut milk overnight (actually about 20 hours). The "sweet" milk appeared thickened, had a nice ivory color, and actually smelled a bit sweet. After draining, the raisins appeared flat, but still tasted slightly sweet. Once I mixed the ingredients though, it was clear that while the sweet milk might adequately replace the sugar, it could not replace both the sugar and the milk. More liquid was needed to make a good batter. So I added another ½ cup of full fat coconut milk right out of the can. The batter seemed just right then.
Coming out of the oven, these muffins were a lovely, golden brown. (They seem to be actually glowing in these photos!) I broke one open. I took one bite … and then another … and another. I was critiquing as I went. The muffin tasted good, but very simple. I asked Mr. GFE for his opinion, not giving him too much data, just responding "nuts" when he asked "What's in 'em?" His appraisal … "They're good, honey. A little plain tasting maybe, but good." That was a perfectly acceptable response to me as he had no idea the muffin didn't contain either sugar or honey. And, really I had to agree with his assessment.
When you first taste these, you are not impressed the way you might be with some muffin recipes (like my ABC Muffins, "Bran" Muffins, or Banana Maple-Nut Muffins, for example). Neither the flavors nor the texture jumps out at you. But, then as you finish one, you realize that you've found it very satisfying. In some ways, the low-key sweetness reminds me of tea biscuits. In fact, I love eating one of these while sipping on a cup of tea. Incidentally, I did tell Mr. GFE about the sweet milk method; he was surprised how well it worked.
I wouldn't say this recipe is top notch yet, but the muffins are good and I think this is a really clever concept. I plan to experiment with it much more. I wanted to go ahead and share it to see if you, my gfe readers, will take this recipe—or the concept—and play around with it and see what you think. A few other important things to add … I read more on the "sweet" milk concept and mine was "short changed" a bit. Some folks say that you have to soak the raisins in the milk for 2 – 3 days to get the maximum sweetness. I will definitely try the longer period next time. Of course, adding some fruit to these muffins would also add sweetness and some moisture. In my notes below, I actually recommend adding a small amount of mashed banana if one is using a thinner milk.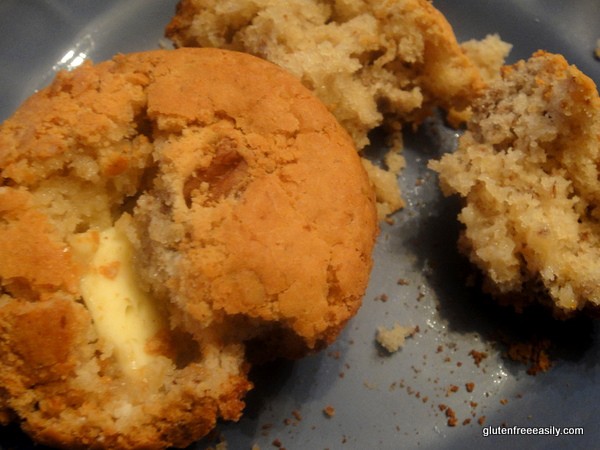 Yield: Makes 1 dozen muffins
"Sweet" Milk-Nut Muffins (Gluten Free, Dairy Free, Refined Sugar Free)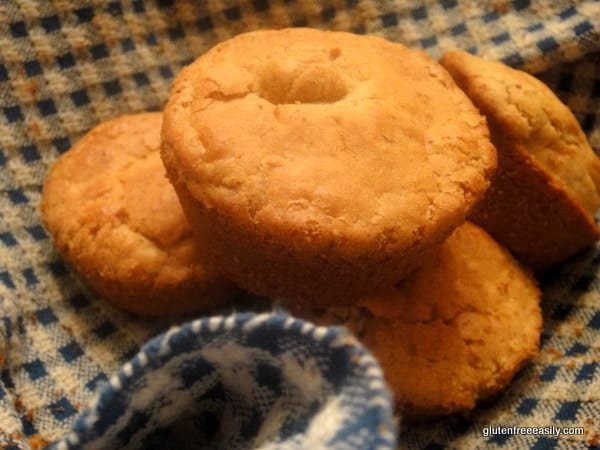 Ingredients
1 ½ cup gf flour mix*
1 tsp baking powder
½ tsp salt
1/3 cup coconut oil, liquefied (or oil of your choice)
1 extra large egg
½ cup "sweet" milk (i.e., raisin-sweetened coconut milk; or other non-dairy or dairy milk---see my notes below)
½ cup coconut milk (full fat; or other non-dairy or dairy milk—see my notes below)
½ - 1 cup chopped nuts of your choice (e.g., pecans, walnuts, black walnuts)
Instructions
Preheat oven to 400 degrees Fahrenheit. Grease muffin tins.
Mix first three ingredients in large bowl
Make well and add coconut oil, egg, "sweet" milk, coconut milk, and nuts.
Mix until ingredients are moistened and any large chunks of flour mix are broken up.
Fill muffin tins about ¾ full.
Bake for about 20 minutes.
Notes
*As I've mentioned before, I can't tolerate many of the healthier, gluten-free flours; e.g., sorghum, buckwheat. Therefore, my gluten-free flour mix is 3 parts Asian white rice flour and 2 parts cornstarch. I gently mix three one-lb bags of the Asian white rice flour and two one-lb boxes of cornstarch in a very large bowl and then store the mix in several airtight containers (like large glass jars). No refrigeration is needed. But feel free to use whichever flour mix you use most often for baking. If you're not gluten free, you may use all-purpose flour."Sweet" milk should be prepared beforehand. Soak ¾ cup to 1 cup of raisins in milk (one cup) at least overnight or for as long as 3 days. Shake, drain, and measure amount needed for recipe. If you want to use another type of milk, dairy or a thinner non-dairy (e.g., rice milk, almond milk) or dairy milk, I'd suggest adding about ¼ cup of fruit puree for added moisture. Mashed bananas would be great in this role. As I said above, they'd also add some sweetness (which is true of other fruits as well). I'd also like to make these with olive oil to see if that adds a hint of richness to the flavor. The nuts used can also affect the sweetness of the recipe. Pecans, for example, offer a bit of their own sweetness.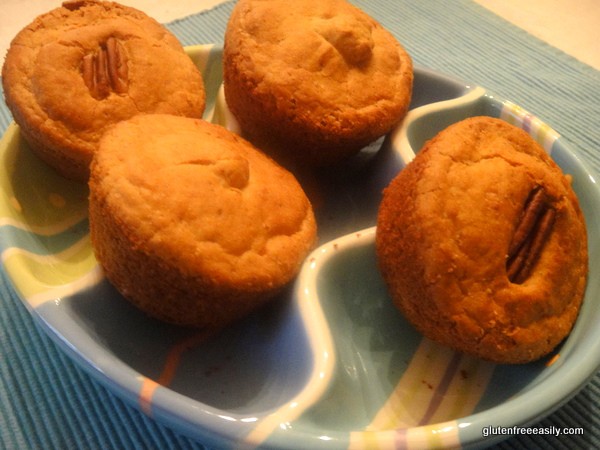 I'll be anxious to hear what you think of this sweetening concept. Perhaps some of you have even used "sweet" milk before. Let us know! Tomorrow, March Muffin Madness will wrap up with a classic muffin that could be categorized as either sweet or savory, or both. 😉