For affiliate links and as an Amazon Associate I earn from qualifying purchases.
Some of my best recipes are a result of gfe reader input and these Flourless Gluten-Free Oatmeal Coconut Cookies are another example of that. Oh, my goodness, these are such delicious cookies!
UPDATE: On April 4, 2023, Gluten-Free Watchdog issued a new statement, Gluten-Free Watchdog Cannot Recommend Any Brand of Gluten-Free Oats. Read the full statement here. This statement was followed by details on recent testing results of gluten-free products that contain oats., which showed 30% of the labeled gluten-free oat products tested contained quantifiable gluten.

This statement was followed by details on recent testing results of gluten-free products that contain oats, which showed 30% of the labeled gluten-free oat products tested contained quantifiable gluten. I'm not eating any oats and I urge all of my readers who eat gluten free for medical reasons to also abstain.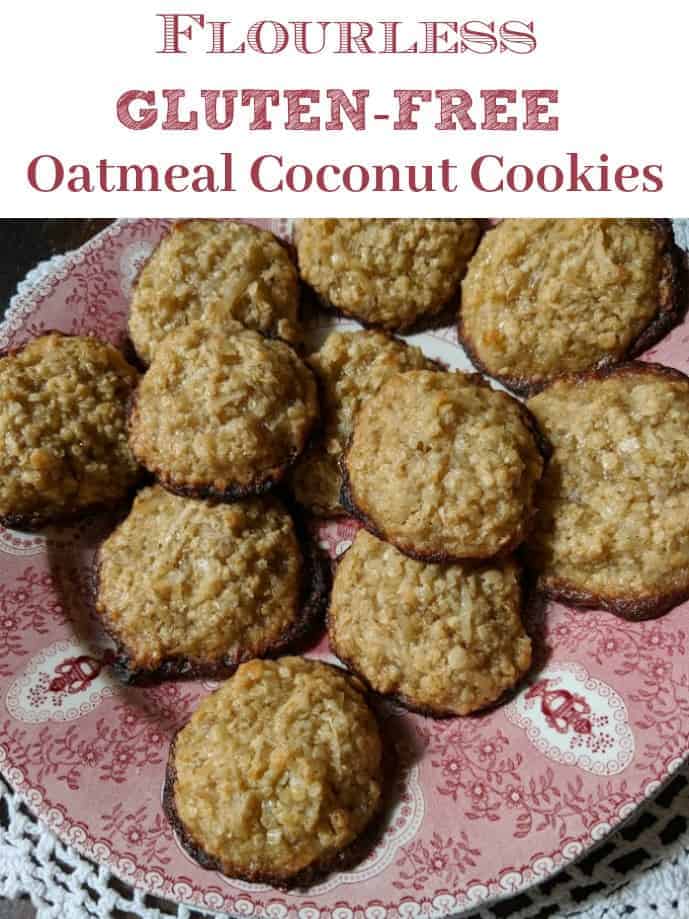 It's simple gluten-free recipes like this one that remind me why I started blogging. Living Gluten Free Easily (gfe) is doable and, frankly, pretty wonderful when you take the gfe approach.
First and foremost, focus on real food that is naturally gluten free—and recipes made from real food; next, enjoy some mainstream processed foods that are gluten free; and, last, use just a few gluten-free specialty foods.
The gfe approach is easier, healthier, more economical, and a more successful way of living gluten free for you and your family. Because your food tastes "normal." There's no need to make two meals—one for the gluten-free members of the family and one for those who don't eat gluten free. That's a good thing because nobody has time for that. Am I right?
If you're a longtime gfe reader, you also know that I think flourless and crustless recipes are the way to go when it comes to gluten-free baking. Not having to worry about gluten-free flour or making a crust makes gluten-free living better, believe me. Adding another recipe to the flourless and crustless category makes me happy and I am pretty sure that it will make you happy, too!
The Back Story Behind These Flourless Gluten-Free Oatmeal Coconut Cookies
I shared my Flourless Gluten-Free Oatmeal Cookies recently on Facebook and reader Lynn P. commented that she always made the best oatmeal cookies by simply substituting shredded coconut for half of the oatmeal called for in a recipe. I immediately thought, "hey, why didn't I think of that?" And I knew that substitution would work. I've even seen paleo recipes for "n'oatmeal" and "n'oatmeal cookies" that are made from shredded coconut.
Plus, as a big-time coconut lover, I couldn't wait to try using half coconut and half oats! Lynn had also noted that she used Baker's Sweetened Coconut because that's all that was available at that time. I knew she was right. To be honest, it wasn't even that long ago that I didn't even know that unsweetened coconut existed because I'd never seen it or heard of it. At my local grocery store, sweetened coconut is still all that's available—Baker's brand and the store brand. If I want unsweetened shredded coconut, I have to order it online or pick it up at the closest upscale store or specialty food products store.
Following Lynn's lead, I made this recipe using Baker's Sweetened Coconut. Because of the extra sweetness, I reduced the amount of granulated sugar. The resulting cookies are still plenty sweet. Plus, they have the same fabulous caramelized edges and bottoms as the original recipe. But a center made out of oats and shredded coconut is even better than a chewy oat middle. So good, folks!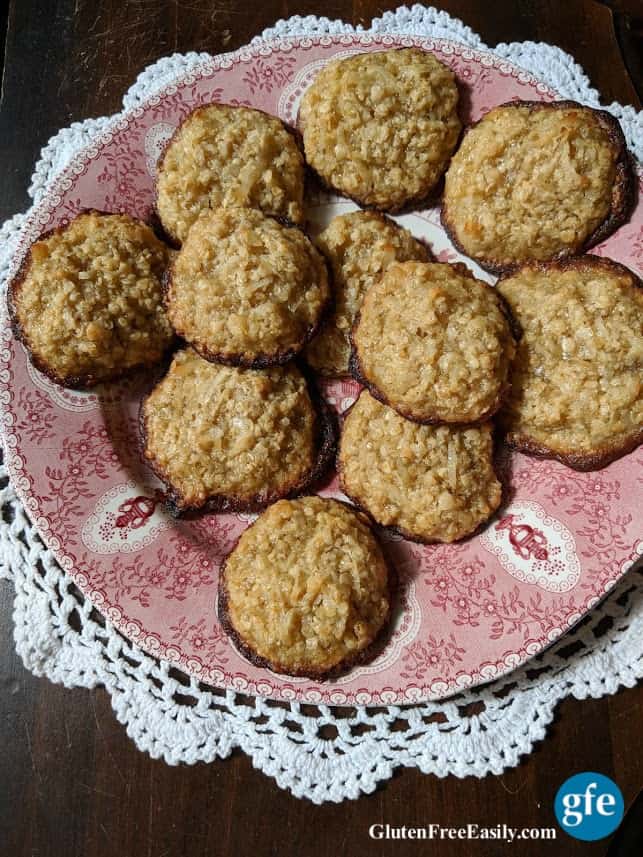 To make sure, my opinion wasn't off base, I had Mr. GFE and his friend who was visiting give them a test. Several cookies each later—hey, they didn't want to rush their review!—they gave these cookies "two thumbs up!" I hope you will as well if you give them a try.
If you want to make this recipe and only have unsweetened coconut on hand and want to use that, I say go ahead and give it a try.
If you've ever used Baker's Sweetened Coconut before, you know that not only is it obviously sweeter, it's also much moister. Unsweetened shredded coconut in my experience is quite a bit drier. So, while I think unsweetened shredded coconut will still work in this recipe, the texture of the resulting cookie might be a bit different than the cookies I made, which are shown here. They'll probably be both a bit drier and a bit chewier. If either of those turns out to be a problem for you, you could always add some mini chocolate chips as I've shared in the Notes section of the recipe.
More Gluten-Free Coconut Recipes Plus Helpful Info
~ 5 Things You Need to Know When You Go Gluten Free
~ Banana Coconut Breakfast Cookies
~ Coconut Popcorn Shrimp Cakes
~ Painkiller Drink (and Here's Your Sign)
~ Paleo Shredded Coconut Blueberry Muffins
Flourless Gluten-Free Oatmeal Coconut Cookies Recipe
Yield: 15 - 18 cookies
Flourless Gluten-Free Oatmeal Coconut Cookies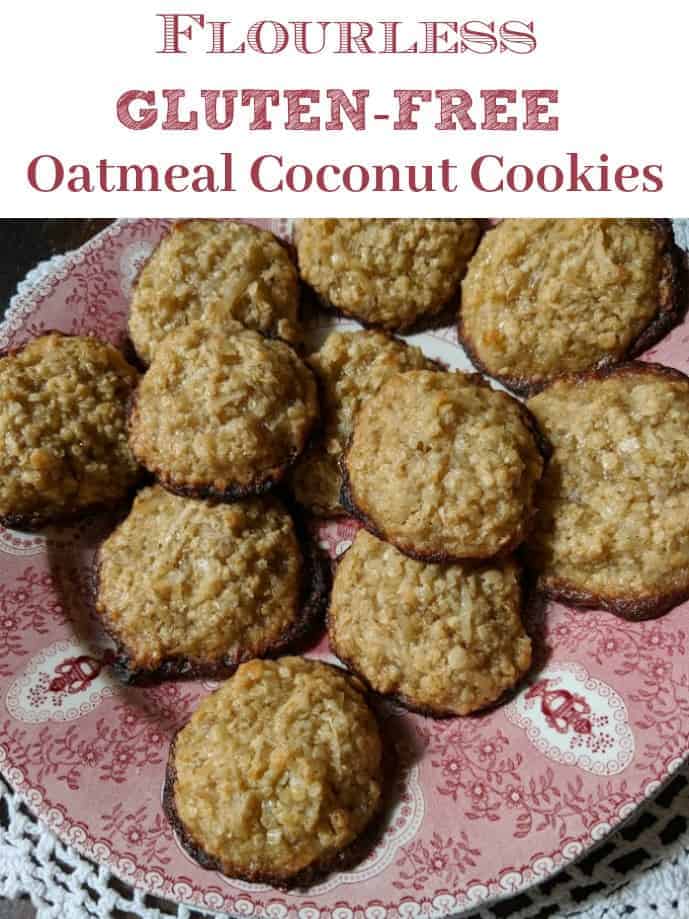 Flourless Gluten-Free Oatmeal Coconut Cookies. Oh, the best of both worlds! Oatmeal cookies and coconut cookies come together in one downright delicious cookie!
Instructions
Melt the butter and set aside to cool slightly. Place oats and coconut in a medium-sized mixing bowl. Stir in both sugars and the salt and blend to break up any lumps.
Whisk in melted butter, vanilla extract, and egg. Stir all ingredients until they form a large ball of dough.
Chill the dough about 30 minutes.
Preheat oven to 350ºF. Meanwhile, prepare a baking sheet by lining with parchment paper.
Chilled dough will still be somewhat soft. Form the dough into 1-inch balls (or ball-like lumps; don't stress) and place on the baking sheet about 2 inches apart. Flatten each ball down very slightly.
Bake for 10 to 13 minutes or until the edges are nicely browned (but not too brown) and the tops of the cookies look well set.
Cool well on the baking sheet (about 10 minutes) before attempting to remove, using a spatula.
Notes
This recipe makes about 1 1/2 dozen cookies.
These cookies would also be terrific with mini chocolate chips added. Only about ¼ to 1/3 cup would be needed. Add chocolate chips after adding in butter, vanilla extract, and egg. 
Be sure to use oats that are BOTH certified gluten free and purity protocol oats. You'll find the current list here. Note that Bob's Red Mill oats are not on the list. They are neither independently certified gluten free or grown and processed using the purity protocol.
Originally published March 4, 2018; updated April 17, 2023.