For affiliate links and as an Amazon Associate I earn from qualifying purchases.
These gluten-free Spiced Meatballs are the ones I always make for holidays and other celebrations. In fact, I often call them Party Meatballs.
Everyone loves them so much that when an upcoming party is mentioned one of the first questions asked is "Will you be making your meatballs?" And "Sorry, no." is never an acceptable reply!
Good meatballs are good meatballs but a large part of what makes these meatballs so very appealing is the sauce that they're served in. It's kind of a sweet and spicy sauce. And rich. Wonderfully rich.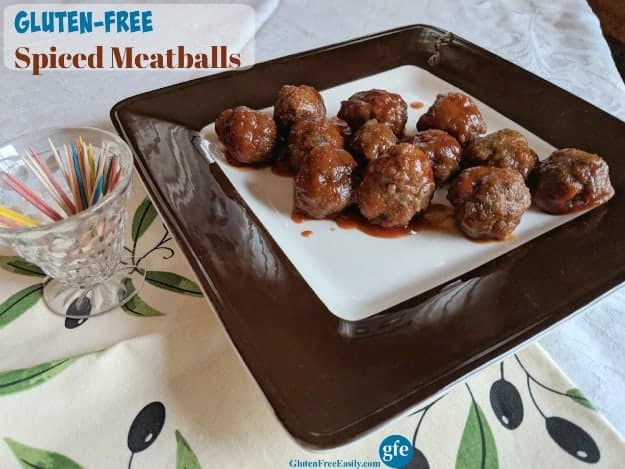 Because of that, one can't overindulge too much with these gluten-free Spiced Meatballs. Just a couple are very satisfying. That also means that all the meatballs aren't gobbled up as soon as the party starts. However, I still usually double or triple this recipe for big celebrations when there will be lots of attendees.
I was introduced to the original recipe when my girlfriend "Fred" served them at a party long, long ago. I honestly can't remember if she served them at one of her parties or if she brought them to one of mine. I just know that I immediately loved them and everyone else in attendance did as well because they were not your "average" meatballs. There are lots of average meatballs out there but I think we all deserve much better than average meatballs.
When I asked Fred for the recipe, she pointed me to a cookbook created by one of our local organizations. I believe it was our local women's club's cookbook.
You know that type of cookbook, right? Such cookbooks are usually small spiral-bound collections of favorites submitted by individuals in an organization (such as a women's club, church, or support group).
Even after one goes gluten free, these cookbooks can still be beloved and used often. You'll find that they include quite a few recipes that are naturally gluten free and many others that can easily be adapted to be gluten free.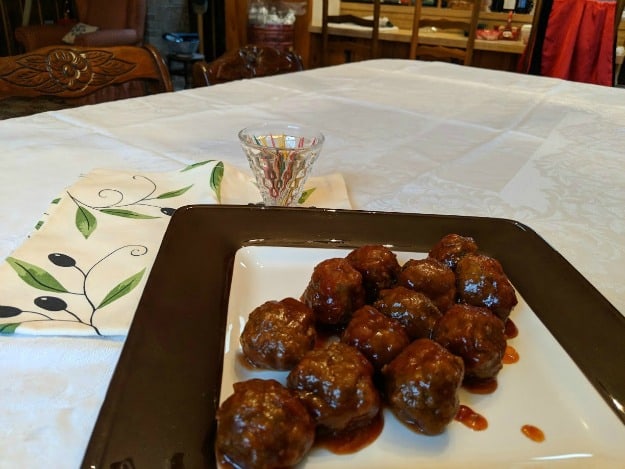 The only gluten-full ingredient in the original meatballs recipe was bread crumbs. It was easy to substitute gluten-free bread crumbs, of course, but over time I've made other changes to this recipe. Some consistently and others as needed.
For example, to make the recipe work for those who are dairy free, I can simply leave out the Parmesan cheese or I can substitute a smaller amount of nutritional yeast. I also don't always use bread crumbs. Sometimes I substitute almond flour and sometimes I simply leave out the bread crumbs for a mostly grain-free version. It's easy to make other changes as well, if needed.
So, if you're more than "just gluten free," be sure to read the notes in the recipe to see if there's a variation that will work for you.
If I'm really on my toes when making a double or triple batch, I plan ahead and freeze the meatballs after cooking them. Then I pull them out and place them in the fridge the night before serving, making the sauce that day. A little sauce goes a long way with this recipe so I don't double or triple the sauce when I make a double or triple batch of the meatballs. Usually, I make one and half times the amount of sauce for a double batch of meatballs and double the amount of sauce of a triple batch of meatballs. Following this approach still provides plenty of sauce.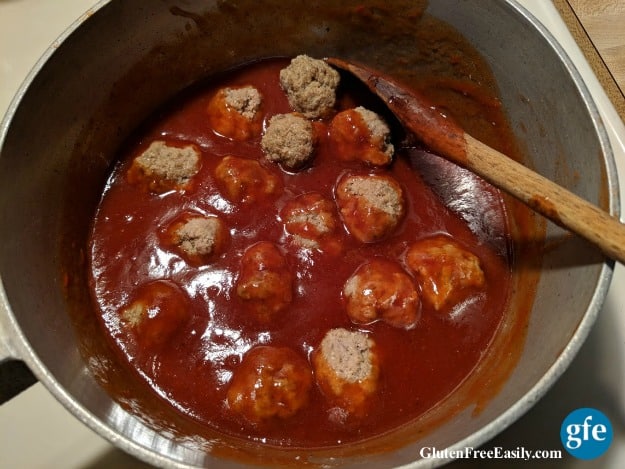 Even if you don't have a party or a celebration planned soon, I think you owe it to yourself to give these gluten-free Spiced Meatballs a try soon! Go all Kool & The Gang, "There's a party going on right here … let's all celebrate and have a good time!"
Gluten-Free Spiced Meatballs Recipe
Yield: 24 meatballs
Gluten-Free Spiced Meatballs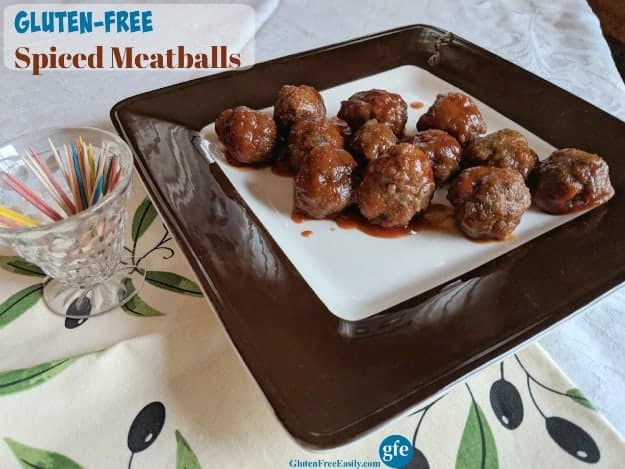 These flavorful gluten-free Spiced Meatballs served in a sweet and spicy sauce are always a hit at parties!
Ingredients
Meatball Ingredients
1 pound ground beef
½ cup gluten-free bread crumbs (see notes)
2 tsp chopped onion
1 tbsp ketchup
4 drops hot sauce (I use this brand)
2 eggs, well beaten
½ tsp salt
¼ tsp pepper
from 1 tbsp up to ½ cup Parmesan cheese, shredded or grated (or up to 1/3 cup nutritional yeast, optional)
1 tsp Italian seasoning
Sauce Ingredients
½ cup ketchup
½ cup chili sauce
¼ cup apple cider vinegar
½ cup light brown sugar
2 tsp diced onion
4 drops hot sauce
½ tsp dry mustard
1 tsp salt
¼ tsp pepper
Instructions
Meatball Instructions
Add all meatball ingredients to a large mixing bowl.
Mix well and shape into balls about ¾ inch to 1 inch in diameter.
Bake in greased baking dish in preheated 425F-degree oven for about 15 minutes (drain after baking, as needed) OR bake in microwave on paper-towel lined microwave-safe dish or plate on HIGH for about 12 to 14 minutes until all meatballs are done. (Test doneness at 12 minutes and move less done meatballs to prime baking spots if needed.)
Sauce Instructions
Combine sauce ingredients in large saucepan and bring to a boil.
Reduce heat and simmer about 5 minutes.
Add meatballs and simmer an additional 10 minutes. (You can skip this step if you'll be placing your meatballs and sauce in a slow cooker beforehand for serving.)
Notes
I often use ground venison instead of ground beef or I use half ground venison and half ground beef. I also use different types of beef, such as mixing ground round with higher fat ground beef.
If using seasoned gluten-free bread crumbs in your meatballs, you can omit the Italian seasoning.
Gluten-free bread crumbs can be omitted or replaced with almond flour (almond flour, not almond meal). Almond meal is not fine enough and it too high in moisture. It will make your meatballs gummy. Sometimes I even toast my almond flour before adding it to the meatball mixture---to give it more of a bread crumb effect.
Parmesan cheese can be omitted in the meatballs to make them dairy free. Or another dairy-free option (as already indicated in the ingredients listing) it to substitute nutritional yeast for the Parmesan cheese. I find I use a lesser amount of nutritional yeast though.
When baking meatballs (either in a traditional oven or microwave oven), you can flip halfway through if needed. Usually, I only flip the ones that look like they're more well-cooked than the others. I often turn the baking dishes halfway through cooking to get more evenly baked meatballs though. If you make your meatballs larger, you will need additional baking time. Always test one or two for doneness before removing from oven.
A little sauce goes a long way with this recipe so I don't double or triple the sauce when I make a double or triple batch of the meatballs. Usually, I make one and half times the amount of sauce for a double batch of meatballs and double the amount of sauce of a triple batch of meatballs.
Other Gluten-Free Recipes Perfect for Celebrations
~ 20 Gluten-Free Cocktail Recipes
~ 50 Low-Carb and Gluten-Free Super Bowl Appetizer Recipes
~ Elegant and Easy Party Puffs
~ Shrimp and Spinach Party Dip
Originally published on March 10, 2018; updated February 12, 2023.