For affiliate links and as an Amazon Associate I earn from qualifying purchases.
Yes, not simply gluten-free Caramel Squares, which I shared recently but gluten-free Caramel Apple Squares. Oh, my goodness, these new squares are so yummy!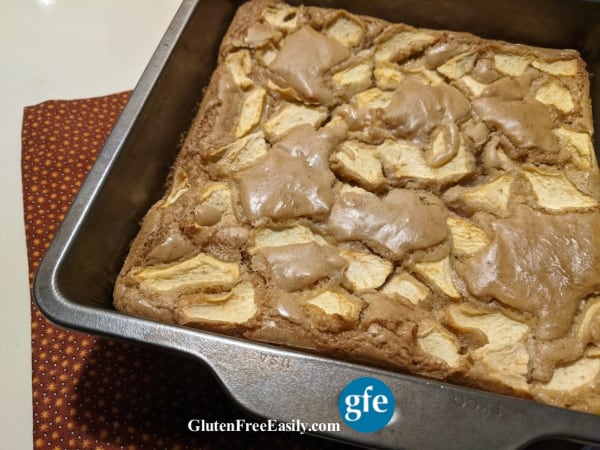 I've always said that one good recipe leads to another. After all, that's how Crustless Apple Pie became Crustless Caramel Apple Pie and how we have Crustless Pumpkin Pie and Best Ever Crustless Pumpkin Pie and even the sensational Crustless Coconut Pie. To name just a few examples here on gfe.
Well, my last recipe for Caramel Squares has now evolved into Gluten-Free Caramel Apple Squares. Of course, it did, right? And the timing was right as I created this recipe on Caramel Apple Day, October 31.
Fall is the season of caramel, apples, and often caramel apples. These Caramel Apple Squares are simply the Caramel Squares with sliced apples added. So easy. So good.
I tested two variations. First, I placed the apples in the bottom of the baking dish and poured the batter over them. This method worked fairly well but it did require a lot more cooling time for the squares to become firm enough to cut and pick up.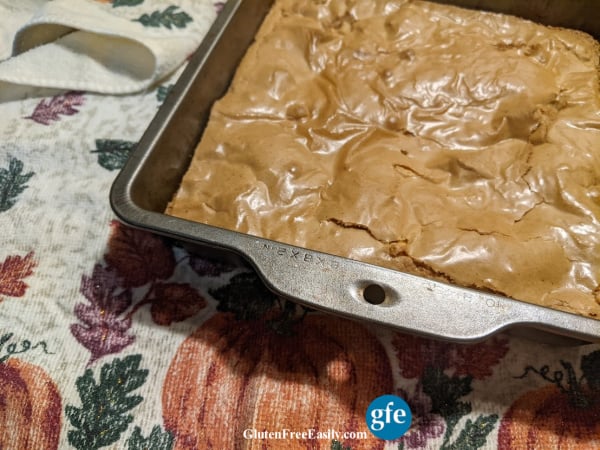 Because the apples are on the bottom of the squares, you also can't tell that these are apple treats simply by taking a quick look at them. If that matters to you. As you can see, a single square still looks divine! And you can see some of the apple slices via the side view.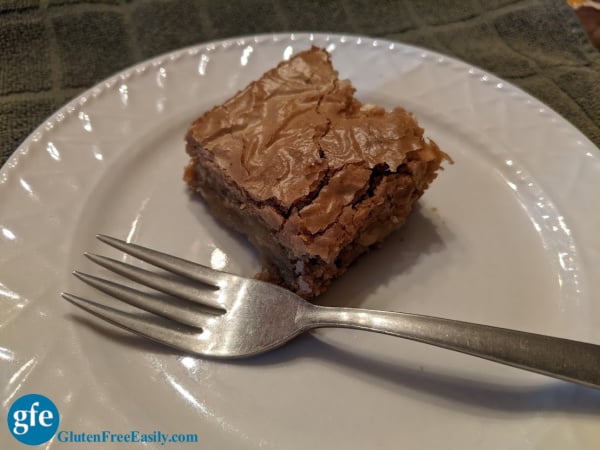 The second time around, I poured the batter into the baking dish and then placed the apples on top of the batter.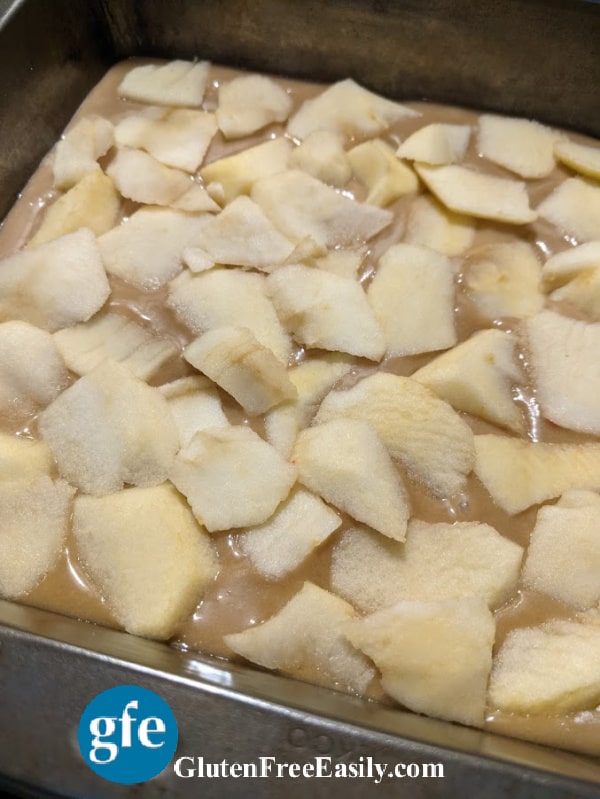 I had reserved some of the batter so I could place a few dollops of it on top of the apple slices as I wanted the slices to sink into the batter a little. You could also use your fingers to press them down into the batter some. As you can see in the photo below, you can clearly tell that these treats include apples.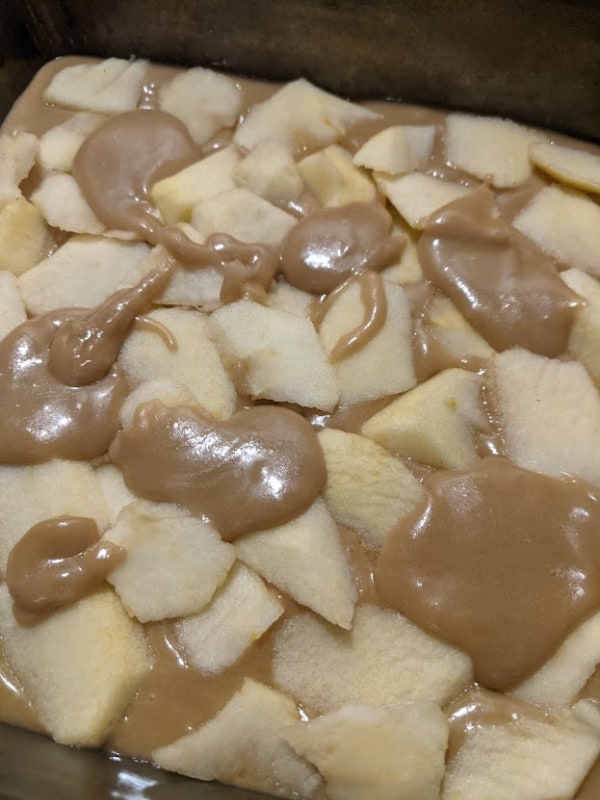 The Caramel Apple Squares made with the apples on top do have to be baked longer than the version with the apple slices on the bottom of the pan, but not too much longer. Still, as a result, the squares are chewier and crustier overall. On the second day, the apples have dried out a little and are, therefore, even a bit chewier.
If you like chewy and crusty, you'll want to make the version with the apple slices on the top. If you prefer softer squares, you'll want to add your apple slices to the baking pan before adding the batter. Update: One important note … don't add more apple slices than called for in the recipe, even if you have just a few extra slices that you want to use. Adding extra apple slices will keep the squares from setting up firmly enough, which will make the squares crumbly and the extra moisture will make these treats spoil more quickly.
Either way that you make them though, these Caramel Apple Squares are scrumptious! And just as with the original Caramel Squares, you can sift or sprinkle some powdered sugar on your squares right before serving but in my opinion, they really don't need any topping.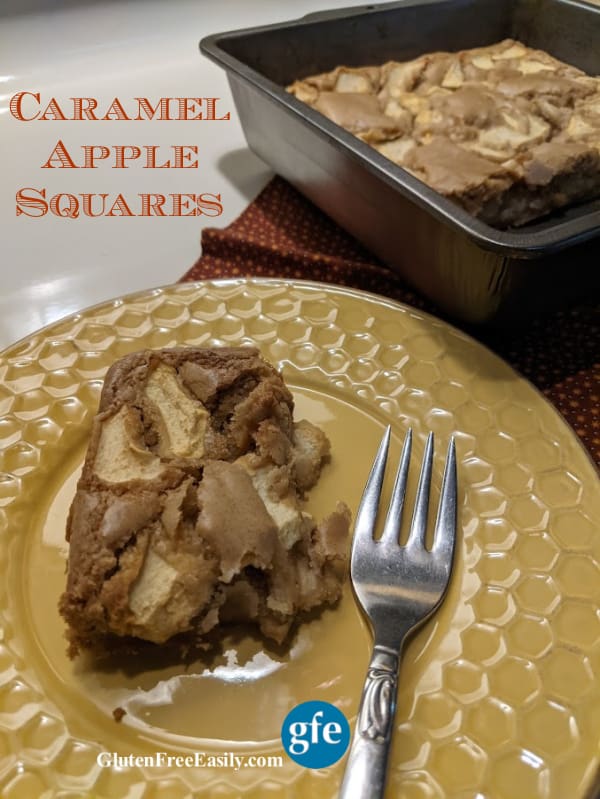 Anyway, here's the recipe! Please let us all know if you give these gluten-free Caramel Apple Squares a try and which version you prefer.
More Gluten-Free Apple Recipes, Some with a Caramel Factor
~ Cinnamon Apple Cake (be sure to check out the Coconut Caramel Sauce as well!)
~ Salted Caramel Apple Muffins
~ Slow Cooker Apple Butter Made from Applesauce (No Fresh Apples Needed)
Gluten-Free Caramel Apple Squares Recipe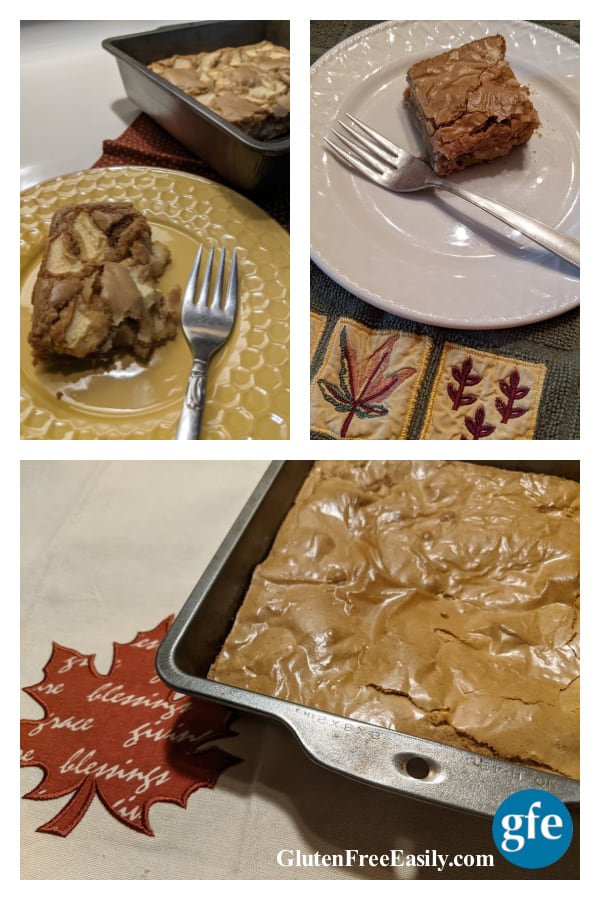 Yield: 9 to 12 squares
Gluten-Free Caramel Apple Squares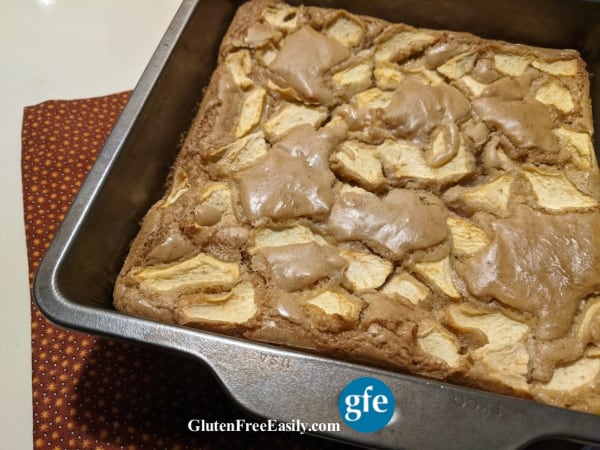 These gluten-free Caramel Apple Squares are a wonderful way to enjoy two of Fall's best flavors. They're also a great way to use the apples on your counter. You get to choose if you want the apple slices on top or at the base of the squares.

Prep Time 10 minutes

Cook Time 25 minutes

Additional Time 15 minutes

Total Time 50 minutes
Ingredients
1 cup peeled and sliced apples (sliced thin; about one large apple or two small apples)
½ cup butter (or dairy-free equivalent such as soy-free Earth Balance Buttery Spread)
1 cup light brown sugar, packed
1 large egg
1 cup gluten-free flour mix (I used my Two-Ingredient Flour Mix)
1 tsp baking powder
Pinch of salt
1 tsp gluten-free vanilla extract
Powdered sugar for sprinkling, optional
Instructions
Preheat oven to 350F.
Grease 9 x 9 (or 8 x 8) baking dish/pan.
Place apples in the bottom of the baking dish (or add them after you add the batter---either pressing them down some into the batter or reserving some batter to dollop on top of them).
In a medium-sized saucepan over low heat, melt butter and brown sugar together. Stir constantly until smooth. Remove from heat and cool slightly.
Beat in egg.
Sift in gluten-free flour mix, baking powder, and salt.
Stir in vanilla extract.
Beat until smooth.
Pour batter into the baking dish, reserving about two tablespoons of batter if you did not add the apples earlier.
If you did not add apples earlier, add them now by placing them on top of the batter.
Add the batter you reserved via placing several dollops on top of the apples (see photos above the recipe).
Bake 25 to 28 minutes. Test for doneness with a toothpick.
Cool (about 15 to 20 minutes if you made the version in which you added the apple slices first). Sprinkle with powdered sugar, if desired---either on the individual slices or on the entire pan.
Cut into squares.
Notes
If using an 8 x 8 baking dish/pan instead of one that's 9 x 9, the baking time may be slightly longer.

This recipe does not require xanthan gum but if that is already included in your gluten-free flour mix, it won't negatively affect the recipe.

I recommend a gluten-free flour mix that is a mix of lighter flours and starches. I don't recommend a heavier flour mix, for example, one that's bean flour-based.

Resist the urge to add more apple slices if you have some extra ones. Doing so will keep the squares from firming up and will make them too soft and moist, and they will spoil more quickly.





Originally published November 7, 2021; updated November 16, 2021.