For affiliate links and as an Amazon Associate I earn from qualifying purchases.
How can you make my Easy Gluten-Free Apple Pie even better? Add caramel sauce to the recipe and create Gluten-Free Caramel Apple Pie, of course!
I'm not talking about simply adding some caramel sauce as the topping after you've baked the pie—although that certainly would be delicious as well. I'm talking about apple pie "infused" with caramel sauce.
Let me tell you about my crustless version of Caramel Apple Pie and how this pie came to be and, most importantly, how you can make it so you can enjoy a slice ASAP!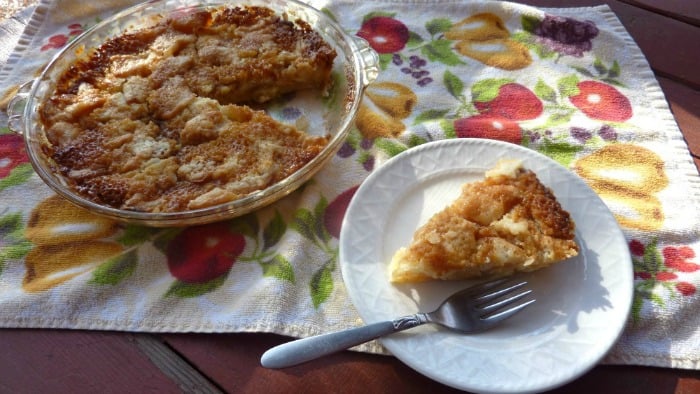 While Christmas shopping with my sister recently, I spied some salted caramel sauce that I just had to have. Seriously, I was a goner the moment I saw it.
That's because the company that made this sauce employed a genius marketing strategy. Each jar of their sauce bears what they call a "drippy lid"!
What does that mean? Take a look at the image below and you'll see what "drippy lid" means.
It appears that caramel sauce is dripping down the sides of the jar. How could one possibly resist this caramel sauce when the drippy lid reminds you of the ooey gooeyness of caramel.
I wanted to open that caramel sauce right there in the shop and go to town with a spoon! Seriously.
By the way, I learned that their drippy lid is even recyclable. Bonus points for that for sure!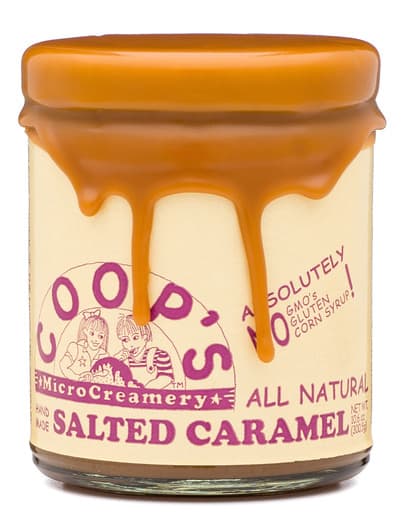 This salted caramel sauce was pricey (although I didn't spend anywhere near as much as it costs on Amazon) but I definitely got my money's worth. The jar only contained 10.6 ounces but I still got a lot of treats out of it!
I used the Salted Caramel Sauce to top ice cream several times, added it to hot chocolate (swoon), and, ultimately, used it to create today's gluten-free Caramel Apple Pie. Long drawn out swooooon on this new version of gluten-free apple pie.
You can use store-bought or homemade caramel sauce in this recipe. In order to ensure that the caramel sauce doesn't simply turn the apple mixture to an ooey gooey mix, initially, you bake the pie at a higher temperature without the caramel sauce added to help "set" the crust.
Then you drizzle the caramel sauce over most of the surface of the crust but—and this is important—you don't completely cover the crust with the caramel sauce. That's because, again, while you want some wonderful caramel ooey gooeyness you don't want too much.
I forgot to snap a photo before I placed my pies (regular sized and a much smaller one) in the oven but you can see them here in my oven (which admittedly needs a good cleaning). Again, note how I didn't cover the entire surface of the pie with the caramel sauce.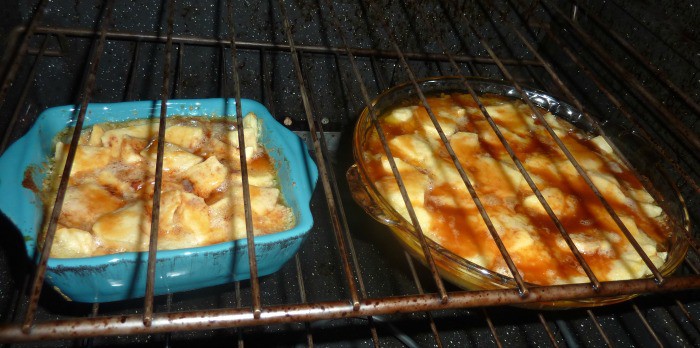 Even though you don't actually see much of a top crust with this gluten-free Caramel Apple Pie, this recipe is definitely still a pie versus say a cobbler. You can see that from the perfect slice shown in the earlier photo.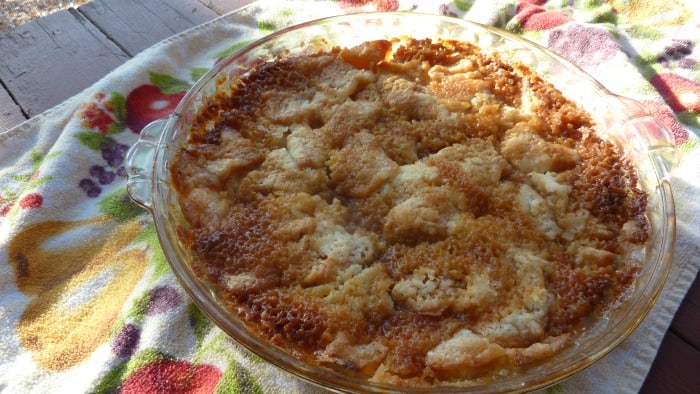 Here are some links to recipes for Homemade Caramel Sauce if you prefer making your own versus buying caramel sauce. And then my recipe for gluten-free Caramel Apple Pie. I sure hope you enjoy this version!
Homemade Gluten-Free Caramel Sauce Recipes
Caramel Sauce from Gluten Free Easily (see ingredients and directions for Caramel Sauce Layer in Salted Caramel Shortbread Brownies recipe)
Coconut Caramel Sauce from Chocolate-Covered Katie
Coconut Caramel Sauce from Gluten-Free Fix
Easy Breeze Caramel Cinnamon Sauce from Eat Good 4 Life
Easy Homemade Caramel Sauce from Premeditated Leftovers
Fruit Juice Caramel Sauce from Civilized Caveman
Honey Caramel Sauce from Gluten-Free Fix
"Liquid Gold" Caramel Sauce from Allergy Free Alaska
Pumpkin Coconut Caramel Sauce from Healthy Slow Cooking via Spabettie
Vegan Caramel Sauce from Elana's Pantry
Gluten-Free Caramel Apple Pie Recipe
Yield: 8 slices
Gluten-Free Caramel Apple Pie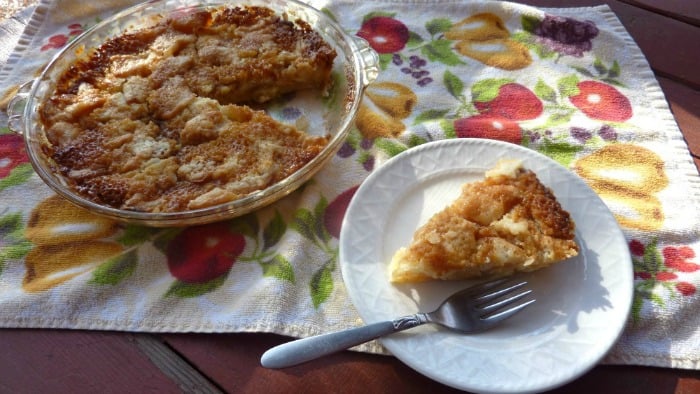 How can you make my Easy Gluten-Free Apple Pie even better? Add caramel sauce to the recipe and create this Gluten-Free Caramel Apple Pie, of course!
Ingredients
5 to 6 apples, peeled and cut up (4 ½ to 5 cups)
1 tsp cinnamon
1 tbsp granulated sugar
¾ cup butter, melted (dairy or non-dairy substitute, like Earth Balance)
1 cup granulated sugar
1 cup gluten-free flour mix (I use my Two-Ingredient Flour Mix)
½ tsp xanthan gum (optional, and omit if using a flour mix that already contains xanthan gum)
1 large egg 
pinch of salt
2 to 3 tablespoons caramel sauce (homemade or purchased; see notes regarding measurement)
Instructions
Preheat oven to 425F degrees.
Put apples in greased, deep-dish pie plate and sprinkle with cinnamon and one tablespoon of sugar.
In a bowl, mix melted butter, one cup of sugar, flour, and xanthan gum (if used). Blend in unbeaten egg and pinch of salt. Mix well and pour over apples. (This mixture will be thick, so you might have to spread it with a spatula to cover all the apples.)
Bake for 15 minutes.
Remove from oven and drizzle 2 to 3 tablespoons of caramel sauce over the top of the pie. You do not want to cover the top of the pie completely. (Covering the entire top will make the pie too gooey and will not give you enough of a firm top crust in my opinion.)
Reduce heat to 350F degrees and bake for about 30 to 40 minutes. Test for doneness using a toothpick.
Cool completely before slicing and serving.
Notes
I also made a smaller version of this pie. I had a very small casserole/ramekin type dish that holds 2 cups. To make the smaller version of pie, I used the instructions above although I removed the smaller pie from the oven about 5 minutes earlier than the regular-sized pie. I also used the same ingredients but in smaller amounts, of course.
Here are the ingredients and their measurements (in the order that they are used in the recipe): 2 peeled and sliced apples, 1/3 tsp cinnamon, 1 tsp granulated sugar, ¼ cup melted butter, 1 tbsp plus 1 tsp egg (I quickly beat one egg and measured out this portion), 1/3 cup granulated sugar, 1/3 cup gluten-free flour mix, pinch xanthan gum, and just under 2 tbsp caramel sauce.
Originally published December 8, 2017; updated September 1, 2020.