For affiliate links and as an Amazon Associate I earn from qualifying purchases.
I'm for gingerbread everything and anything—and not just during December but all year long! However, if you personally reserve gingerbread recipes for the holidays, I bet you're really happy that we're in the holiday season now! To help you make the most of the season, today I'm sharing Homemade Gingerbread Latte from Danielle Walker's latest cookbook Against All Grain Celebrations.
As its cover says, Celebrations is "a year of gluten-free, dairy-free, and paleo recipes for every occasion." But we'll get back to Danielle's beautiful new book in a moment. Let's take a moment to talk about why this Homemade Gingerbread Latte is such a wonderful recipe for those of us who are gluten free.
While Gingerbread Latte is available seasonally at coffee spots like Starbucks, those of us who are gluten free have to be very careful when considering such choices. Starbucks has specifically stated that it is "unable to guarantee a gluten-free environment" and encourages gluten-free customers to only consider packaged products marked "gluten-free" as safe.
Some of the ingredients used in Starbucks' drinks are reported to definitely contain gluten (e.g., java chips, sprinkles) and there is a chance of cross contact (also referenced as cross contamination) between gluten-free ingredients and gluten-full ingredients because of shared blenders, shared workspaces, etc. The fact is that many in the gluten-free community have reported being glutened at Starbucks by offerings that "should" have been gluten free when you the ingredients alone were considered. But as we know, there's much more to having a truly gluten-free product than the individual ingredients it contains.
If you make Homemade Gingerbread Latte, you control the ingredients and the environment your latte is made in so you're totally good to go. And sipping this creamy latte infused with the gingerbread flavors of the holidays without fear of being glutened makes it taste even better. We all deserve that!
This latte also comes at a much lower cost than a Gingerbread Latte from Starbucks, of course. You have to love that!
I also love that if you leave the coffee out of this recipe, you can use the recipe as Homemade Gingerbread Creamer so you can enjoy a Gingerbread Latte any time you'd like. As noted in the recipe, you'd simply use one part creamer and two parts coffee (for example, ½ cup of creamer and 1 cup of coffee) and blend before serving.
An immersion blender, aka stick blender, comes in handy for this task! If you don't have one, simply use your regular blender, of course (with caution when you're dealing with any hot liquids), and be sure to check out my tip on how to clean your blender in 3 minutes or less.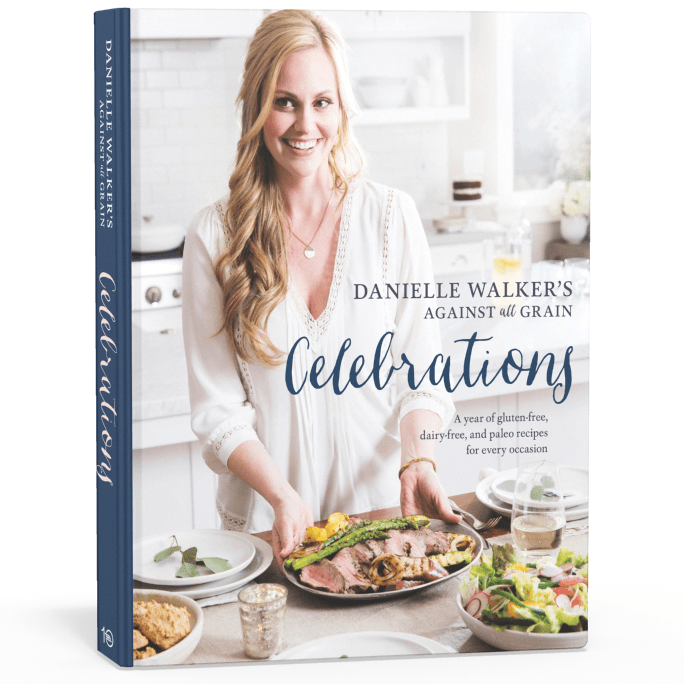 Danielle Walker's Against All Grain Celebrations is her third cookbook (see all of her cookbooks). You'll find my reviews of Danielle's other cookbooks, including additional recipes, on gfe here. Spoiler alert:  I've loved them all!
I do my best reading while we're camping at our mountain property on the Shenandoah river so I read Danielle's book this summer while sitting by the campfire and watching folks "float" the river. It was so enjoyable to go through a whole year of celebrations with Danielle's amazing recipes and look forward to all the holidays and special events to come.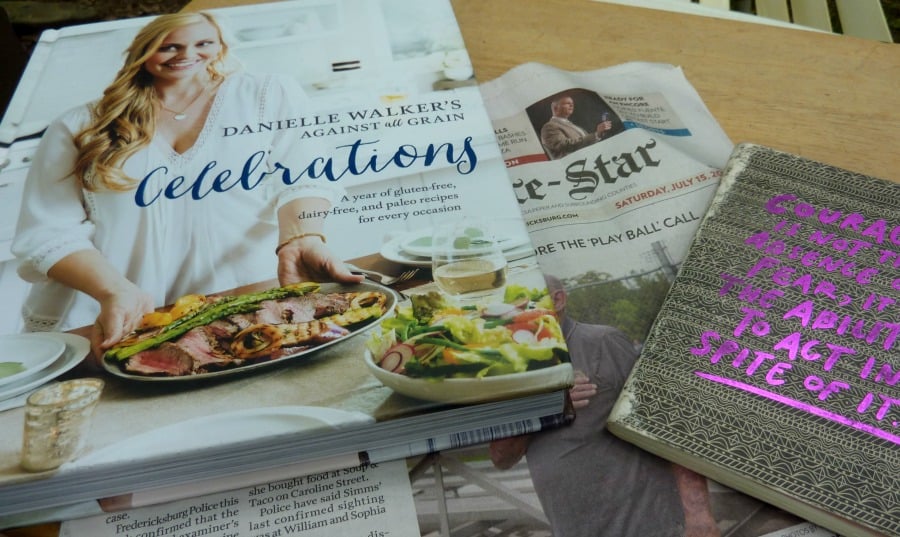 Celebrations covers 12 special occasions:   New Year's Eve Cocktail Party, Game Day Buffet, Valentine's Day (including A Little Love for the Kids and Dinner for Two), Easter Brunch, Mother's Day Luncheon, Father's Day Cookout, Birthday Party, Fourth of July Barbecue, Summer Shower, Halloween (including Trick or Treats and Autumn Dinner Party), Thanksgiving, and Christmas (including Christmas Breakfast, Christmas Dinner, and Christmas Treats).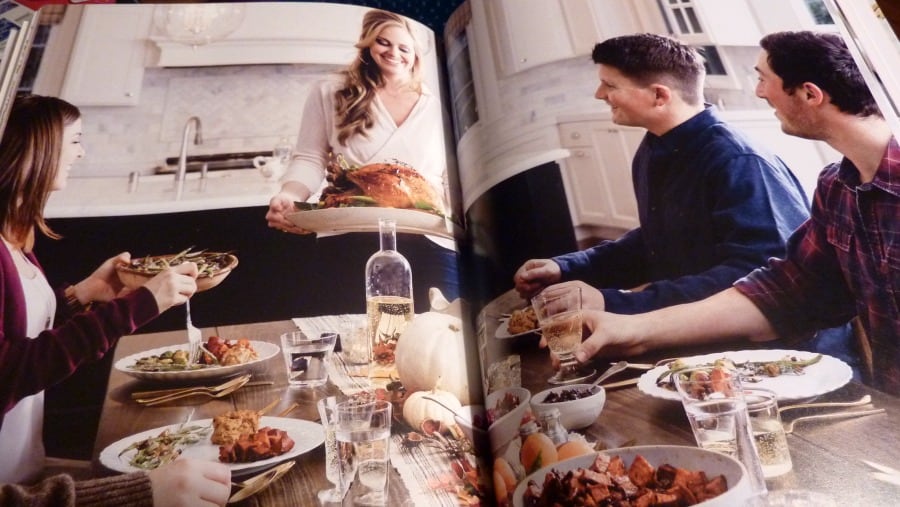 As with this homemade Gingerbread Latte recipe, while all the recipes are celebration worthy and some are definitely seasonal, most can be made and enjoyed all year long. I love that!
If you're a regular gfe reader, you've probably heard me say before that it's a shame that some recipes only get made once a year. I think having Celebrations on your shelf will remind you that it doesn't have to be that way.
Photos of Danielle's recipes and the celebrations they star at are glorious, meaning that Celebrations not only makes a fantastic cookbook, it also makes a terrific coffee table book. And it will be one that actually gets picked up and flipped through by your guests and family for sure because few can resist beautiful food!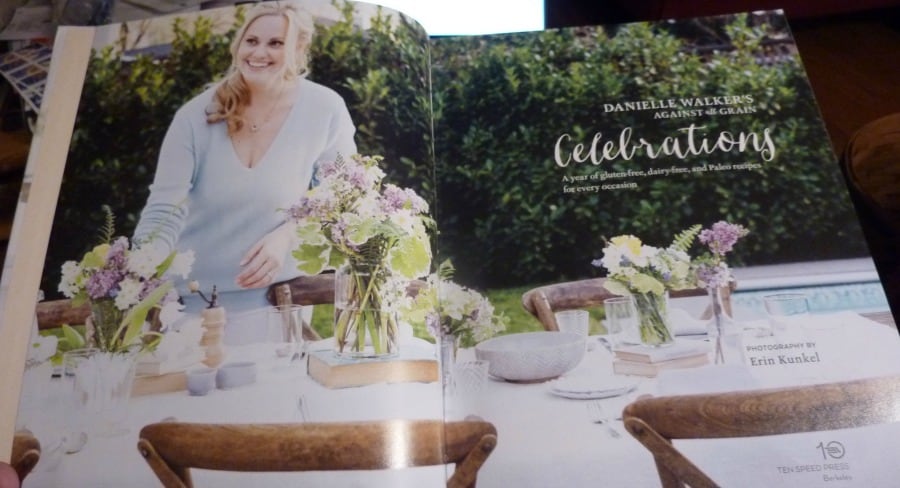 When I started listing recipes that I want to make from Celebrations, I had to stop myself because my list was pretty much the entire table of contents. Of course, you can read the Table of Contents yourself by using Amazon's "Look Inside" feature (on left side of page). So instead let me give you a sampling by sharing the "Top 20" of the recipes in Celebrations that appeal to me the most.
And, yes, I absolutely drooled over more recipes than these 20 in Danielle's latest cookbook. I had to cut quite a few from my "must make" list to keep it to 20 recipes. Thankfully, with Danielle's cookbook in hand, I won't have to limit myself at all!
My Top 20 "Must Make" Picks from Danielle Walker's Celebrations
Baked "Beans" (Danielle's substitution for beans is ingenious!)

Blender Bread

Butternut Sage Carbonara

Caramel Pecan Sticky Buns

Chicken Salad Biscuits

Christmas Fudge

Cinnamon Rolls

Eggnog

Eggs Benedict Strata

Ginger Peach Sangria

Gingersnap Cookies

Granny Sarella's Biscotti

Green Bean Casserole with Crispy Shallots

Herbed Dropped Biscuits

Nut-Free Yellow Cake

Poppy Seed Hamburger Buns

Prosciutto-Wrapped Glazed Shrimp (look for this recipe here on gfe in the future)

Roasted Brussels Sprouts with Bacon Jam

Skillet "Corn" Bread

Vegetable Bacon Parcels
Giveaway of Danielle Walker's Celebrations Cookbook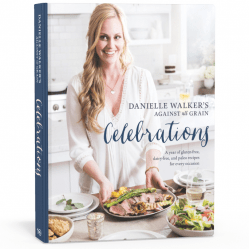 UPDATE:  This giveaway is now closed. 
Homemade  Gingerbread Latte Recipe
Yield: 4 servings
Homemade Gingerbread Latte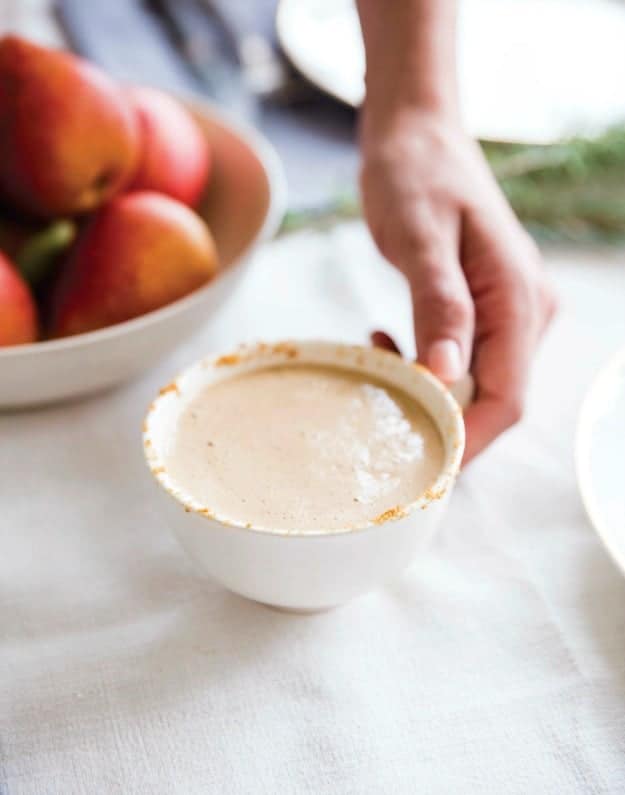 Serve this smooth and creamy coffee beverage with the flavors of gingerbread blended inside for a festive morning treat. Grind up some Gingersnaps (page 307 of Celebrations) to rim the mug, if desired. 
Instructions
Combine the coconut milk, almond milk, coconut sugar, maple syrup, ginger, cinnamon, nutmeg, and cloves in a saucepan and whisk over medium-high heat for 5 minutes.
Stir in the coffee and, working in batches, add the mixture to a blender (or use an immersion blender) and blend until frothy, about 15 seconds.
Serve immediately.
Notes
Make It Ahead  To turn this recipe into a coffee creamer, combine everything except the coffee. Stir the creamer into a hot cup of coffee or store it in the refrigerator in an airtight container for up to 1 week.
To use the creamer in a single serving of latte, combine one part creamer to two parts coffee in a blender and blend until frothy. For example, ½ cup of creamer to 1 cup of hot coffee. (Shirley's note:  This would also be the perfect time to pull out your "stick" blender, aka immersion blender as it would allow you to blend the mixture right in your coffee mug. Be cautious when mixing hot liquids in traditional blenders. Be sure to vent your blender slightly to avoid hot liquids blowing top of blender off and burning you.) 
Tidbits  For a truly classic gingerbread flavor, substitute unsulfured molasses for the maple syrup.
Reprinted with permission from Danielle Walker's Against All Grain Celebrations: A Year of Gluten-Free, Dairy-Free, and Paleo Recipes for Every Occasion by Danielle Walker, copyright © 2016. Published by Ten Speed Press, an imprint of Penguin Random House LLC.
More Festive Beverages for the Holidays
~ Dairy-Free Irish Cream (Homemade Bailey's)
~ Hot Chocolate Peppermint Shots
~ Velvety Pumpkin Spice Latte (plus five more kid-friendly beverages)
Originally published December 20, 2017; updated July 9, 2018.