For affiliate links and as an Amazon Associate I earn from qualifying purchases.
Today I'm sharing my Reindeer Antlers Punch. A beloved recipe in our family.
PIN this one for later because it's an amazing holiday cocktail, folks!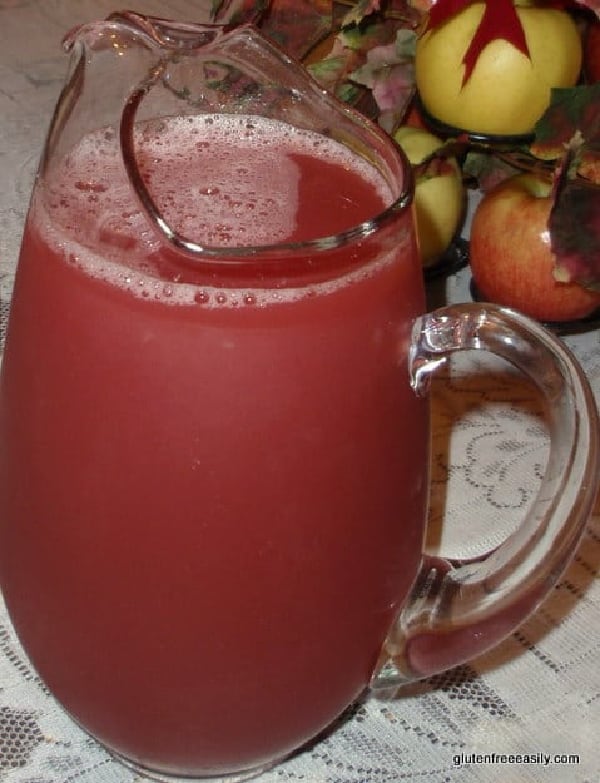 One you'll enjoy until the very last drop. And if you top your glass with pomegranate seeds (also known as arils), you may find a few left at the bottom. More on those in a minute.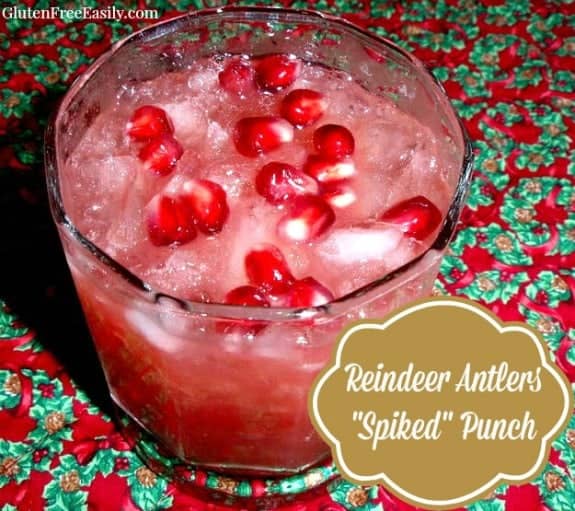 But first, I want to talk about sharing. If you're like me, you make periodic donations to your local food bank. You probably donate a bag of canned and dry goods when the postal workers collect food for Stamp Out Hunger in the spring or when the Boy Scouts do their food drive in the fall.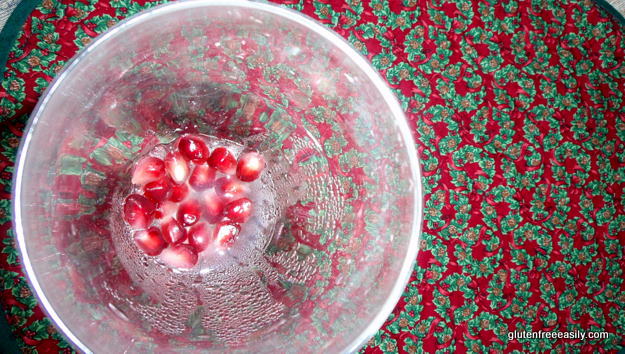 You may make food donations through your church or other community organizations as well. Your house is always adequately stocked with food even though the family complains that they can't find anything to eat. And, truthfully, the hardest decision you face when it comes to food is what to purchase at the grocery store and, once you get the food home from the store, what to eat for lunch or what to make for dinner.
That's the way it is in our house. I even whine about going to the grocery store. However, many in our country have a much harder time. Many are going hungry.
With that in mind, I'm proud and humbled to participate today in the Share Our Holiday Table, which is Share Our Strength's (SOS's) Progressive Dinner event. SOS is a wonderful organization with its focus on fundraising and feeding hungry children. For more information and to donate to SOS, please visit Share Our Holiday Table at No Kid Left Hungry.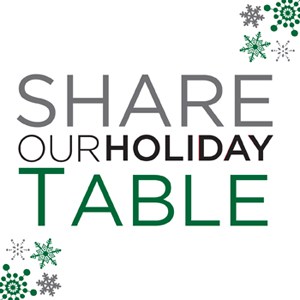 The numbers of those who need help are staggering, but just thinking of even one family, one child even going without food is heart-wrenching. Any help you can give will be appreciated; your contribution will help ensure that no child goes hungry during the holidays and hopefully even past that time period.
A child can be fed three meals a day for more than a month simply by donating $25 dollars. If you can't contribute, that's okay … please still enjoy this blogging event and spread the word to others.
Over 50 bloggers are participating in this event, including many of my gluten-free blogging buddies. There's a gluten-free category for every course of the meal. Be on the lookout for your favorite bloggers' posts, but you'll want to check out all the posts because so far I've seen some amazing recipes. Most of the recipes shared in this event have been naturally gluten free or easily adapted to be gluten free.
Today's SOS roundup is focused on Drinks. Without further ado, here's my beverage. If you've followed gfe for a while, you may remember my Reindeer Antlers Punch from last Christmas.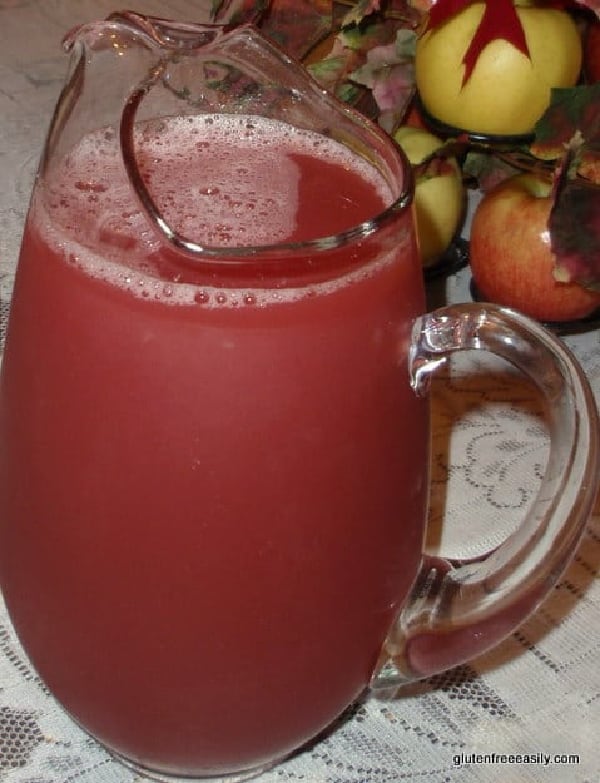 This is a fantastic holiday cocktail punch that's worth repeating! You can read the "back story" on the name and why you should always eat the arils left at the bottom of your glass in the original post here.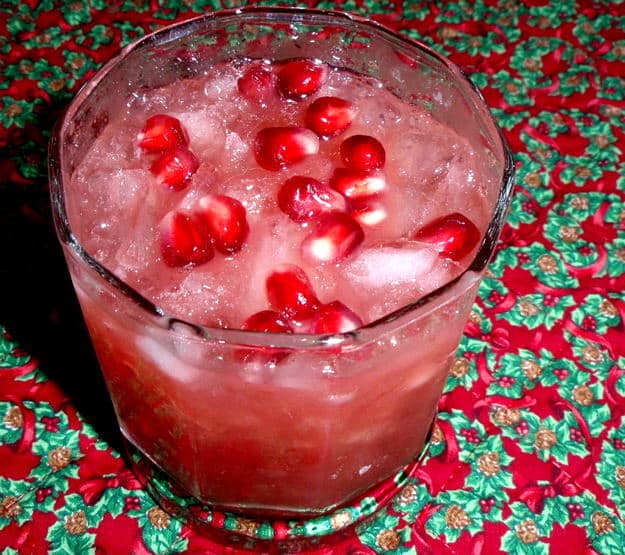 More Recipes from the Share Our Table Event
Reminder: Note that this event is not an exclusively gluten-free event so always verify gluten-free status of ingredients or make substitutions if needed.
~ Brooke (Food Woolf) with Crab Apple-Infused Vodka
~ Maggy (Three Many Cooks) with Milk Punch
~ Alexa (Flo and Grace) with Cashew Horchata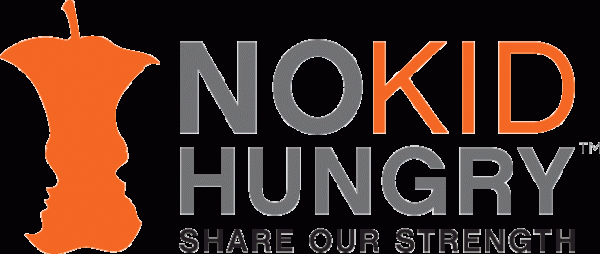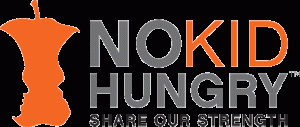 And because you should always have some nibbles when you're drinking, follow these links to the Appetizer recipes shared:
~ Lori (Recipe Girl) with Sundried Tomato Polenta Bites
~ Elaine (The Italian Dish) with Parmesan Gougeres
~ Marla (Marla Meredith) with Bacon and Cheese Stuffed Mushrooms
~ Mary (Mary Carver) with Tortilla Rolls and Seven Layer Dip
~ Debra (Smith Bites) with Dates Stuffed with Parmesan Slivers and Walnuts
~ Rachael (La Fuji Mama) with Endive Boats with Avocado, Pomegranate, & Crab Salad
More Holiday Beverage Recipes
Here are several more holiday beverages. Enjoy and please remember to always drink responsibly.
~ Chocolate Martinis (from Celiac Family via the Wayback Machine)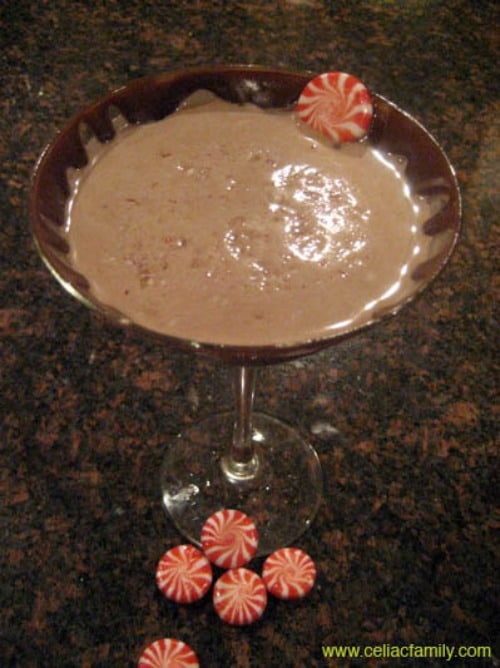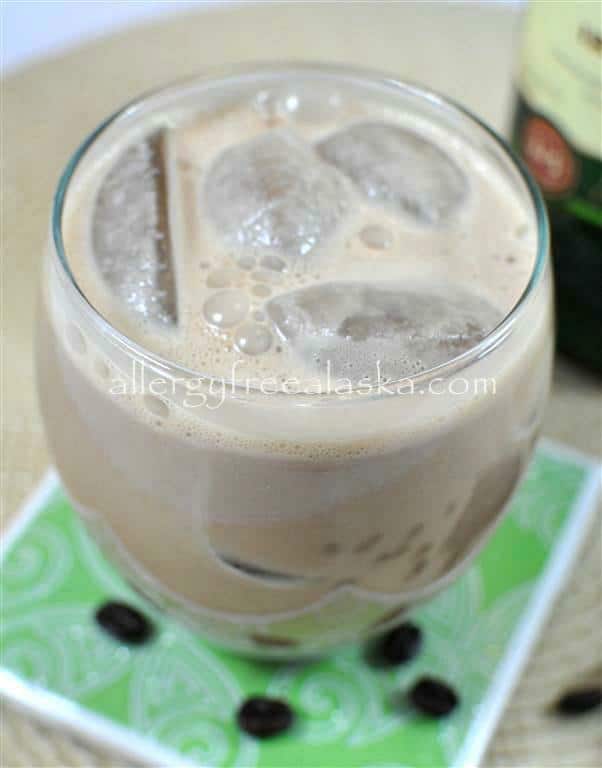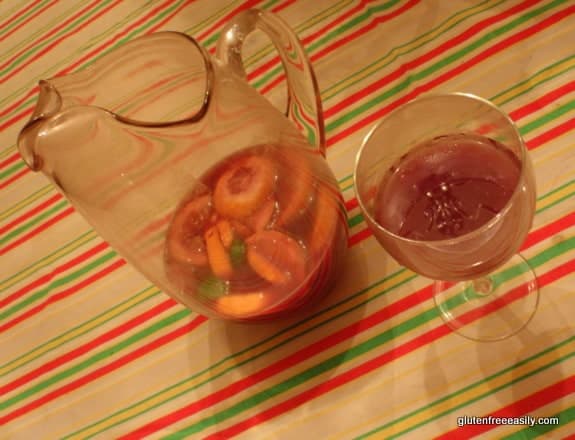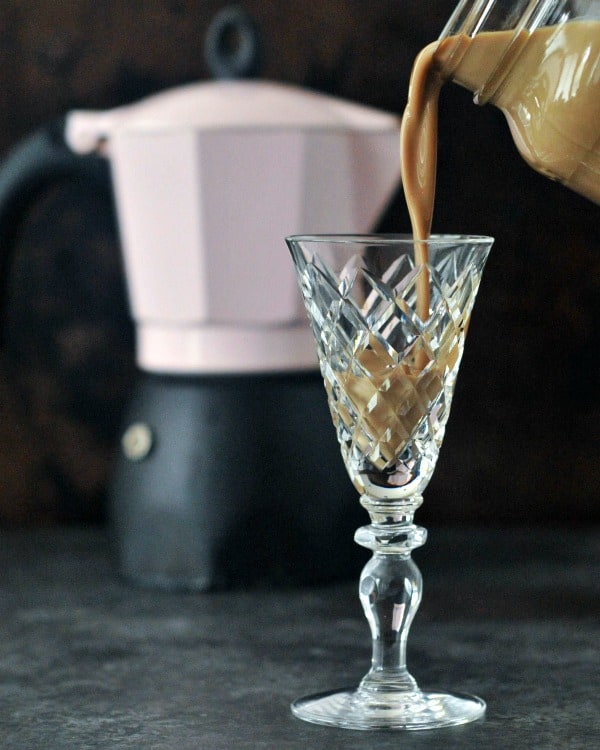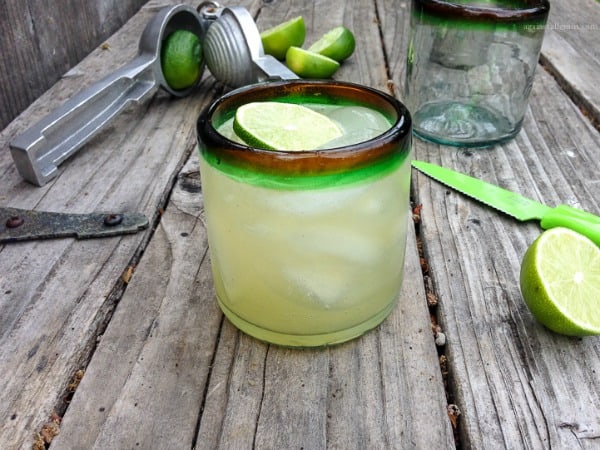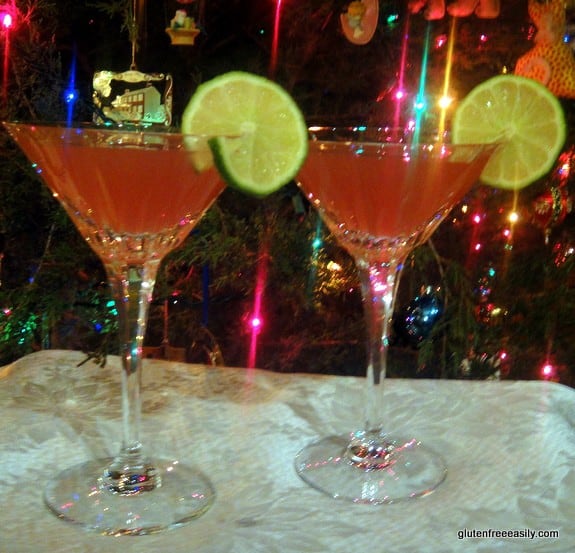 Reindeer Antlers Punch Recipe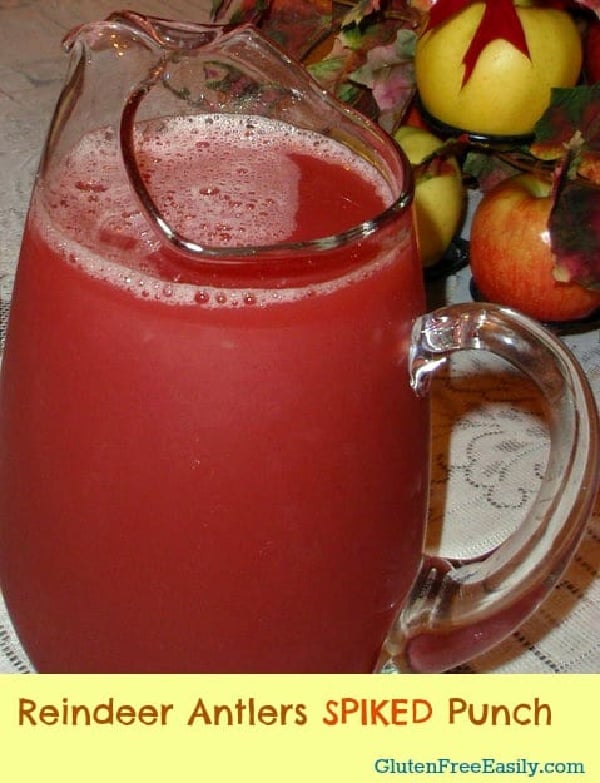 Yield: 1 gallon (about 12 servings)
Reindeer Antlers Punch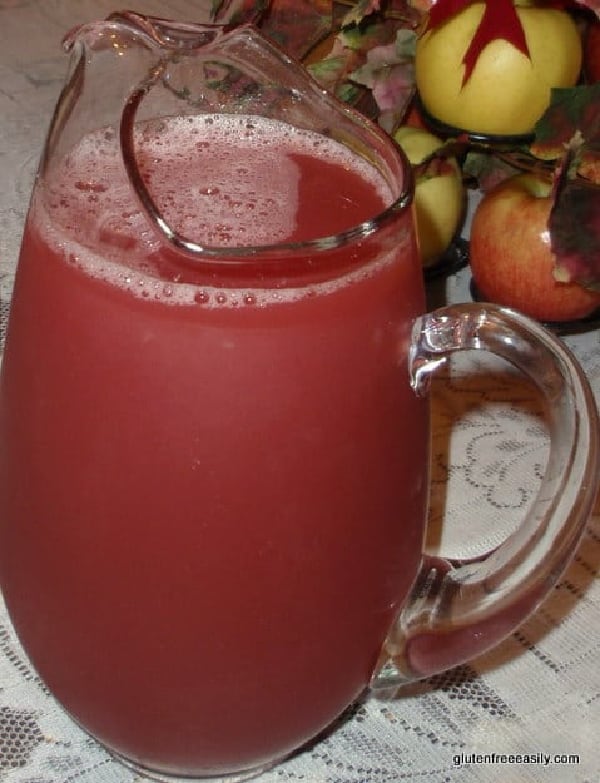 Reindeer Antlers Punch is so delicious and so perfect for the holidays! It's naturally gluten free, delicious, and the perfect color!

Prep Time 5 minutes

Total Time 5 minutes
Ingredients
1 cup pomegranate juice (I use POM Wonderful)
1 cup grenadine syrup or grenadine liqueur
3 cups orange juice
3 cups pineapple juice
1 cup vodka
1 cup rum
1 cup tequila
Instructions
Stir all ingredients together in a very large container. I add my ingredients to a gallon-sized jar, place the lid on it, and just shake the jar to mix.
Chill.
Transfer to a beautiful pitcher or punch bowl, if desired.
Serve over ice and top with pomegranate seeds---also known as arils---if you wish.
Notes
Pouring the Reindeer Antlers over crushed ice and topping with arils provides a lovely presentation. (Mr. GFE will also tell you that particular application results in sipping versus drinking, which I say is not a bad thing at all. Pacing one's self when it comes to Reindeer Antlers is wise!)

As an alternative you can sprinkle arils on your Reindeer Antler just before serving; the arils will sink to the bottom of your drink and become more potent. Or, you can add festive ice cubes that contain pomegranate seeds that you've made earlier.

If pomegranates are unavailable, you can still enjoy your Reindeer Antlers without them--they will still be splendid!

All distilled alcohol is gluten free. That means your basic vodka, rum, tequila, scotch, gin, and the like. Be wary of alcohol that has been flavored after the distillation process. It still may be gluten free, but always check to be sure.

"Real" grenadine syrup or liqueur is actually made from pomegranates. (I don't know if any of the grenadine products that I've used to date have actually contained pomegranates.)

I've used both the syrup and the liqueur, interchangeably. The liqueur contains alcohol (2.5% per the label of the Jacquin's Grenadine that I used).

If you'd like to make a smaller batch of Reindeer Antlers, just use "parts" when mixing instead of cups. So for example, you can use one part every time 1 cup is called for and three parts when the recipe says 3 cups. Shot glasses or 1/4 cup measures can be great for downsizing this recipe. You'd add one shot every time "one cup" is required and three shots every time "3 cups" is cited.

Finally, this is Day 7 of my 25 Days of Christmas event. Be sure to check out previous posts for this gfe holiday/blog anniversary event. There are recipes, reviews, personal gluten-free stories, and more!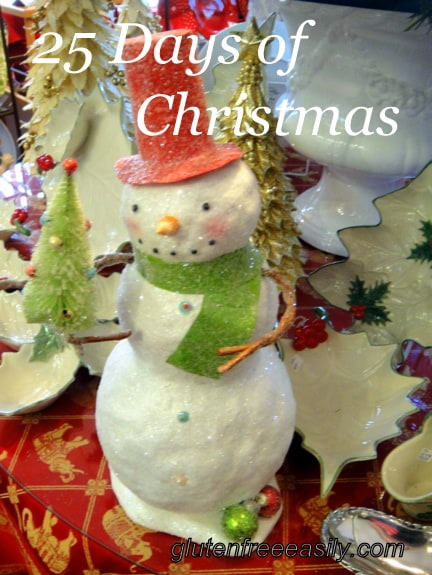 Originally published December 7, 2010; updated November 19, 2022.