For affiliate links and as an Amazon Associate I earn from qualifying purchases.
Recently Jules of GF Jules sent me an invitation to join in on her Gluten-Free Cookie Exchange. I was pleased to be asked and happy to get into some cookie baking and these naturally gluten-free Flourless Pecan Sandies are the result!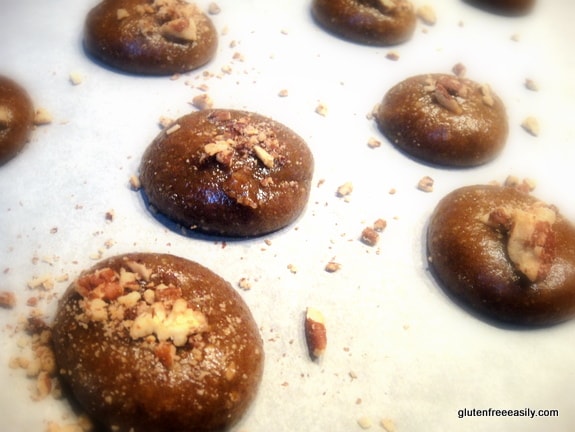 Cookies have long been one of my favorites and are considered my baking specialties. Baking cookies makes me happy.
I make them all year long, not just for the holidays. I've been known to play hooky from work before when I was in a funky mood just to bake cookies and get "recalibrated."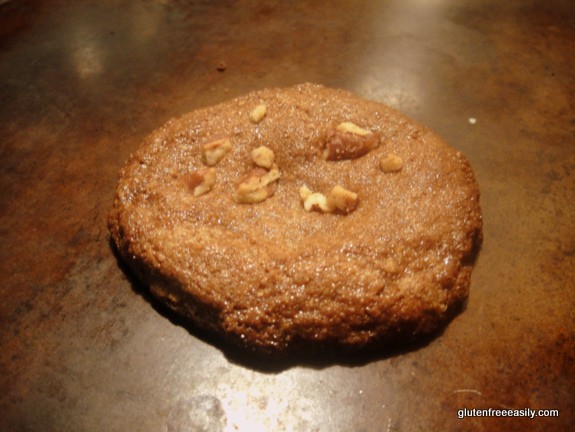 Once, during my teaching days, I wasn't feeling that great, but I wasn't feeling awful or feeling sick necessarily either. Just very blah. The assistant principal, who was very familiar with my love of baking homemade cookies and was a kind person as well, told me that I needed to take a day off to bake cookies.
So I did just that and afterward, all was good again. A few hours spent in the process of mixing cookie batter with my favorite wooden spoon, spooning cookie batter onto cookie sheets (I have another favorite, perfectly-sized stainless steel spoon for this task), breathing in the different aromas that fill the house, removing the cookies from the oven at just the right moment, sliding them off the cookies sheets to cool, and then finally tasting the results of my efforts … well, it's just the best! For me, it's a calming, restorative process.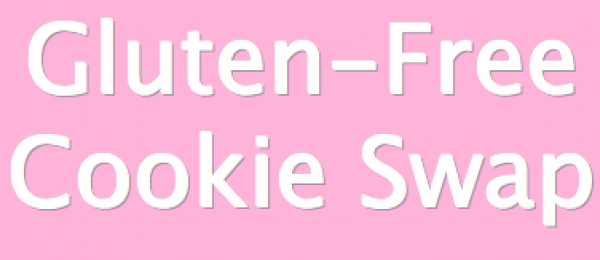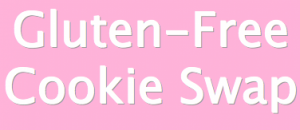 So I had Jules' Gluten-Free Cookie Swap on my mind. Plus there was the 12 Days of Christmas Cookies event that Maggie (She Let Them Eat Cake) has been hosting with many of your other favorite gluten-free bloggers serving as daily hosts.
And, my friend, Nancy (The Sensitive Pantry, which sadly is no longer operating)—who is without a stove at all for the moment, but is tackling that crisis with an admirably calm demeanor—decided to host a cookie roundup, Calling All Cookies, since she can't do any baking right now herself. (There are almost 40 recipes so far; go find your "new favorite" recipe and link one, too.)
My friend Diane made Captain Jack's Chocolate Rum Cookies for another holiday cookie blogging event. I'm all for those, but as Diane said, if Johnny Depp ("Captain Jack," himself) shows up, forget the cookies!
Then Linda (Gluten-Free Homemaker, which is no longer active) issued her monthly challenge—Make A Gluten-Free Cookie.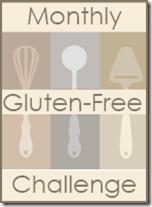 With all those events in mind and my gfe reader-assigned label of flourless and crustless queen, I've been thinking about these Flourless Pecan Sandies.
Well, it all really started when I made Desi's (The Palate Peacemaker, which is no longer active) Spiced Maple Pecan Butter to spread on my Classic Pumpkin Bread. I love pecans, so I loved her recipe.
Pecan butter … hmmm, another nut butter, I thought. Nut butter, well, peanut butter really (peanuts are legumes, not nuts actually) is the basis of the Flourless Peanut Butter Cookies.
It's the consistency of the nut butter and its natural fat content when mixed with egg and sugar that allows one to make a successful and incredibly delicious cookie—totally without flour. I've also partially substituted natural almond butter in that recipe to create Almond Peanut Butter Cookies (which then went on to become Almond Peanut Butter Cookie S'mores). (Or sometimes, I substitute all almond butter for the peanut butter.)
So the idea of using pecan butter in flourless cookies was sort of hanging around in the back of my head. Such cookies are even better than ones with flour because the flour doesn't compete with the main flavors.
My good friend, Debi (Hunter's Lyonesse) whose personal story I shared recently here at gfe, just adopted me for the Adopt a Gluten-Free Blogger event. She made both the Flourless Peanut Butter Cookies and the Flourless Almond Butter Cookies.
Debi wrote an incredibly lovely and generous post (I'm still blushing!). And she told me on Facebook that her husband said that those cookies were her best gluten-free baking yet!
Back to how these cookies came about … a short time after making Desi's Pecan Butter, I adopted Ricki (Ricki Heller) and made her Cashew Chocolate Chip Cookies. This time, natural cashew butter was the basis for a flourless cookie.
Ricki's cookies were surprising because they were flourless and successful without even the benefit of an egg or refined sugar. Flax seed meal, maple syrup, and coconut oil worked with cashew butter to make her recipe work.
So earlier today, I went for it. I made a version of pecan butter, only slightly adapting Desi's' recipe by omitting the spices and adding some coconut oil as Ricki had used in her cookie recipe. The amount of pecan butter that resulted was slightly less than one cup, but I wasn't too worried about it because Ricki's cookie recipe had used less than a cup of nut butter.
To keep this recipe more "mainstream" (i.e., readily available ingredients and flavors folks are used to), I matched the pecan butter with the same amount of brown sugar. (Note: Every instinct tells me that palm or coconut sugar will be wonderful in this recipe, giving these gluten-free Flourless Pecan Sandies more of a buttery, rich taste, but I have none on hand at the moment.)
I added the remaining ingredients that I'd used in my other peanut butter/nut butter cookies—one egg, vanilla extract, and baking soda—to the pecan butter and brown sugar. To make these cookies look and taste more like traditional Pecan Sandies, I toasted some pecans in the oven, chopped them a bit, and used them to top the cookies before baking.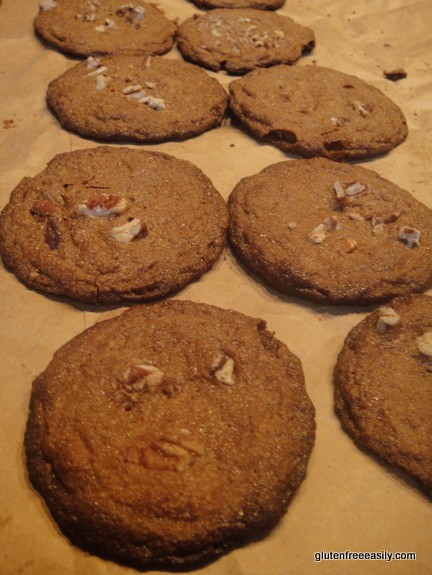 Because there is no flour in these cookies, they are the color of the natural pecan butter and the brown sugar, so they are much darker in appearance than your average pecan sandy. They are also slightly different in taste and thickness than a typical pecan sandy. They are a little crunchy on the outside, chewy on the inside, and chock full of pecan goodness!
The fact that they are naturally gluten free, grain free, and dairy free is just fabulous. I'm still aspiring to eat that way all the time. Eating grain free can also reduce one's exposure to gluten cross contact.
Okay, that's what recipe development is all about … letting just the kernel of an idea develop into something good over time. Well, in this case, something really good!
Incidentally, I don't personally care for the term "recipe development." It sounds a bit hoity-toity, like such an unattainable goal for the average person. Recipe development sounds like something reserved for culinary geniuses, you know?
However, creating recipes doesn't have to be at all. Any of us can come up with great ideas and recipes in the kitchen. We just have to be willing to play around a bit and always keep it real.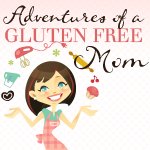 Another good friend, Heidi (Adventures of a Gluten-Free Mom), is outstanding in the area of recipe development. She'll completely deny this, of course, but she doesn't fully recognize or acknowledge her own talents (love you, Heidi!).
Every day her readers (and I'm one of them) are amazed at the things she accomplishes. Often, she'll start with just an idea … a recipe she's seen elsewhere that makes her think about a baking method differently perhaps.
Then she's off! She tinkers and plays until she has something she's sure her own family will love and can eat safely (given each of their intolerances). And, she shares all of it with her readers—even the missteps along the way—to help others avoid those so that they may have outstanding results only.
Okay, this recipe is Version 1.0 of these cookies. Now don't get worried, these are good … really good. They have a good texture with nice chewiness, have lots of pecan flavor and even the crunch of the pecans with the toasted bits on top, and they are plenty sweet. But one day I would like to make them egg free and/or refined sugar free.
The latter version would be a little healthier and would work for my other readers who have additional intolerances. Using flax seed meal and hot water to make a flax gel egg would make for a slightly chunkier cookie, too.
Pecan sandies are typically thicker than this flourless version. In addition, I'd like these to have more of that buttery mouthfeel, which traditional pecan sandies have.
But, I'm thinking of "modifying" these cookies another way, too. I think if I "under baked" these cookies slightly, Pecan Sandy Granola (similar to my Oatmeal Raisin Cookie Granola) could be in my family's future. Ah, more "recipe development"—see … it's not so hard!
Until then, I think you'll be happy with these yummy cookies. Santa definitely was!
Gluten-Free Flourless Pecan Sandies Recipe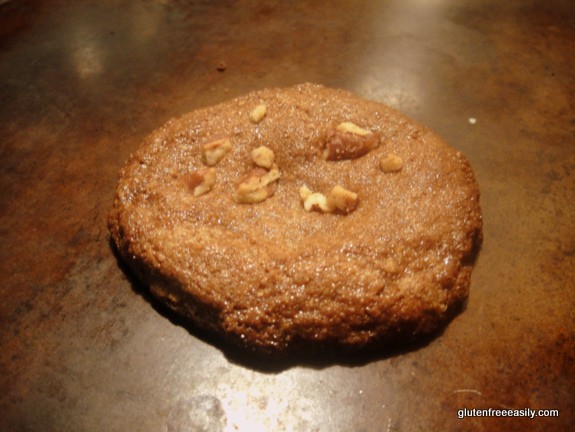 Yield: Makes 24 - 30 cookies
Flourless Pecan Sandies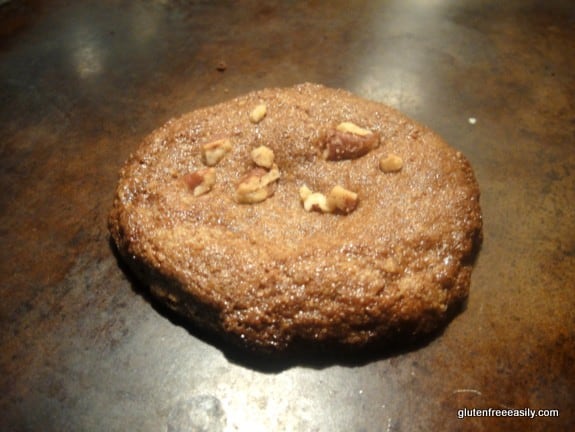 These gluten-free Flourless Pecan Sandies are a little crunchy on the outside, chewy on the inside, and chock full of pecan goodness!  

Prep Time 5 minutes

Cook Time 8 minutes

Inactive Time 2 minutes

Total Time 15 minutes
Ingredients
1 scant cup pecan butter (see recipe below)
1 scant cup brown sugar (slightly under a cup; do NOT use a full cup)
1 egg
½ tsp vanilla extract
1 tsp baking soda
About ½ cup toasted, chopped pecans, for topping
Pecan Butter
2 cups raw pecans
1 tbsp coconut oil (or other mild or neutral-tasting oil)
1 tbsp plus 2 tsp maple syrup
1/2 tsp sea salt
Instructions
Add pecans to food processor, processing at medium speed in quick intervals with short breaks in between. Add oil, maple syrup, and sea salt. Continue to process in intervals until mixture becomes nut butter, well blended and spreadable like peanut butter or any nut butter.
Preheat oven to 350 degrees Fahrenheit.
Toast ½ cup pecan halves for about 8 minutes on a baking sheet. Cool. Chop with some pieces coarsely chopped and others finely chopped. (I just used my mini-chopper for about 15 to 30 seconds.)
Mix pecan butter, brown sugar, egg, vanilla extract, and baking soda.
Form into balls and place on ungreased baking sheet or parchment-lined baking sheet. (If dough seems too sticky, wet hands just slightly with water first.)
Place onto baking sheet. Flatter balls slightly with back of a spoon. Sprinkle some of the chopped pecans onto each cookie and then push the pecans into the cookies slightly with your fingers.
Bake for about 7 to 8 minutes. Remove from the oven and let sit on baking sheet for about a minute or so before removing. Be careful not to overcook.
Notes
Original recipe from Shirley Braden, but inspired by Desi Domo and Ricki Heller.

If cookies are left on baking sheet longer than a minute after removing from the oven, they may be difficult to remove. However, if you place the baking sheet back in the oven for about 30 seconds and then let it set outside the oven a few seconds, you can then remove them easily.

Lining the baking sheets with parchment paper will make for very easy removal, but be aware that it does cause cookies to spread a bit more, so space them further apart if you use that option.

Finally, this is Day 8 of my 25 Days of Christmas event. If interested, you can see previous posts for this gfe holiday/blog anniversary event via the links below. (Update: All giveaways are now closed.)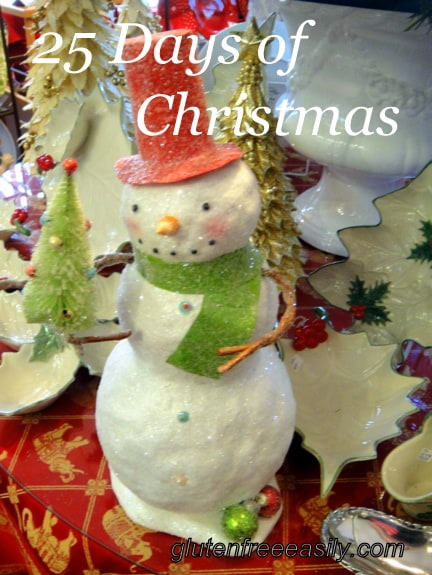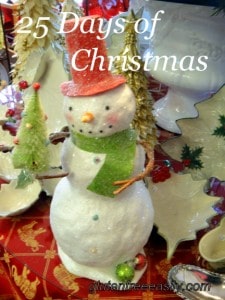 Day 1 – Gluten-Free Holiday Giveaway Galore x 10—Giveaway of the new book, Mommy, What is Celiac Disease? plus gluten-free treats and fun stuff.
Day 2 — Guest Post from Debi Smith (Hunter's Lyonesse)—My Journey Back to Healthy Living
Day 3 — Corn and Butter Bean (or Lima Bean) Casserole for A Gluten-Free Holiday
Day 4 — Little Cayman Beach Resort Review
Day 5 — 20 (Plus) Thoughts on International Food Bloggers Conference
Day 6 — Nutiva Products (Coconut, Hemp x 2, & Chia) Review and Giveaway
Day 7 — Reindeer Antlers Punch for Share Our Holiday Table
Originally published December 8, 2010; updated June 23, 2022.