For affiliate links and as an Amazon Associate I earn from qualifying purchases.
Look at today's recipe—Pumpkin Kahlua Maple Latte. It looks like fall in a mug, right? Even better, imagine how this version of pumpkin spice latte tastes. Now you're thinking Heaven in a Mug—and you should be!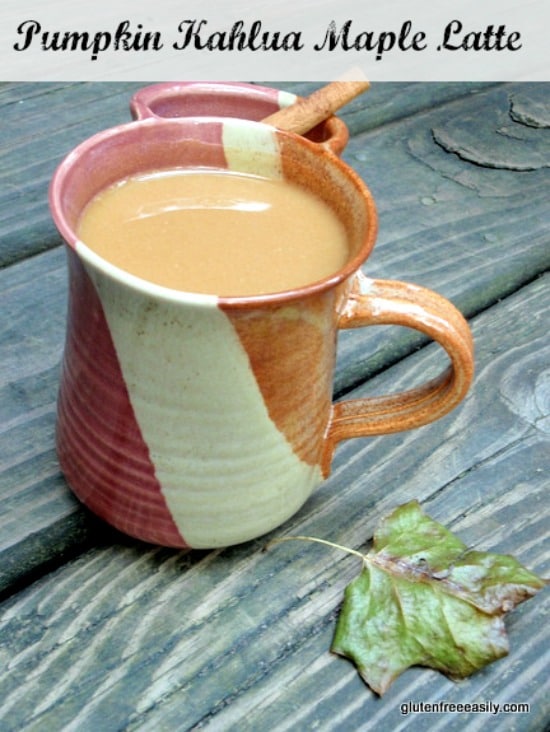 It's no secret that I love pumpkin. My heart sings when pumpkin season rolls around.
The two pie pumpkins I have sitting on my dining room table right now make me smile every time I pass by. Pumpkins and pumpkin-based recipes make me very happy.
I even have an ongoing Pumpkin Pie Plus Series (and now this post will be part of that) and I love to check out and share roundups that highlight pumpkin recipes—my own gfe pumpkin roundup and others (such as Beth's favorite gluten-free pumpkin recipes and Amber's Pumpkin-O-Licious recipes). There cannot be enough pumpkin love in my opinion!
So when I spied a small amount of fresh pumpkin puree in our fridge (left over from recipe testing earlier this week), I suddenly knew I had to use it to create a new recipe, one I could enjoy right then … another pumpkin latte … something as good, but a little bit different from my Velvety Pumpkin Spice Latte.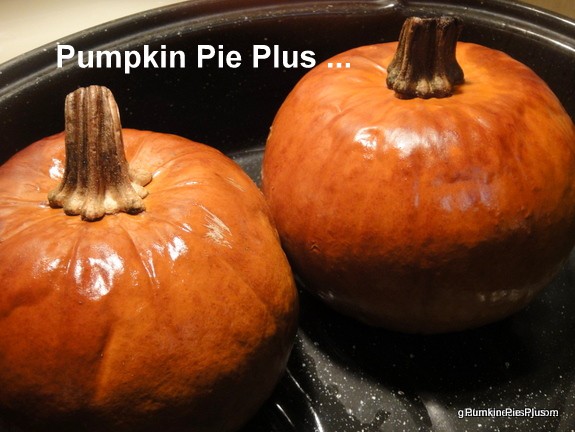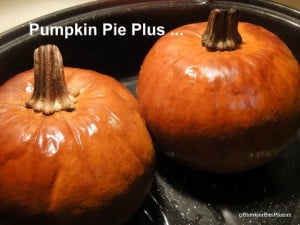 I added almond milk to my mug, stirred in the pumpkin, and took a sip. Pumpkin-sweetened milk. Somewhat tasty, but not really something I wanted to drink.
Then I remembered the Kahlua in our pantry (the top shelf of our pantry serves as our liquor cabinet), which Son had passed on to us before he left for the big city. I took a sip of the still-cold mixture after adding the Kahlua. It tasted better … now it was pumpkin-and Kahlua-flavored milk after all, but a bit of a distinctive sweetener was clearly needed.
What goes really well with pumpkin? Well, maple syrup seemed like an obvious choice to me for both its sweetness and flavoring. Yes, obvious and, I might add, decidedly delicious.
To bring out the flavors and create an actual latte, heating was needed. In just about 2 minutes, I was enjoying my new latte creation. As I shared on my gfe Facebook page, this Pumpkin Kahlua Maple Latte is heaven in a mug!
You can use either your stove top or your microwave to heat this latte. For an extra special treat and a more impressive presentation, topping this latte with some Whipped Cream would be very nice.
Either Honey Whipped Cream or Honey Cinnamon Whipped Cream will work well. (Note that you can substitute maple syrup for the honey in either of those recipes if you wish the keep the flavors consistent.)
Oh, and while I'm not a coffee drinker, you can certainly substitute brewed coffee for the Kahlua if you don't drink Kahlua or want a healthier and more "true" latte. Anyway, long before you decide what you're going to be for Halloween, you'll be sipping a mug of this Pumpkin Kahlua Maple Latte; enjoy!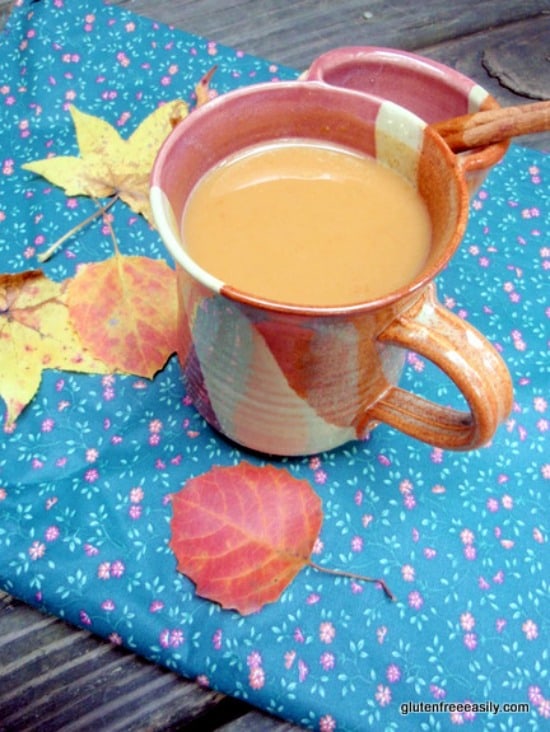 More Fabulous Fall Beverages
~ Bourbon Apple Pumpkin Cocktail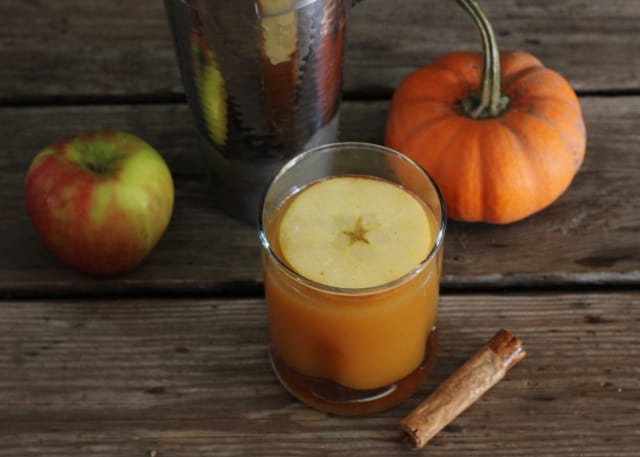 ~ Pumpkin Pie Smoothies (with Honey Cinnamon Whipped Cream)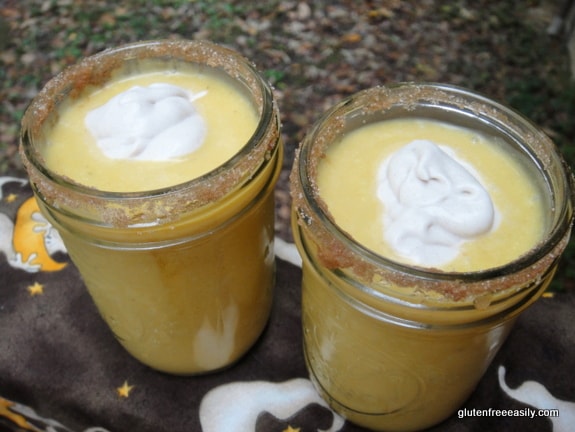 ~ Slow Cooker Wassail (aka Hot Spiced Apple Cider Punch)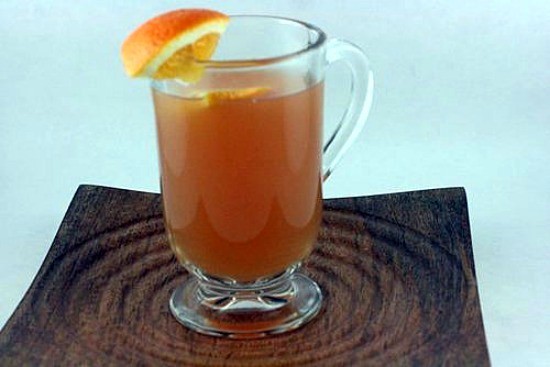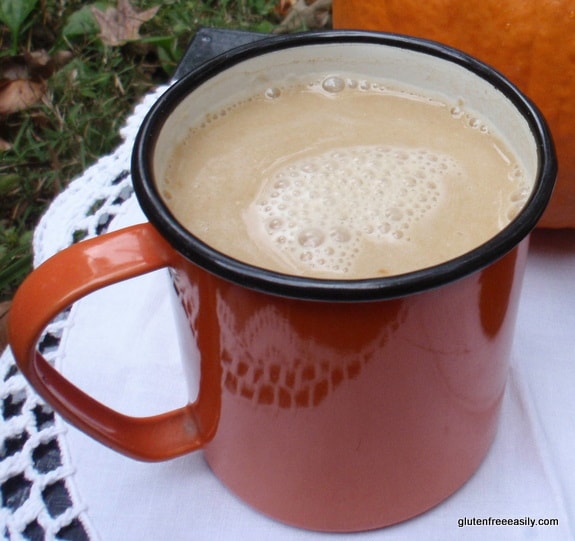 Pumpkin Kahlua Maple Latte Recipe
Yield:
Pumpkin Kahlua Maple Latte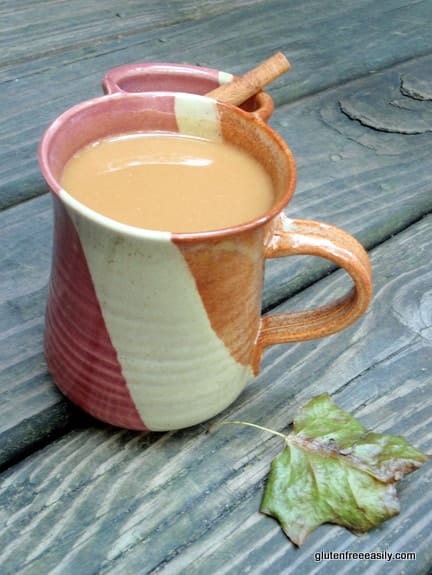 This recipe should be called Heaven in a Mug! It's a fabulous treat for Fall.

Prep Time 2 minutes

Cook Time 3 minutes

Total Time 3 minutes
Ingredients
1 cup milk (dairy or non-dairy; I used unsweetened almond milk)
1/3 to 1/2 cup canned pumpkin or fresh pumpkin puree (see notes)
2 tbsp (1/8 cup) maple syrup (more or less, to taste; Grade B is preferred)
¼ cup Kahlua or strong brewed coffee, or both
Instructions
For the stove top method, add milk to a small saucepan. Slowly stir in remaining ingredients, one at a time. Heat over medium to medium-high heat, for about two minutes or so, stirring frequently until sufficiently warm. Pour into large mug and serve.
For microwave method, add milk to large (oversized) mug. Slowly stir in remaining ingredients, one at a time. Microwave on HIGH for about one and a half to two minutes until sufficiently warm. Stir and serve.
Notes
Makes one serving.

If you want a lighter version (in taste and color) of this latte, use the lesser amount of pumpkin puree. If you're a pumpkin lover though, you'll want to use the greater amount.

You can use my Pumpkin Butter instead of pumpkin puree for a richer version of this latte!

I measured my maple syrup by filling my ¼ cup measuring cup that I used to measure the Kahlua only half way; hence, the mention of both 2 tbsp and 1/8 cup. Taste your latte before heating to see if you would like to make any adjustments to amounts.

Add whipped cream and/or cinnamon stick before serving for an even more special version of this latte. I don't like to leave the cinnamon stick in my latte. I just like to stir it with the cinnamon stick occasionally as I drink it so I only get a mild cinnamon flavor. (I don't want the cinnamon taste to take away from the heavenly Kahlua and maple vibe in this latte.)

I used my special mug (from our local Dirty Bird Pottery) that my mother-in-law gave me for Christmas last year. It's a mug that has a place for your tea bag. Surprisingly, either a tea bag or a cinnamon stick will "sit" quite well in the "holder" until one really tips up the mug to get the very last drop of one's beverage.

Originally published September 27, 2012; updated October 31, 2022.