For affiliate links and as an Amazon Associate I earn from qualifying purchases.
This post is linked to Allergy-Free Wednesday and Gluten-Free Wednesday.
Disclaimer: Please understand that I, and others whose advice is cited here, have no expertise when it comes to your personal medical issues. Some who are quoted here do serve as medical professionals, but they have no knowledge of your specific medical needs and situation. Please consult your own health care professionals for medical guidance as needed.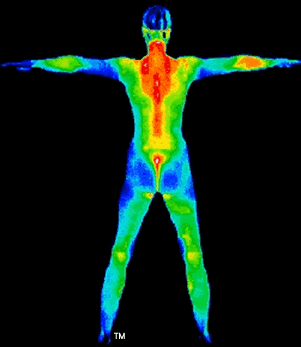 This image and all other thermography images are courtesy of VA Clinical Thermography.
UPDATE:  This giveaway is now closed. Congratulations to gail and Andrea (Andrea's Kitchen) who each won a copy of my friend Kelly Brozyna's popular The Spunky Coconut Dairy-Free Ice Cream Cookbook! Thanks to all who entered and participated in this month's GFE VSG. Subscribe to gfe (via reader or email), so you don't miss the next meeting, linky, and giveaway, or any post. 🙂
If Ocktoberfest can be held in our neighboring city of Fredericksburg when it's still September, then I can have my September GFE Gluten-Free Virtual Support Group (VSG) on the first day of October, right? I don't know about yours, but our September just flew by. It could have been that week of vacation that Mr. GFE and I took. We traveled all over Pennsylvania and to the Finger Lakes region of New York and my focus was on relaxing, so I was not online much. It was a wonderful and relaxing time! If you're wondering about the scheduling of my GFE VSG posts in general, I gave up posting on my "planned" day long ago. I just share the info from out last "real life" gluten-free support group meeting when I can, which turns out to be *about* once a month!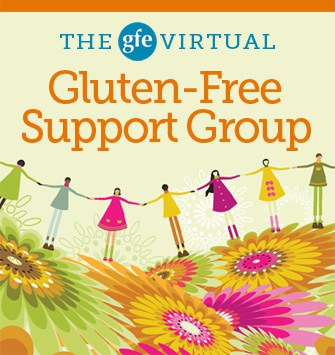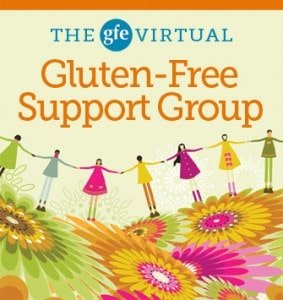 This month's meeting started like all our others, that is, with another wonderful gluten-free (and more-free) meal of whole foods and recipes made from whole foods. For our presentation, we were fortunate to have Eleina-Hayes Espigh of  VA Clinical Thermography with us to educate us on the benefits of thermography. While this topic has no direct relation to celiac and non-celiac gluten sensitivity/gluten intolerance, it is just good info for all and you may see some of your own conditions and symptoms mentioned in Eleina's presentation later on, ones which might have been impacted by eating gluten and/or resolved on a gluten-free diet. (There were several times during her presentation that she cited a condition shown in an image and my support group members "sang," almost in chorus, "that's gluten!")
The Food ~ Arugula Salad (with walnuts, parmesan, and a dressing made of olive oil, lime juice, lemon juice, and Dijon mustard); my group's favorite salad—Great Salad; Baked Swai (with olive oil, onions, garlic, and Old Bay); Chicken Burgers (made with minced chicken, macadamia nuts, cashews, garlic, egg whites, etc.)—recipe from Sandra Ramacher's Healing Foods:  Cooking for Celiacs, Colitis, Crohn's and IBS (a cookbook that follows the Specific Carbohydrate Diet); homemade Chicken Salad; Roasted New Potatoes and Brussels Sprouts (also included olive oil, bacon, butter, salt, pepper, lemon juice, and shallots); Green Pea and Onion Salad (frozen green peas, cocktail onions, tomatoes, olive oil, salt, pepper, and garlic powder); Black Bean Dip (black beans, ginger, olive oil, Herbamare, and lemon juice) with carrot sticks; watermelon; and grapes. We had a dessert and ice cream social after our meal. The baked goods were Banana Nut Muffins (paleo; recipe from Free Fit Guy); Sponge Cake Muffins (SCD); Apple Crumble (paleo; recipe from Caveman Strong); and Peach "French Toast" Cobbler (a recipe using Rudi's gluten-free Cinnamon Raisin Bread that I'm still perfecting). And for ice cream, we enjoyed Butter Pecan Ice Cream (from The Spunky Coconut Ice Cream Cookbook); my Caramel Coconut Chunky Monkey ice cream; and my Snickerdoodle ice cream. All were dairy free! There were Goldbaum's Ice Cream Cones (gluten free, kosher, vegan, and GMO free) available for those who didn't want their ice cream in a dish. We also enjoyed fresh lemonade; iced tea ("sweet" tea and Good Earth Sweet and Spicy Tea, which contains on sweeteners, but is plenty sweet on its own due to the spices and other natural ingredients used).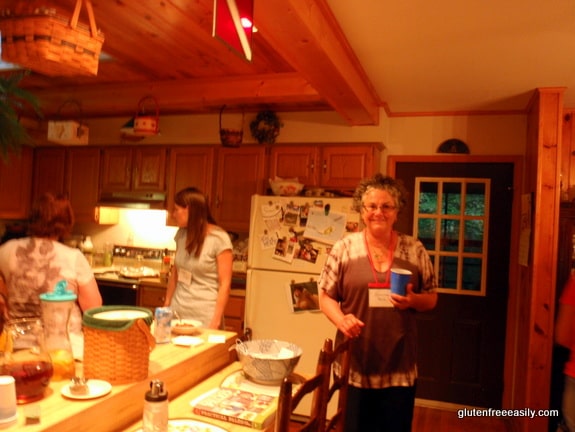 Getting Ready … Note Copy of Brand New Practical Paleo by Diane Sanfilipo on Counter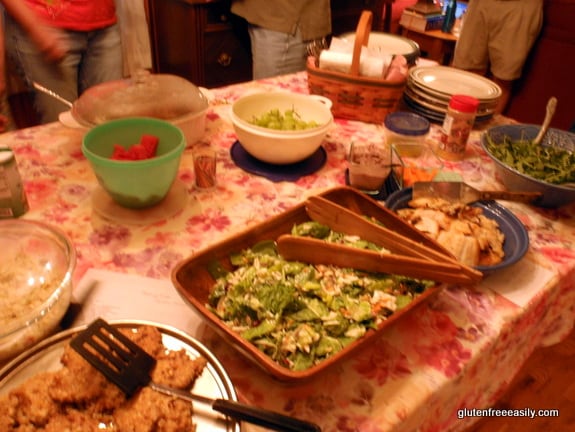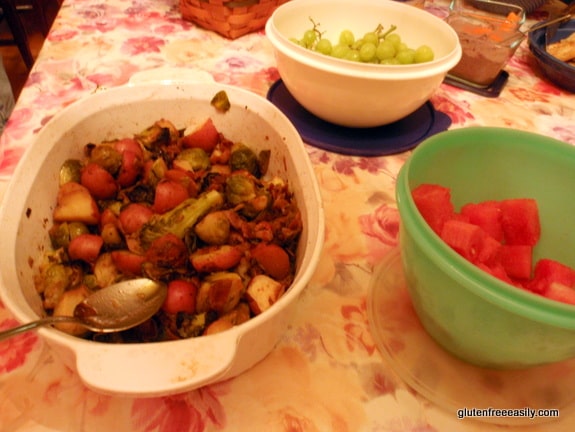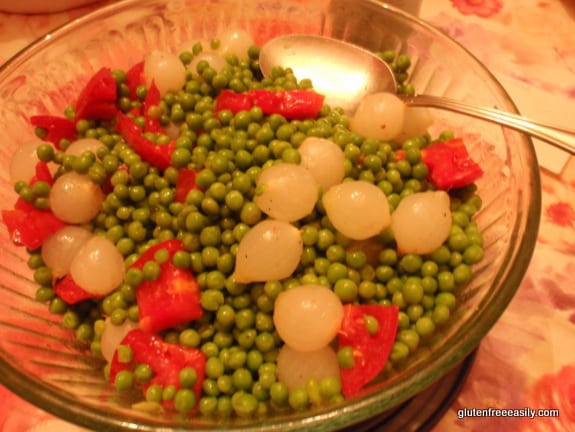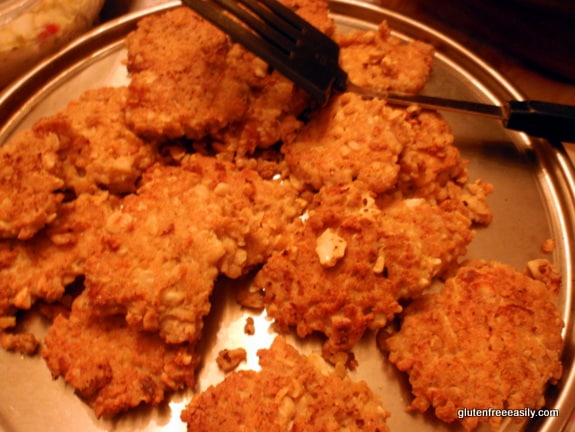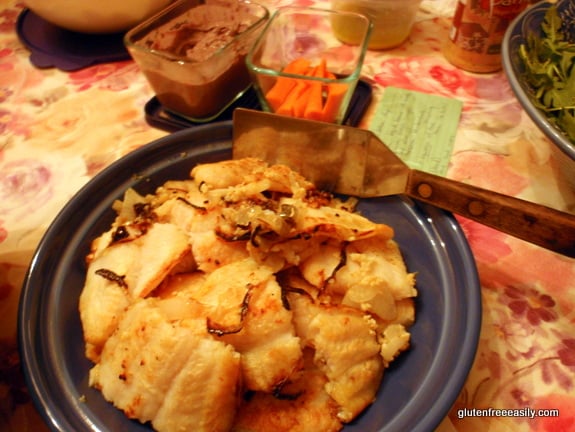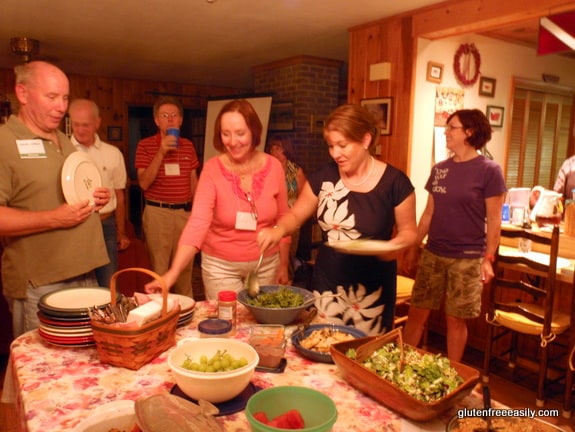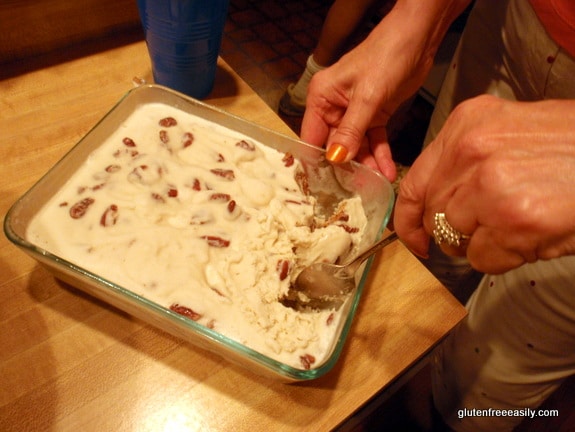 Butter Pecan Ice Cream from The Spunky Coconut Dairy-Free Ice Cream Cookbook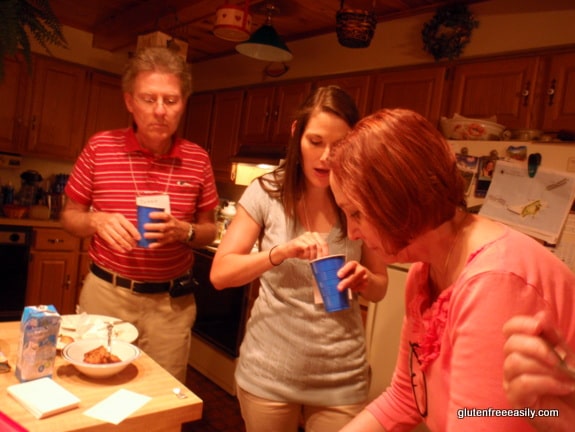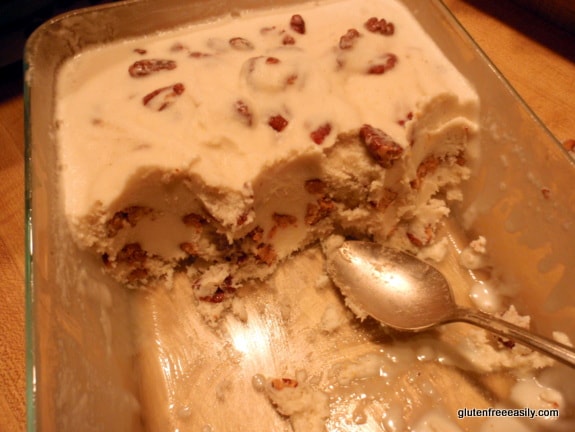 Butter Pecan Ice Cream from The Spunky Coconut Dairy-Free Ice Cream Cookbook Quickly Disappeared!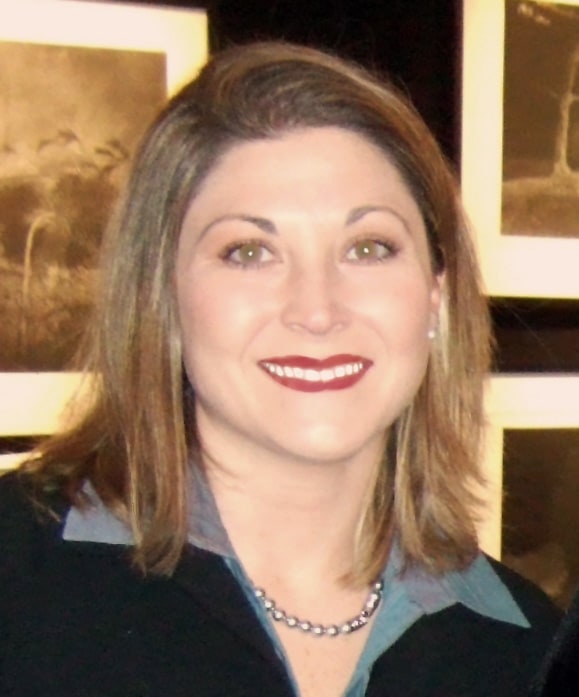 The Presentation ~ Eleina Hayes-Espigh from VA Clinical Thermography was our guest speaker. VA Clinical Thermography's goal is "Disease Prevention and Injury Detection through thermal imaging of breast and body." Here are some highlights from her presentation on Clinical Applications of Digital Infrared Thermal Imaging (DITI), which is more commonly referred to by us lay people as thermography. Plus, I've added some amplifying information from online research of my own.
Sir William Herschel, a German astronomer, first observed thermography in 1800. Sir John Herschel, his son, made the first thermal image, called an evaporograph, in 1840. The first thermal image for medical purposes did not happen until 1948 and that scan took much longer than it does today.
In thermography, there is no radiation and no touching required, the camera detects the thermal radiation from the person's body. Thermal radiation can be a bit of a confusing term as it's not radiation in the sense we know it. In simple terms, "Radiation is energy that comes from a source and travels through some material or through space. Light, heat and sound are types of radiation." In this case, the thermal "radiation" refers to the heat from the patient's body.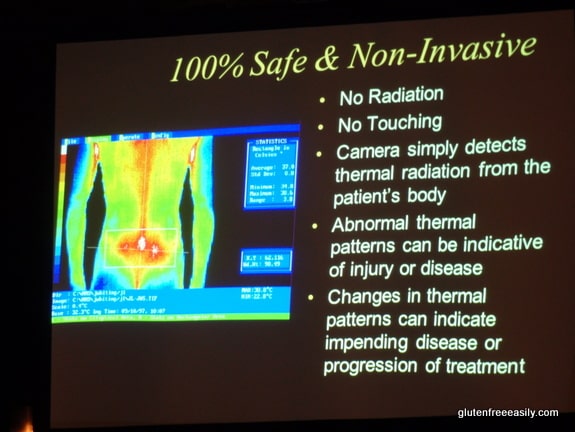 There are normal thermal patterns and abnormal thermal patterns. Abnormal thermal patterns can be indicative of injury and/or disease. Changes in thermal patterns can indicate impending disease or progression of treatment. FDA-approved, clinical grade cameras are used. Thermography is a test of physiology, not anatomy. It is not an independent diagnostic tool; it is used to supplement other diagnostic methods (e.g., mammography, physical examinations). The colors of thermal images are changeable and may be used to provide easier-to-read images, but thermal patterns are not changeable for viewing. And, again, it bears repeating that thermal images are used to validate pain or injury, to differentiate between pain and disease, and to monitor treatment progress. Thermography uses hypothermia and hyperthermia shown in images. Hyperthermia indicates an elevated body temperature. It occurs when the body produces or absorbs more heat than it can dissipate. Hypothermia occurs when an one's temperature drops below that required for normal metabolism. We think of hypothermia as being of extreme severity, like when one is exposed to freezing temperatures for an extended period of time, but hypothermia like hyperthermia can be more subtle, but still serious, and can be shown in different parts of the body via thermography.
Eleina stated that:
"Clinical thermography is just a simple test of physiology that relies on the sympathetic nerve control of skin blood flow and the ability of the sympathetic system to respond and react to pathology anywhere in the body."
Thermography is especially appropriate for women between 30 and 50 because their denser breast tissue makes it harder for mammograms to pick up suspicious lesions. Thermography provides a clinical marker that a specific area needs particularly close examination/further investigation.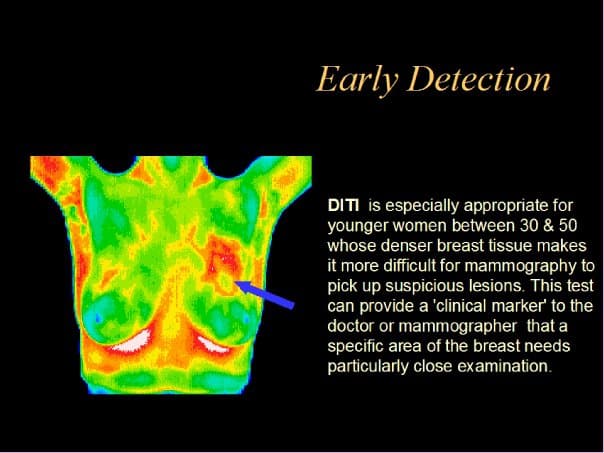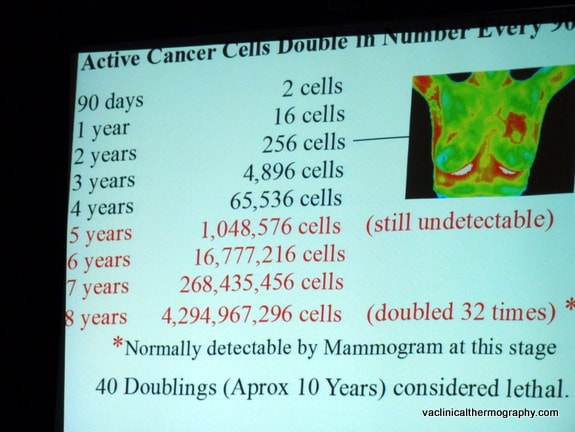 Early Detection for Breast Cancer is Key; Cancer Cells Double Every 90 Days (Per VA Clinical Thermography) 
Eleina emphasized throughout the presentation that only American College of Clinical Thermology (ACCT) certified-technicians should be used by patients. She cautioned that there are those who do thermography who are not skilled and not licensed. A licensed technician and licensed physician, both licensed for thermography by ACCT, are required. Note that it is the physician who always reads and interprets the images.
The majority of Eleina's patients—and these include both females and males—see her for thermography of their breasts. Per information shared at Carolina Thermascan, researchers at Ville Marie Breast and Oncology Center, at McGill University (Ontario, Canada), conducted a study of mammography and thermography. "When thermography was performed on patients with suspicious clinical examinations, the sensitivity was found to be 83%. In contrast, the sensitivity for mammography was only 66%. However, the combination of thermography and mammography together increased the sensitivity to 93%. And when these two methods were considered in conjunction with a clinical examination of the breasts, the sensitivity was found to be 98%. Such findings, along with those of more recent studies, have led a growing number of oncologists to recommend the combination of mammography and thermography—especially for older women who have more fatty tissue in their breasts, i.e., less dense breasts. (Note: "Sensitivity" is a statistical term referring to the percentage of women who are correctly identified as having breast cancer.)" You can see more details on that study here in a PDF.) On January 29, 1982, the FDA published its approval of thermography as an adjunctive diagnostic procedure for the detection of breast cancer.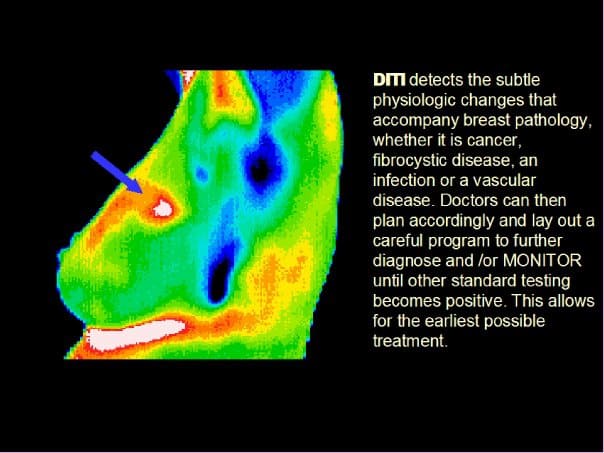 Eleina showed us dozens of different images showing a wide range of illnesses and conditions. Inflammatory breast cancer. Colon blockages. Thyroid conditions. Kidney inflammation. Interstitial cystitis. Pelvic inflammatory disease. Carotid artery blockages. Back pain. Stomach pain. Ductal Carcinoma In Situ (DCIS). Carpal Tunnel Syndrome. Deep Vein Thrombosis (DVT). Peripheral Neuropathy. Injuries from motor vehicle accidents (e.g., collapsed sternum). Bells palsy. Fibromyalgia. Botox treatments. Encapsulated cysts. Sprained ankles. Stress fractures. Sometimes when using thermography for one issue, she sees others; such as thyroid issues and carotid artery blockages. She, of course, reports such information so further diagnostic testing can be conducted.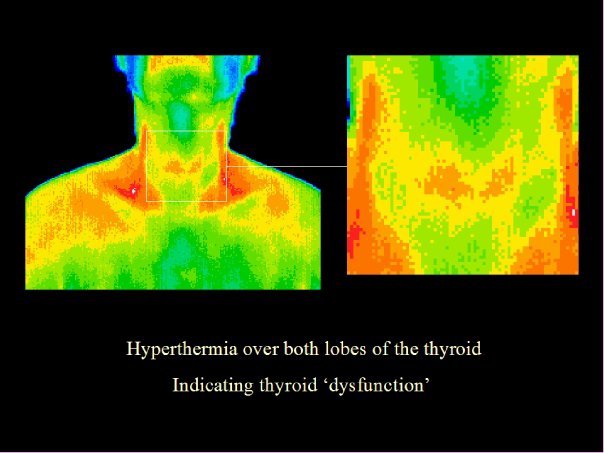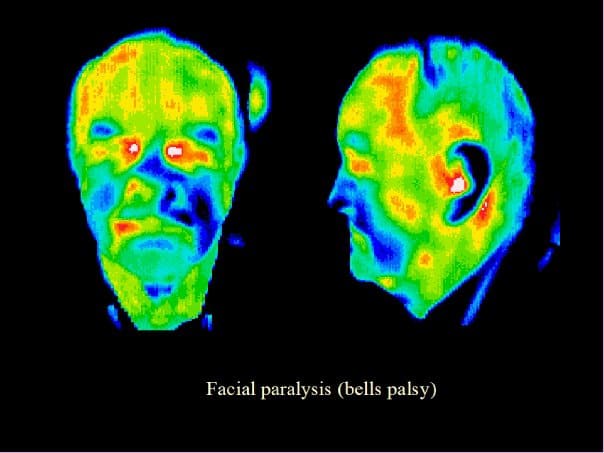 Bell's Palsy Image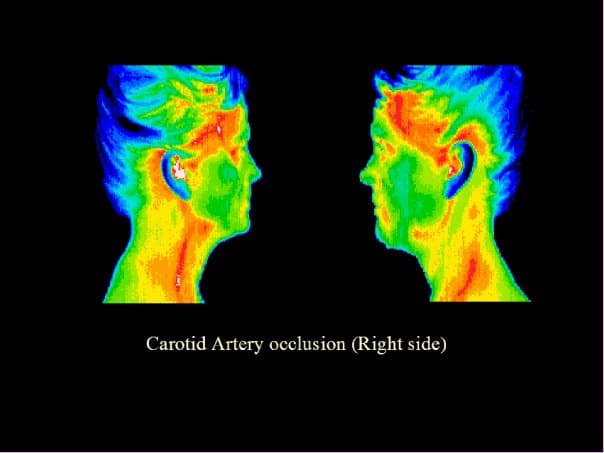 Carotid Artery Blockage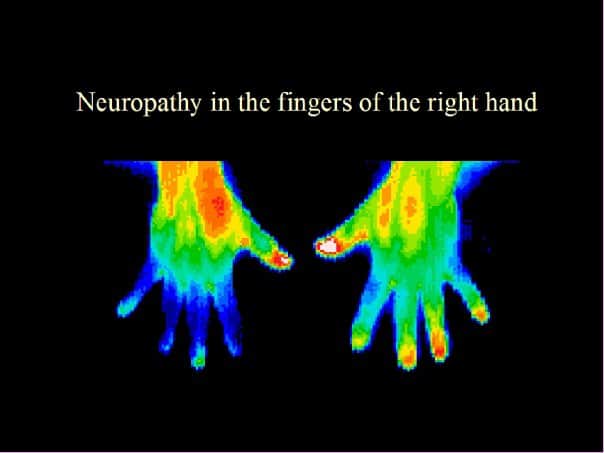 Neuropathy of Right Hand
Eleina was asked if she recommended thermography over mammography as mammography actually employs radiation, which is a known cause of cancer. She stated that she would never make such a recommendation, but acknowledged the concern for those at high-risk for breast cancer being exposed to radiation via more frequent mammograms than the average person. My own doctor, specifically my gynecologist who has presented to my support group previously (for the VSG post on his presentation, click here), recommends both mammography and thermography to provide a more complete picture.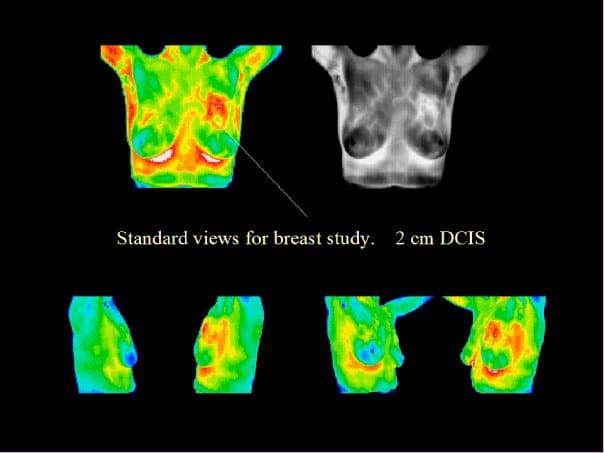 Breast Cancer, Ductal Carcinoma In-Situ (DCIS)
Eleina talked about a friend who was a doctor who had had a shoulder injury and subsequent surgery. He used thermography via her clinic to monitor his progress. With thermography it was determined that he was overcompensating initially, and later the images showed that he had developed an infection.
One of the most compelling series of images she showed chronicled the effects of acupuncture (see below).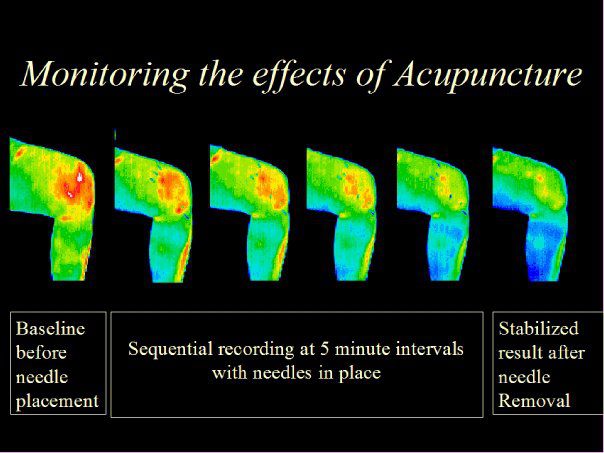 Eleina stated that in other countries, thermography is done routinely when patients are admitted to hospitals for medical issues. In U.S., it's considered an invasion of privacy. We all became very interested when Eleina stated the following:
"Focal hypothermia (i.e., localized "heat") over both T1/T2 vertebrae is shown in 100% of patients who have autoimmune diseases."
I think we were all wanting a thermography of the area of our T1/T2 vertebrae area right then. My question: Could thermography be another tool used to help identify those with autoimmune diseases?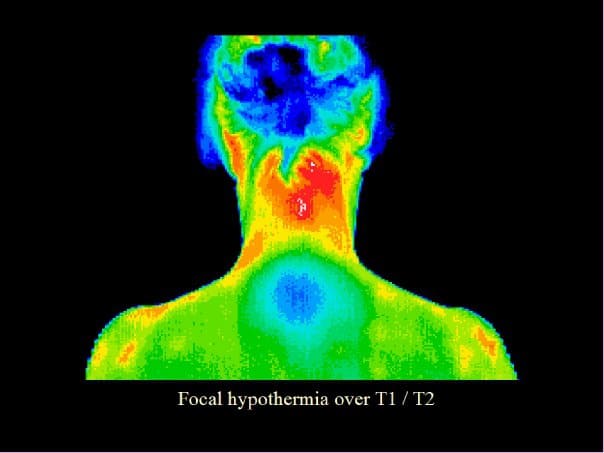 Focal Hypothermia over T1 / T2 for Those with Autoimmune Conditions
Thermography can also be used to evaluate animals. In addition to being used in some veterarinary clinics for pets, it's often used for highly valued animals like racehorses (to assess ability to safely perform) and zoo animals (when standard animal knowledge may not be enough). Eleina stated that the cameras used for animals are different than those used for people.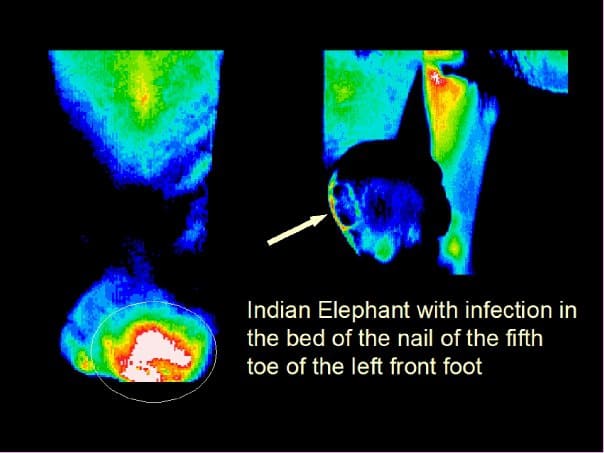 Elephant's Infection
I have had thermal imaging myself, on my breasts, to acquire additional clinical information. I am one who has historically had dense, fibrocystic breasts with periodic callbacks for second mammograms, follow-up ultrasounds, and even a biopsy in one case. Each time, in the end, I was told there was nothing of concern, but I wanted to gain additional information on my breast health via thermography. So I had investigated the benefits of thermography at that time, but I still learned a tremendous amount from Eleina's presentation. Group members also found this information very worthwhile. I hope you have, too. If you're a local person, you can find the VA Thermography Clinic in Glen Allen, Virginia. Check out their website and Facebook page. Eleina has offered a significant discount for VA Thermography's services for my local support group members (contact me if you're a local member who is interested).
The Giveaway ~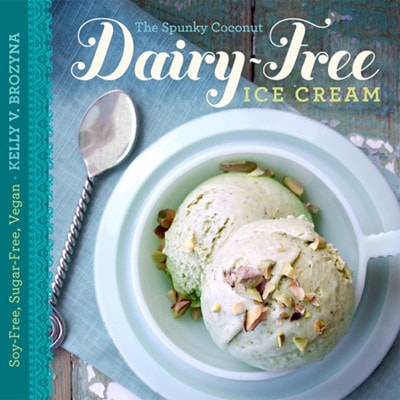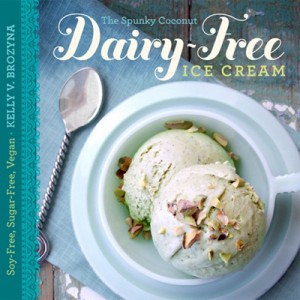 I have not yet purchased Kelly's (The Spunky Coconut) new cookbook, The Spunky Coconut Dairy-Free Ice Cream Cookbook, but it only took one bite of her Butter Pecan Ice Cream recipe to convince me that this latest book of hers is another "must have." (Thanks to my support group member Megan for making this ice cream for us all!) One member said that she didn't even like Butter Pecan Ice Cream usually, but she loved Kelly's version. It was definitely gourmet quality ice cream. You can read other complimentary reviews of Kelly's new book (some that include her recipes, and others that share dairy-free ice cream recipes that she inspired) from Alisa, Lexie, Elana, and Stacy and Matt (here and here). Now the part you really want to know … Two readers will each win a copy of Kelly's Dairy-Free Ice Cream Cookbook courtesy of gfe. The giveaway will end Sunday, October 7, at midnight Eastern.
To enter the giveaway:

–Leave a comment on what you'd bring to our support group meeting, why you'd like to win Kelly's cookbook, any experience you've had with thermography, etc. … basically anything to contribute to our virtual support group meeting.

For additional entries:

–Share this VSG post on Facebook or Twitter. Leave a comment.

—Follow gfe on Facebook. Leave a  comment.
The Linky ~ We did not have a food theme for this particular meeting, but in keeping with the food we always share at our meetings and following the gfe approach, please link up any of your gluten-free whole foods/real food recipes (maximum of two)! The giveaway will end Sunday, October 7, at midnight Eastern. Bloggers, please enter linky with your recipe below—please link back to this VSG post and thanks for joining in!