For affiliate links and as an Amazon Associate I earn from qualifying purchases.
One of my favorite bloggers, Cathy of Noble Pig, posted a recipe for Snickerdoodle ice cream recently—one she had adapted from Recipe Girl. Snickerdoodles have always been one of my very favorite cookies, so imagining that flavor in a bowl of ice cream was quite a sweet little fantasy. I wanted dairy-free Snickerdoodle ice cream.
Reading Cathy's version and looking at all her photos inspired me to go out and get a new ice cream maker immediately. Well, actually, reading everyone else's wonderful ice cream recipes the last couple of months had already inspired me, but it was Cathy's recipe and a looming deadline that pushed me to action.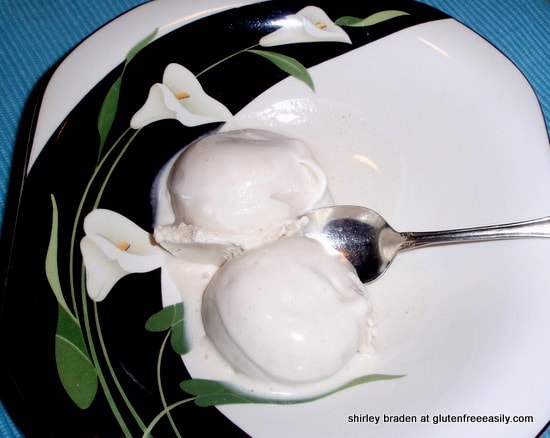 You see … I'd already decided that my entry for the August Go Ahead Honey, It's Gluten Free! CHILL OUT theme would be ice cream. CHILL OUT is the clever and so-o-o-o appropriate theme chosen by this month's host—delightful and energetic Kim Hopkins over at The Food Allergy Coach. What better way to chill out on these 90-degree days than a nice bowl of cold, freshly made ice cream?
Before I move on, let me just say that I really love how everyone is carrying on this great gluten-free blog carnival that Naomi Devlin (Straight into Bed Cakefree and Dried) started early in 2008. There have been so many terrific bloggers (including the wonderful Naomi herself) who have hosted since then—with some really enjoyable themes and the best recipes.
You can find last month's GAHIGF roundup, Make Me A Happy Camper, right here at gfe. If you're in a cooking/baking rut and looking for some new ideas, check the posts out for gluten-free recipes (many are free of other allergens as well), stellar photos, and some entertaining reading material, too.
Back to the Snickerdoodle ice cream (sorry, I know you can't wait!) … If you eat dairy, I'm sure Cathy's recipe is fantastic as is, but I wanted to make dairy-free Snickerdoodle ice cream.
I've been trying to eat more dairy free and we have lots of gfe readers who are also dairy free. Plus, I was hosting my support group meeting last night and several members eat dairy free in addition to being gluten free.
My initial thought was to just replace the whipping cream and half and half in Cathy's recipe with coconut milk. I knew it had to be full-fat coconut milk to give the same type of body/thickness that true dairy would offer. (I've never been much into "Lite" versions of anything anyway.) But, I wasn't sure about the amount of coconut milk.
I winged it using 3 cups versus the 3 ½ cups of dairy ingredients used in the original. Luckily, that amount seemed just right with the final ice cream coming out with a great consistency, and you could probably even get by on slightly less if you were low on coconut milk.
Let me tell you, this ice cream is truly luscious. You get the taste of Snickerdoodles with the added richness of coconut. The dairy was not missed at all.
Everyone just loved this ice cream—it disappeared quickly! It was either eaten by itself or as a topping for the scrumptious homemade berry crisp that our dear Jennifer brought. Oh, and you can call this ice cream whatever you like … here are two more possibilities in the recipe title, or perhaps you can come up with one of your own. Enjoy!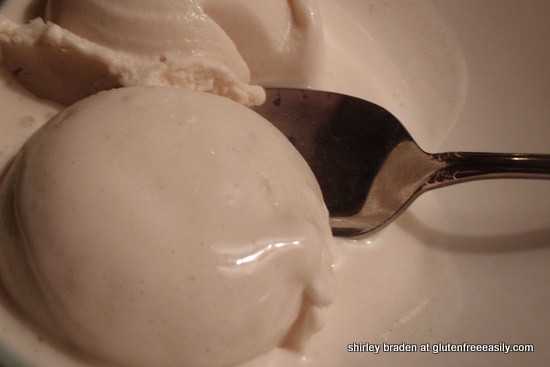 Dairy-Free Snickerdoodle Ice Cream Recipe
Yield: 6 servings
Dairy-Free Snickerdoodle Ice Cream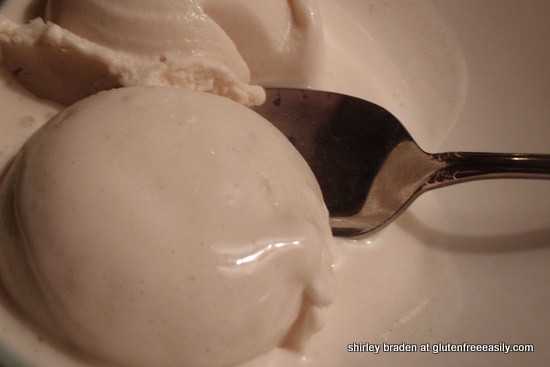 What could be better than those cinnamon-sugar, old-fashioned cookies called Snickerdoodles? Well, Snickerdoodle Ice Cream, of course! This recipe is gluten free and dairy free, and absolutely luscious!
Instructions
In a large bowl combine granulated sugar, light brown sugar, cinnamon and nutmeg. Stir. Add coconut milk and vanilla extract and mix until smooth. (A hand mixer works fine.)
Pour the cold mixture immediately into the ready (already frozen) tub of your ice cream maker and freeze according to the manufacturer's instructions. Mine was ready in 30 minutes. (Check at 20 minutes though in case yours freezes more quickly.)
Scoop ice cream into a freezer safe-container. Freeze.
Stay tuned for more variations and additional gluten-free and dairy-free ice cream recipes. Gluten-free ice cream is pretty easy to find at any grocery store, but not all stores carry dairy-free ice cream.
And, if they do, there still might be other factors (e.g., cost, taste, other ingredients that you don't tolerate like soy) that would encourage you to make your own. Remember that coconut milk can usually be purchased more economically at Asian markets.
I do want to try this recipe again using honey instead of sugar, or at least part honey. Oh, and Mr. GFE thought this recipe would be wonderful with some rum added to it for a frozen drink. LOL Yes, I think he's probably very right on that point!
And, I've already got peaches in the freezer for another adaptation of an ice cream recipe that a reader, Sandy, graciously shared in comments recently. Last, my friend's husband, the maker of the excellent lemon basil ice cream that I mentioned recently and definitely an ice cream guru, has also shared some of his ice cream tips with me and I'll be applying those to gluten-free, dairy-free ice cream recipes.
Oh, the fun … now why didn't I buy this ice cream maker back in early summer?
Shirley
Not just gf, but gfe!
Originally published August 26, 2009; updated July 21, 2018.