For affiliate links and as an Amazon Associate I earn from qualifying purchases.

Today's Suite of Sweets for Sweethearts (SSS) entry is another recipe in the gluten-free, dairy-free (and more) ice cream/sherbet category—Toasted Coconut Banana Walnut Chocolate Chip Ice Cream. It shares some traits with Ben & Jerry's beloved Chunky Monkey ice cream, but the inclusion of toasted coconut and coconut sugar takes this ice cream up a notch in my opinion … in both taste and appearance. Plus my version is also dairy free and more-free.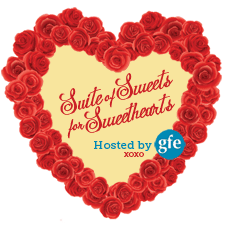 This recipe was not on my SSS slate at all, but when I flipped through my massive stack of recipe ideas when looking for a misplaced recipe card for a recipe that is on my agenda, I saw a page that I'd saved from an old Country Living magazine. It featured a "semi-homemade" ice cream. Their idea was to mix sliced banana, toasted coconut, and bittersweet chocolate into softened store-bought vanilla ice cream and refreeze the concoction. I knew I had to make the ice cream immediately, but I also knew that I could do better making my own homemade dairy-free+ version. About 25 minutes later, I was eating this ice cream and while I obviously never tasted the magazine's version, I know mine is better … the proof is in every bite! And, of course, I had to share the recipe with you all for Suite of Sweets for Sweethearts!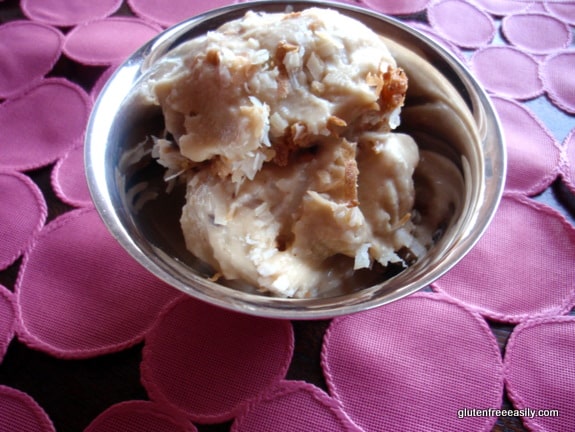 In other very sweet news, you may have noticed the pretty little blue star on my sidebar. That's because I've been nominated for Best Gluten-Free Blogger in Triumph Dining's 2012 Best of Gluten-Free Awards! Wow, huh? Yes, I am honored! You'll find some of my favorite gluten-free bloggers and yours right there with me, too. If you have a moment, please cast your vote for not only your favorite blogger, but also your favorite cookbooks, favorite flour mixes, favorite products, and more. It's an opportunity to voice your opinion and let others know what/who you find valuable in our wonderful gluten-free community! If you should happen to vote for me, well, thank you very, very much!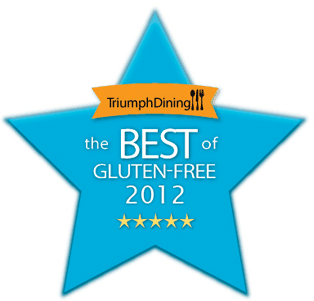 Also, don't forget that the 25% discount on Caveman Cookies—set up exclusively for my gfe readers—continues on through Valentine's Day, February 14th.
Enter GFESweets when ordering to receive the discount.
I'm loving this year's SSS event … hope you are as well!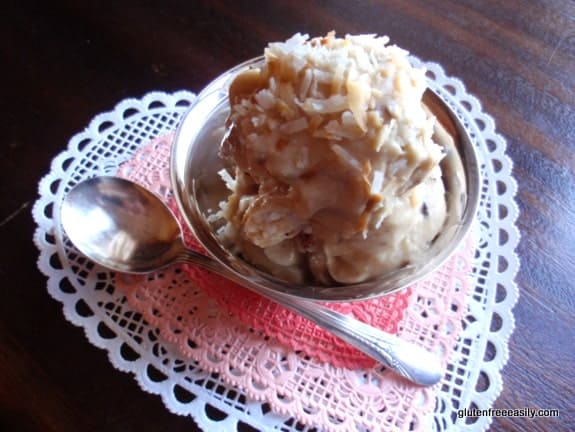 Yield:
Toasted Coconut Banana Walnut Chocolate Chip Ice Cream (Gluten Free, Dairy Free, Refined Sugar Free+)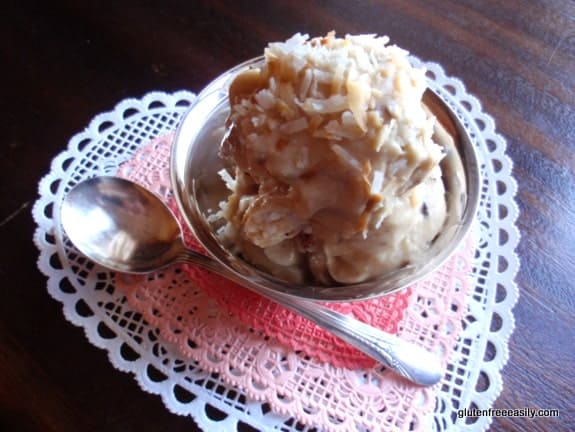 Instructions
Spread coconut flakes on baking sheet and toast in preheated 400F-degree oven for about 3 minutes. Stir every minute. When coconut is fragrant and some of the coconut flakes are a lovely golden brown, remove from oven. (You don't want to wait until all the coconut flakes are brown, because if you do, some of the coconut will burn and may ruin the taste of the rest.) Set coconut flakes aside to cool for a few minutes.
Add coconut milk, vanilla extract, ½ cup toasted coconut flakes, coconut sugar, and banana to the pitcher of your blender. (See my notes on banana options before adding.) Blend on high until fairly well mixed, just about a minute.
Add to frozen ice cream tub. Turn ice cream maker on. Pour contents of blender pitcher into tub. Pour chocolate chips, walnuts, and any additional banana slices slowly into tub via the top opening as ice cream churns. Churn about 20 minutes.
Ice cream can be served immediately or frozen for later. For the prettiest presentation and best taste, scoop ice cream and roll each scoop into remaining toasted coconut flakes before serving.
Notes
If you eat refined sugar, you should be able to substitute brown sugar or granulated sugar for the coconut sugar or palm sugar. Brown sugar is a better substitution if you want the same caramel coloring. White sugar will give you more of a vanilla coloring and, similarly, a more "vanilla" taste. I'm sure honey would be wonderful in this recipe, too. With honey, the coloring would be somewhat "in the middle." I decided to mash both bananas to make one cup. However, if you'd like you can mash half of the banana (half a cup), but save a number of slices (to equal half a cup) to add as you start churning your ice cream. I just grabbed a small handful of the walnut pieces from the bottom of my walnut bag, versus taking the time to chop some.