For affiliate links and as an Amazon Associate I earn from qualifying purchases.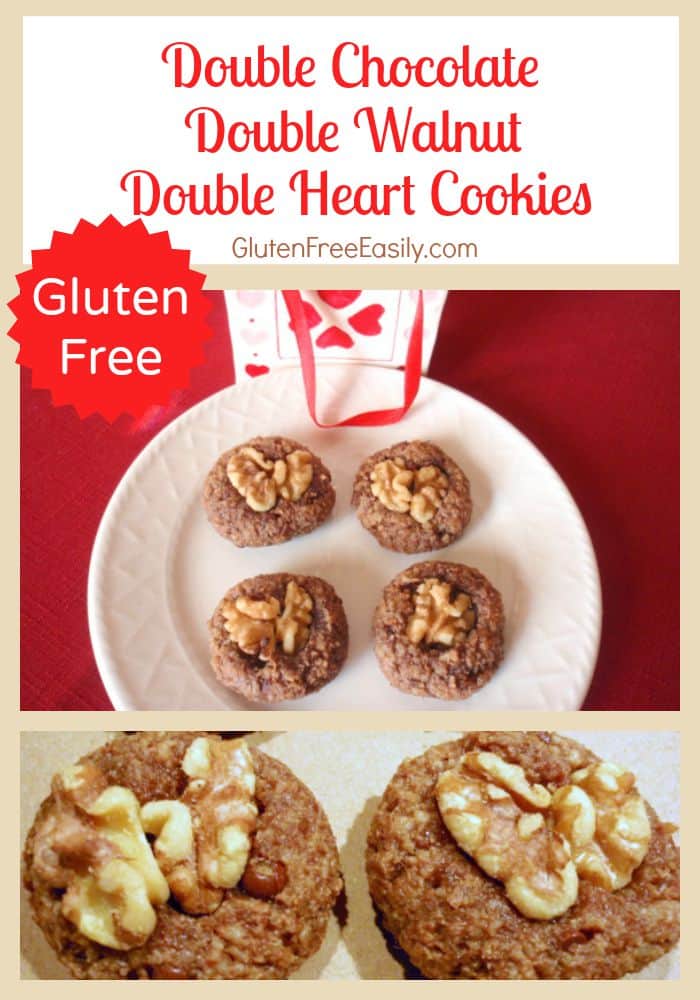 Every year for my Suite of Sweets for Sweethearts (SSS), I try to have at least one recipe that is somewhat different—unrefined and nutrient dense. This recipe for Double Chocolate, Double Walnut, Double Heart Cookies is this year's entry in that category. These cookies are more reminiscent of date-sweetened truffles or date-sweetened protein bars than cookies, but turning them into cookies helps them bridge that sometimes critical divide between "too healthy to want to eat" to "appealing to all" so that the ingredients are not questioned. I knew these cookies had bridged the gap successfully when Mr. GFE ate one and gave his approval! But—and this speaks to their nutritional density—he ate only one. Well, at least this evening anyway.
The "double chocolate" in these cookies comes from raw cacao and chocolate chips. The chocolate chips (or pieces from a chocolate bar) are optional, but both raw cacao and dark chocolate are known for their health benefits. These cookies are great either way.
The "double walnut" comes from walnuts being the primary ingredient in these cookies—serving as the "flour" so to speak—and also references the walnuts used to top the cookies.
The "double heart" factor comes from the fact that you can use the walnut pieces to form heart "decorations" (rudimentary hearts, but still) and that walnuts are "heart smart." They contain alpha-linolenic acid (ALA), an omega-3 fatty acid similar to those found in heart-smart fish. ALA has a number of heart-healthy effects, in addition to its cholesterol-lowering effects. In fact, a recent study showed walnuts to be nature's most perfect food. These Double Chocolate, Double Walnut, Double Heart cookies are mildly sweet with a slight chewiness from the walnuts and dates. Enjoy them! No guilt! Who wants guilt on Valentine's Day anyway?
Speaking of healthy, nutrient-dense cookies that also taste wonderful, don't forget that Caveman Cookies is offering gfe readers a 25% discount through Valentine's Day. Just enter the code GFESweets at checkout.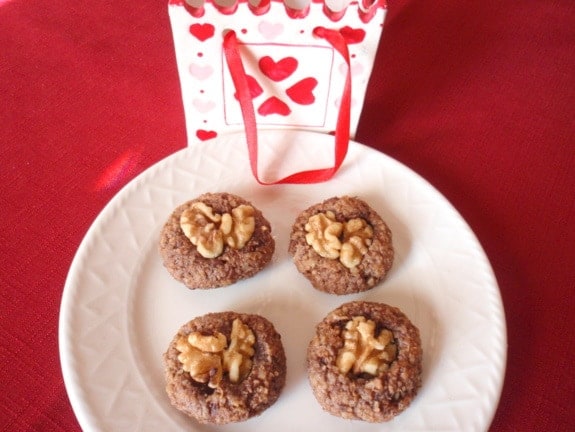 Yield: Make 16 2-inch cookies
Double Chocolate, Double Walnut, Double Heart Cookies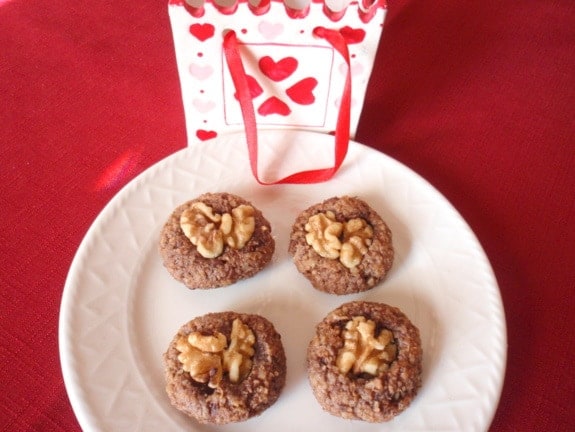 Ingredients
2 cups walnuts
About 1 cup Medjool dates, pitted (about 10)
2 tsp raw cacao powder (or cocoa powder)
1 large egg (or chia egg--1 tablespoon chia seed meal mixed with 3 tbsp hot water)
½ cup mini chocolate chips or similarly small pieces of chocolate from a quality gluten-free, dairy-free chocolate bar (optional; I used only ¼ cup mini chocolate chips in one batch )
Instructions
Preheat oven to 350 degrees Fahrenheit.
Line two baking sheets with parchment paper.
Add walnuts and dates to food processor. (See notes if you don't have a food processor.) Process until fairly smooth with few chunks, about 30 to 60 seconds or so. (Be very careful to not process too long or you will end up with date-sweetened nut butter.)
Transfer mixture to a medium-sized bowl.
Mix in egg and chocolate chips.
Roll batter into walnut-sized balls. Place on parchment-lined baking sheet.
Press walnut pieces into balls to flatten.
Bake about 5 to 7 minutes until cookies appear done and set. (Baking time will be longer for chia egg; bake about 12 minutes or longer.)
Leave cookies on baking sheet for 10 minutes before removing them to cool.
Notes
If you don't have a food processor, you can process both the walnut and the dates separately in a mini chopper until the desired consistency. Note that soaking the dates for 10 to 15 minutes in boiling water and then draining the water off before running them through the mini chopper will be necessary. The chocolate flavor, even with the chocolate chips, is fairly mild in these cookies, so feel free to add a tad more raw cacao or cocoa powder (but not too much or you will no longer have enough sweetness from the dates). Or, you can add more mini chocolate chips/mini pieces from a chocolate bar. Adding the latter won't throw off the proportion of sweetness to base, but don't add so many that the cookie won't hold together properly.