For affiliate links and as an Amazon Associate I earn from qualifying purchases.
Gluten-Free Dark Chocolate Walnut Bliss Bars. Sorry, just had to say that again in case you weren't paying attention. Are you with me now? I know I needed an afternoon wake-up myself. These Dark Chocolate Walnut Bliss Bars will help with that!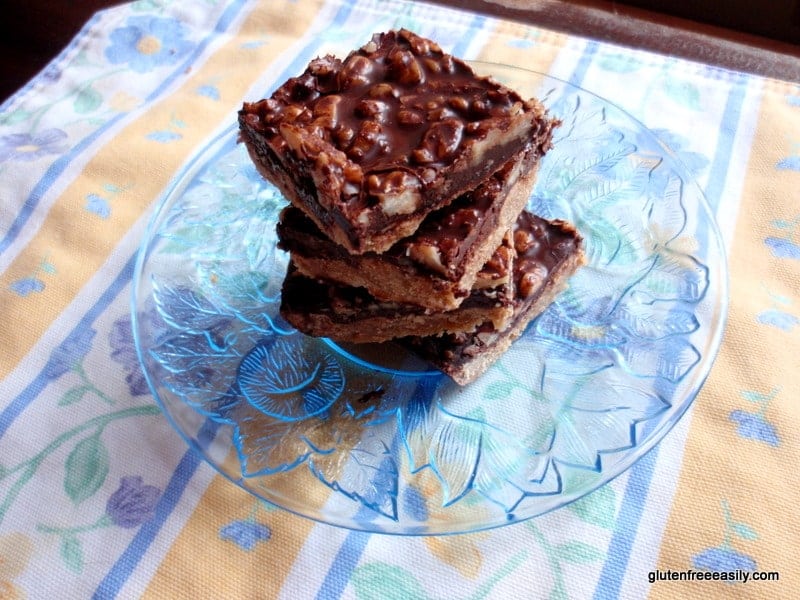 On the back of the bag of Diamond brand walnuts is a recipe for Walnut Toffee Bars. I've thought about adapting that recipe to gluten free for quite some time. When Linda (Gluten-Free Homemaker) shared her challenge for this month, Create a Dessert Bar, I thought of that recipe again.
Then I thought of several other possible bar options. Fruit Pizza Bars using this recipe from Heather as my starting point. Orange Olive Oil bars using this recipe from Zoe perhaps.
Chess Bars or Lemon Chess Bars, both old gluten-full recipes that I have yet to make gluten free, and ones I'd want to make dairy free as well. I think there were a few more possibilities, too.
Yep, that's how my mind works some days. But this morning, I came back to these bars. Yes, this morning before work, I had to make these bars. I wanted to have the recipe finished so I could include them in Linda's weekly roundup, Gluten-Free Wednesdays.
Baking before work in the morning can actually be a breeze when one is using a favorite, well-loved recipe. You know one for which you already have the ingredients memorized.
My Flourless Peanut Butter Cookies are a good example. I can make those and have them out of the oven in 15 minutes. They cool for 10 more minutes while I'm in the shower and I'm good to go.
If I want to make them ultra special for a work luncheon or to give a tin full to a friend, I grab a jar of Nutella (or perhaps homemade Chocolate Hazelnut Spread one day) on the way out the door. I can spread the heavenly filling between the cookies in just a few minutes on a break.
Other people take smoke breaks and make runs to the bank on their breaks, I grab a butter knife and make sandwich cookies … what can I say? But I digress …
This morning I wanted to create a gluten-free, dairy-free, refined sugar-free walnut toffee bar using Diamond's recipe as my inspiration. I needed a crust. I wanted to make it a bit healthier so I used a combination of my usual gluten-free flour mix and coconut flour.
Then I added in coconut oil, coconut sugar, an egg, vanilla extract, and sea salt. After I baked the crust, I melted some unsweetened Scharffenberger dark chocolate (99% cacao)  with coconut oil using a double boiler.
When all was melted, I added a small amount of coconut sugar and an even smaller amount of our bees' honey. Then I mixed in more chopped walnuts. I poured this mixture over the crust.
Now here's where the "before work" factor comes into play. If I'd had plenty of time, I might have just let the chocolate walnut topping set up on its own, although I'm not sure that would have happened with this recipe. Fortunately, I didn't have time, so I popped the bars in the freezer (while I took the dog outside, fed the cat, fed the fish, put a load of clothes in the dryer … you get the picture).
About 20 minutes later, I grabbed the pan from the freezer and headed to work. The resulting cold dark chocolate walnut toffee-style bars are blissful; there's no doubt about it.
Now you should know that these bars are not very sweet. To me, they don't need to be.
Nothing messes up good dark chocolate more than too much sweetness. I loved these bars and so did most of my co-workers, but one friend of mine confessed that she wished for more of the emphasis on sweet versus bittersweet. If your usual favorite chocolate treats are milk chocolate based, you might want more sweetener in this recipe.
So be sure to taste your chocolate mixture to see if you want to add additional sweetener before pouring it over your bottom layer. If you would like the mixture—and your gluten-free Dark Chocolate Walnut Bliss Bars, of course—to be sweeter, I recommend adding more coconut sugar versus adding more honey (the coconut sugar will dissolve and not add that much additional liquid like the honey will).
Note that these bars will need to be kept in the refrigerator or otherwise the chocolate topping will melt. Trust me … it won't be an issue as they are so incredibly good cold.
There will be a little bit of chocolate melting action on your hands when you eat them. You can either lick your fingers (gasp!) or file your complaints in that rectangular file "cabinet" in the corner of my kitchen. Hehe.
But please leave your positive feedback in comments below. Follow your bliss with these Gluten-Free Dark Chocolate Walnut Bliss Bars!
Gluten-Free Dark Chocolate Walnut Bliss Bars Recipe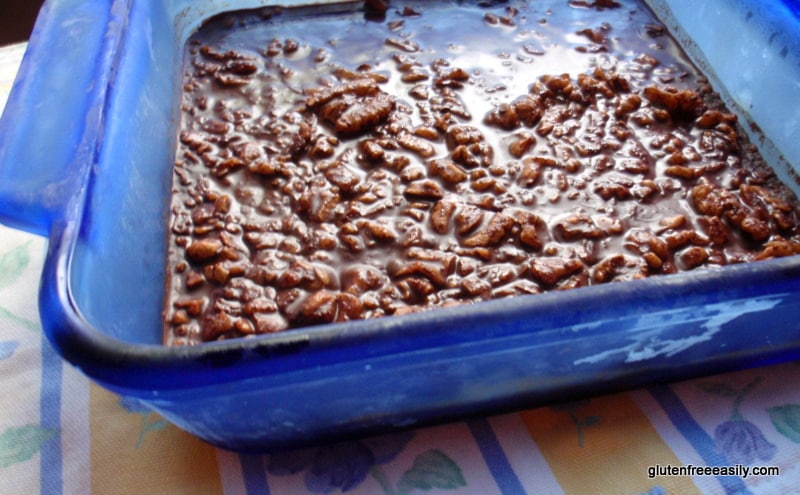 Yield:
Gluten-Free Dark Chocolate Walnut Bliss Bars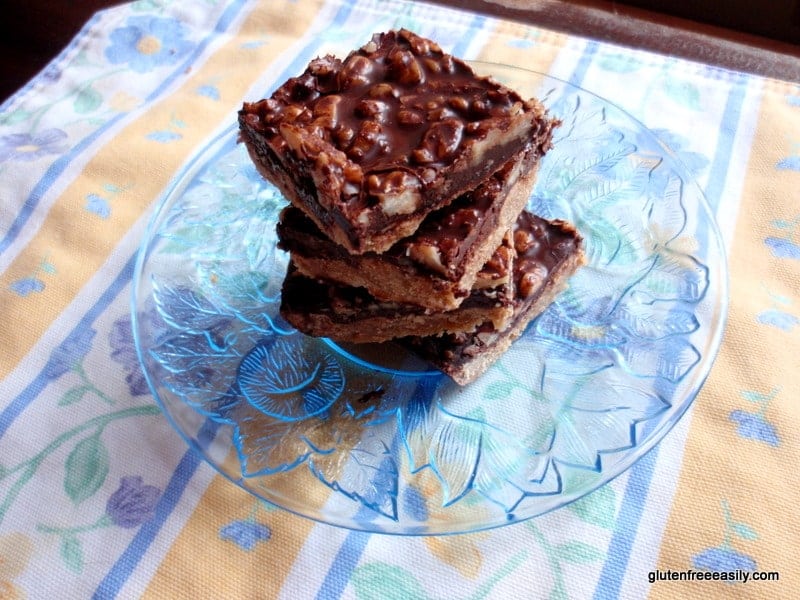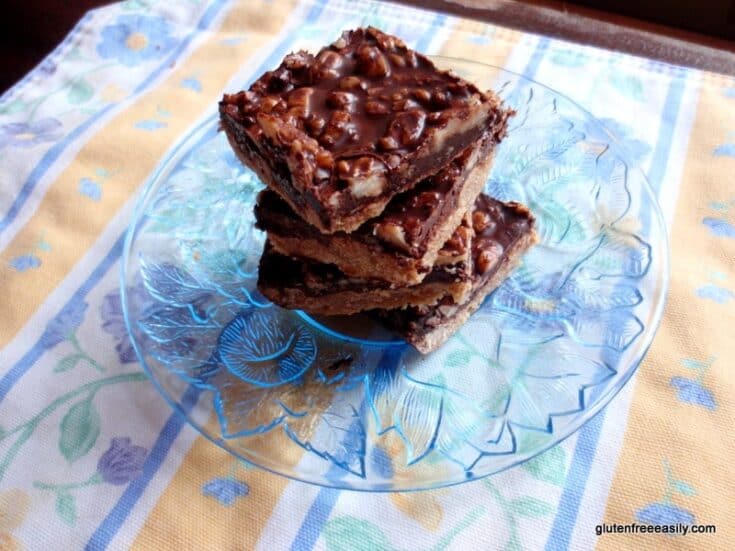 These Dark Chocolate Walnut Bliss Bars are not only gluten free but also dairy free and refined sugar free. Oh, and they are good. So, so good!
Ingredients
Bottom Layer/Crust
1/3 cup coconut oil, liquefied (or non-dairy butter, melted)
1/3 cup coconut (or palm) sugar
1 egg, beaten
½ tsp gluten-free vanilla extract
¾ cup gluten-free flour mix (I use my Two-Ingredient Gluten-Free Flour Mix)
¼ cup coconut flour
¼ tsp sea salt
¼ cup walnuts, chopped somewhat fine
Chocolate/Top Layer
4 ounces, unsweetened gluten-free, dairy-free dark chocolate
4 tbsp coconut oil (liquefied or not, will melt when following recipe)
¼ cup coconut (or palm) sugar
1 tbsp honey
½ cup walnuts, chopped medium (strain to remove particles; save for incorporating into a smoothie or for future baking)
Instructions
Preheat oven to 350F degrees. Grease 8 x 8 baking pan.
For bottom layer/crust, in medium-sized bowl, mix coconut oil, coconut sugar, egg, and vanilla extract. Add in gluten-free flour mix*, coconut flour, and sea salt. Mix until mixture forms a ball. Mix in walnuts.
Spread into pan using a silicone spatula. Bake for about 20 minutes. Bottom layer/crust should be golden brown when done.
Towards the end of the baking time for the bottom layer, start preparing chocolate mixture that will be your top layer. Melt chocolate and coconut oil in pan using double boiler method. Stir continually to ensure chocolate doesn't burn. Remove from heat when all chocolate is melted. Stir in coconut sugar, honey, and walnuts. Taste. If overly bitter to you, add slightly more coconut sugar and stir well.
Remove pan from oven. Let sit for a moment if you are still preparing chocolate mixture for top layer.
Pour chocolate mixture over bottom crust. Place pan in freezer uncovered for about 20 minutes.
Cut into squares with sharp knife or metal spatula. Serve immediately. Return remaining bars to the refrigerator after serving.
Notes
Instead of unsweetened chocolate, coconut oil, coconut sugar, and honey for the chocolate mixture/top layer, you may use one cup of gluten-free, dairy-free semi-sweet or dark chocolate chips. Just be sure to get ones that are also refined sugar free, if you need that requirement. Follow directions as shown from that point on. If bars have been in the refrigerator, let warm to room temperature a bit before serving so they will soften some. No broken teeth, please.
Originally published April 13, 2011; updated July 17, 2018.