For affiliate links and as an Amazon Associate I earn from qualifying purchases.
Mr. GFE's company usually holds its holiday party at the same venue each year, a well-loved local Italian restaurant called Renato's that's located in Fredericksburg, Virginia. It's a party that I really look forward to … and not in small part because of the Frozen Orange Kiss desserts they offer. When going to Renato's, I always know that I'll be enjoying an Orange Kiss at the end of my meal.
Okay, the party has other niceties, too … including seeing old friends, dancing, an open bar, and delicious fare (which has always been safe for me), in general. But I do especially love the Frozen Orange Kiss Desserts.
It's one of the few gluten-free options, but it's a favorite of many of the patrons. The majority of those folks do not eat gluten free.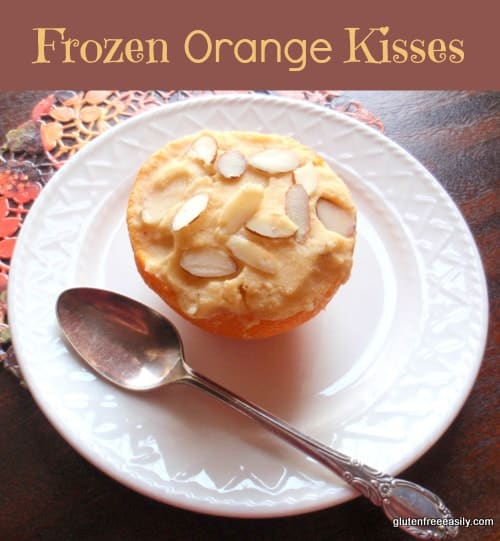 The Orange Kiss is a hollowed-out orange filled with orange sherbet that's Triple Sec-infused and almond-capped. It's quite a refreshing, and just a tad decadent, frozen dessert.
The Orange Kiss is a recipe with an eye-appealing presentation and is enjoyed by all, but has an easy preparation. Ahhh, that's the whole gluten free easily (gfe) (and more recently dairy free easily—dfe) philosophy in a nutshell! Oops, with today's recipe I guess I actually mean in an orange "shell." But don't mind me … continue on.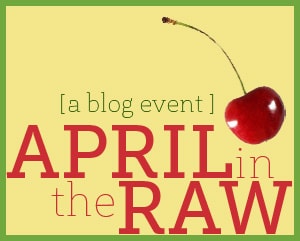 It was the Frozen Orange Kiss desserts that I immediately thought of when I signed up for the April in the Raw event, hosted by Brittany Angell. As the name implies, this event features all raw recipes.
So the question was, could I re-create this recipe at home and stick to raw ingredients from beginning to end? Well, let's see. First, Triple Sec is a processed liqueur, so that was out for this raw recipe. (See my notes following the recipe if you'd care to indulge in such an option though.) First, I started out by purchasing a few Cara Cara Navel Oranges, which are slightly prettier with their darker orange color and also sweeter than your average Navel orange. According to Sunkist:
Cara Cara oranges, a type of navel orange grown in California's San Joaquin Valley, are available December through April. The bright orange exterior of cara cara oranges is similar to other navels, but their interior is a distinctive pinkish red, has an exceptionally sweet flavor with a tangy cranberry-like zing, and few to no seeds.
One of Renato's Frozen Orange Kiss desserts can easily serve two people, but usually everyone gets their own dessert, so I eat most–okay, ALL—of mine. Thank goodness that party comes only once a year, because the truth is these citrus desserts are just too good to let the servers take away with anything but the "shell" left!
However, when making my own for the April in the Raw event, I could ensure more reasonable portions. Instead of using whole oranges and just removing the "caps," I cut the oranges in half.
Then I removed most of the orange segments using a grapefruit spoon. The extracted segments were not pretty, but as they were destined for a blender and then an ice cream maker, that was not a concern.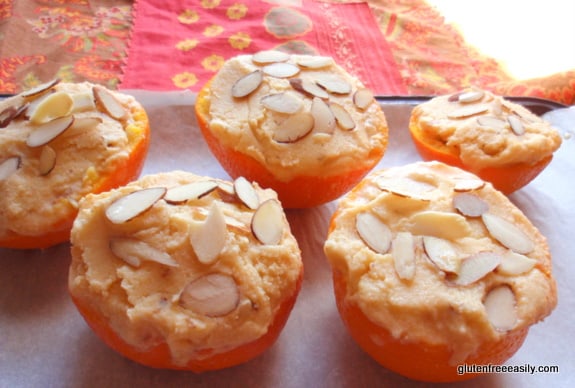 The next consideration was a raw version of orange sherbet. I knew that would be easy enough. I often make gluten-free, dairy-free versions of sherbet and ice cream using full-fat coconut milk and other all-raw ingredients. It's really so easy to do. (If you're looking for any type of ice cream or sherbet recipes, be sure to click on my Recipe Index tab and then scroll down to Desserts to check them out.)
I used a combo of coconut milk, orange segments and juice, raw coconut crystals, almonds, and honey to create my orange sherbet. After it churned to a frozen, but scoopable state, I filled my orange "shells" to create Orange Kisses, topped them with sliced almonds, and placed all but one in the freezer on a cookie sheet.
Mr. GFE and I did have to do a "quality assurance inspection" after all. Once the Orange Kisses were frozen solid, I placed them in an airtight freezer container until ready to serve.
We had a birthday luncheon at work just a few days later, and as luck would have it there were going to be only five of us. So my five remaining Frozen Orange Kiss desserts made for perfect individual desserts for the event!
I told the birthday girl and my other co-workers that they were my "guinea pigs" for a blog carnival event. Most eagerly added my elegant and tasty syrup as topping (again, see notes at end of the recipe). And all of them gave my Orange Kisses two thumbs up and stated they'd be happy for me to use them as guinea pigs any time!
This dessert is a great one for other special, festive events, too, like holidays. Here's my recipe for Frozen Orange Kiss desserts below.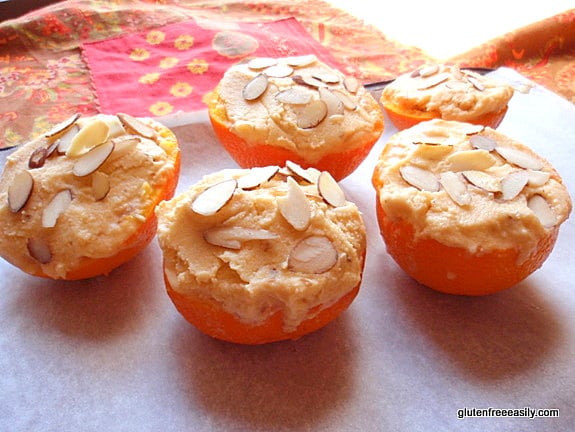 Frozen Orange Kiss Desserts Recipe
Yield: 6
Frozen Orange Kiss Desserts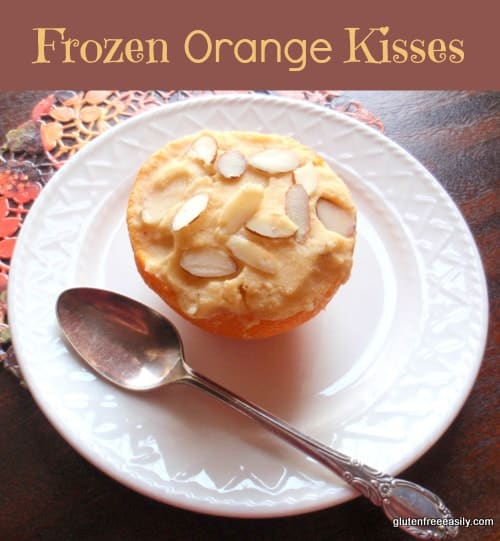 Ingredients
3 Cara Cara Navel oranges (or oranges of your choice)
For the Orange Almond Sherbet
For the Sweet Liqueur Syrup (optional)
1/2 cup Triple Sec
12/ cup Crème de Noyaux (almond liqueur)
1/2 cup coconut sugar
Instructions
Orange Preparation
Wash oranges thoroughly. (I scrub mine with soap and water and rinse thoroughly.)
Score oranges and cut in half over a medium-sized bowl. Remove segments/pieces using a grapefruit spoon. (Don't stress over being perfect with this task. Any leftover orange within the "shell" will just get eaten later with the orange sherbet filling when the Orange Kiss is eaten.)
Place segments/pieces in another small bowl, removing and discarding pith and any seeds as you go. (The Cara Cara oranges I used contained no seeds.)
Pour orange pieces and juice from the medium-sized bowl into the small bowl.
For the Sherbet
Blend ingredients (except almonds reserved for topping) in blender on high for about 15 seconds, just enough to dissolve coconut crystals and break up orange pieces a little. You want some of the orange pieces in your sherbet, or at least I did. If you don't want any orange pieces in your sherbet, blend a little longer.
Pour into ready-to-go, frozen tub from your ice cream maker. Churn about 15 to 20 minutes. Do not overchurn. You want a soft, scoopable sherbet.
Orange Kiss Assemblage
Spoon sherbet into hollowed oranges and top with sliced almonds.
Freeze for at least 30 minutes.
Serve or cover securely with plastic wrap and place in a freezer container. Remove Orange Kisses from the freezer about 10 minutes before serving so that the sherbet filling will soften enough to be easily eaten.
For the Syrup
In a small sauce pan, mix all the syrup ingredients together.
Bring to a boil. Reduce heat to a simmer/low boil. Simmer for about 15 to 20 minutes, stirring occasionally until thickened slightly. Turn off heat and let cool.
Pour into a glass jar and store in refrigerator. Syrup will thicken upon cooling at room temperature and even further in refrigerator. Pour over Orange Kisses before serving.
Notes
I recommend using a full-fat canned coconut milk that has no preservatives (and ideally no gums, BPA, etc.) for best churning and sherbet texture.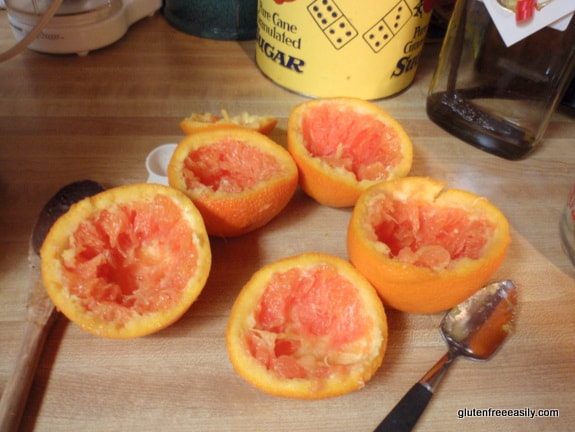 Shirley's Notes
The beauty of a raw ice cream or sherbet recipe is that you can taste it before churning and make any necessary changes to ingredients or amounts. If you are using a less sweet variety of orange, you may need to adjust the amount of honey and or coconut crystals slightly, to your taste.
If you'd like, you can top your Frozen Orange Kiss desserts with a sweet liqueur syrup, which unfortunately is neither raw nor refined sugar free.  (Sorry … the Orange Kisses pictured are not shown with the syrup topping.) Note that other liqueurs like Grand Marnier or Limoncello would also be fine choices for making the syrup topping.