For affiliate links and as an Amazon Associate I earn from qualifying purchases.
Gluten-free croutons. That's what we're talking about today. These are not typical croutons though. The kind that you make from sliced bread. Allow me to explain.
I hate to waste food, but sometimes I do … and then I feel bad. I'm thrilled food that I can't use any other way (sharing with co-workers, relatives, etc.) can even be made into bird or squirrel food, but I'd rather not have any food that doesn't get put to its best use.  If I can recycle food from its first run into something creative and delicious, I'm even more thrilled.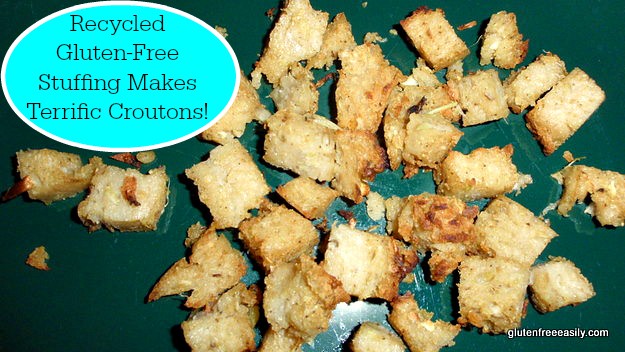 When we were "stuffing'd out" after Thanksgiving, I still had a good amount of Surprise Stuffing left over. (Be sure to check out that recipe if you didn't catch it the first time around.) Ever notice how leftover stuffing seems to congeal?
I looked at that half pan of congealed stuffing and an idea suddenly occurred to me. Croutons. Why not dice the congealed stuffing and make croutons? So I did.
I removed the congealed mass from the baking pan and placed it on the cutting board. I scored the surface in each direction to create crouton-sized squares.
Then I lightly greased a baking sheet, drizzled a bit of olive oil over the squares, sprinkled some garlic powder over the squares, and broiled them until golden brown. That took just a few minutes. I stirred all halfway through.
I was going to save the croutons for my salad the next day, but when Mr. GFE saw them, he immediately thought that we should use them to top the Crab Norfolk we were having for dinner. So we did. No food wasted, and, these gluten-free croutons were fabulous.
While I don't think I'll be making stuffing just to have gluten-free croutons, I won't mind making the tasty stuffing periodically knowing that I'll have croutons a day or two later. How about stuffing and Caesar salad—WITH croutons for a change—in the same week?
To be honest, before this happy experiment, I hadn't had croutons since before I went gluten free in June 2003. Our crouton-topped Crab Norfolk seemed pretty well deserved all things considered! Enjoy!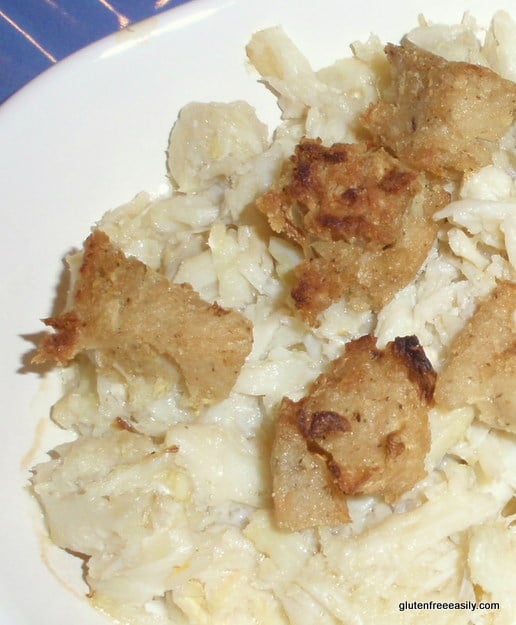 Other Recipes for Gluten-Free Croutons
~ Gluten-Free Croutons from GF Jules
~ Gluten-Free Cracked Pepper Polenta Croutons from Tasty Yummies
~ Gluten-Free Southwest Croutons from Better Batter
~ Grain-Free Keto Chia Croutons from Healthful Pursuit
Originally published January 11, 2010; updated June 18, 2018.