For affiliate links and as an Amazon Associate I earn from qualifying purchases.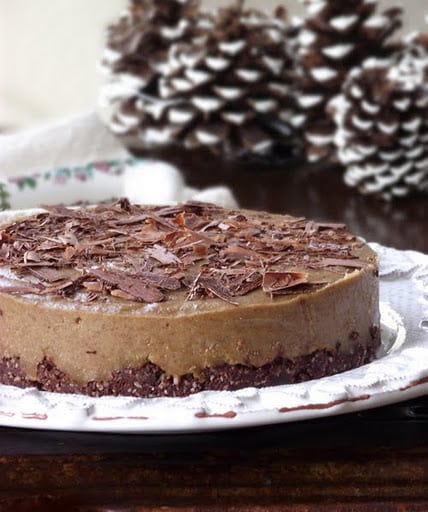 photo courtesy of The Spunky Coconut
So yesterday, I made a big faux pas and said that it was Day 13 of our Home for the Holidays … Gluten-Free Style event. Well, no, actually it wasn't … today is Day 13, which means that we're halfway through our event. Now yesterday, when I was thinking it was the 13th day of our event, I said there was nothing scary about Elana's Gingerbread Apple Crisp, and the same holds true for Kelly's Peanut Butter Pie with Double Chocolate Crust. She made hers with sun butter, so if peanuts are forbidden in your house … no worries, just use sun butter like Kelly did to make this scrumptious pie! Did you catch the part about Double Chocolate Crust? And please take note that this pie is gluten free, dairy free, soy free, egg free, and vegetarian. It's not vegan because Kelly used honey, but I'm betting that you could experiment with the recipe and use agave nectar or maple syrup perhaps. Whenever I substitute either of these ingredients for honey, I use a slightly lesser amount because they are thinner than honey from our bees. For example, one cup of honey is used in my Pumpkin Butter recipe, but I recommend about ¾ cup of maple syrup or 7/8 cup (just under a cup) of agave nectar as substitution options.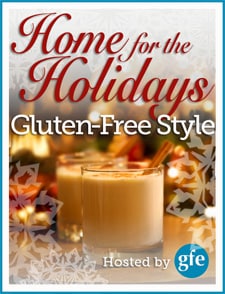 Back to Kelly for a moment … she is a dear friend and  such a creative gluten-free, dairy-free cook. I am always blown away by her creations. That will not come as a surprise to you looking at this pie or if you've read any of the comments on her blog, or especially if you've made any of her recipes! In addition to being one of our very favorite bloggers, she's also the author of two cookbooks. First, there's her The Spunky Coconut Cookbook, which is now in its second edition, and will be offered as one of the prizes in our daily giveaways later in our event. Second, there's her Grain-Free Baked Goods and Desserts that was just offered in Brittany's giveaway (winner will be announced with others at the end of the week).
What's Kelly giving away today? She's giving away both of Elana Amsterdam's (Elana's Pantry) cookbooks, The Gluten-Free Almond Flour Cookbook and Gluten-Free Cupcakes, as shown below—there will be three winners! I've expressed my love of Elana, her recipes, and her cookbooks many time here on gfe! The winners will be so fortunate to add these to their kitchen bookshelves, or wherever they house their cookbooks. My gluten-free cookbooks are on an overflowing rolling bookshelf that we use as my support group's library. My kitchen bookshelf that I designed to be built into the end of my protruding kitchen counter (and my father built for me) houses my old gluten-full cookbooks. I still use them all the time, either for the naturally gluten-free recipes or to convert the gluten-full recipes to gluten free, but I digress. As I shared yesterday, Elana's recipe are simple, satisfying, and delicious. I've tried countless recipes from Elana's blog and cookbooks and have never been disappointed.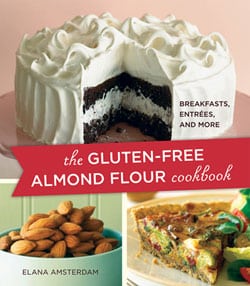 2 copies (2 winners)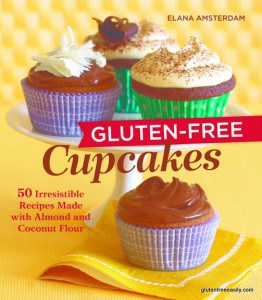 1 copy (1 winner)
Kelly's giveaway ends Monday, December 12th, at noon MST. You must enter on Kelly's blog, but before you head over to her place to request your own piece of pie (if only it worked that way!) and see if you can win either of Elana's books, but let me tell you a little more before you go. Now if you follow Elana's recipe, you know that when "flour" is involved it's either almond flour or coconut flour. So, as an added bonus, when I announce the winners for this week's daily giveaways, I'll also be announcing the winner of one 5-lb bag of Honeyville Almond Flour! I purchased an extra bag with my last order just so I could share it with a lucky Home for the Holidays … Gluten-Free Style participant! It will arrive at my house in the next few days and I'll promptly transfer it to another box and ship it to the winner. How will I choose a winner? I will be pulling one name "out of the hat" from all the entries so far during our event, from all the blog entries. That's the same way that I'll choose the final giveaway winners of the Caveman Cookies gift package ($89 value), largest online gluten-free store Free From Gluten $150 shopping spree, and the Vitamix 5200 Super Healthy Lifestyle package ($550 value). (Please be sure to respond promptly to any email notifications if you're a winner … like the giveaways themselves, the prizes expire quickly and new winners will be chosen if needed.)
Tomorrow, we'll have Ricki from Diet, Dessert and Dogs sharing her "home" and "holidays" post. Wonder if "the girls" will be involved? Yea, or nay, I know without a doubt that we can count on something very special from Ricki!