For affiliate links and as an Amazon Associate I earn from qualifying purchases.
Today for our Home for the Holidays … Gluten-Free Style event, we have Ali (Whole Life Nutrition Kitchen at nourishingmeals.com) hosting. Ali is sharing some super cute, very tasty Gingerbread Cut-out Cookies that are perfect for all to make and enjoy!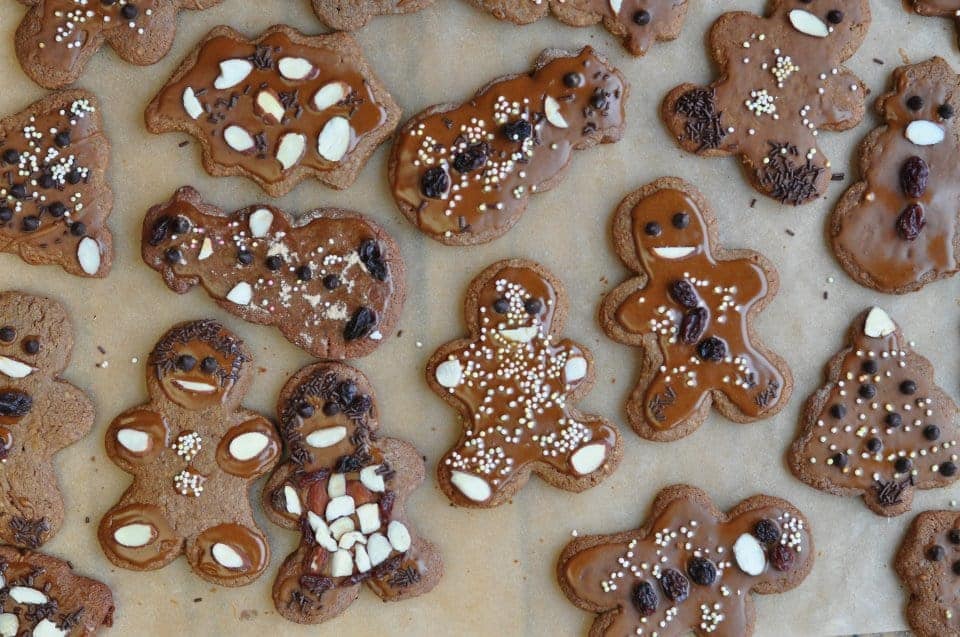 photo courtesy of nourishingmeals.com
You'll want to check out Ali's recipe and enter her giveaway here, but allow me to tell you a little bit about the four books that are included, as well as share another cookie recipe with you!
The Pure Kitchen ~ Hallie Klecker's new cookbook not only offers you a pure kitchen full of wholesome unprocessed gluten-free, dairy-free ingredients, but also is a pure delight. I had the pleasure of reviewing it recently and have made two totally wonderful recipes so far. The first was the "Grain Free" Herbed Pretzels, which I turned into Almond Cornbread Twists (a healthy equivalent of a former ready-made Pillsbury product). It was quite easy to do … I simply substituted part of the almond flour with cornmeal. Both Mr. GFE and I loved the Almond Cornbread Twists with chili! I'm sure they are also good as the soft "pretzels" that Hallie intended. The second recipe I made was Hallie's Thick & Chewy Peanut Butter Cookies. I used an Asian white rice flour/cornstarch mix (because that's what I had on hand) versus brown rice flour and arrowroot in Hallie's recipe. The results were great. I made another substitution—certified gluten-free oat flour for certified gluten-free rolled oats—but I couldn't have been more pleased with the results. In fact, I loved the feel of the dough so much—it was soft and pliable—that I decided to make a few cut-out cookies! Nothing fancy for sure … just something I did for fun for us, but I plan to repeat this use for the holidays. Incidentally, we have a camel cookie cutter, not because of its significance in the upcoming Christmas holiday, but because that was Mr. GFE's college mascot. I love kitchen "equipment" that does double duty though. Finally, fortunately, for all of you, Hallie has graciously agreed to share her Thick & Chewy Peanut Butter Cookies recipe with you!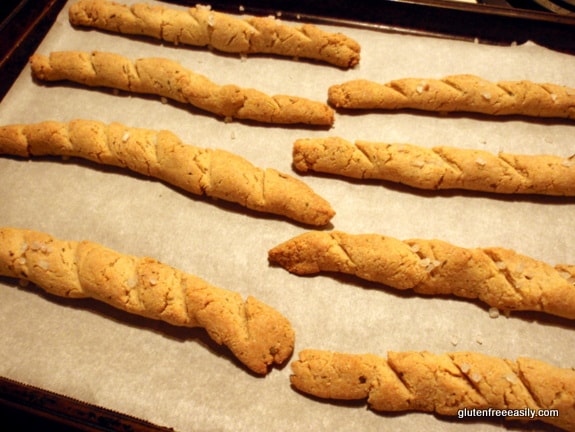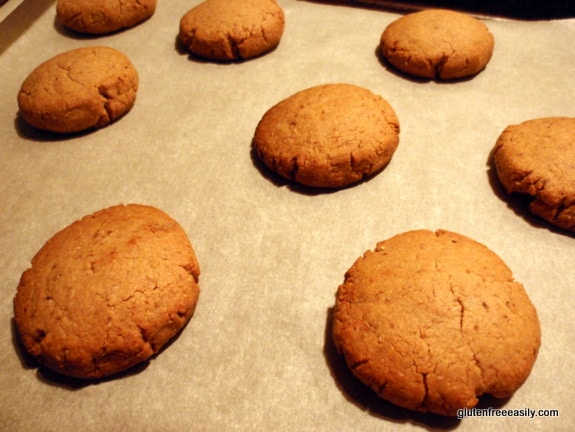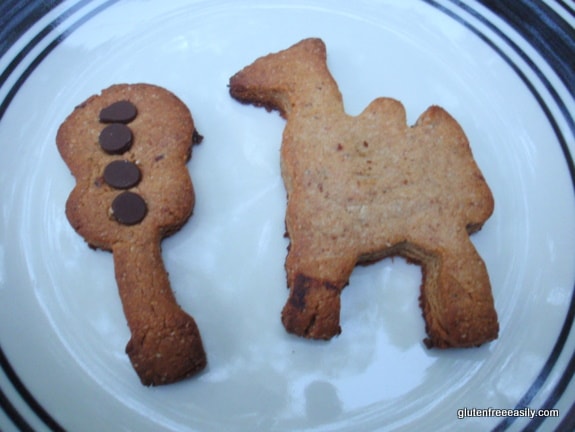 Yield: Makes 22 - 24 cookies
Thick & Chewy Peanut Butter Cookies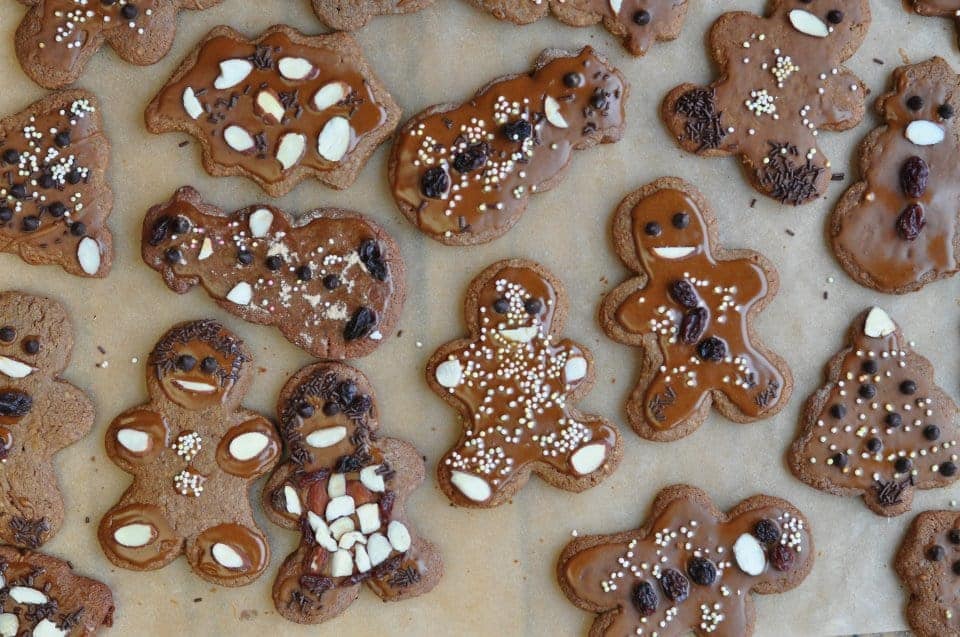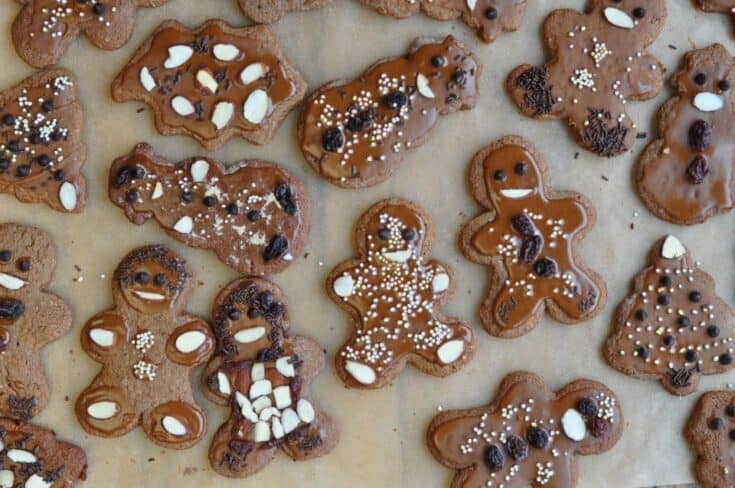 Recipe from The Pure Kitchen, reprinted with permission from author Hallie Klecker I know everyone seems to think that their grandmother made the best peanut butter cookies, but trust me on this one; my grandma's really were the very best! Soft and cakey, her cookies never lasted long once my dad and I found them waiting for us in the freezer. This recipe is a nod to Grandma's peanut butter cookies. While nothing will ever match up to her homemade baked goods, I must say that these cookies are a darn good variation on a classic cookie---made entirel free of gluten, dairy, and sugar.
Ingredients
½ cup (packed) pitted Medjool dates
¼ cup hot water
¼ cup virgin coconut oil or grapeseed oil
¼ cup dark maple syrup or agave nectar
1 cup creamy, unsweetened peanut butter
3 tbsp ground flaxseed, preferably golden
1 cup gluten-free rolled oats (I used oat flour)
¼ cup (34 grams) brown rice flour
¼ cup (27 grams) arrowroot starch
1 tsp baking soda
Pinch of sea salt
Instructions
Preheat the oven to 350F. Line 2 rimmed baking sheets with parchment paper. In a small bowl, soak the dates in hot water for 5-10 minutes.
Transfer the soaked dates (and the water) to a blender. Add the coconut oil and maple syrup. Blend on high until very smooth. Scrape the mixture into the bowl of a stand mixer fitted with the paddle attachment. (If you do not have a stand mixer, transfer the mixture to a large bowl and proceed using a handheld electric mixer.)
Add the peanut butter and flaxseed to the bowl and beat on medium speed until combined. Add the remaining ingredients and beat until a thick dough forms.
Roll the dough into 1 ½-inch balls. Arrange the balls on the lined baking sheets. Using the bottom of a small glass, gently flatten each ball to about 1/3-inch thick. Bake the cookies for 10-12 minutes until brown around the edges. Cool cookies completely on sheets before serving or storing. The cookies will be soft to the touch, but will firm up as they cool. Store in an airtight container.
Notes
You can use either unsalted or salted peanut butter here. If you use salted, you may want to omit the pinch of sea salt.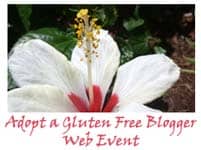 I'm a big fan of Hallie's cookbook (and Hallie!) but I realize my review is a brief one. You'll want to check out Kim's and Wendy's reviews for the full scoop on The Pure Kitchen. You can even check out Hallie's tv debut with some of her scrumptious recipes here! Also, this is a bit unconventional, but I'm using my review and test run of these recipes from Hallie as my adoption of her for this month's Adopt A Gluten-Free Blogger event, the "get-to-know-your-fellow-blogger-and-their-recipes event" started by the wonderful Sea (Book of Yum). This month's host is the lovely Kalinda (Wheat Free, Meat Free). You'll want to check out Kalinda's Friday vegetarian roundup, too; I love visiting every week to see the recipes that have made her list!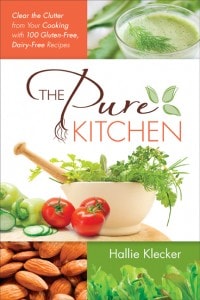 Healthier Without Wheat ~ I spoke about Dr. Stephen Wangen's book on my post yesterday. It's a book that all should read because it addresses more than celiac disease. Many do not have celiac disease, but they do have issues with wheat and gluten as a whole, via allergies, intolerances, and non-celiac gluten sensitivity.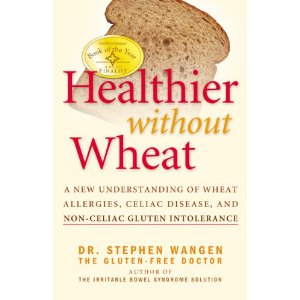 The Whole Foods Kosher Kitchen ~ Lévana Kirschenbaum and Lisa R.Young
Aptly subtitled, "Glorious Meals Pure and Simple," this cookbook is a compact one, but full of great simple whole food recipes (250 in all) with beautiful photos. Levana Kirschenbaum is the co-owner of Levana's restaurant in Manhattan and is well versed in kosher upscale dining. Her co-author, Lisa Young is a nationally known nutritionist. Together they've created a terrific whole foods cookbook that gives you great recipes and the nutritional logic behind them. One would not have to be kosher to enjoy this one! Note that this cookbook is not 100% gluten free, but all recipes are marked … GF for Gluten-Free, GFA for Gluten-Free Adaptable, and P for Passover.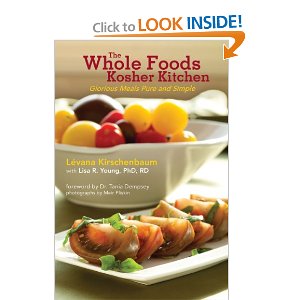 Gluten-Free Baking for Dummies ~ by Jean Layton and Linda Larsen
While I'm not yet familar with co-author Linda Larsen, I met Jean "a few blogging conferences back." She's a naturopathic physician in Bellingham. She's gluten free and loves to bake! Those are great qualifications for writing this cookbook, aren't they? In fact, I've sampled Jean's own gluten-free sourdough rolls before—delish! I don't know that the recipe is in this cookbook (which will be released in a few days), but I'm stil betting this cookbook will be a good one!  Update: The recipe for Jean's Sourdough Rolls is in this cookbook. In fact, as she stated in comments, there's more than one variation included!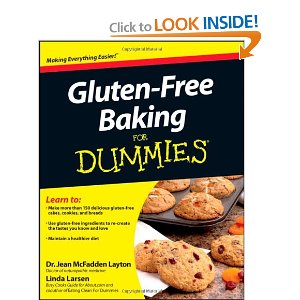 Click here to head over to Ali's blog to get her gingerbread cookie recipe and to enter the giveaway for all four books! The giveaway ends Saturday morning at 7 am PST, so don't miss it …
p.s. There's still time to enter yesterday's giveaway and get an amazing looking Fritters recipe over at Heidi's here.
p.p.s. Tomorrow you can visit Sunny at And Love It Too! She's been dropping hints about (and showing photos on her Facebook page—tease!) of a pretty terrific pie that she's made …
p.p.p.s. Remember that all entries qualify you for the final giveaway prizes, including the Vitamix!
This post is linked to Wellness Weekend and Gluten-Free Wednesdays.