For affiliate links and as an Amazon Associate I earn from qualifying purchases.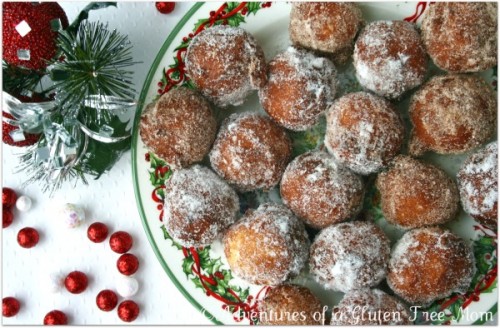 photo courtesy of Heidi at Adventures of a Gluten-Free Mom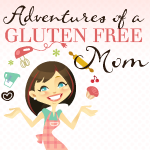 It's Day 3 of our holiday event and today Heidi (Adventures of a Gluten-Free Mom) is sharing Fritters (which also have three other names depending upon where they're made). On Facebook, Heidi described her Fritters on "the tastiest gluten-free sweet treat that she's made in 6 years." You only have to take one look at her photo to know that she speaks the truth. And if you follow Heidi's blog, you know that's saying a lot. She wows us all with her recipes—sweet and/or savory—but this recipe and post truly speak to our Home for the Holidays … Gluten-Free Style theme. It's a "must read" for sure. You can read about it all here.
Oh, and her giveaway? She's giving away signed copies of the following:
Healthier Without Wheat ~ This book is Dr. Stephen Wangen's (IBS Treatment Center in Seattle) book that goes beyond the celiac diagnosis. So many with clear symptoms and issues caused by gluten are determined not to have celiac disease and are told to continue eating gluten without worry. I just met someone a few weeks ago who tested positive for the celiac blood panel, but "negative" via the follow-up biopsy, even though her gastroenterologist told her she had some villi damage in her small intestine. The gastroenterologist's advice to her? "Cut back on gluten until your diarrhea stops." Unacceptable. Dr. Wangen explains gluten intolerance, non-celiac gluten sensitivity, and wheat allergies, and why the guidance to continue eating gluten if one does not have celiac disease can be dead wrong for many, many people … with emphasis on the dead in many cases. Please forgive me for being so blunt, but many, many patients who do not test positive for celiac disease can be suffering greatly from the effects of gluten, and some can be in a very incapacitated states and worse off than others who has received the "gold standard diagnosis" of celiac disease. As has so often been stated, celiac disease is just the tip of the iceberg. Dr. Wangen's book should be on your reading list.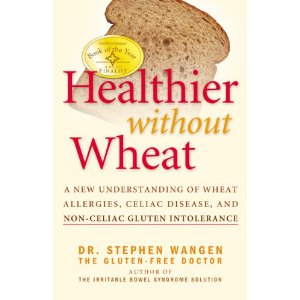 Perfect One-Dish Dinners: All You Need for Easy Get Togethers ~ One of several cookbooks by popular cookbook author/chef, Pam Anderson. I had the pleasure of meeting Pam a little over a year ago. She was doing a talk and book signing at Book Passage, a charming waterfront bookstore, in the Ferry Building in San Francisco. Wendy (Celiacs in the House) was already a fan of Pam's (you can see why here) and asked us if we wanted to tag along. I "knew" Pam from her Sunday columns in the Weekend section of our newspaper. Pam gave a great presentation on her history with food and how she chose the theme for and developed Perfect One Dish Dinners. After her talk, each of us got to chat with her a few minutes and get her signature.  Then we all were fortunate to see her again at BlogHer Food. My favorite recipe in this cookbook is the Spicy Coconut Shrimp Stew. It's naturally gluten free and I easily adapt it to the ingredients I have on hand. Incidentally, Pam's new cookbook is Cook Without a Book: Meatless Meals: Recipes and Techniques for Part-Time and Full-Time Vegetarians.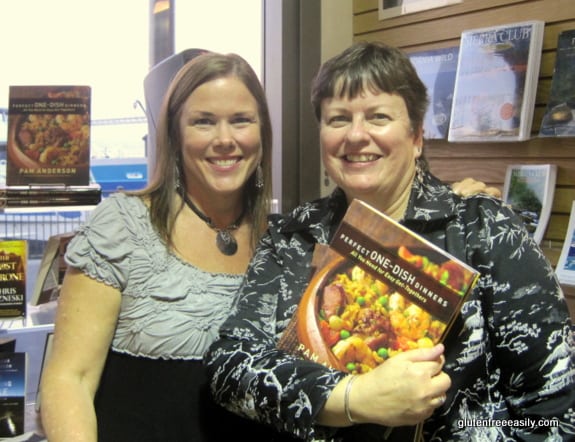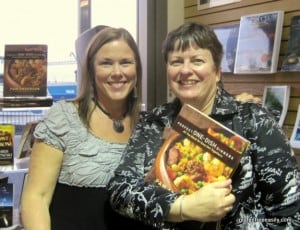 Artisanal Gluten-Free Cupcakes ~ Pete and Kelli Bronski continue their Artisanal series of gluten-free cookbooks with this second book. A follow-up to their very popular "must have" Artisanal Gluten-Free Cooking, which covers all areas of gluten-free cooking and has a second edition coming out soon (yippee!), this one's also a delight for sure. Well, you knew that, of course, just by the fact that it is all about cupcakes! You can read my full review here. Below you'll see just one of their cupcakes that I made, the Sweet Potato Walnut Cupcakes that could just as easily be called sweet muffins. (Pete and Kelli's photo is so much better than any I've taken, so I'm including that instead of one of mine and I'm grateful that they allowed me to use it.)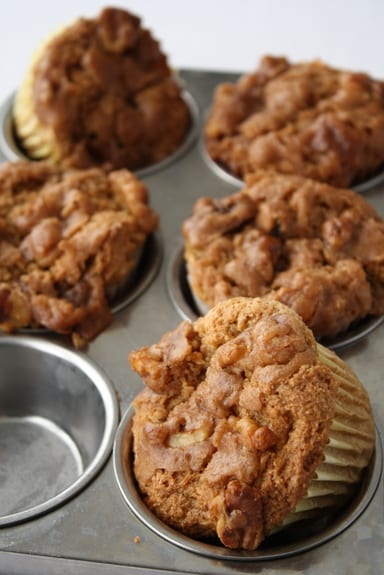 photo courtesy of Pete and Kelli Bronski
You must visit Heidi's blog to get her Fritters recipe,  to be reminded of what "home" and "holidays" means and, of course, to enter her giveaway (which closes Friday)!

If you missed it, please don't forget to check out my giveaway of More Make It Fast, Cook It Slow and Totally Together Journal: Shortcuts to an Organized Life (one combination set for two winners) and Wheat Belly (one copy for one winner) here. (It ends tonight, November 30, at midnight Eastern.) And also visit Diane's blog for her giveaway of The Gluten-Free Almond Flour Cookbook, Gluten Free in Five Minutes, and The Steamy Kitchen—one winner for each cookbook—which also ends tonight, November 30 at 10:00 pm Eastern. Every entry for the daily giveaways is an entry that's eligible for the final giveaway drawings … packages from Caveman Cookies, Free From Gluten, and Vitamix! Last, don't forget that you can keep track of our entire Home for the Holidays … Gluten-Free Style event here.