For affiliate links and as an Amazon Associate I earn from qualifying purchases.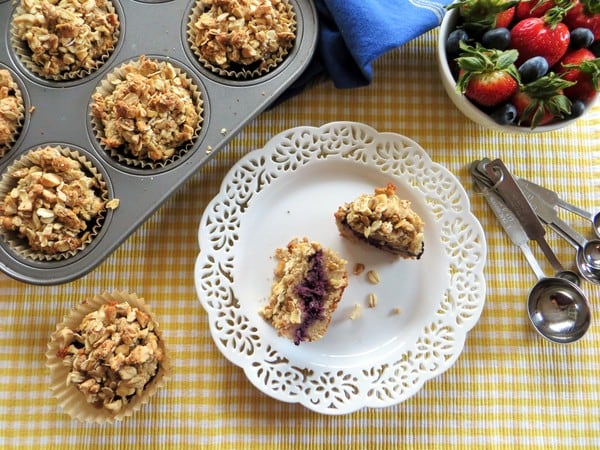 It's Friday and I have another gluten-free muffin recipe for you for March Muffin Madness (MMM), plus some more wonderful giveaway prizes!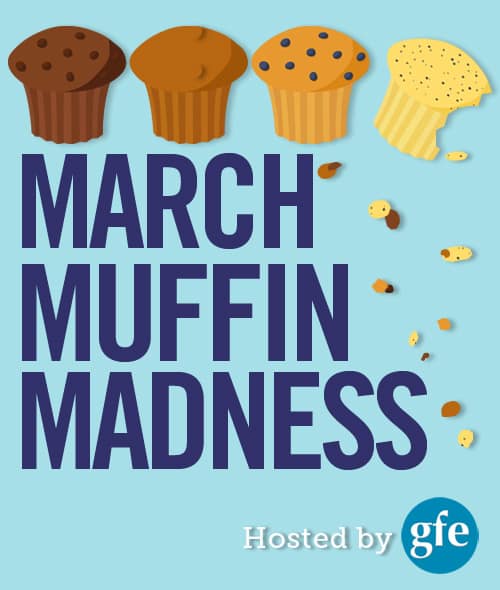 Nut Butter, Banana, and Jam Muffins from Pocketfuls
Lisa of Pocketfuls sure creates some delicious and healthy muffins. For MMM, she's sharing these Nut Butter, Banana, and Jam Muffins. Don't they look great?
Lisa actually collaborated with her son to create this recipe. Her boys were home on Spring Break so she took advantage of her younger one's muffin ideas! You can use any nut butter or jam per your preferences in Lisa's muffins. Her recipe also uses almond flour and certified gluten-free oats—her favorite flour combination— and is gluten free, dairy free, egg free, and vegan.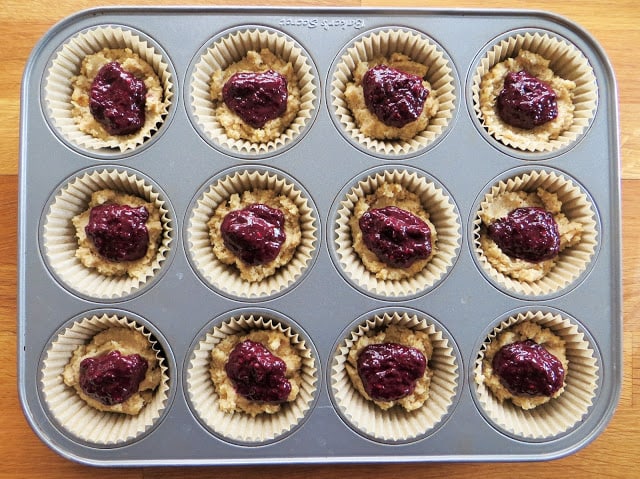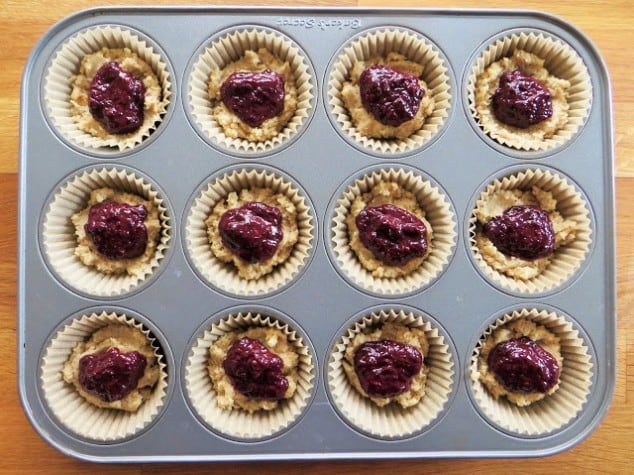 Some of Lisa's other gluten-free muffin recipes are:
Double Chocolate Zucchini Muffins,
Oatmeal Cinnamon Mini Muffins, and
Lisa also participated in our last MMM event. You can now find that muffin recipe, delightful Banana Split Muffins, on her blog.
Before you head off to see Lisa's Nut Butter, Banana, and Jam Muffins recipe, please check out today's daily giveaway below.
Today's Daily Giveaway
~ The No Biggie Bunch Children's Book Series (5 books, 1 winner for each)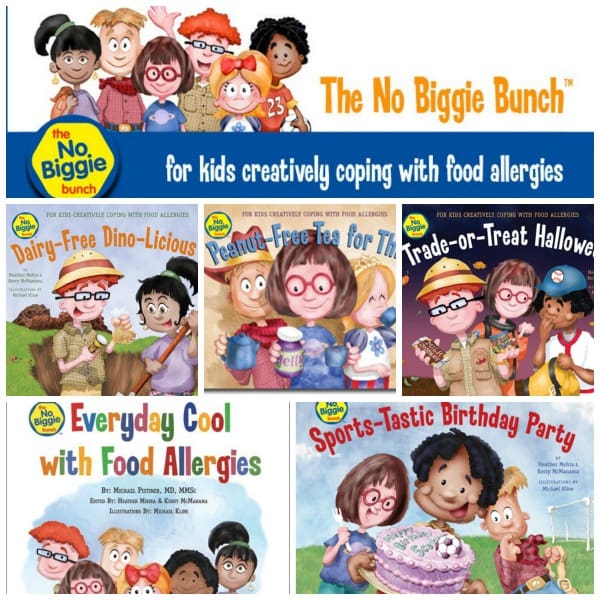 The No Biggie Bunch books were specifically written for children and their caregivers "for creatively coping with food allergies." I am a huge fan of children's books and am happy to see more books aimed at children with celiac, non-celiac gluten sensitivity, and food allergies/intolerances coming on the market. I had heard about these books previously, but only briefly so I was happy to meet Heather from The No Biggie Bunch Team back in November while attending a bloggers' conference. We chatted about these cute books with the positive messages. I told her how pleased I was to see more children's books dealing with food issues being published. Of course, I asked her if she'd be willing to share these books with my gfe readers and she immediately said yes! These books get outstanding reviews so I hope you'll give them a look and enter the giveaway for them.
The books are:
~ Sports-tatic Birthday Party Book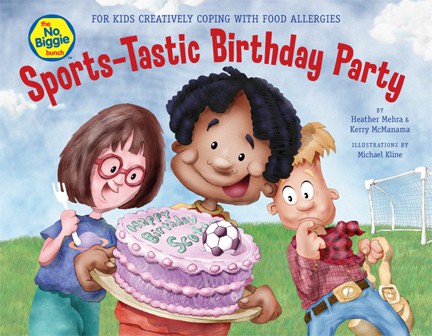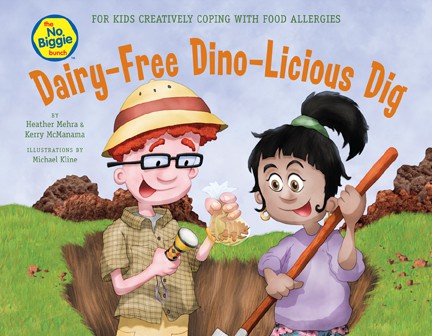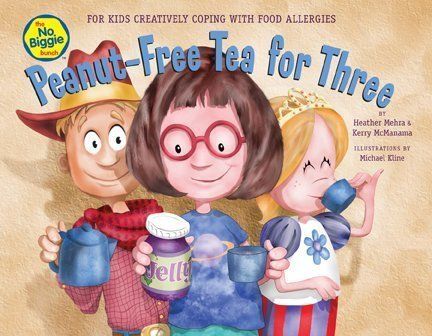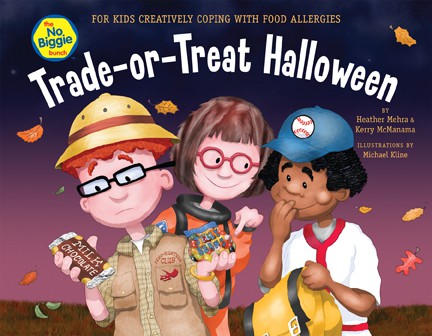 ~ Everyday Cool with Food Allergies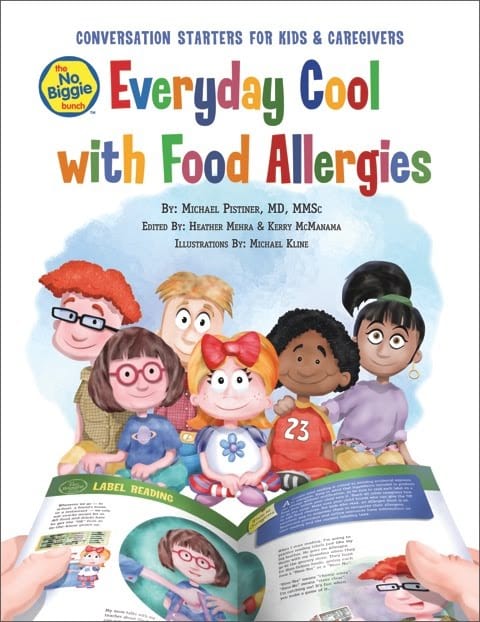 Enter to win below and remember that every comment on every post during MMM is not only an entry for the daily giveaway, but is also an entry for the Grand Prize Giveaway. Be sure to claim additional entries for that giveaway below.
a Rafflecopter giveaway
Grand Prize Giveaway (1 winner for each)
Be sure to enter the overall/grand prize giveaway at the bottom of this post and come back tomorrow for another terrific gluten-free muffin recipe and another daily giveaway. Remember that commenting on every post during the MMM event gives you additional entries into the grand prize drawing, which includes:  1/2 gallon Hidden Springs Vermont organic maple syrup, USA Bakeware 12-cup muffin pan, Kettle & Fire bone broth(thanks to the folks at Kettle & Fire!), 5-lb bag of Honeyville almond flour, Cuisinart ice cream maker, Paderno World Cuisine vegetable slicer/spiralizer, Crockpot casserole slow cooker, Instant Pot pressure cooker, and—the grand prize, which is sponsored by Blendtec!—a Blendtec Designer 625 with Wildside+ jar and Twister jar.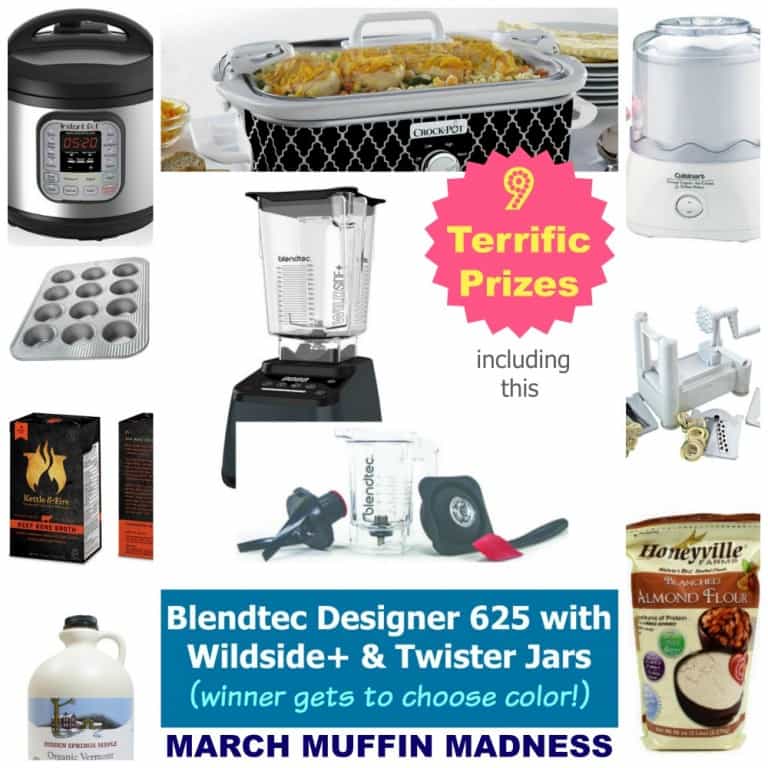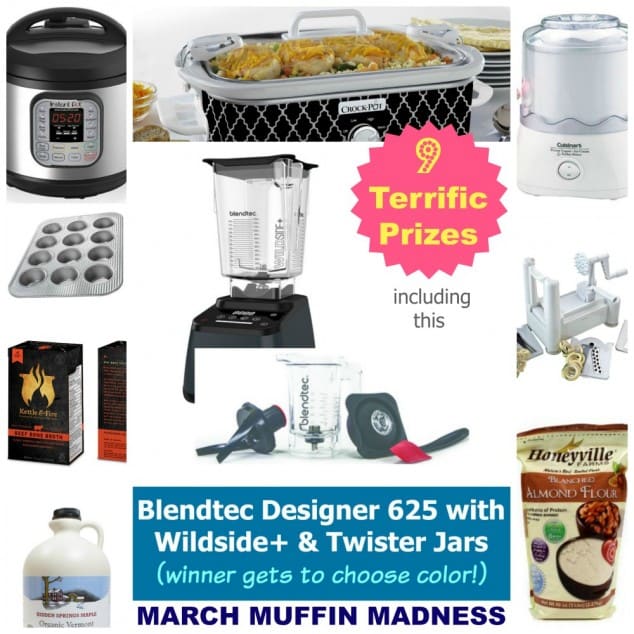 a Rafflecopter giveaway
You can see the up-to-date listing of daily prizes and the complete lineup of bloggers and recipes in the kickoff post here. Be sure to come back tomorrow!