For affiliate links and as an Amazon Associate I earn from qualifying purchases.
Gluten-Free Blueberry Gingerbread. Oh, how very yummy this gingerbread is!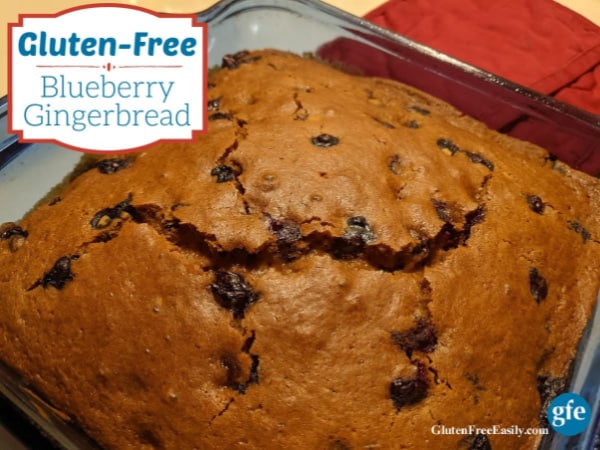 Wait a second though. We all know that it's the season of gingerbread goodness but does gluten-free Blueberry Gingerbread sound a bit odd? If so, I get that as it's not a recipe that I would have thought of on my own or have actually ever heard of before but believe me; it's absolutely wonderful! And timely. Not just for the holidays but for my family's current needs.
You see, we've been getting blueberries in our biweekly Misfits Market produce boxes for a long time now. We love Misfits Market's produce and have been enjoying blueberries as one of our choices. (FYI: Use this link or discount code COOKWME-XD6MDE at Misfits Market to get a discount on your first order if you decide to sign up! We love the quality of the produce, all the options, and the faithful, contact-free delivery to our front door.)
Sometimes we eat the blueberries immediately and they don't stand a chance of being added to baked goods. Most of the time though, I've turned them into another of our favorite blueberry treats, ones already shared here on gfe—like Blueberry Cobbler, Blueberry Banana Buckle, Orange Blueberry Muffins, Bakery-Style Blueberry Muffins, and this Blueberry Mug Muffin.
We were ready to try something new with blueberries and I'm so glad because this Blueberry Gingerbread is most definitely our new favorite blueberry recipe! Because blueberries AND gingerbread?! Again, it might be an unexpected pairing but it is a fantastic one.
Son exclaimed "Wow!" after taking his first bite of this gingerbread. He went on to say that he loved the bit of tartness and texture from the blueberries in contrast to the sweet cake factor of the gingerbread. His girlfriend said she loved her slice as well.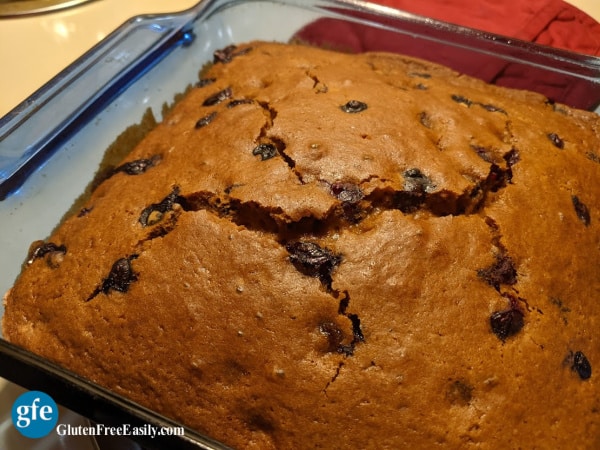 They both were downright joyful about this recipe! And they've since proven that they weren't just being nice with their initial compliments because they've enjoyed this gingerbread as their dessert after every meal since I made it. Unprompted. Without fail, they finish their meal and then cut a piece for themselves and start raving all over again.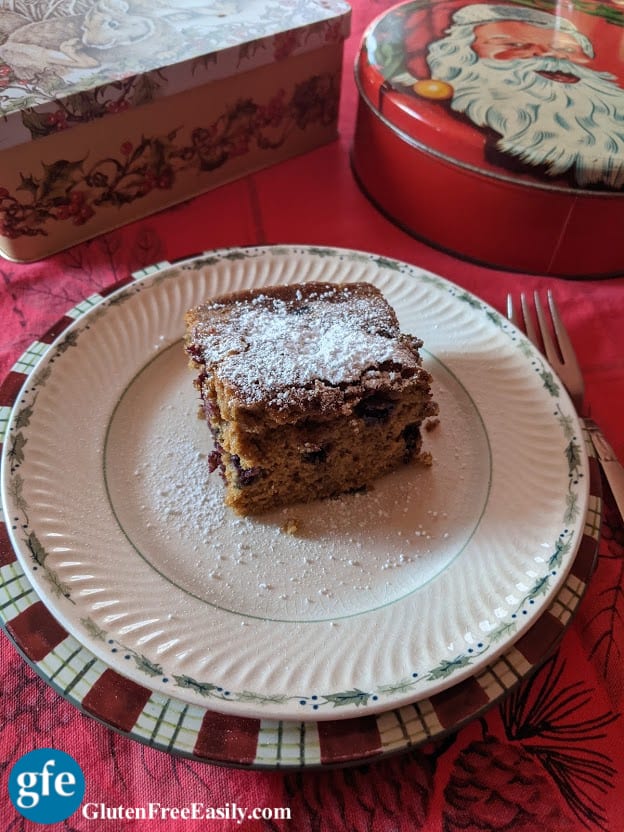 Honestly, I'm right there with them. I love everything about this gingerbread. Including its cracked top. Whenever quick breads and cakes crack on top, I feel like they're showing that they're bursting with goodness and calling everyone to cut into them right away!
In fact, pretty much "everyone" in our house has been eager to get a slice of this cake. Even one of my collies has wanted to get in on the Blueberry Gingerbread action and he usually doesn't even pay much attention to such human treats.
He—Dozer—started doing a little dance of excitement when our backs were turned and the pan happened to be close to the edge of the table. For a minute, he thought that he might be able to jump up and snag a piece but sadly for him we started paying attention and foiled his plans!
A Few More Things About This Gluten-Free Blueberry Gingerbread
I used fresh blueberries but frozen blueberries will also work fine. I know that because I adapted this recipe from the Blueberry Gingerbread recipe from Wild Blueberries shared by Go Dairy Free and that recipe called for frozen blueberries.
I made the recipe gluten free (using my Two-Ingredient Gluten-Free Flour Mix), changed the size from 9 x 13 to 8 x 8 (because we really don't need that much cake in our house right now), and fiddled with the amounts of other ingredients. Specifically, I left out the nutmeg, upped the ginger, increased the amount of molasses, and used regular molasses versus blackstrap molasses because that's what I had on hand (and what I use most often). I also used extra virgin olive oil because I like the rich taste it adds to baked goods—when the other ingredients are strong enough to not be overwhelmed by its flavor, that is.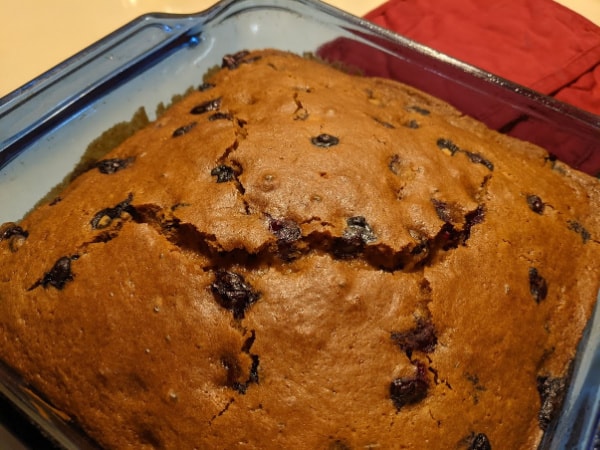 Before you start mixing the ingredients in this recipe, you toss the blueberries in some of the gluten-free flour mix so that they won't sink to the bottom in the gingerbread. Instead, they are evenly distributed throughout. That's a trick to remember any time you're adding blueberries to a recipe.
The final touch—if you wish—is a sprinkle of powdered sugar right before serving. Emphasis on "right before serving." And I do mean sifting or sprinkling the powdered sugar over the slice or slices you're immediately ready to serve. As in you're going to serve them in like two seconds.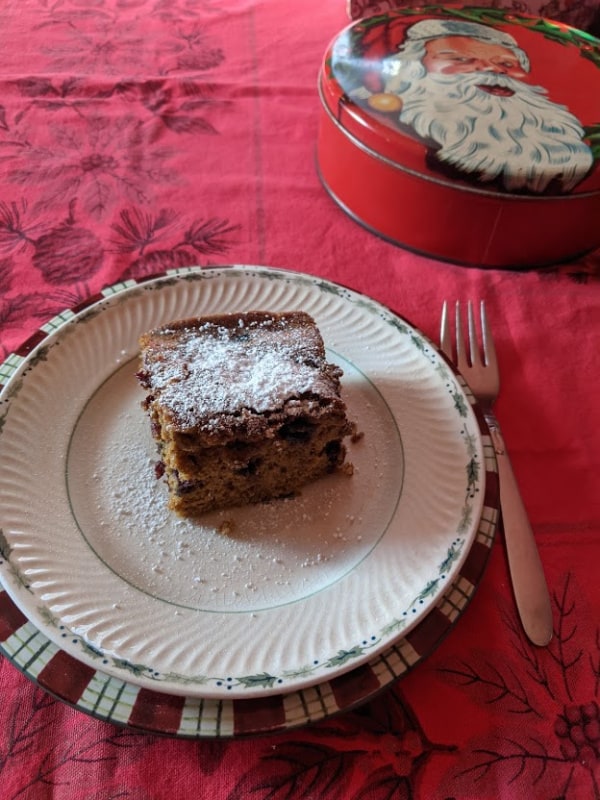 I emphasize this instruction because I find that with gluten-free baked goods, the powdered sugar is immediately absorbed and basically, disappears if it is added too long before serving. Or worse, some of it is absorbed and some of it isn't and the resulting topping ends up looking spotty and unappealing. You want a pretty dusting of powdered sugar if you choose to add one (the topping is completely optional), and you'll get that if you follow my directions.
Hope this Gluten-Free Blueberry Gingerbread adds some joyful deliciousness to your holiday season!
A Few More Joyful Cake Recipes from gfe and Friends
~ Gluten-Free Angel Food Cake or Angel Food Cupcakes from Gluten-Free Homemaker
~ Flourless Chocolate Cake from gfe
~ No-Joke Paleo Chocolate Layer Cake from Zenbelly
~ Paleo Cinnamon Apple Cake from Gluten-Free Fix
~ The Ultimate Chocolate Birthday Cake (Chocolate and Strawberries!) from In Johnna's Kitchen
Gluten-Free Blueberry Gingerbread Recipe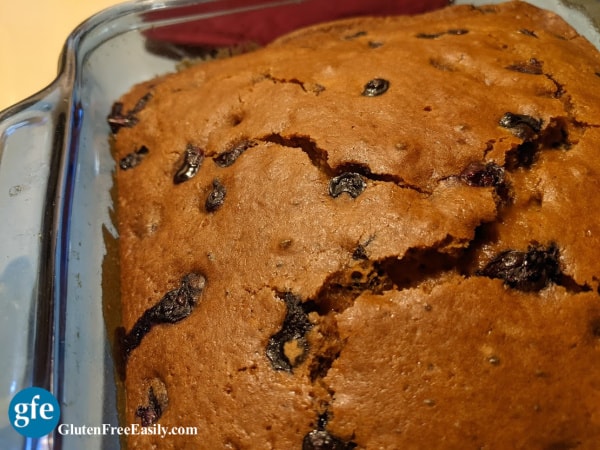 Yield: 9 to 12 servings
Gluten-Free Blueberry Gingerbread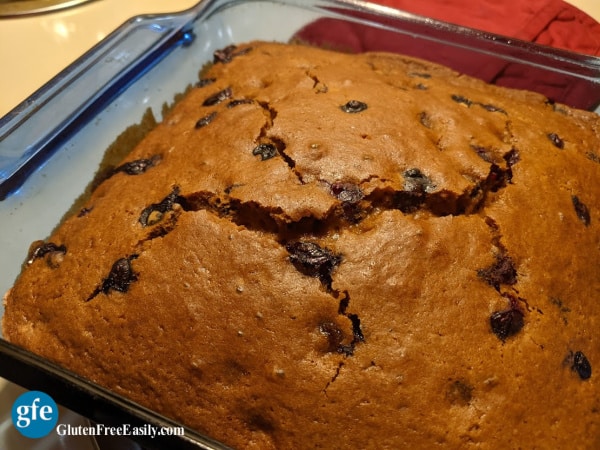 This gluten-free Blueberry Gingerbread is a delicious and unexpected pairing of ingredients and a totally joyful one! Enjoy at Christmas and all year long.

Prep Time 10 minutes

Cook Time 35 minutes

Additional Time 5 minutes

Total Time 50 minutes
Ingredients
1 cup blueberries (fresh or frozen)
1 ¾ cup gluten-free flour mix (divided; I used my Two-Ingredient Gluten-Free Flour Mix)
¾ tsp baking soda
¾ tsp cinnamon
½ tsp ground ginger
½ tsp salt
¾ cup granulated sugar
1/3 cup extra virgin olive oil (or a neutral-tasting vegetable oil)
1 large egg (or extra large)
4 tbsp molasses
2 ¼ tsp apple cider vinegar
2/3 cup water
Powdered sugar for sprinkling, optional
Instructions
Preheat oven to 350F degrees and grease an 8 x 8 baking dish.
In small mixing bowl, add blueberries and two tablespoons of the gluten-free flour mix you have already measured. Stir until blueberries are completely coated with the flour mix and set aside.
In large mixing bowl, add remaining gluten-free flour mix, baking soda cinnamon, ginger, salt, and sugar.
Stir in the following ingredients, egg, molasses, oil, apple cider vinegar, and water one at a time, until the batter is well mixed and ingredients are fully incorporated.
Fold in flour-coated blueberries, stirring just enough to distribute them throughout the batter.
Pour batter into greased baking dish.
Bake for 35 to 40 minutes until a toothpick inserted in the center of the cake comes out clean.
Set aside to cool for a few minutes before serving. Serve warm or at room temperature.
Notes
Sift or sprinkle powdered sugar over slice(s) right before serving. I prefer adding the powdered sugar immediately before serving---like two seconds before serving---because I find that with gluten-free baked goods, the powdered sugar is immediately absorbed and basically, disappears if it is added beforehand. Or worse, some of it is absorbed and some isn't and the powdered sugar topping looks spotty and unappealing. You want a pretty dusting of powdered sugar, if you choose to add one, and you'll get that if you wait to add the powdered sugar at the very last minute.

Adapted from Wild Blueberries' recipe shared on Go Dairy Free.

Originally published December 23, 2020; updated January 8, 2022.