For affiliate links and as an Amazon Associate I earn from qualifying purchases.
Yes, today's recipe for March Muffin Madness is a gluten-free mug muffin. Specifically, a gluten-free Blueberry Mug Muffin and it's a low-carb, keto recipe, too! If you wish, that is.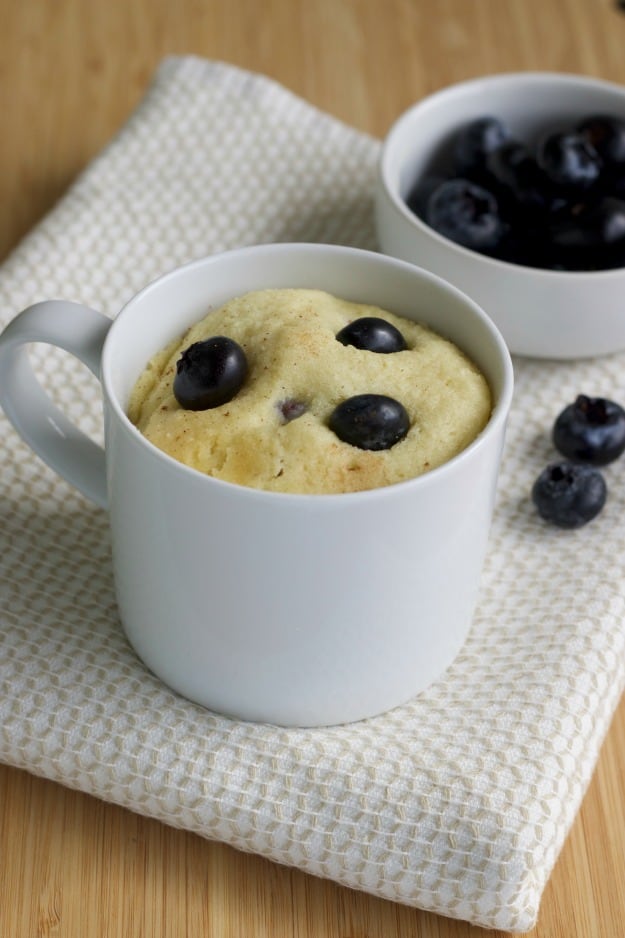 Pretty much all the muffin recipes that I've shared to date in MMM allow you to make some tweaks to satisfy your own eating plans. By the way, I kind of think that those of us who are gluten free are pretty skilled at tweaking recipes, converting them to gluten free, grain free, refined sugar free, etc. You have to love that but if you eat low carb/keto, you will especially love this recipe because it's made just for you!
Read on to get this yummy mug muffin recipe, meet the blogger/YouTuber/author behind this instant blueberry muffin happiness, check out today's daily prizes (the new cookbook from today's MMM guest, another superb cookbook, and a keto ingredient used in this recipe), and, last but not least, be certain that you're up to date with your entries for the overall grand prize giveaway.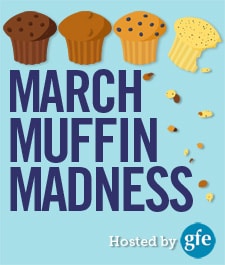 See the whole lineup of bloggers, blogs, and muffin recipes here.
Keto Karma
Suzanne Ryan of Keto Karma is brand new to me. I did that thing where you're on Amazon and you click one link after another and just like that I was seeing Suzanne's lovely smiling face on the cover of her new cookbook, Simply Keto: A Practical Approach to Health & Weight Loss with 100+ Easy Low-Carb Recipes.
Using the "Look Inside" feature, I saw much that appealed to me (info and recipes) but especially the two muffin recipes in her cookbook. I reached out to Suzanne via her contact form to see if she'd be willing to participate in March Muffin Madness to share one of those recipes and obviously she said, "Yes!" And, so graciously, I might add. (Incidentally, the other muffin recipe in her cookbook is Broccoli, Bacon, and Cheese Egg Muffins. Another big yum IMHO!)
Simply Keto was released in December. Before her cookbook was published and even today after its publication, Suzanne candidly shares her keto journey on her blog and YouTube.
She temporarily left YouTube primarily because it was no longer a healing place for her to be—my words, not hers. Suzanne's post sharing her own thoughts on taking a break from her YouTube sharing spoke to me.
Although my journey is nothing like Suzanne's, being in the public eye and experiencing constant feedback, I could relate—to some degree—to her vulnerability and need to pull back.
In her case, it was also while she was writing (and later promoting) her cookbook. While Suzanne's cookbook tour is over, you can still see two of her television appearances during that time here and here.
Some of you may wonder why I'm sharing keto recipes and keto websites during MMM. The obvious reason is that they're gluten free. The second reason is that some have found these recipes, this diet, to be healing.
Truth be told, I first learned about the keto diet as an aid to dealing with varying health conditions (e.g., diabetes, cancer) many years ago, long before it became as popular as it is today. I know that the keto diet has helped many.
I also firmly believe that there is no one diet/lifestyle that fits all. That's why you'll find "just gluten free," "gluten-free and dairy-free," "paleo," "gluten free and vegan," "gluten-free, low-carb, and keto," and other types of recipes—as well as cookbooks and ingredients that fit into such categories—included in MMM.
More Gluten-Free Sweet Recipes (and More) from Keto Karma That You Should Check Out
~ Pop Pop's Peanut Butter Bites (a recipe from Simply Keto)
~ Creamy Cauliflower Comfort Soup
~ Keto Twice-Baked Cheesy Cauliflower Casserole
Gluten-Free Blueberry Mug Muffin Recipe (Keto)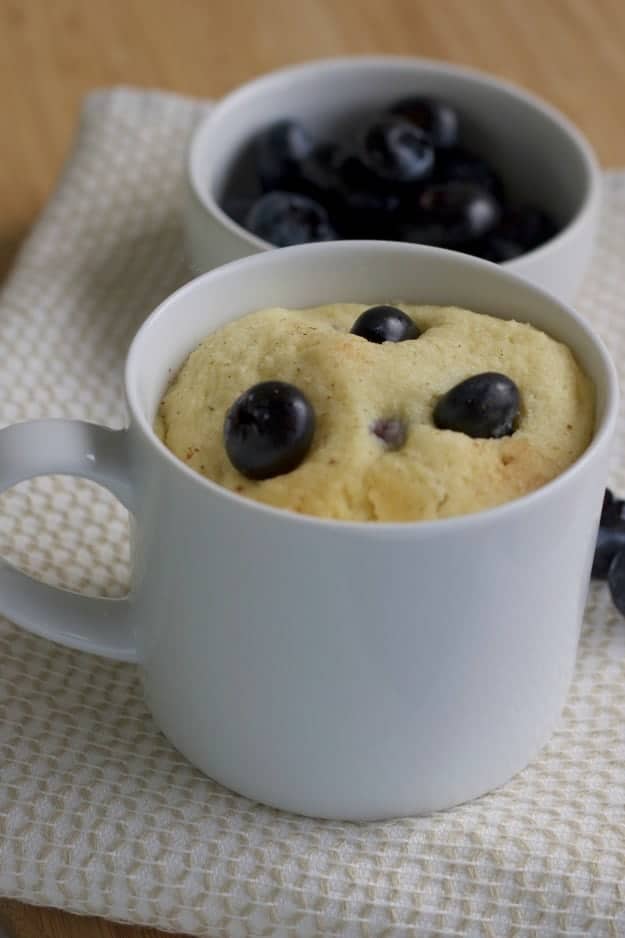 Yield: 1 mug muffin
Gluten-Free Blueberry Mug Muffin (Keto)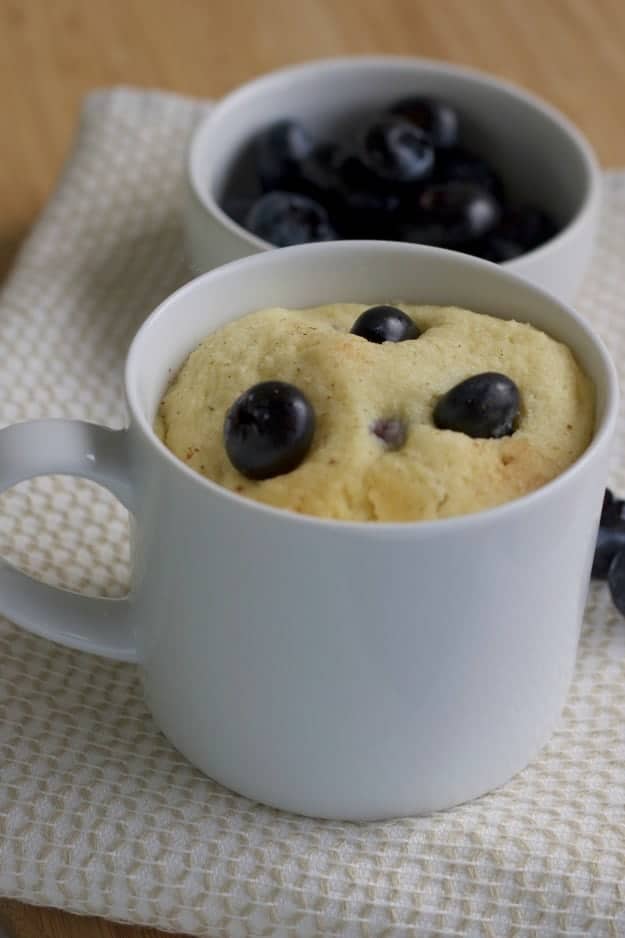 Suzanne says: "I love a good mug muffin! Sometimes it's nice to have a simple and quick recipe that doesn't involve large amounts of specialty flours or dirty dishes! Enjoy this muffin warm and topped with butter, all in under 10 minutes!"
Ingredients
3 tablespoons blanched almond flour
1 tablespoon coconut flour
1 tablespoon Swerve confectioners-style sweetener
1⁄4 teaspoon baking powder
Pinch of salt
1 large egg
1 tablespoon unsalted butter, softened
1 teaspoon avocado oil
1⁄4 teaspoon vanilla extract
8 blueberries
Salted butter, for serving (optional)
Instructions
Place the almond flour, coconut flour, sweetener, baking powder, and salt in a medium-large microwave-safe mug and blend with a fork.
Add the egg, butter, avocado oil, and vanilla; mix well.
Gently stir in the blueberries. Use the back of a spoon to press the batter down and smooth the top.
Place the batter-filled mug in the microwave and heat for 1 minute 15 seconds. (The cooking time may vary depending on your microwave. If the muffin is not fully formed after 1 minute 15 seconds, continue cooking in 15-second increments.) Carefully remove the mug from the microwave—it will be hot—flip it upside down over a plate and allow the muffin to slide out of the mug onto the plate. Place the muffin on its side and slice in half.
Spread with butter, if desired, and enjoy!
Notes
Makes one mug muffin.
Reprinted with permission from Suzanne Ryan and Victory Belt Publishing. Nutritional information on this recipe (per Simply Keto) is as follows: CALORIES: 372 | FAT: 33 g | PROTEIN: 12 g | TOTAL CARBS: 20 g | NET CARBS: 6 g
Shirley here: I have blueberries thawing right now and plan to give this recipe a go using coconut sugar and coconut oil. My version won't be keto but I'm guessing it will still be delicious.
Today's Giveaway
Update: All the giveaways are now closed. Congratulations to the winners and thanks to all who participated!
~ Cookbooks:
Simply Keto: A Practical Approach to Health & Weight Loss with 100+ Easy Low-Carb Recipes (4 winners; co-sponsored by author Suzanne Ryan (and Victory Belt Publishing) and gfe)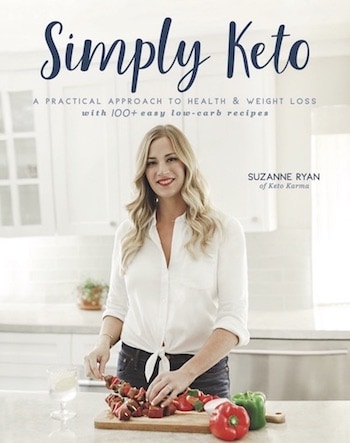 I've already told you that I found Suzanne and her cookbook via Amazon and checking out the "Look Inside" feature (click on the cover image on the left side of the book's page). I think you should do the same.
With that peek and the info I've shared above, you should get a good feel for Suzanne and her book! It's garnered many, many 5-start reviews, too.
Latin American Paleo Cooking: Over 80 Traditional Recipes Made Dairy & Gluten Free (2 winners; co-sponsored by author Amanda Torres and Page Street Publishing, and gfe)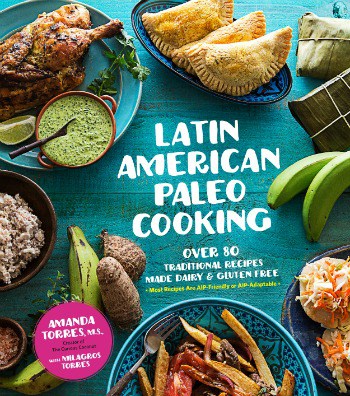 While I plan to tell you more about this new cookbook from Amanda Torres of The Curious Coconut in another post because I simply can't do it justice in a quick blurb here, the important info is that I love this stunning cookbook that will surely make your mouth water as you flip through it.
Amanda wrote this cookbook with the help of her Puerto Rican mother-in-law, Milagros. That's not only a sweet fact, it's also one that tells you that this book offers authentic and totally delicious recipes!
Bonus: Almost all the recipes are AIP friendly as written or have an easy AIP adaptation. Oh, and one more thing, check out Amanda's Egg-Free Bacon Herb Muffins on her blog. It's not a Latin American recipe but it is both paleo-compliant and AIP-compliant!
~ Baking/Cooking Ingredient:
Swerve Confectioner's Style Sweetener (1 winner, sponsored by gfe)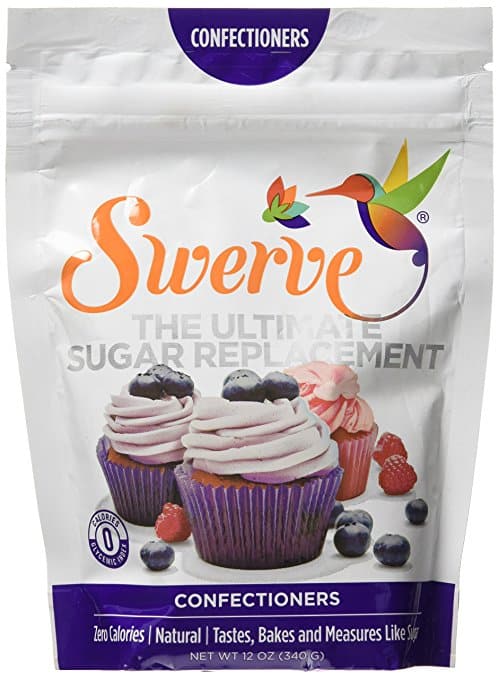 This is the sweetener that Suzanne uses in her recipe. It's one that is often used for low-carb and keto recipes. Follow the Amazon link to learn more if you're not familiar with Swerve.
Grand Prize Giveaway
See all 10 prizes here. Shown are the top six prizes (per monetary value—they're all tops in my opinion). Again, this giveaway is open to everyone, everywhere!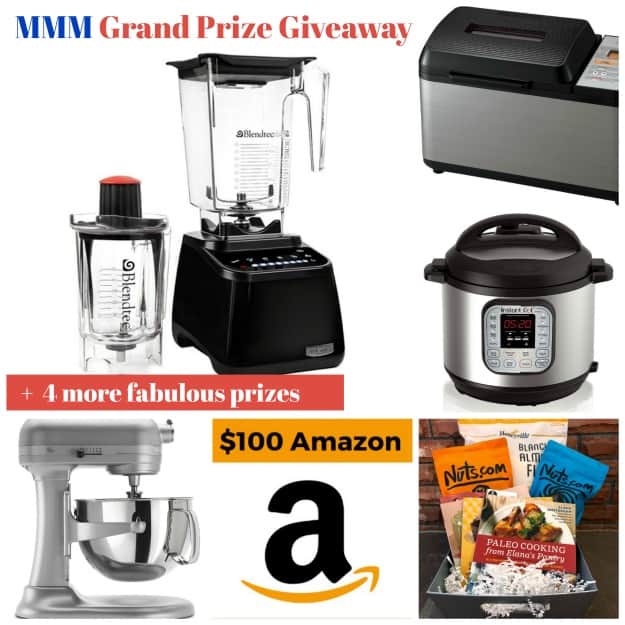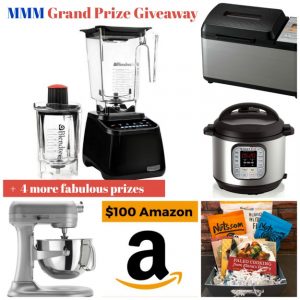 Originally published April 5, 2018; updated January 9, 2023.