This post may contain affiliate links. If you purchase through them, your cost will stay the same, but gfe will receive a few cents for every dollar spent. Thanks for supporting gfe!
We're going into the last third of March Muffin Madness (MMM) and today we have a streusel muffin recipe. Gluten-free Carrot and Banana Streusel Muffins, to be exact. I don't know anyone who doesn't love a good streusel component in a baked good and we know how much goodness carrots and bananas add to treats based on the delicious wonders that are carrot cake and banana bread.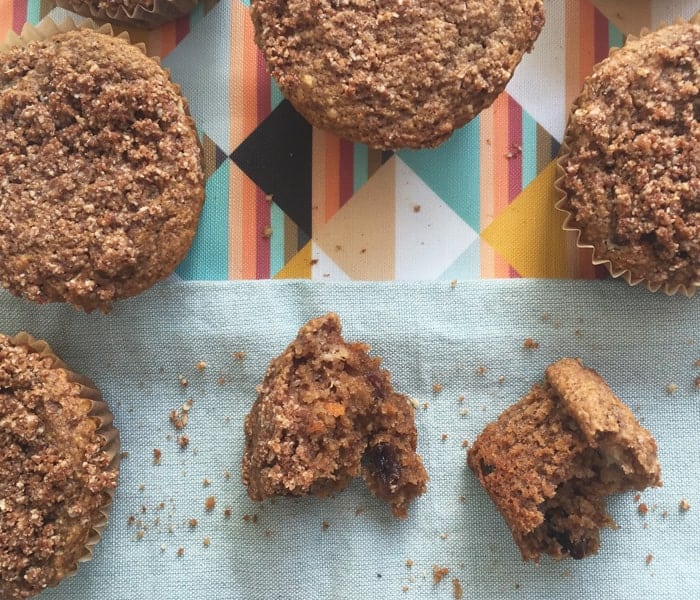 Continue on to get today's recipe, see who created these healthy and tasty muffins, see what today's daily prizes are (wonderful books to help children live gluten free easily plus a key ingredient in this recipe), and, last of all, make sure that you've gotten all your entries in for the overall grand prize giveaway. (The latter is especially true if you just joined March Muffin Madness.)
See the whole lineup of bloggers, blogs, and muffin recipes here. Be sure to leave a comment on today's post to enter the grand prize giveaway that will be conducted on Wednesday, April 11, and includes a muffin pan, Gluten Detective test kits, NuNaturals gift package, Legit Bread Company gift package, Elana's Pantry gift package, $100 Amazon gift card, Instant Pot, Zojirushi breadmaker, KitchenAid 6-qt lift stand mixer, and—the grand prize!—Blendtec high-speed blender package! Please remember that EVERY comment in MMM (only one comment per post, please) will be an entry for the final giveaway, so if you've missed some posts, take a moment to visit each and leave a single comment so you'll get the maximum entries in. Again, you can see a listing of all the posts here.
She Let Them Eat Cake   
Maggie of She Let Them Eat Cake is a dear! I'm lucky enough to have met Maggie in person at a gluten-free event not too long after I began blogging and later I also got to spend some time with her in her home base of Toronto. I need a return visit!
Maggie's family's gluten-free journey started with her husband being diagnosed with celiac. It continued with her son being diagnosed with intolerances to gluten, dairy, and eggs. Maggie's quest to feed and heal her family—she lovingly calls them her "babes," which I adore–led to her becoming a certified holistic nutritionist and helping so many more in the gluten-free community. You can read more about her and her family here.
I've made many of Maggie's recipes over the years, starting from when I "adopted her" and have loved them all. I can't wait to try her gluten-free Carrot and Banana Streusel Muffins! 
Gluten-Free Carrot and Banana Streusel Muffins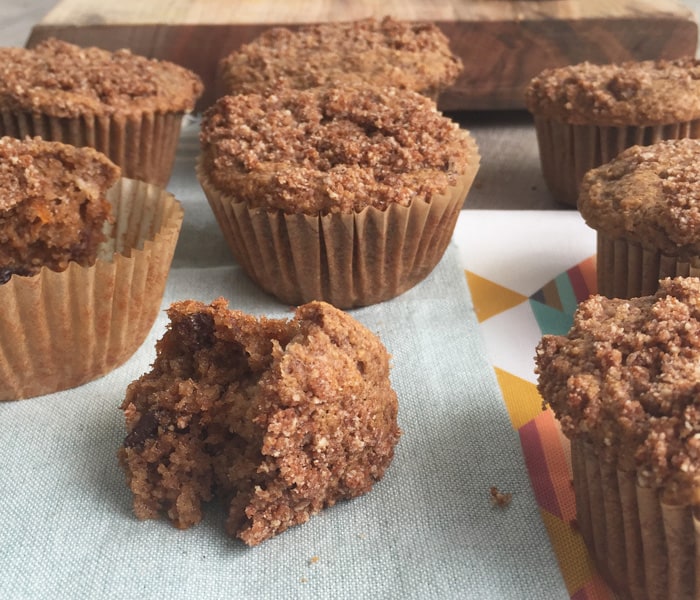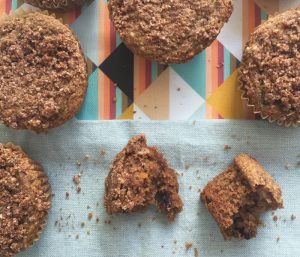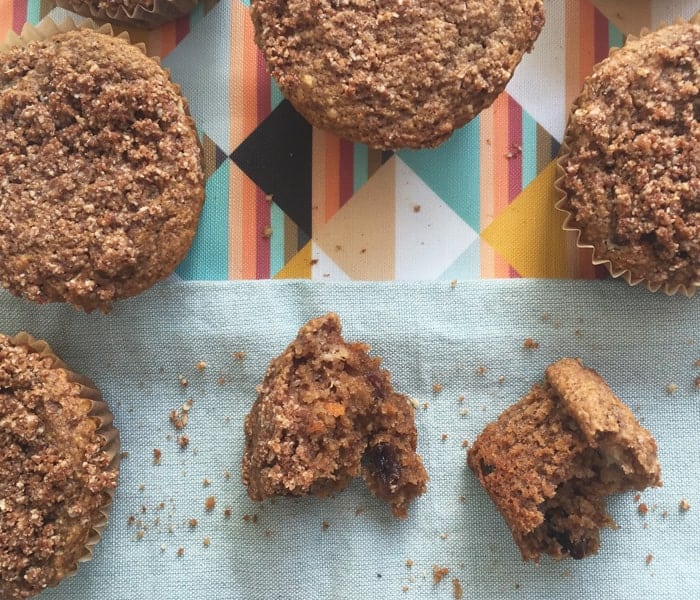 Print
Gluten-Free Carrot and Banana Streusel Muffins
Maggie says: "These gluten-free Carrot and Banana Streusel Muffins are the perfect morning or mid-afternoon snack. They're high in fibre, healthy fats, and the added protein (from the chia seeds) will give you a boost and help you feel full longer.
Some people who are on a gluten-free diet can't tolerate oats, even the certified gluten-free purity protocol oats. If that's the case for you, I would try brown rice flour instead of the oat flour."
Ingredients
Muffin Batter Ingredients
1 egg or 1 chia seed egg (1 tablespoon ground chia mixed with 3 tablespoons warm water)
1/2 cup coconut sugar
1/3 cup plus 3 tablespoons unsweetened applesauce
1 cup mashed banana (about 2 small bananas)
1 tablespoon vanilla extract
½ cup coconut oil, liquefied
1 1/3 cup certified gluten-free purity protocol oat flour
1/3 cup tapioca flour
1/3 cup almond flour
2 teaspoons baking powder
1 teaspoon baking soda
2 teaspoons ground cinnamon
¼ teaspoon ground ginger
¼ teaspoon ground nutmeg
½ teaspoon sea salt
½ cup grated carrot
½ cup raisins
½ cup chopped pecans
Streusel Topping Ingredients
¼ cup almond flour
¼ cup certified gluten-free oat flour
¼ cup coconut sugar
1 teaspoon ground cinnamon
½ tablespoon ground chia
3 tablespoons coconut oil, liquefied
Instructions
Preheat the oven to 350F degrees.  Line 12-cup muffin/cupcake pan or lightly grease.
In a large bowl, combine the egg and coconut sugar and mix well.
Add applesauce, mashed banana, vanilla, and liquefied coconut oil (I melt my coconut oil in the oven while it's preheating).  Mix well.
In a smaller bowl, combine the oat flour, tapioca flour, almond flour, baking powder, baking soda, cinnamon, ginger, nutmeg and sea salt.  Stir to combine thoroughly.
Add the dry mixture to the wet ingredients and mix until combined.
Fold in grated carrots, raisins, and pecans.
Scoop batter into prepared muffin cups (I used a 1/3 measuring cup).
To make the streusel: combine the flours, sugar, cinnamon, and ground chia in a small bowl.  Stir in the melted coconut oil until well combined and sprinkle topping over muffins.
Bake muffins at 350 degrees for 22-24 minutes.
Let cool for 5 minutes and then remove from pan to a wire cooling rack. Store in an air-tight container.
Notes
Makes 12 muffins.
Recipe reprinted with permission of Maggie Savage.
More Gluten-Free Muffin Recipes (and More) from She Let Them Eat Cake That You Should Check Out
~ Raspberry Muffin Cakes (featured on gfe)
~ Strawberry Oatmeal Muffins (featured on gfe)
~ Chocolate and Peanut Butter Power Bars (with video) (Maggie's version of Larabars)
~ Dairy-Free Pumpkin Cheesecake with Oat Crust
~ Gluten-Free and Vegan Falafel Bites
~ Healthy One-Bite Chocolates (Fat Bombs)
Today's Giveaway
~ Resource Books:
Adam's Gluten Free Surprise: Helping Others Understand Gluten Free or Hailey's Gluten Free Surprise: Helping Others Understand Gluten Free (13 winners, a mix of Kindle versions and paperback versions; see details below)
(Ebook/Kindle version, which can be read on desktop, laptop, notebook, smartphone; 10 winners; sponsored by author Debbie Simpson)
(Paperback version, 3 winners, sponsored by gfe, AND gluten-free backpacks/bags—for the same 3 winners—sponsored by Debbie Simpson)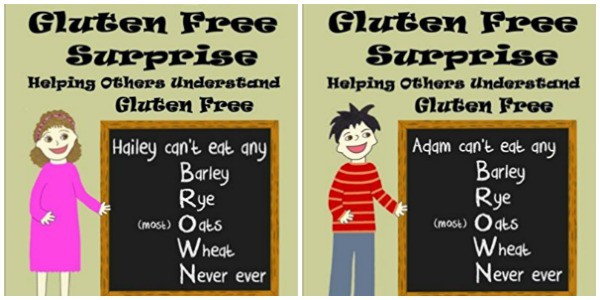 These charming and helpful books from Debbie Simpson are identical except that one has a boy, Adam, as the main character and the other has a girl, Hailey, as the main character. That allows you to get the one that works best for your child.
Debbie's books are designed for the adults in a gluten-free child's life. Think teachers, relatives (grandparents, aunts, uncles, etc.), Sunday school teachers, coaches, etc. As she says, "One of the best ways to help a child who needs to be gluten free is to help the important adults in his/her life understand what this means. For someone who doesn't need to follow a strict gluten-free diet, it can be difficult to understand."
You can also use the "Look Inside" feature on Amazon to learn more by clicking on the cover image on the left side of its Amazon page. I always recommend that readers use this feature. It can be a helpful peek at what you're about to purchase—or, perhaps in this case, what you're about to win!
The three winners who receive the paperback copies of Debbie's books will also get this great "My World Is Gluten Free Because It Has To Be" bag/backpack of hers!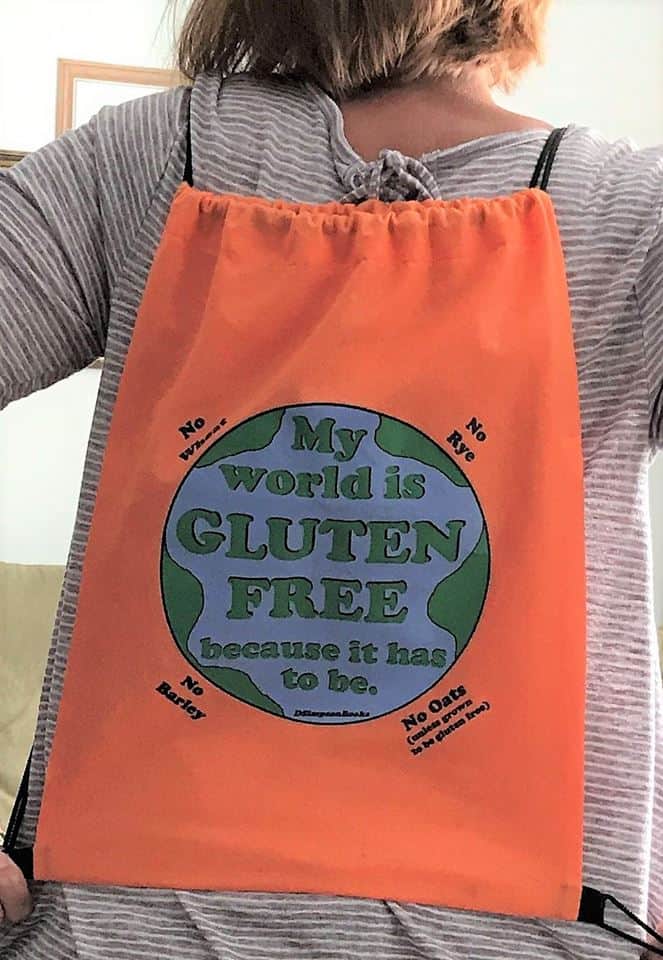 Incidentally, whether you're a gluten-free child or adult, you'll want to watch Debbie's latest presentation on living gluten free, Free of Gluten, Not Free of Feelings.
~ Baking/Cooking Ingredient:
Gluten-Free Harvest Organic Whole Grain Oat Flour (2.5 lbs) (one winner, sponsored by gfe)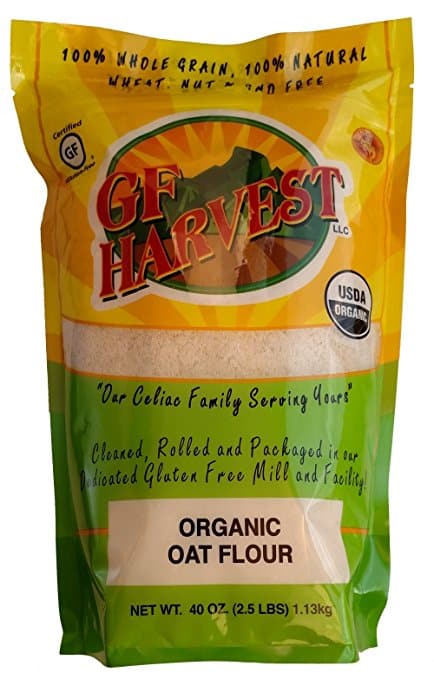 Gluten-Free Harvest Oats are certified gluten-free oats grown under the purity protocol. Anyone who eats gluten free for medical reasons should eat only certified gluten-free purity protocol oats. So many in the gluten-free community believe that they don't tolerate oats but most of these folks are actually reacting to small amounts of gluten or hot spots of gluten that are present in brands that use sorted oats, which is not always revealed by current testing methods. Eating certified gluten-free purity protocol oats removes that risk. Gluten-Free Harvest Oats, and their oats products, such as oat flour, are safe and there are other brands that are safe. See a listing here. (If the brand you're using is not on this list, stop using it. Period.)
To enter the giveaway for any of these items, simply leave a comment on this post saying which item you'd like to win (if you have a preference).
Remember that your comment on this post also gives you another entry into the grand prize giveaway! Read more below. You'll probably want ALL the prizes! Winners for prizes featured throughout MMM will be selected on Wednesday, April 11, at midnight Eastern. All MMM giveaways are open to everyone, everywhere!
Grand Prize Giveaway
See all 10 prizes here. Shown are the top six prizes (per monetary value—they're all tops in my opinion). Again, this giveaway is open to everyone, everywhere!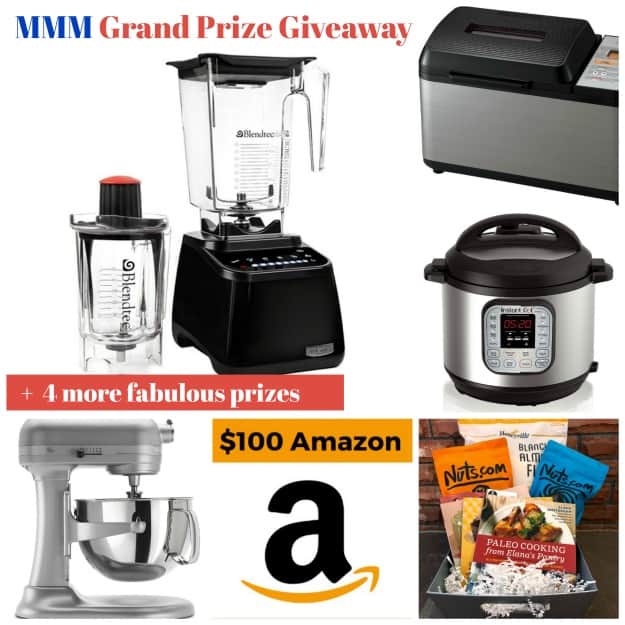 a Rafflecopter giveaway