For affiliate links and as an Amazon Associate I earn from qualifying purchases.
Today's recipe for gluten-free Strawberry Oatmeal Muffins comes from my good friend Maggie's (She Let Them Eat Cake) newest ebook—Berrylicious: 25 New Mouth-Watering Recipes for Enjoying This Summer's Healthiest Fruits (update: this book is currently not available).
As I've mentioned more than once recently, everyone seems to be pushing for fall, but I'm still holding onto summer for a while longer. If you're in the same mindset—or simply enjoy delicious berry recipes during the summer, and even year round—you're going to love Maggie's gluten-free Strawberry Oatmeal Muffins!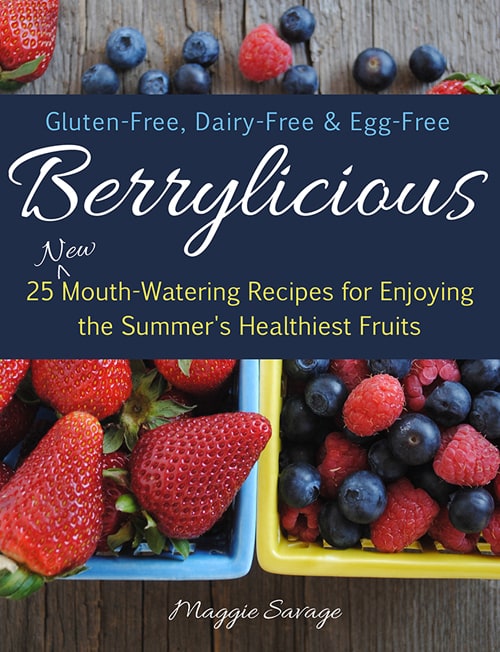 All the recipes in Maggie's cookbook are gluten free, dairy free, egg free, and vegan! If you only need to be gluten free, please don't let that deter you from buying this terrific book.
This recipe for gluten-free Strawberry Oatmeal Muffins is a good example of the types of recipes featured in this book. This is healthy, wonderful gluten-free baking that will work for so many of us!
Maggie uses some of my very favorite ingredients—almond flour, gluten-free oats or oat flour (certified gluten-free purity protocol oat products), dairy-free milk, applesauce, coconut oil, coconut sugar, psyllium, and such. And she leaves behind ingredients that many prefer to avoid—like gums and highly refined gluten-free flours.
Maggie is a registered holistic nutritionist who is passionate about helping others pursue the connection between food and their health. Her own family is addressing celiac disease and other food intolerances. Maggie is also a very talented recipe creator, so she easily keeps her most beloved recipe testers happy and healthy!
I think that one of the most exciting recipes in her book is her Blueberry Bagels, which are shown below spread with sweet Cashew Cream. You're in for a real treat with this combination. You will definitely use these two recipes again and again!
You can sample a few more recipes from Berrylicious via the links below:
I'm pretty sure you'll want to grab Maggie's book right away, but when summer does finally leave us until next year, remember that frozen berries can often be just as good as fresh in recipes. In fact, Maggie addresses how to use frozen berries in her book.
And now for those Strawberry Oatmeal Muffins! If you're a loyal gfe reader, you know that I LOVE muffins! Thanks so much to Maggie for sharing this terrific recipe with us. Be sure to check out Berrylicious: 25 New Mouth-Watering Recipes for Enjoying This Summer's Healthiest Fruits (sorry, this book is no longer available).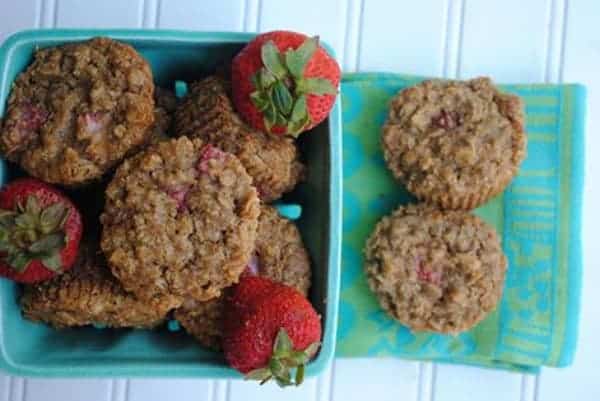 Gluten-Free Strawberry Oatmeal Muffins Recipe
Yield: 12 muffins
Gluten-Free Strawberry Oatmeal Muffins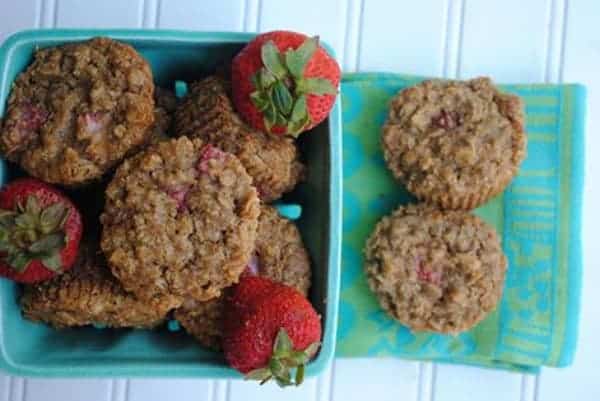 Maggie says: "I have always been a muffin lover. But there's something special about this muffin – I think it's the combo of strawberries, coconut oil, and almond flour – they taste like Strawberry Pie! Yes, you need to bake these immediately."

Prep Time 5 minutes

Cook Time 22 minutes

Inactive Time 15 minutes

Total Time 42 minutes
Instructions
Preheat the oven to 350 degrees.
Spray a muffin pan with oil or line with papers.
Make your dairy-free "buttermilk" by combining the milk and the vinegar. Let sit for a few minutes while you prepare the muffin pan and the rest of your ingredients.
In a large mixing bowl, combine the oats, flours, psyllium seed husks, baking soda, baking powder, cinnamon, and sea salt.
In a smaller bowl, combine the applesauce, liquefied coconut oil, vanilla and sugar.
Add wet ingredients to dry ingredients and combine.
Add the "buttermilk" mixture and stir just until combined. Fold in strawberries.
Bake at 350 for 22 to 24 minutes, check one with a knife for doneness.
Remove from oven and let cool for 10 minutes in muffin pan. After 10 minutes, remove muffins from muffin pan and let cool completely on a wire rack.
Store for two days in an air-tight container and then freeze any leftovers.
Originally published August 31, 2014; updated September 5, 2022.