For affiliate links and as an Amazon Associate I earn from qualifying purchases.
Most of you have probably heard of Stacy and Matt's (Paleo Parents) much-praised cookbook treatise on pork, Beyond Bacon: Paleo Recipes That Respect the Whole Hog. Admittedly, I'm an unabashed pork lover. Today, coincidentally, we had bacon as part of our breakfast, soup that included bacon (and a little bacon grease) for lunch, and pork sirloin for our dinner. Pork is one of our favorite meats so you'll often find pork dishes on our table.
Spare ribs, country ribs, baby back ribs, ham, pork picnics, pork butts, pork shoulders, pork chops, pork sirloins, pork tenderloins, and pork belly (mostly in the form of bacon) have all graced my table with some frequency over the years. Interestingly enough, Baby Back Ribs are a meal that I can often eat safely free when dining out. Pork doesn't need much to shine, so ribs in restaurants are typically either dressed in a dry rub or a simple sauce, both of which are usually gluten free. (Always check gluten-free status of all ingredients, of course!).
There's even a photo of baby pigs in our home (plus a few more pig items). Mr. GFE was a member of Future Farmers of America in high school and raised pigs. He's always said there's nothing cuter than a baby pig. He enjoyed the process of raising pigs and was very proud when he'd sell them.
Still, all that said on our love of pork, Beyond Bacon really surprised and delighted me when I read it. I had no idea it would be so beautiful. Overall, it's simply gorgeous—the photos of the pigs on the farms (and Matt and Stacy and their family visiting the farm) and the recipes made from the whole hog. I had no idea I would learn so much from this  book either.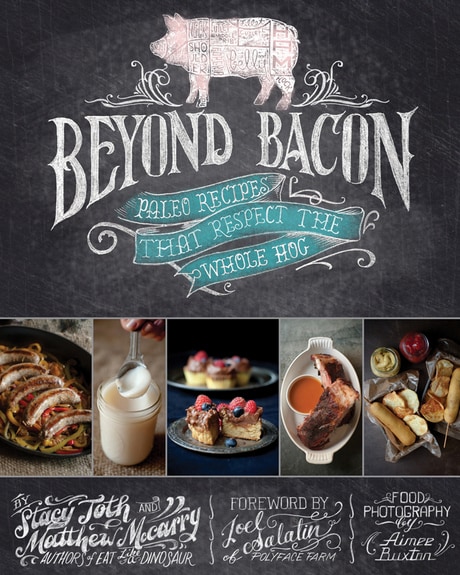 Here are just some of the things I love about—and learned from—Beyond Bacon …
~ The chalkboard style cover (and other photos in that style) and the quotes filling the flyleaves of this book. The quotes are from folks you "know." Folks like Julia Child, Joel Salatin, Alton Brown, Michael Pollan, and many more. Such quotes are actually used throughout the book and show that the wisdom shared in this book comes from many more folks than Stacy and Matt.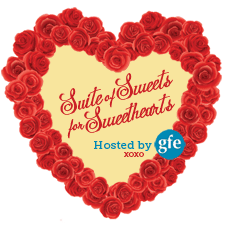 ~ Joel Salatin's Foreword—I was first "introduced" to Joel in Food, Inc. He is the Virginia farmer behind Polyface Farms in the Shenandoah Valley of our state. From their website:  "Polyface, Inc. is a family owned, multi-generational, pasture-based, beyond organic, local-market farm and informational outreach in Virginia's Shenandoah Valley." You'll want to read much more there. Joel calls Beyond Bacon a DIY for food preparation, processing, and packaging for pork. I love that!
~ The preface from Stacy and Matt—I never get tired of reading their family's personal story of their dietary and lifestyle changes and recovery from so many health issues for all of them (except for their youngest son because he's never had health issues due to Stacy's improved diet when she was pregnant with him and his diet since his birth).
~ That their "love letter to pork"—what they call this book—celebrates pastured pork (pastured is best for the farm animals and us) and using the whole hog as indicated by its title. Over the years, most of us have become disassociated from the food we eat. Working with the actual source, the farmer, behind the pig and not just buying packaged bacon, packaged pork tenderloin, etc. should be a goal of all of us who eat pork, for so many reasons.
~ Info on ordering a whole pig including the Hog Anatomy Chart and breakdown of how to choose what to order. You get to select most of the specifics of your hog. And, again, no, you don't order all bacon. You will learn about a lot of other items you can get from the whole hog and you'll happily forego just getting bacon!
~ The new guidance on cooking pork that is shared in this book. The old guidance on cooking all pork to well done—which also meant it would end up very dry and not so tasty—was based on what pigs ate at the time. Trichinosis is now almost non-existent and tied to undercooked game, not pork.
~ There's a "Sweet Thangs" section of Beyond Bacon, which makes it another great selection for our Suite of Sweets for Sweethearts event and leads me to …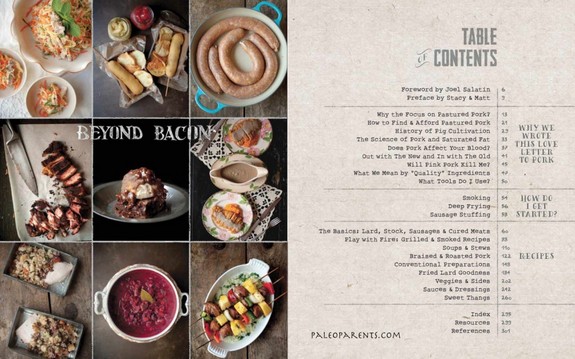 A Word About The Recipes in Beyond Bacon
After attending one of the Paleo Meat-ups held at Stacy and Matt's home, and sampling their Salted Caramel Bacon Sauce—also known as Bacon Jam—I immediately said that recipe was worth the price of this book alone. And I haven't changed my mind on that.
But tonight I made the Triple Chocolate Fudge. Holy! Mr. GFE, the man who usually resists sweets with no issue, had to keep sampling this fudge to be sure just how good it was. Oh my, it's good … really, really good! "Death by chocolate" good. This recipe gives you the divine bittersweetness of dark chocolate and a mix of wonderful textures—all from just a few simple ingredients! Getting this recipe, too, is alos worth purchasing this book (if you don't win it, of course)!
Because this fudge is so incredibly good, if you don't have a lot of folks living at your house, I recommend making it when you have a small crowd around. One piece is just the right serving size, but you won't be able to resist having more of this dessert. If it's there, you will definitely eat more than one piece. You have been warned! Courtesy of Paleo Parents and Victory Belt Publishing, you can find the recipe at the bottom of this post.
And Now for the Fabulous Giveaway!
UPDATE:  This giveaway is now closed. Congratulations to the winners and thanks to all who entered!
Three winners will win a copy of Beyond Bacon: Paleo Recipes That Respect the Whole Hog. But wait … two winners will also win a copy of Stacy and Matt's first book, Eat Like A Dinosaur: Recipe and Guidebook for Gluten-Free Kids. (It's one of my faves; you can read my earlier review here. Don't misled by the name either. It's not just for kids and families; even single adults have loved this book!) And wait once more because two winners will also receive a copy of Paleo Parents' newest work, 3-Phase Paleo:  Transition Your Family in Three Easy Steps, an ebook that does just that by teaching you how to "Swap, Remove, and Heal," and also includes over 75 recipes! This giveaway ends Monday, February 24, at midnight Eastern.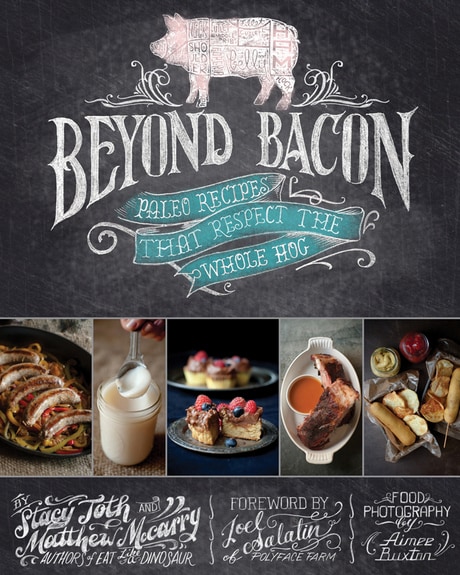 ~ 3 winners ~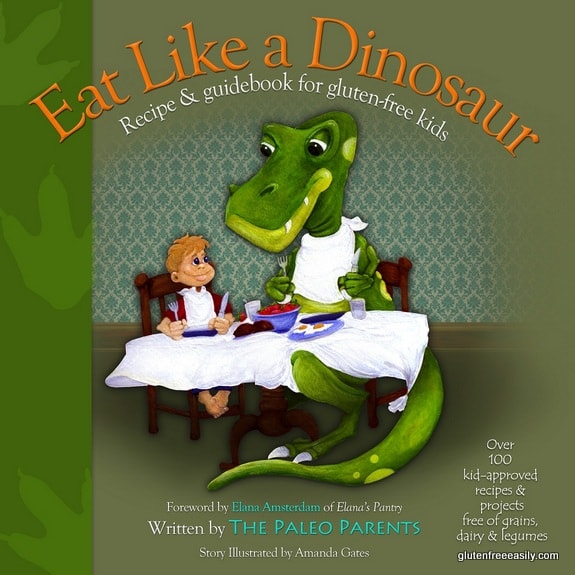 ~ 2 winners ~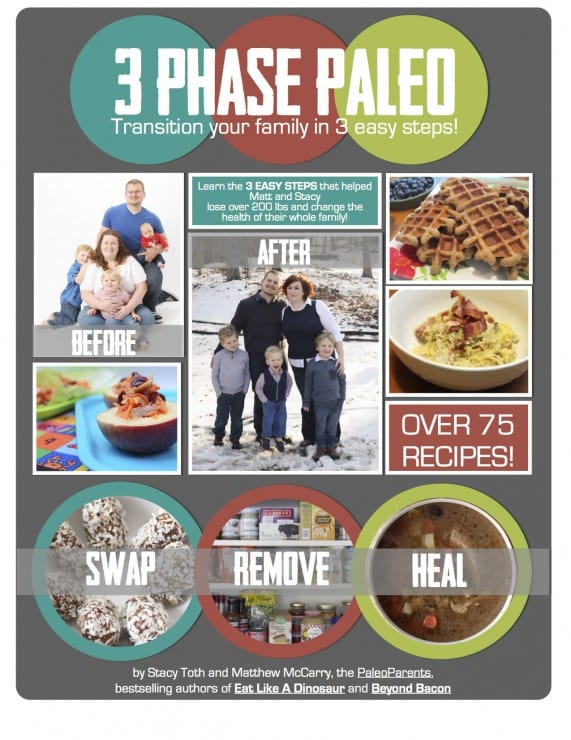 ~ 2 winners ~
To enter the giveaway:

~ Leave a comment that relates to this giveaway. Are you fans of Paleo Parents? Are you interested in having a more active role in your food; e.g., DIY pork? Do you and your family wish to eat paleo and need help? Are your kiddos fans of all things dinosaur and you want to use Eat Like a Dinosaur to get them in the kitchen and/or enjoying simple healthy meals? Tell us all about your interest in these books. (required entry)

~ "Like" gfe on Facebook and use your mouse to hover over "Like" and click on "Get Notifications" so you won't miss a post. (Leave a separate comment saying that you did; optional entry.)

~ "Like" Paleo Parents on Facebook and use your mouse to hover over "Like" and click on "Get Notifications" so you won't miss a post. (Leave a separate comment saying that you did; optional entry.)

p.s. Be sure to also enter the other open SSS giveaways:   Gluten-Free Entertaining:  More than 100 Naturally Wheat-Free Recipes for Parties and Special Occasions (ends Thursday, February 20);  Sweet Debbie's Organic Treats:  Allergy-Free & Vegan Recipes from the Famous Los Angeles Bakery (ends Saturday, February 22) and Sweet Cravings: 50 Seductive Desserts for a Gluten-Free Lifestyle (ends Saturday, February 22).
Yield:
Triple Chocolate Fudge from Beyond Bacon + 3-Phase Paleo + Eat Like a Dinosaur by Paleo Parents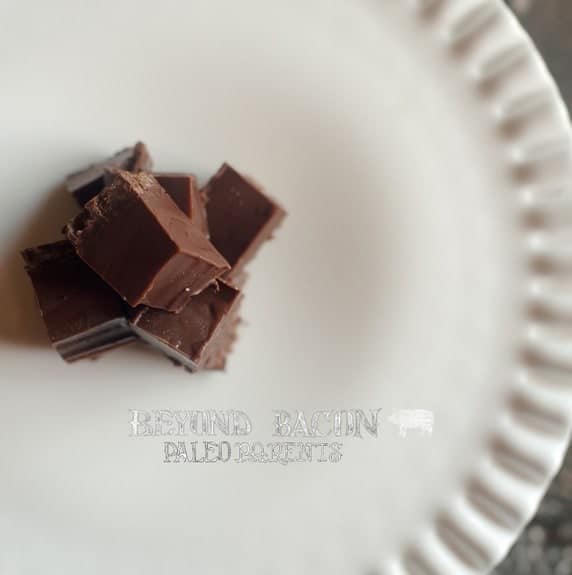 An excellent make-ahead dish, this fudge should be served still cold.
Ingredients
1 1/2 cups dark chocolate, divided (we recommend mini chips or finely sliced pieces of your favorite bar)
1 cup lard, softened (Shirley here: see notes for readers' and other bloggers' suggestions on substitution ideas)
2 tablespoons cocoa powder
1 tablespoon palm or maple granulated sugar
Instructions
Over a double boiler, continually stirring, melt 1 1/4 cups of the chocolate chunks or chips.
Whisk in the lard, cocoa powder and sugar until thoroughly combined and then remove the double boiler from the heat.
Line a 9×9 inch baking dish with parchment paper and line the bottom with the remaining ¼ cup of chocolate chips.
Pour the fudge over the top of the chocolate chips and smooth with a spatula.
Place the dish in the freezer and allow fudge to chill for 1 hour.
Remove the fudge from the dish by the parchment paper and cut the fudge into 1 ½-inch cubes.
Notes
This fudge should be served still cold. Keep this recipe in the freezer until about 10 minutes before serving. The "black bottom" chocolate chips give an excellent texture contrast to this smooth and incredibly rich fudge filling. Keep frozen until ready to serve; otherwise, the fudge will soften too much.If you don't have a double boiler, you can create the same effect by placing a ceramic or metal bowl over a pan of simmering water; that's simmering, not boiling and the bowl should not touch the water. The steam produced by the simmering water trapped under the bowl allows the chocolate to melt at the proper low temperature preventing it from burning or sticking to the pan.Shirley here: Not everyone has lard on hand and while the Stacy and Matt show you how to make your own lard in Beyond Bacon (and lard is also a key ingredient in many of their recipes in this cookbook), other possible substitutions in this recipe include butter, bacon fat, and coconut oil. (I made the recipe using grass-fed butter and Enjoy Life's new Dark Chocolate Morsels, which are simply unsweetened chocolate and cane sugar, plus some of their Mega Chunks for the second "black bottom" layer.)
Full disclosure:  This giveaway is jointly sponsored by Paleo Parents, Victory Belt Publishing, and gfe, but opinions expressed herein are strictly my own.