For affiliate links and as an Amazon Associate I earn from qualifying purchases.
Last Sunday morning we celebrated surviving the blizzard by enjoying gluten-free Overnight French Toast Casserole. It seemed like we should mark the occasion by doing something special, and shoveling snow was not it.
Shoveling snow is a requirement after a blizzard, but most definitely not a way to celebrate. So enjoying French Toast Casserole certainly seemed like the right way to go. I am happy to say that "the right way to go" and "delicious" often go together in my house!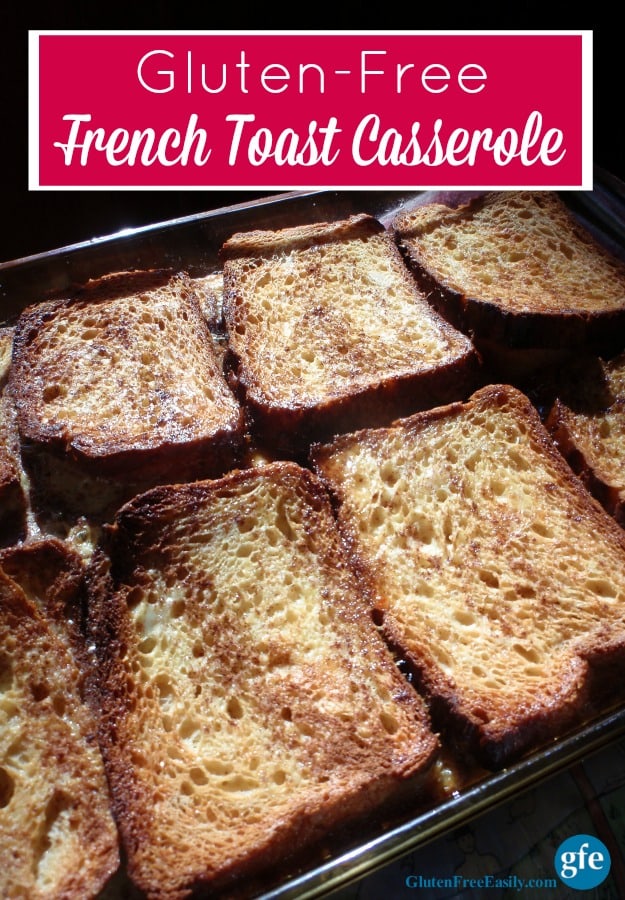 According to several "official" reports, we got somewhere between 15 and 17 inches of snow. At either measurement, we definitely got far less than the predicted "worst case scenario" for our area. And for that we were grateful, as the amount of snow we did get was plenty.
Thankfully, our neighbor has a Kubota tractor that can be outfitted with a blade for snow removal. Mr. GFE helped her get her new blade mounted properly so after she cleared her driveway, she let him use it to clear ours. It was a tremendous help!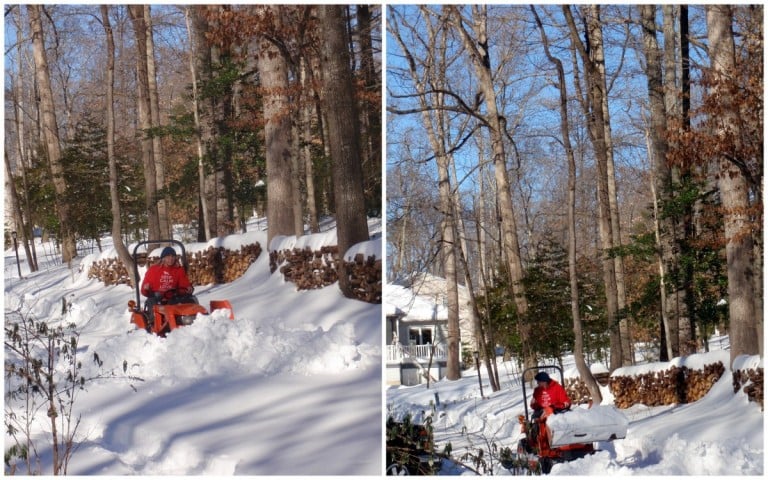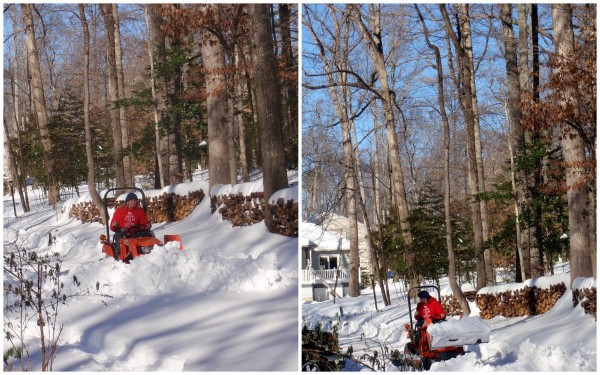 We were also thankful that we didn't lose power during the blizzard. We heat our house with wood. I'm the "keeper of the flame" and Mr. GFE is the wood provider.
If you're familiar with Aesop's ant and the grasshopper fable, Mr. GFE would most definitely be the ant as far as being prepared with firewood for the winter.
When the blizzard arrived, we had about a cord of firewood on our patio ready to be used. That was down from two cords a few months back. Needless to say we were not worried about being cold if the power went out, but we were still very happy that we did not lose power.
I "need" my lights during the winter and it would have been impossible to make this gluten-free Overnight French Toast Casserole in my wood stove.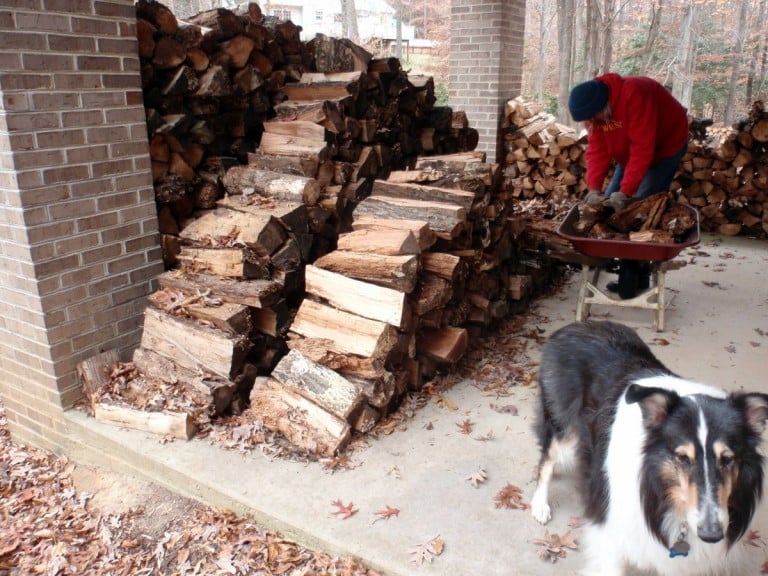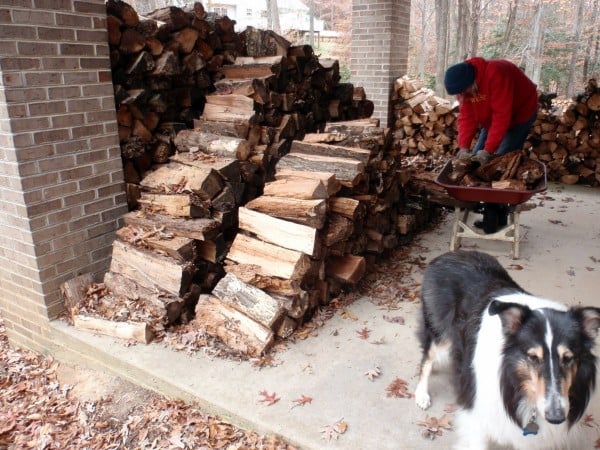 This Overnight French Toast Casserole is a gluten-free version of the same recipe I have used to delight overnight guests for years—now simply made gluten free by using gluten-free bread. That's it. That's the only change I made to the original recipe.
I love it when gluten-free "conversions" are super easy! But here's a confession … before I located my old recipe (which was "hiding" in plain sight in my recipe box), I actually played around with some other ideas trying to recreate it from memory and tasting along the way. I got close to the original recipe, but never got it just right, so it was a relief to find my tried and true recipe a few weeks ago.
By the way, before the blizzard, some gluten-free friends and I were chatting about what people always buy before snowstorms. Toilet paper. Eggs. Bread. Milk.
In the final hours before the blizzard started, more than one gluten-free friend reported that the gluten-full bread and milk were all gone at their local grocery store, but plenty of gluten-free bread and almond milk remained. For once, being gluten free and even dairy free was an advantage! How cool is that?
One of my friends, Debi of Hunter's Lyonesse noted the eggs, bread, and milk and said, "Hey, they must all be making French Toast!" Sounds so good, right? Snow or no snow.
Make this gluten-free Overnight French Toast Casserole for breakfast, make it for lunch, make it for dinner, make it for family, make it for guests. Make it for the next snowstorm.
Did you survive the blizzard? Did you make something special after (or during) the storm?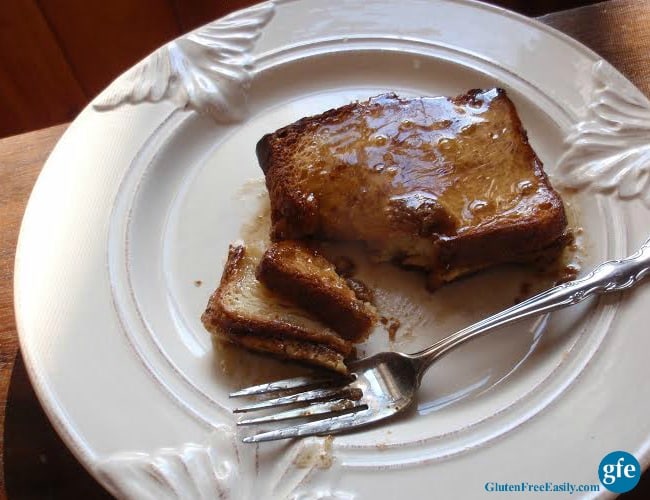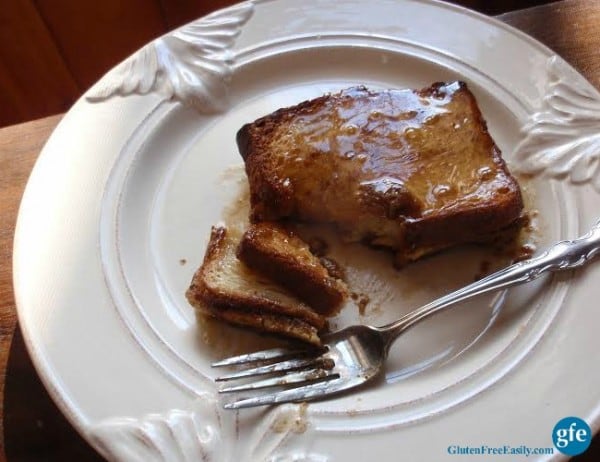 Gluten-Free Overnight French Toast Casserole Recipe
Yield:
Gluten-Free Overnight French Toast Casserole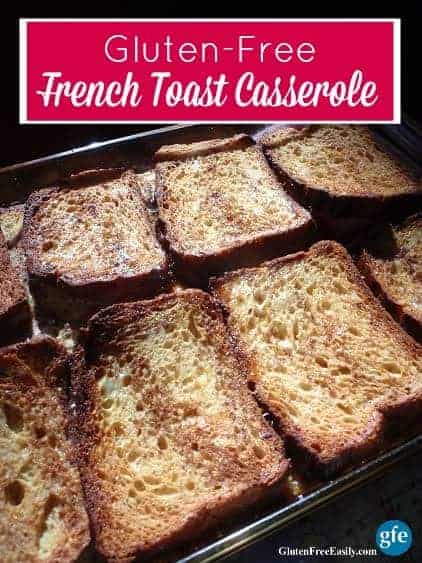 Suitable for your overnight guests, but will be loved by your family any time!
Ingredients
One loaf gluten-free bread, 16 slices (or 8 slices of gluten-free French bread; see notes)
1 cup brown sugar (light or dark, coconut sugar works as well)
½ cup butter, melted (dairy or non-dairy), or slightly less than 1/2 cup coconut oil, liquefied)
6 eggs
1 cup milk (dairy or non-dairy)
1 ½ tsp vanilla extract
Cinnamon, to taste
Powdered sugar, to taste, if desired
Instructions
Melt butter in a 9 x 13 baking dish. (I cut the butter into slices and pop the pan in the oven for a minute or so until the butter melts. Watch carefully if you use this method.)
Add brown sugar to baking dish. Stir into butter until mixed.
Place 8 slices of bread in the bottom of the baking dish.
In large bowl, mix eggs, milk, and vanilla extract, beating well.
Pour half of the mixture over the bread in the baking dish. Sprinkle with cinnamon.
Add another layer of 8 slices of bread.
Pour remaining egg mixture over the bread in the baking dish. Sprinkle with cinnamon.
Cover and refrigerate overnight. (Or make it in the morning, so you can enjoy it for "brinner" that evening.)
Bake covered at 350F for 35 to 45 minutes. (Check at 35 minutes.)
Serve with maple syrup or honey. We like a mixture of honey and melted butter as our "syrup." You can also sprinkle your finished casserole with powdered sugar before serving with maple syrup or honey, if you wish.
Notes
If you wish to use gluten-free French bread and don't have a ready-made option, you'll find some terrific French bread recipes here and here. If using French bread, you'll place the 8 slices in the bottom of the baking dish and pour all of the egg, milk, and vanilla extract mixture over the slices. For an "eggier" result, you might want to add another egg to your egg, milk, and vanilla mixture. For prettier results, use your bread "heels" (ends of the loaf) on the bottom layer. Because there are only two of us, we could not eat all of this casserole immediately, so we ate it over several days. It did dry out a little, but it was nothing that a tad more maple syrup or buttery honey topping couldn't fix!

Originally published January 30, 2016; updated December 30, 2019.