For affiliate links and as an Amazon Associate I earn from qualifying purchases.
There's frost on the pumpkin. Okay, frost is not quite yet here in my area of Virginia, but there's definitely a chill in the air. The temperature was in the 40s last tonight. I know, I know … some of you guys have already had snow. I have one word to say on that—wow. But, whatever the weather where you are, it's a good time to make these Easy Gluten-Free Pumpkin Squares.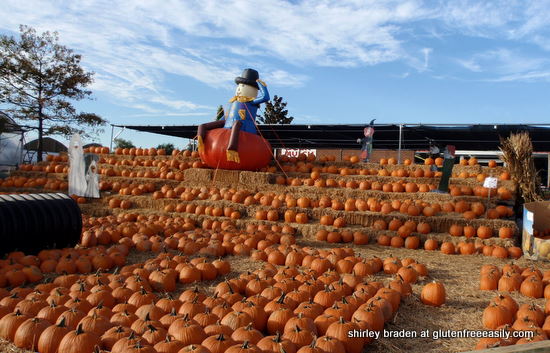 Even if you are not a lover of everything pumpkin like I am, I can almost guarantee you will love these treats. They are light and while the pumpkin taste is lovely, non-pumpkin lovers do not always immediately recognize it as pumpkin. That can actually be a good thing. They just know these squares taste so good that they want another one.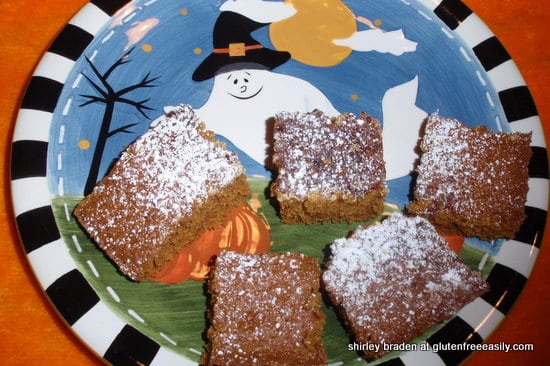 These pumpkin squares melt in your mouth and before you know it the whole batch has evaporated. Seriously. I've made four pans this week. I'm not kidding.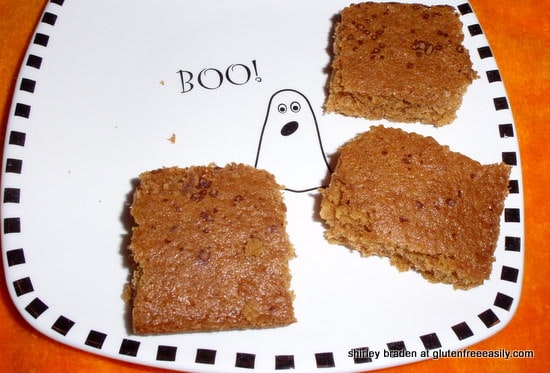 First, there was a presentation that I gave on Tuesday night. I had to take some tasty gluten-free treats for that. Mr. GFE had promised to bring treats to handbell choir practice that same evening, so I had doubled my Easy Gluten-Free Pumpkin Squares recipe. He told me that he was afraid he was going to lose a hand as he passed the squares out.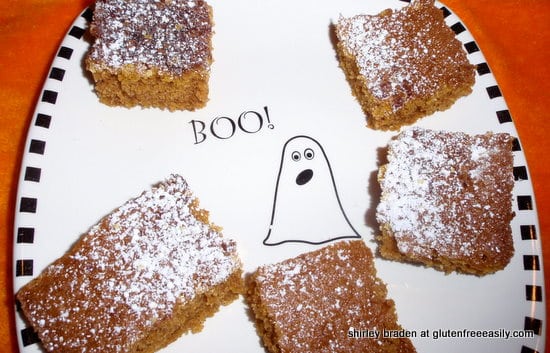 I made another batch to share with our family on Saturday. Then Son was home yesterday for a few hours and brought a friend. Five pounds of chicken wings and 3 ½ pounds of crab legs were consumed, so, of course, there had to be dessert. I started baking these squares when he called to say he was on his way.
From those four pans of pumpkin squares, not one remains. Do you need further convincing that you should make these right now? Okay, here goes. Wait, first I need to tell you that because this recipe only requires a half a cup of canned pumpkin (or fresh pumpkin puree), you can make this recipe four times using just one can of pumpkin! And the dusting of powdered sugar on these squares is tasty but optional.
Easy Gluten-Free Pumpkin Squares Recipe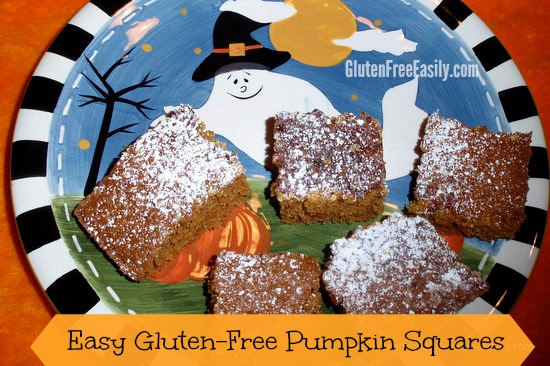 Yield: 15 servings
Easy Gluten-Free Pumpkin Squares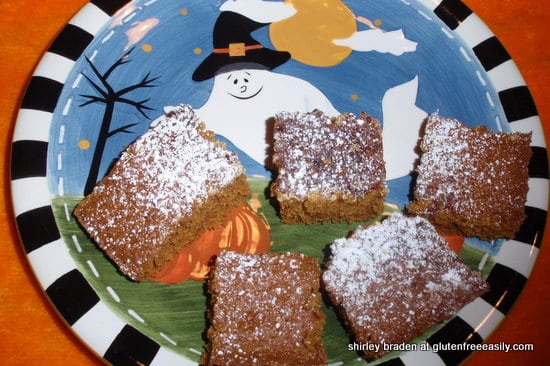 These Easy Gluten-Free Pumpkin Squares are so tasty that even non-pumpkin lovers enjoy them. Warning: They have an extremely high "evaporation rate"!
Ingredients
1 egg
½ cup pumpkin puree
½ cup oil (any kind)
1/6 cup water (don't stress over this measurement; just fill 1/3 measuring cup halfway full … you can empty or add water as necessary until you're right at the halfway mark)
¾ cup granulated sugar or coconut sugar or honey (if you use honey, omit water)
½ tsp salt
1 cup gluten-free flour mix* (I use my Two-Ingredient Flour Mix
¼ tsp baking powder
½ tsp baking soda
¼ tsp each ground cloves, ground nutmeg, ground cinnamon (or ¾ tsp pumpkin pie spice
Instructions
Preheat oven to 350F degrees. Lightly grease 9 x 13 baking pan.
Beat egg and add other wet ingredients in a mixing bowl (at least medium-sized); mix well.
Add dry ingredients.
The batter will just cover the bottom of the pan. Sprinkle some cinnamon over the batter if you like.
Bake about 20 - 30 minutes. Squares will be thin and moist.
Let cool before cutting.
Notes
The original recipe called these "bars" and included frosting. These treats are too light and delicate to be called bars or need frosting. If you want to gussy them up a bit, feel free to sift confectioner's (powdered) sugar on them. Add the confectioner's sugar right before serving and do not cover the squares. Because they are moist, covering them will cause the confectioner's sugar to "melt" into the squares.
If you use fresh pumpkin, you can usually omit the water as the fresh pumpkin tends to have a much higher water content than canned pumpkin. I love these made with fresh pumpkin. They are so light and luscious when made with fresh pumpkin.
Look for the small "sugar" pumpkins to do some baking---not the ones that you carve into jack-o-lanterns. By the way, no xanthan or guar gum is needed in this recipe.
One gfe reader, Terri, likes to double the recipe for thicker squares that are more like cake bars. She bakes them just a tad longer.
*If you want to make these squares grain free, gfe reader Kathi successfully made this recipe using 3/4 cup coconut flour and 1/4 cup almond flour instead of the gluten-free all-purpose flour. I have not personally tried her version yet.
Adapted from a recipe by Mary Burgdorff shared on the celiac listserv and celiac.com
Pumpkin is great all year long in my opinion, but it's especially appropriate in October. You can mix up a batch and bake these pumpkin squares in a short time—enjoy!
Originally published October 12, 2009; updated April 27, 2020.