For affiliate links and as an Amazon Associate I earn from qualifying purchases.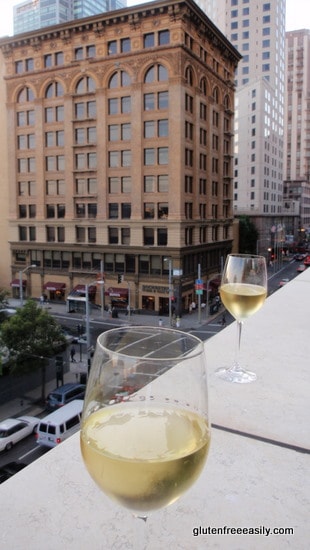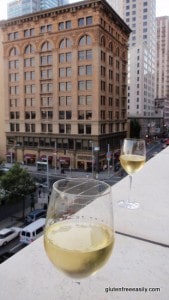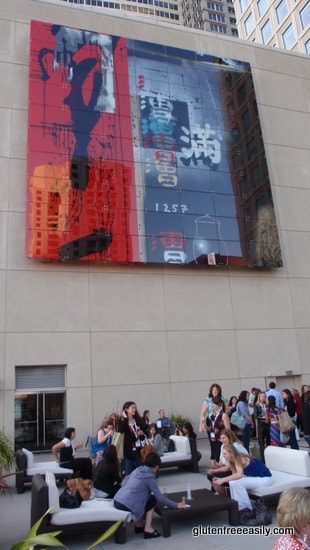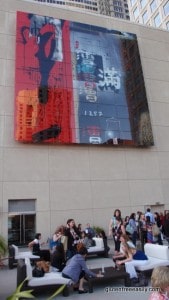 If someone asks me for a one-word synopsis of the BlogHer Food '09 conference, I say FANTASTIC! And, then I go on to offer a number of other adjectives in praise and appreciation of this event. Then I talk about all the people. No, I'm not channeling Suze Orman with her "people first" mantra (although I'm something of a fan of Suze's). Seriously, it may sound schmaltzy, but it's really always the people and connections you make that mean the most and stay with you the longest. Meeting bloggers—most of them gluten-free bloggers/resource folks—who I've been following for months in person was such an energizing and validating experience. I know it sounds silly to say, but these folks are for real. You'll actually see this sentiment echoed in write-ups about BlogHer Food elsewhere, so I'm not alone in my thinking. It's always truly surprising how you can meet someone in person who you've been following online and feel like you've known them forever (or at least a very long time). Or, you can meet someone you've never met before and feel an instant connection because of a shared appreciation—in this case, a shared love of food (really good food!) and blogging.
So, I'd like to take the time to note the folks I did get to meet along the way. As is done in many movie and theatre productions, I'm listing the BlogHer Food "cast members" I met in order of appearance (as best I can recall anyway).


Diane Eblin and Ali Segersten in Muir Woods
Diane Eblin of The W.H.O.L.E. Gang— The energy and vitality that Diane demonstrates on her blog, The W.H.O.L.E. Gang, and her other review blog, Gluten Free Food Critic, actually carries through in everything she does! She's like the Energizer bunny … until it's her bedtime and then she winds down. But, the next morning she's off again! We started our trip together on Wednesday evening and didn't completely head our separate ways until Monday night. And, this was our first actual meeting! Once we checked into the hotel on Thursday morning, we were off on all the adventures we could squeeze in! From discovering culinary delights to touring Muir Woods to cheering from the 50-yard line at an Oakland Raiders game … we did it all. I can't wait until our next outing! Be sure to check out Diane's sites where she always employs her personal motto: Food Should Taste Good. Diane deals with more than one food intolerance and does so with aplomb. Of special interest on her main site are the Friday Foodie Fix (which features a different ingredient each week; you can add a recipe to this weekly roundup at any time, not just on Fridays) and the Weekend Cooking Tip. She's just started featuring videos of many of the folks she met at BlogHer Food, each sharing a special cooking tip. My video is the first one up (please ignore the eyes, searching for what I was going to say next). Be sure to check those videos out over the next several weeks to see your favorite bloggers and get to know some new ones as well.
Ali Segersten of The Whole Life Nutrition Kitchen—Ali hopped off the plane, jumped in a shuttle, checked into the hotel, and then immediately headed to Muir Woods with us. Getting acquainted face to face as we walked among the magnificent redwoods was a very special experience. Ali is warm and genuine, especially in her mission to teach others to eat healthy, nutritious, and healing foods. She is half of the dynamo nutritional team that makes up Whole Life Nutrition. The other half of the team is Ali's husband, Tom Malterre (whom I have not yet had the pleasure of meeting). Ali's the one most often in The Whole Life Nutrition Kitchen, but Tom is often "right there with her" providing nutritional data. (Check out his latest article on digestive and nutritional considerations in celiac disease.) Ali's recipes are all gluten free, and usually free of other allergens as well; e.g., dairy, eggs. She shares amazing recipes (including breads her fans rave over) that she feeds her family of four little ones, which includes twin toddlers—all are under the age of 7! Ali also shares her family's wonderful adventures hiking, picking pounds and pounds of fruit, exploring the beach, or sledding in the mountains. If you have youngster who needs to learn how to pack a healthy lunch, be sure to check out Ali's post on packing a healthy school lunch. It"s all about getting your child to pack a healthy lunch on their own and even has a printable chart  (with images) for you to download.
Shauna Ahern and Danny Ahern, aka The Chef, of Gluten-Free Girl, Gluten-Free Girl Recommends, and pork, knife, and spoon—I had previously met Shauna at a gluten intolerance conference a few years back, but had not met The Chef, or their lovely daughter (whom they affectionately refer to as Little Bean). Diane spotted them while we were roaming the streets of San Francisco. It was like spotting a celebrity and stopping to chat! Check out their blogs, and her book, Gluten-Free Girl. A friend loaned me her copy while I was waiting for mine to arrive and asked me to annotate the book with my thoughts—that was fun! I'm sure Shauna would be happy to know how many times I wrote "Yes!" (her personal motto) in the margin. I think you'll agree that we are all better for Shauna and The Chef finding each other when we see their collaborations in the kitchen. They cook with real food—all gluten free—and they do it so incredibly well. Add Shauna's beautiful writing to tell us all about it and The Chef's how-to videos to show us how to do things like make gluten-free gravy and we're all over the moon with the sheer joy of it all.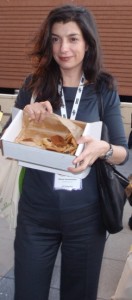 Elana Amsterdam of Elana's Pantry—I've written quite a bit about Elana in previous posts, first, when I adapted her chipotle salmon and just recently when I adapted her flourless chocolate banana cake and gave away two copies of her new cookbook, The Gluten-Free Almond Flour Cookbook. She's just lovely—so friendly and full of life. She creates recipe after recipe that allow people to eat deliciously even though they might be gluten free, grain free, dairy free, sugar free, etc. You may have read elsewhere that she saved all the gluten-free bloggers with her chocolate chip cookies at the terrace cocktail party—it's true! The first one was sublime, but all of us were so very grateful when she asked, "Would you like another cookie?" We thought she was terrific even before she brought out that box of cookies, but the cookies definitely cinched the deal. By the way, Elana did two posts on BlogHer Food that you should check out. The first is advice for bloggers, a recap of what she shared in her presentation at the event. The second is a fun post on the gluten-free bloggers she met there.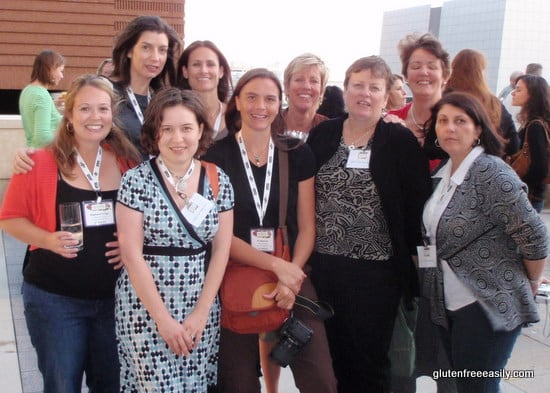 About the 10th photo taken, so not the best of everyone, but here's: first row, Stephanie, Seamaiden, Ali, me, Diane; second row, Elana, Alison, Karen, Jean
Lisa Johnson, aka Anali, of Anali's First Amendment—Lisa was also a presenter at the conference.  Lisa and I met through a mutual friend's blog and have been getting to know each other ever since. I love her sunny spirit, her varied writing pieces (including some killer recipes—a few of which I have adapted here at gfe), and her many excellent photos. She's also a lawyer and spoke on trademarks and copyrights at the conference. That's a tough subject for sure, as it turns out the latter is not as cut and dried as one might think when it comes to recipes. In a post written by David Lebovitz on the subject of recipe attribution  at the Food Blog Alliance a while back, she referenced this post from Tart Reform as a very good discussion on the subject. Lisa is a dear. Check out her site, Anali's First Amendment.
Elisa Camahort Page—One of the co-founders of BlogHer, Elisa spoke with me for several minutes at the Friday night cocktail party hosted by The Mushroom Channel folks. She shared how BlogHer had originally gotten started and how BlogHer Food was a natural progression given all the food bloggers today. When I expressed that I thought BlogHer Food was a phenomenal value at $99, she replied that could not have been possible without the corporate sponsorhips. I thoroughly enjoyed chatting with Elisa who—along with her co-founders, Jory des Jardins and Lisa Stone—had a vision and acted on it—in a huge and positive way.
Heather at Heather in SF—Heather is an ebullient girl. Always ready with a smile, a sparkle in her eye, and something interesting to share, she's the one you'd like to have along for a night out with the girls. She was in home territory, too, but we unfortunately we did not get together outside the conference. Next time, Heather … what do you say?
Andrea Meyers of Andrea Meyers, subtitled, "cooking, gardening and four hungry guys"—It turns out that Andrea is a fellow Virginian with a love of all the things in her subtitle. That makes for a great blog. Her site also features a carnival called during the growing season called Grow Your Own—"a twice-a-month blogging event that celebrates the foods we grow or raise ourselves and the dishes we make using our homegrown products." I'll definitely be checking that roundup out in 2010, as well as Andrea's blog.
Jessi from The Mushroom Channel—What a personable girl and what a neat job she has promoting mushrooms … real food–love that! The soup that Jessi and The Mushroom Channel folks served on Saturday during our afternoon break was over-the-top fantastic. Mushroom "cappuccino" with savory bacon cream.  Think bacon-infused cream topping … optional, and just a dab, mind you if you decided to partake. Making this soup is on my "to do" list for sure. It's naturally gluten free, which meant it was another lifesaving offering for those of us who were eating gluten free at the conference. Because mushrooms are a real food, they completely fit into the gluten free easily (gfe) approach.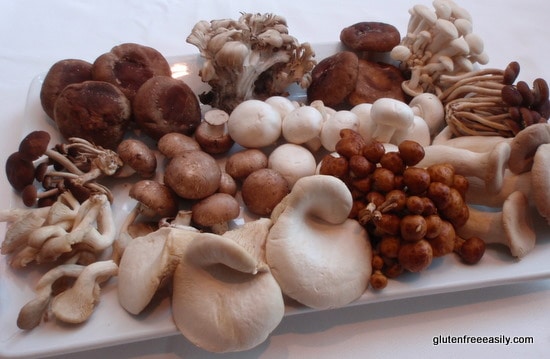 Anne-Marie Nichols of This Mama Cooks! On a Diet and This Mama Cooks! Reviews—Anne-Marie warmly greeted me each time I ran into her. She represented Nasoya products. (Note: Despite soy being the main ingredient in their products, most contain gluten.)
Mary Kate Paris of Kitchenbelle—Lovely Mary Kate was still riding high at breakfast from a chance meeting with Tim Gunn in The Westin bar the night before. Genuine friendliness from Tim and a very nice photo of the two of them together to prove it! She was also pretty happy about a recent collaboration/sponsorship by Eggland's Best eggs. At first I thought she was a Southern belle as well, but it turns out she hails from Boston. I wish we could have gotten to spend more time together; I really enjoyed talking with her.
Stephanie O'Dea of A Year of Slow Cooking and Totally Together Journal—Stephanie is such a sweetheart. I was so happy to meet her in person after following her blog and corresponding with her for a good while now. News alert: Stephanie has a brand spanking new blog, Totally Together Reviews, where she, of course, does reviews, and sometimes giveaways. Speaking of brand spanking new and giveaways, she also has a brand spanking new (and very shiny) refrigerator that was given to her! Head over to her site to enter the giveaway for $200 in Best Buy gift cards, which you can use to buy a new appliance (or anything else you like)! Last, but not least, Stephanie's new cookbook came out on Tuesday. Make It Fast, Cook It Slow is subtitled The Big Book of Everyday Slow Cooking. There are so many reasons to get this book. If you caught Stephanie's appearance on Good Morning America, you saw a few of them: Maple Dijon Chicken with Sweet Potatoes, Honey and Cinnamon-Glazed Carrots, Apple Crisp, and Pumpkin Spice Latte. I've made and highly recommend her 20- to 40- Clove Garlic Chicken, Thai Coconut Soup, and Pumpkin Pie Dip. I can't wait to try her Crème Brulee and Chocolate Mousse. Yes, you can make those in the crockpot!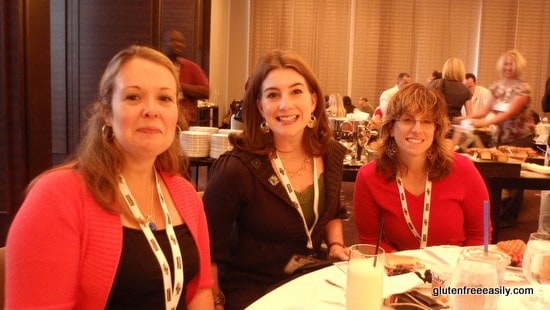 Stephanie, Mary Kate, and Anne-Marie at breakfast
Alison St. Sure of Sure Foods Living—Alison's site houses a wealth of information. You'll want to check out her site for her gluten-free and allergen-free Halloween candy "quick lists" to make sure your Halloween treats are safe. Alison is known in the gluten-free community for reaching out to others, particularly newbies, and reassuring them that yes, they can do this gluten-free thing. I just love it when people are willing to put themselves out there and help folks in this manner! And, besides all that, the girl is downright photogenic. It is not possible to take a bad photo of her. Even in one where she had Elana's cookie to her mouth and the wind tousling her hair, she still looked great!
Okay, I'm only up to the folks I met halfway through breakfast the day of the conference … they all deserve recognition. So, To Be Continued …
Shirley
Not just gf, but gfe!