For affiliate links and as an Amazon Associate I earn from qualifying purchases.
I've been making this Cheesy Chicken Zucchini Bake a lot lately. Doesn't it look delicious? It's my main dish version of the side/vegetarian dish that Ali of Nourishing Meals made a while back.
When I saw her recipe for Zucchini Bake, with almond flour and olive oil combined for a ricotta-type taste, I decided to make it for our subsequent support group meeting. Everyone loved it—whether dairy free or not.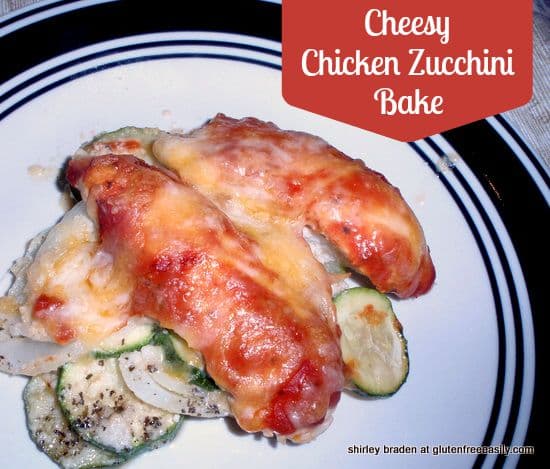 A few nights later, dinnertime was approaching and I had no idea what I was going to cook. Yep, that's right … I don't always plan my dinners.
I'm not the type who runs out to the grocery store though, because as much as I love food, I hate going to the grocery store. So I shopped in my freezer and refrigerator.
I looked in the freezer for any meat or fish item that I could cook quickly. I pulled out some chicken tenderloins—basically boneless chicken breasts cut into smaller slivers for quicker cooking. I really had no idea how I'd prepare them at the time.
Then the refrigerator yielded the following items that seemed like the makings of a dinner: a few zucchini left from my purchase to make Ali's recipe, a little pizza sauce left in a jar from making Flourless Pizza, and some grated cheese that remained from making tacos. There were more onions in the pantry as well, of course.
Suddenly, the idea for this casserole dish was born. Mr. GFE was only slightly surprised that I'd pulled a rabbit out of the hat, so to speak.
The man is spoiled. He's come to expect great things from me when I just throw some things together. (Most of the time that works out …)
When Son came home from college recently to pick up some items, we were both at work. He found the last of the Cheesy Chicken Zucchini Bake leftovers. He called me at work and started talking animatedly about the dish.
I wasn't sure at first if he liked it or hated it. He was using some of his generation's lingo, which made no sense to me. Oh, no, I thought. There were onions in the dish and he doesn't really like onions.
I hesitantly asked for a translation on his terms, i.e., if he liked it, and he replied, "It's awesome, Mom." He added, "You know how much I love zucchini."
He added that he didn't mind the onions, because the combination of flavors tasted so good and the onion flavor was "not too strong." Success!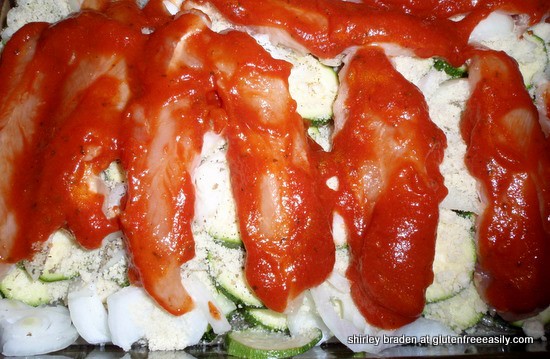 By the way, you can replace the almond flour with some bread crumbs if you'd prefer. If you eat dairy, you can also replace the almond flour with some Parmesan cheese or even skip the almond flour AND olive oil and use some actual ricotta cheese. Some tomato slices in the mix would be very tasty, too.
Be creative and use what you have on hand. Note that while it looks like I used a whole lot of cheese as topping, I actually used very little.
If you add the cheese to any dish towards the end of the cooking time, you can use a lot less and it will still be soft and delicate, so to speak.
If you decide to top the chicken with a little more almond flour versus cheese for a dairy-free version, you may want to place the dish under the broiler a minute or two to ensure adequate browning.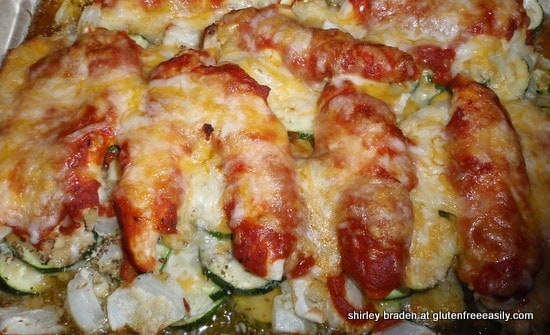 Now your dinner is complete … all in one dish. Savor!
Cheesy Chicken Zucchini Bake Recipe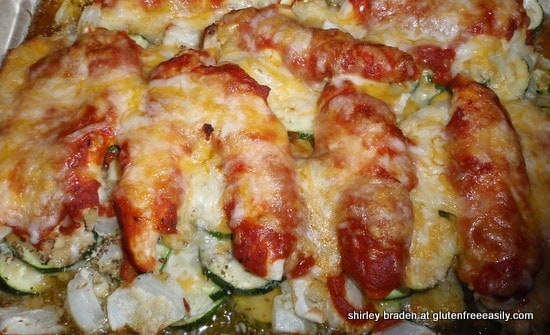 Yield: 6 servings
Cheesy Chicken Zucchini Bake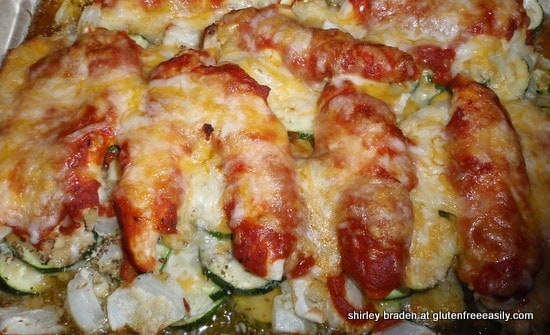 This Cheesy Chicken Zucchini Bake is one of our favorite meals. It's naturally gluten free and has an easy and equally delicious dairy-free option. 
Ingredients
extra virgin olive oil, about ¼ cup in total
2 – 3 zucchinis, sliced
1 large onion, sliced and cut into crescent pieces (either sweet or yellow will work)
blanched almond flour, about ½ cup in total
seasoning of your choice (I used pizza seasoning, which is similar to Italian seasoning, but a little zestier), about one tablespoon
chicken tenderloins (or boneless chicken breasts cut in half; as many as you like)
sauce of your choice (e.g., pizza, marinara), about 1/3 cup
grated cheese of your choice, if desired, about 1/3 cup (or more if you like) OR a little more almond flour for dairy-free version
Instructions
Preheat oven to 400F degrees.
Drizzle some olive oil on the bottom of a 9 x 13 glass baking dish (or similar).
Add layer of zucchini (half of what you have sliced).
Add layer of onions and sprinkle with seasoning.
Sprinkle almond flour over the onions. (A couple of tablespoons will work.)
Repeat layering once (or until your ingredients are used up).
Top with chicken tenderloins.
Spoon sauce over tenderloins evenly. Drizzle a little more olive oil over sauce-covered chicken.
After 30 minutes of baking, sprinkle cheese (or a little more almond flour) over sauce-covered chicken. Bake an additional 10 minutes or until done. Note: If you use almond flour as topping on the sauce-covered chicken, you may want to put dish under broiler for a minute or two to ensure browning.
Notes
Inspired by Nourishing Meals.
See additional substitution notes in my post.
Originally published October 20, 2009; updated August 10, 2019.