For affiliate links and as an Amazon Associate I earn from qualifying purchases.
Today is National Root Beer Float Day. Yippee! I do love a good root beer float, especially on a hot summer day. Although I'll readily admit, that I never turn one down. They're so good! I've updated this totally delicious roundup of gluten-free root beer floats and other root beer dessert recipes for you.
We have Traditional Root Beer Floats, Root Beer Float Popsicles, Root Beer Ice Cream, Root Beer Sauce, Root Beer Float Cupcakes, Root Beer Sno Cones … you name the dessert category and it's here in this roundup—just for you. Okay, perhaps you and me!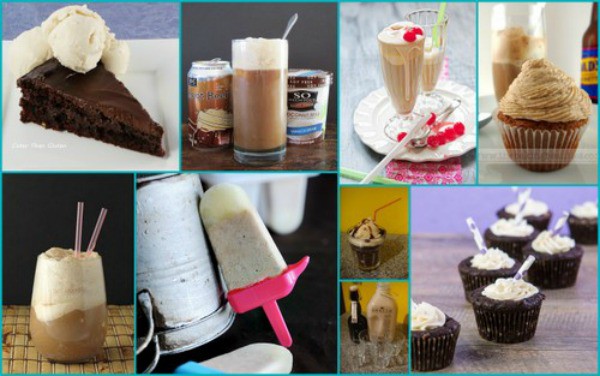 Root Beer … Snooch Snear! The latter is the silly term Mr. GFE's dad coined and the whole family ended up using when referencing root beer. It's a nickname that has stuck around and always makes us laugh. But let's get to those gluten-free root beer float dessert recipes (and other root beer recipes), shall we?
Gluten-Free Root Beer Floats and Other Root Beer Recipes
~ Carolyn of All Day I Dream About Food offers a keto Root Beer Float. Low-carb, sugar-free, and ketof-riendly, this float is clearly lacking nothing!
~ From Cookistry, Donna shares Root Beer Coffee Float with Almond Whipped Cream. The almond comes from almond butter—a brilliant addition to whipped cream if I do say so! But I'm sure some of you will be much more pleased by the inclusion of your beloved coffee by way of Donna's "super-charged coffee ice cream"! Donna also shares here Rum 'n Root Beer Cocktail. It's a pretty simple beverage, but sure to please!
~
From
Go Dairy Free
, Alisa made dairy-free
Root Beer Floats
using ready-made healthier ingredients, and only two ingredients at that. Now that's a quick route to sipping on this delightful beverage for sure! ~ From
Faithfully Gluten Free
, Jeanine offers
Root Beer Cupcakes with Root Beer Buttercream Frosting
. That last part, Buttercream Frosting, definitely catches your eye and gets the tastebuds going! Interestingly enough, no root beer is actually used in this recipe; root beer extract gets the job done beautifully!
~
From
In Johnna's Kitchen
, Johnna's Root Beer Float Cupcake recipe turns out to be
Root Beer Frosting, Root Beer Ice Cream, Root Beer Sauce, and Root Beer Float Cupcakes
! Yes, all of those are the wonderful components of her Root Beer Float Cupcakes! ~ From
Dine and Dish
, the kids can enjoy
Root Beer Float Popsicles
(by the way, there's a lovely tribute in this post to cookbooks and those who use them "well") or
Root Beer Sno Cones
, and the adults can enjoy
Whipped Root Beer Float Cocktails
(please ensure recipe ingredients are gluten free to your comfort level)! ~ From
Gluten Free Easily
(that's me!), there's
Root Beer and Rum Ice Cream Float
. Honestly, root beer, rum, and ice cream, this is one heavenly combination!
~ From Making It Dairy Free, there are Root Beer Float Cupcakes. Lacy's recipe is gluten free and dairy free and uses gluten-free vanilla cake mix and both root beer and root beer extract.
~ From Cuter than Gluten, there's Chocolate Root Beer Frosting from Dawn's fantastic cookbook Culinary Creativity: Let Your Restrictions Set You Free.
Some final notes:
At the time of this post, A&W, Barq's, Dad's, IBC, Mug, and Virgil's brands of root beer are gluten free. There are most likely other brands that are as well, but these are the ones that are familiar to me.
Root beer is one of those products that has been rumored to contain gluten for years, mostly because it typically contains caramel coloring. This is another one of those myths that won't die.
If the caramel coloring is made from wheat in the U.S., "wheat" must be shown on the ingredients label. Gluten-Free Living magazine states: "Corn is used to make caramel color in the U.S. The FDA does permit use of barley malt but all major caramel color producers say corn makes a better product."
Mary Golden-Silva, a reader of my gfe Facebook page, told me that one can make fantastic root beer from sparkling water and root beer liquid stevia. Mary's root beer sounds very healthy and terrific to me. It would be a great option for those who are avoiding sodas.
So go and enjoy your gluten-free beer floats and everything else root beer! Always confirm gluten-free status of ingredients of course. We can never stop doing that.
Originally published August 5, 2015; updated November 25, 2022.