For affiliate links and as an Amazon Associate I earn from qualifying purchases.
Mango Ice Cream. Doesn't that sound delicious? It is so delicious. And thankfully, cooling as well! It's also dairy-free Mango Ice Cream but even if you eat dairy, you will still love this version.
It's so hot here that pretty much every single expression ever used about the heat (e.g., "it's so hot that …" and "it's hotter than a …") applies right now. We've been doing what we can to stay cool given the fact that any outdoor activities take a toll on us. Plus, heat advisories have been in effect so, we're heeding them.
Add in the fact that the entire month of July is considered National Ice Cream Month, National Ice Cream Day just passed, and a number of other ice cream-focused food holidays occur this month as well. All are timed just right to give me a push to share my new Mango Ice Cream recipe with you all.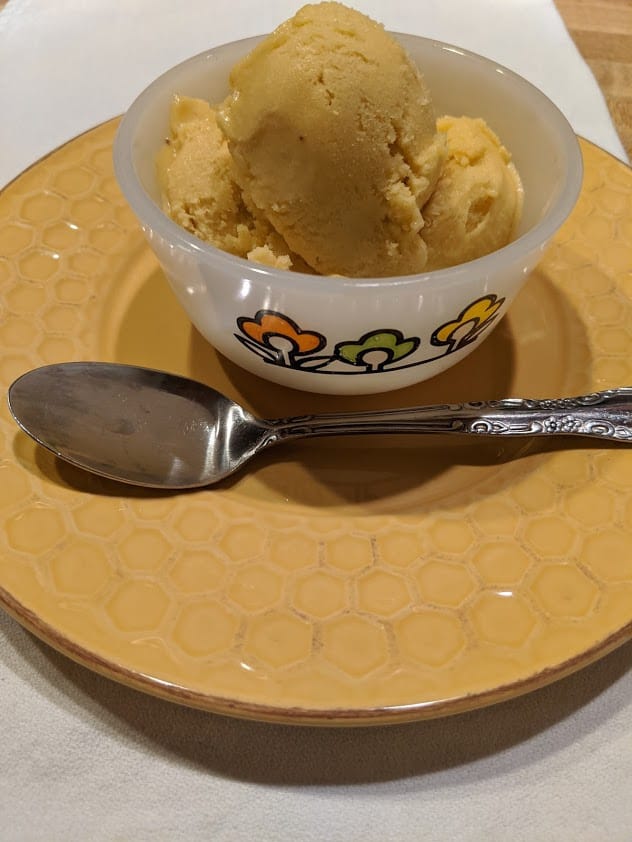 I need a push these days. These are such odd and unsettling times. There is so much that is troubling now, so much that is in fact, gut-wrenchingly sad and outrageous but yet, focusing on the small moments of goodness and embracing joy—like today's recipe, with a giveaway—at times still feels right.
In truth, I think such focus sustains us. It keeps us going and allows us to do much harder things even if the happy moment itself is fleeting.
Son has stated several times that enjoying our evening meal together is the highlight of his day, every day. The three of us agree on that and are so grateful we have that time together and that we have nutritious and delicious food to prepare and enjoy together.
We're in this uncertain period for the foreseeable future so as much as it often feels wrong to be celebrating anything right now, it also feels like a requirement.
Ice Cream Maker Giveaway
In that light, let's talk about Mango Ice Cream and a sweet giveaway to go with it.
Each time I share an ice cream recipe, readers ask if it can be made without an ice cream maker. Therefore, I'm giving away a Cuisinart ICE-20 Ice Cream Maker (1.5 quart) so one lucky reader will have the pleasure of having their own ice cream maker and not have to ask that question in the future. (Note that the ice cream maker gifted to the winner may have a different appearance than the one shown below depending upon availability at the time of award.)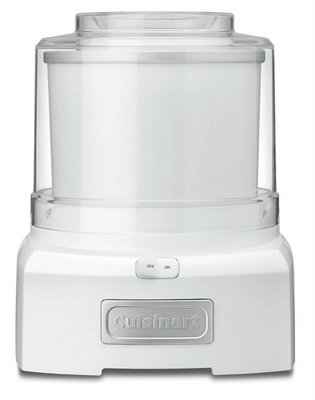 My ice cream maker has been one of the best "kitchen gadget" purchases I have ever made. I use it numerous times every year—with very delicious results—so the 9 x 9 x 12 space that it occupies in one of my lower kitchen cabinets is well worth it!
I keep the tub, aka "freezer bowl," in the back corner of my freezer at all times so I can make ice cream or sherbet any time that I like. Because I usually use canned coconut milk in my recipes, I almost always keep two cans in my refrigerator so they'll be properly chilled and ready to go.
Homemade ice cream in 30 minutes is a pretty amazing thing in my opinion. To be able to make it on the spur of the moment, when the mood hits is truly a delight!
THIS GIVEAWAY IS NOW CLOSED. Congratulations to Susan C.! Thanks to all of you who entered the giveaway!
If you don't have an ice cream maker but you're not into giveaways, please know that pretty much any ice cream recipe can be turned into a "no-churn" recipe; i.e., made without an ice cream maker. Most no-churn recipes come with their own easy instructions but if you want to make one of my ice cream recipes into no-churn, use these instructions on How to Make Ice Cream Without a Machine from David Lebovitz.
Making Dairy-Free Mango Ice Cream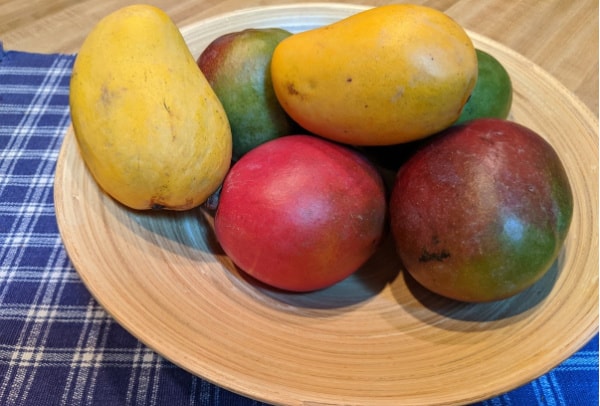 Because we've been getting mangos in our produce deliveries every time, I've actually made Mango Ice Cream a few ways now. This recipe is our current favorite. (Interested in getting your own produce deliveries? Use affiliate code COOKWME-XD6MDE to get a discount on your first box if you want to try Misfits Market.)
It includes one banana because bananas add a really nice creaminess to ice cream recipes. I'm sure most of you have seen the dairy-free "nice cream" recipes that use bananas as the base ingredient. Despite the inclusion of a banana in this recipe, there is no banana taste to this ice cream.
The full-fat canned coconut milk, which I almost always use in my ice cream and sherbet recipes, also adds creaminess and in conjunction with the banana creates the "mouth feel" of dairy-based ice cream.
Honey as the sweetener goes best with the mango in my opinion but slightly less maple syrup will also work in this recipe. I say slightly less because maple syrup is thinner in consistency than honey and if you use the same amount, your ice cream will not be thick enough and therefore, not churn into ice cream.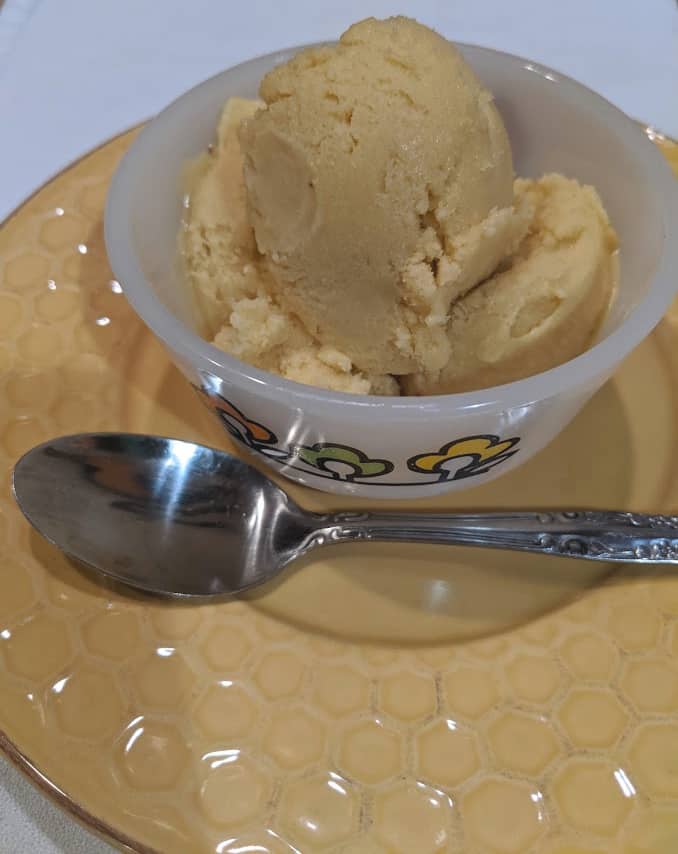 Adding either Grand Marnier or Triple Sec from your liquor cabinet enhances both the mango flavor and keeps ice crystals from forming in the ice cream. It's the alcohol factor that ensures the latter.
Icy ice cream may sound good at first but it's not. You want creamy, scoopable ice cream. Icy ice cream is not that.
The pure vanilla extract in the recipe also has an alcohol factor but it's such a small amount that it alone won't keep the ice crystals away. If you must leave out the Grand Marnier or Triple Sec, be sure to increase the vanilla extract as noted.
As you can see, we're only talking about a handful of ingredients but together they make this fantastic, flavorful dairy-free Mango Ice Cream! We've been enjoying it on Crustless Apple Pie, Blueberry Cobbler (and on a new version, which I hope to share soon), and simply by itself. It never disappoints.
Some More Homemade Ice Cream Dessert Recipes You Will Love
~ Easy Mango Ice Cream from Recipes from a Pantry by Bintu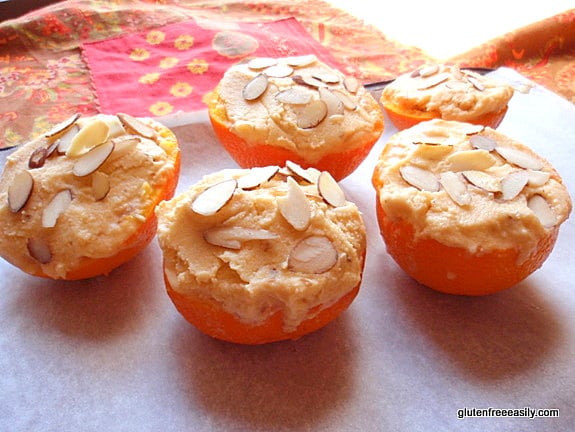 ~ Mexican Hot Chocolate Ice Cream from What Great Grandma Ate

Dairy-Free Mango Ice Cream Recipe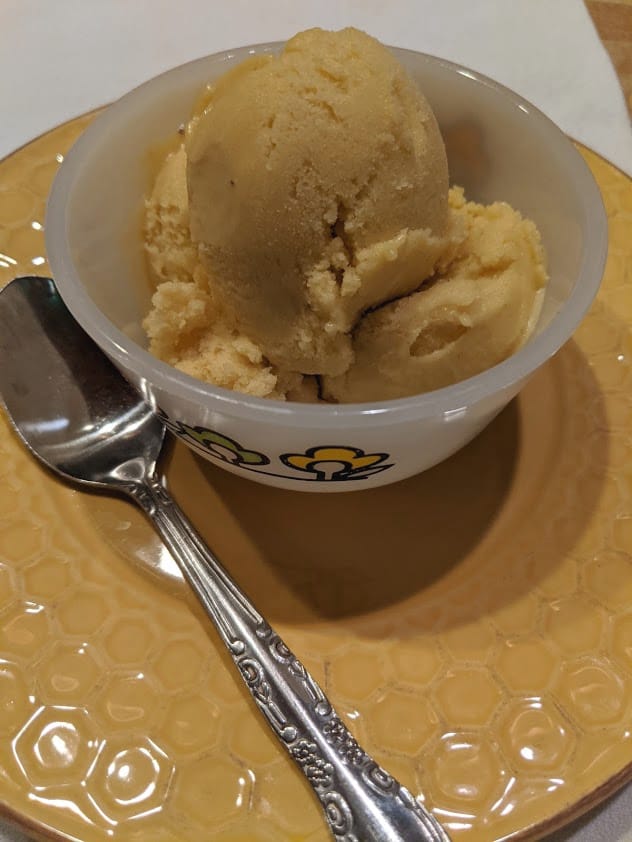 Yield: 1 1/2 quarts
Dairy-Free Mango Ice Cream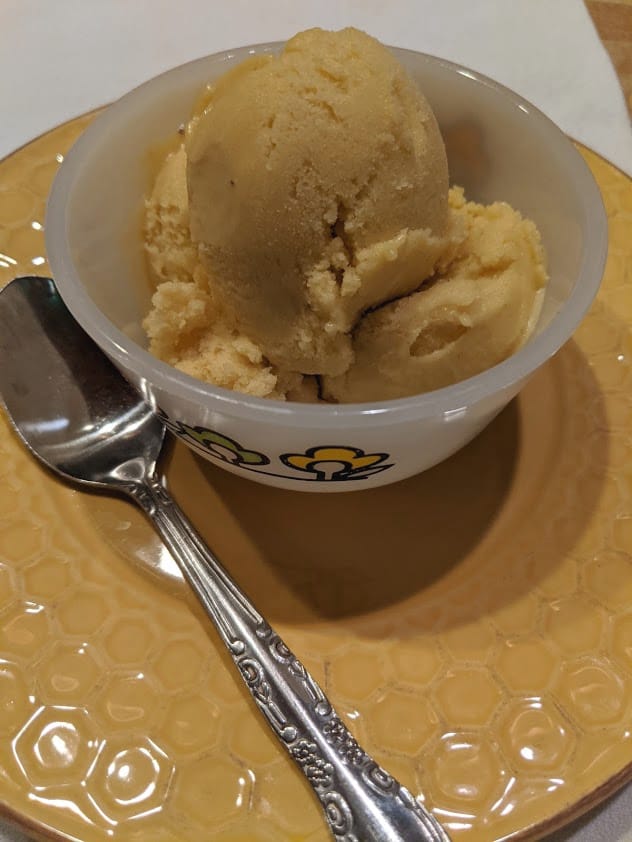 Creamy and delicious ice cream with an amazing and appealing orange color. Nobody will know it's dairy free!

Prep Time 10 minutes

Cook Time 25 minutes

Additional Time 1 hour

Total Time 1 hour 35 minutes
Ingredients
½ cup banana, mashed (about one average-sized banana), preferably frozen
1 ½ cups canned coconut milk (not light and not coconut milk from a carton), chilled 24 hours or more
1 tbsp Grand Marnier or Triple Sec (optional, but recommended)
1 tsp pure vanilla extract (see notes)
2 cups fresh mango, chopped and cold (preferably slightly frozen)
½ cup honey (or slightly less maple syrup)
Instructions
Add ingredients to a large mixing bowl and mix well using hand mixer or add ingredients to blender and blend until well combined.
Add mixture to ice cream container and churn 20 to 25 minutes until ice cream reaches soft-serve consistency.
Serve immediately for a soft-serve version or freeze a few hours or overnight until mixture is firmer. We like to "taste test" right away and eat the rest over several days.



Notes
I have also made this recipe with only one cup of coconut milk. The resulting ice cream has a more potent mango taste and deeper orange color but of course, it is slightly sweeter. We prefer this version made with slightly more coconut milk--and less sweet, although still plenty sweet--but I'm pretty sure that you'd enjoy either version as well if you're running low on canned coconut milk.

If omitting the Grand Marnier or Triple Sec, increase the vanilla extract to one tablespoon.

If you want to make this or any of my other ice cream recipes no-churn (i.e., withou an ice cream maker), use these instructions on How to Make Ice Cream Without a Machine from David Lebovitz.

Originally published August 4, 2020; updated December 8, 2021.