For affiliate links and as an Amazon Associate I earn from qualifying purchases.
Last year I took part in the Gluten-Free Wednesdays carnival event. That event continued on with its founder, Linda of Gluten-Free Homemaker, and her co-hosts until they took a summer break. Now that summer is over, Linda has decided to stop Gluten-Free Wednesdays altogether and replace it with a new blog carnival, Gluten-Free Recipe Fix. The Gluten-Free Recipe Fix carnival will be focused on holiday and seasonal recipes. As I love celebrating both with great food, I have decided to join in the blog carnival fun as a co-host once again! We're kicking off this event with Gluten-Free Recipe Fix: Fall and Back-to-School Recipes edition today.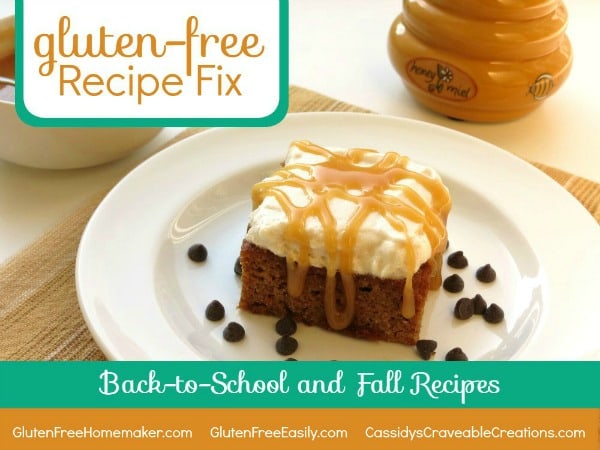 One key thing to keep in mind with Gluten-Free Recipe Fix is that it is for linking up gluten-free recipes only. Your recipes must also fit the theme although most of the time that really won't be difficult as so often beloved recipes can be suitable for several different occasions. The linky will be open for 2 weeks, so feel free to come back and add additional theme-appropriate recipes. I can't wait to see what all my blogger friends share! (If you're a blogger and want to join in, please be sure to read all the details on participating below.) I hope all of you will check out the recipes linked up and also check out my recipe submissions.
Upcoming Gluten-Free Recipe Fix Themes are Thanksgiving Cookery (kicking off on November 11) and Holiday Bites (which starts December 9).
The co-hosts for this event will vary, but for this edition, I'm participating with Linda and Cassidy (Cassidy's Craveable Creations). Here's how you can follow each of us:
~ Linda – Gluten-Free Homemaker (unfortunately, Linda's site is no longer active; you can find some of her wonderful recipes such as her amazing Angel Food Cake and her Angel Food Cupcakes here on gfe)
~ Cassidy – Cassidy's Craveable Creations
Blog Updates, Facebook, Pinterest, Google+
~ Shirley – Gluten Free Easily
Blog Updates, Facebook, Pinterest, Twitter, Google+
My Submissions:
When it's time to go back to school, it's great to have a bonanza of recipes to choose from. Here are 50 Healthier Lunchbox Treats Your Kids Will Love. They're all gluten free and nut free, and many of them also fit other special dietary needs as well.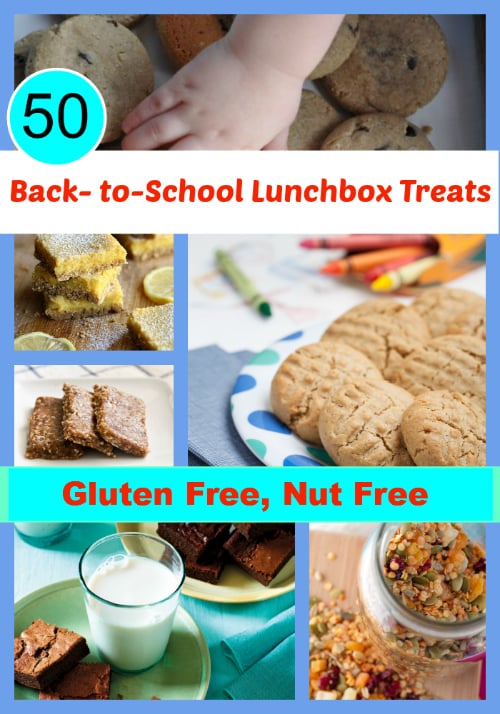 Here on gfe, I've also made my Classic Zucchini Bread, which is one of those recipes that's simply wonderful for the transition to fall. You get to use the last zucchini of the season when it's finally cooled off enough to turn on your oven again! I often freeze several ziploc packages of shredded zucchini just so I can continue to make this recipe well into the fall. It's terrific for breakfast, snacking, or dessert, and packs well for school lunches.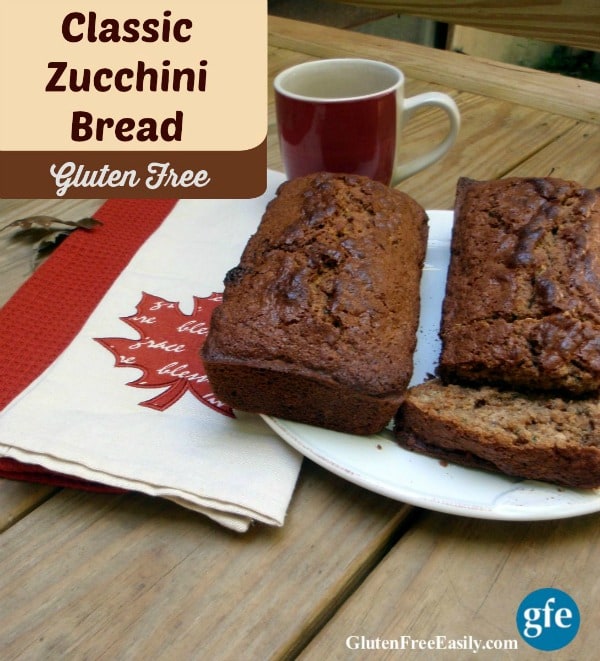 Carnival Guidelines
All entries must be a gluten-free recipe.
If it is a recipe with gluten-free options, those options must be listed in the recipe ingredients, not simply elsewhere in the text of the post.
Entries should fit within theme of the carnival (Back to School or Fall Recipes).
Please Read
Linking up indicates you are giving permission for us to share your submitted photo and your link via social media.
While all of the links in this carnival should contain gluten-free ingredients, please verify that for yourself. In particular, people have differing opinions on what brands they consider safe. Please keep this in mind as you view the recipes. In particular, I question the gluten-free status of the new gluten-free Cheerios. You can read more on the why here.
Fall and Back-to-School-Recipes Edition of Gluten-Free Recipe Fix
Originally published September 26, 2105; updated September 16, 2022.