For affiliate links and as an Amazon Associate I earn from qualifying purchases.
A quick glance at my Mother Nature Network email newsletter the other day revealed a link to Cherry Upside Down Cake. I clicked the link to Robin Shreeves' recipe before I went any further. After all, Diane's Friday Foodie Fix was focused on cherries. Robin's write-up said that her cake was not that pretty, but the description certainly was and her photo looked fine to me, so I was not deterred. Gluten-free Cherry Upside Down Cake it would be!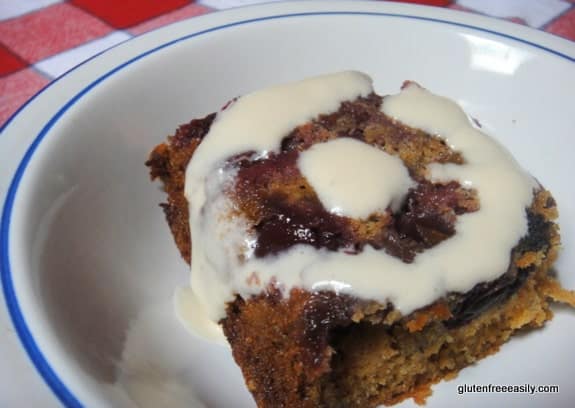 I'll be honest. I don't make baked goods with fruit that often. They are something that I have been learning to like over the last few years. I'm much more apt to eat raw fruit than baked fruit. So I was amazed that I loved this Easy "Crustless" Apple Pie when I made it a few years back.
Even my No-Bake Blueberry Honey Pie, which I shared recently, was a first for me—an absolute winner, but still, a first. And, now I'm making gluten-free Cherry Upside Down Cake, and I like it!
An Interesting Way to Sweeten Fruit Desserts, Even This Gluten-Free Cherry Upside Down Cake
But, all that aside, one little tip that's important to know about baking with fruit, especially super tart fruit, is that you don't have to add tons of sugar to the recipe to compensate for the tartness.
You can reduce the acidity of a fruit-based recipe by adding baking soda. Yes. Did you know that?
Just adding a little baking soda can allow you to cut the sugar–sometimes dramatically. A version with baking soda and less sugar used can end up actually tasting sweeter than one with no baking soda and more sugar.
For this recipe, I added baking soda, but just a small amount of baking soda. My reasoning was that my cherries were sweet versus tart and I was already using coconut sugar, which tastes less sweet in itself than granulated or brown sugar.
If you want to make a large cherry cobbler, you may add a full teaspoon of baking soda (or even 1 1/2 teaspoons if you have very tart cherries) and then halve the sugar if you are using granulated sugar, or reduce it slightly for other non-refined sugars. Try it … I think you'll be pleasantly surprised at the results.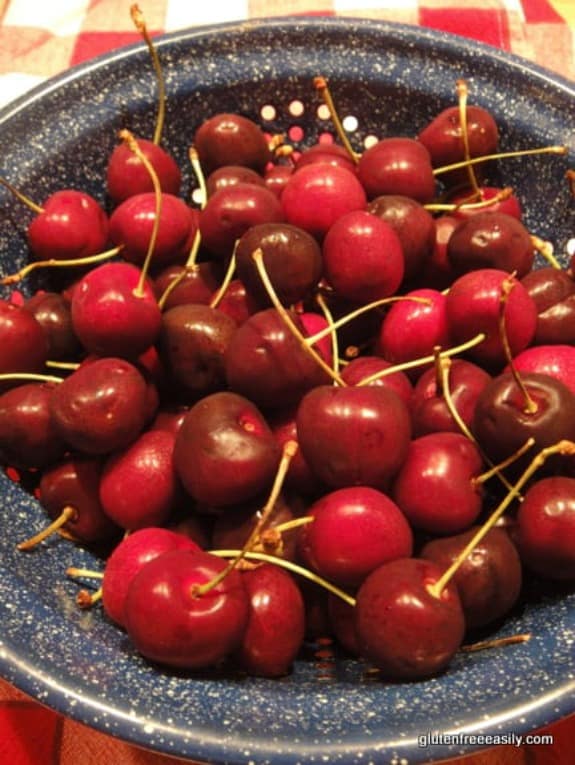 Of course, I made other changes, too. I used olive oil (and a lesser amount of it than the amount of butter that was called for in the original recipe). Coconut oil will also probably work (as noted in the recipe).
Instead of solely using my Two-Ingredient Gluten-Free Flour Mix, I added some millet flour and brown rice flour to the mix. I didn't add any xanthan gum as this was not a cake that I thought would need that extra binding. I was right about that.
In the end, this cake made us very happy. It's sweet enough, but not overly sweet. The natural brown coloring of the coconut sugar, millet flour, and brown rice flour results in a lovely golden brown cake. (If an all-purpose gluten-free flour mix is used, you will most likely end up with more of a "yellow cake" look.)
Oh, and I also added almond liqueur because Chelsey (The Crazy Kitchen) shared in her Dark Cherry Frozen Yogurt post that almond extract will give more of a black cherry flavor. Chelsey said she learned that trick from David Lebovitz. I had no almond extract on hand, but I did find some almond liqueur at the back of our liquor cabinet and it worked just fine!
Overall, we found this gluten-free Cherry Upside Down Cake to be a very nice way to use cherries and enjoy cake at the same time. I also like that you can cut and flip (to expose the cherry base) a piece of this cake easily—without it falling apart—after cooling.
As I have shared with you in the past, Mr. GFE typically prefers pie over cake(the exception would be ice cream cake) but I am happy to report that he happily ate this cake. I guess it was close enough to tasting like a pie with its coconut sugar-cherry base for him!
I asked for his rating of this cake on a scale of 1 to 10 and he gave it an 8. To put that in perspective, he rated my No-Bake Blueberry Honey Pie as a 9.2. The fact that blueberries are his favorite and he loves whipped cream may have been factors. It's tough living with an armchair dessert critic. I'm not sure any of my desserts have ever received a 10 from him, but I'll keep trying!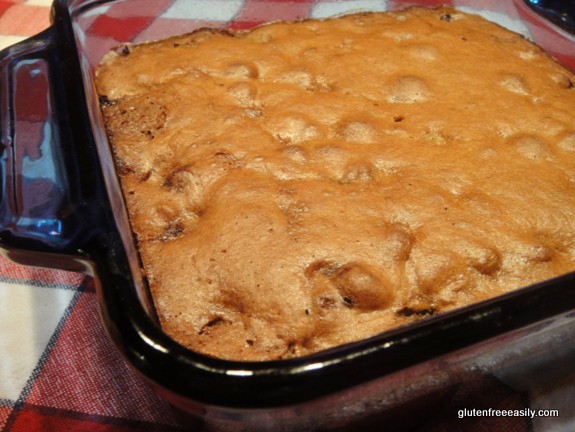 Don't forget my gluten-free Cherry Upside Down Cake … you know you want some. There are cherries at the farmers' markets and in the produce aisle at the grocery store right now. Just sayin'.
Gluten-Free Cherry Upside Down Cake Recipe
Yield: 9 servings
Gluten-Free Cherry Upside Down Cake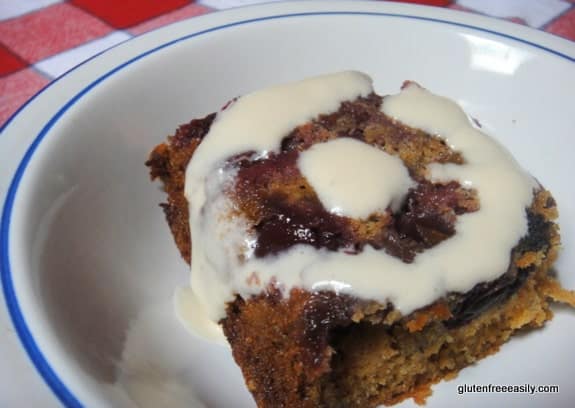 Cherries are worth picking (or picking up at your farmers' market!) when you can turn them into this delicious gluten-free Cherry Upside Down Cake!

Prep Time 5 minutes

Cook Time 30 minutes

Total Time 30 minutes
Ingredients
For cherry base:
2 cups fresh cherries, pitted and halved 
1 tsp orange zest
1 tsp granulated sugar (I used coconut sugar)
Sprinkling of a little pumpkin pie mix or similar combination of spices
For cake batter:
½ cup butter (or coconut oil), or 1/3 cup olive oil 
1/3 heaping cup granulated sugar (I used coconut sugar)
2 eggs
1 cup gluten-free flour mix (I used ½ cup Two-Ingredient Flour Mix, ¼ cup millet flour, and ¼ cup brown rice flour)
½ tsp baking powder
½ tsp baking soda
½ tsp Crème de Noyaux almond liqueur (or almond extract; optional)
Instructions
Preheat oven to 350 degrees Fahrenheit.
Grease 8 x 8 inch baking pan.
Mix cherry base ingredients together and spread on the bottom of pan.
Mix cherry batter together well and spread over cherry base.
Bake about 30 minutes or until fork inserted into cake comes out clean. Cool.
Serve au naturel, top with dairy-free whipped cream (my version), or make a simple sauce for topping (mine was a mix of whipped, slightly "chunky" full-fat coconut milk and coconut sugar---very nice).
Notes
Adapted from Robin Shreeves, Mother Nature Network.

As I've noted before, I can't always tolerate many of the healthier, gluten-free flours; e.g., sorghum, buckwheat. Therefore, my Two-Ingredient Gluten-Free Flour Mix is simply made up of Asian white rice flour (which is very finely ground) and cornstarch. However, I'm sure another mix of other gluten-free flours that one would use in a similar recipe could work as well. And, as always, if you do not need to eat gluten free, traditional all-purpose flour can be used instead.

For pitting my cherries, I used a large paper clip and employed the paper clip pitting method with great success. Who needs a cherry pitter? Okay, maybe if you were pitting tons of them, you might.

By the way, I think this upside-down cake recipe would work for other fruits, too … like blueberries. If choosing super juicy fruit, you may have to adjust the measurements for the dry ingredients used.

Shirley
Not just gf, but gfe!
Originally published July 10, 2010; updated May 17, 2022.