This post may contain affiliate links. If you purchase through them, your cost will stay the same, but gfe will receive a few cents for every dollar spent. Thanks for supporting gfe!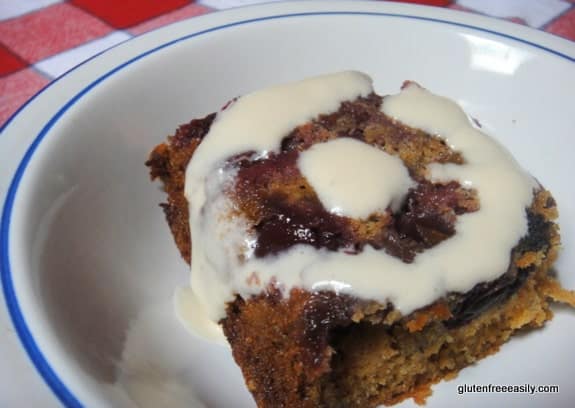 A quick glance at my Mother Nature Network email newsletter the other day revealed a link to Cherry Upside-Down Cake. I clicked the link to Robin Shreeves' recipe before I went any further. After all, Diane's Friday Foodie Fix was focused on cherries. Robin's write-up said that her cake was not that pretty, but the description certainly was and her photo looked fine to me, so I was not deterred.
I'll be honest. I don't make baked goods with fruit that often. They are something that I have been learning to like over the last few years. I'm much more apt to eat raw fruit than baked fruit. So I was amazed that I loved this Easy, "Crustless" Apple Pie when I made it a few years back. Even my Blueberry Honey Pie from the other day was a first for me—an absolute winner, but still, a first. And, now I'm making Cherry Upside-Down Cake, and I like it! But, all that aside, one little tip that's important to know about baking with fruit, especially super tart fruit, is that you don't have to add tons of sugar to the recipe to compensate for the tartness. You can reduce the acidity of a fruit-based recipe by adding baking soda. Yes. Did you know that? Just adding a little baking soda can allow you to cut the sugar–sometimes dramatically. A version with baking soda and less sugar used can end up actually tasting sweeter than one with no baking soda and more sugar. For this recipe, I added baking soda, but just a small amount of baking soda. My reasoning was that  my cherries were sweet versus tart and I was already using coconut sugar, which tastes less sweet in itself than granulated or brown sugar. If you want to make a large cherry cobbler, you may add a full teaapoon of baking soda (or even  1 1/2 teaspoons if you have very tart cherries) and then halve the sugar if you are using granulated sugar, or reduce it slightly for other non-refined sugars. Try it … I think you'll be pleasantly surprised at the results.
Of course, I made other changes, too. I used olive oil (and a lesser amount of it than the amount of butter that was called for in the original recipe). Coconut oil would also probably work  (as noted in the recipe). And, instead of just using solely my usual gluten-free flour mix, I added in some millet flour and brown rice flour to the mix. I didn't add any xanthan gum as this was not a cake that I thought would need that extra binding. In the end, this cake made us very happy. It's sweet enough, but not overly sweet. The natural brown coloring of the coconut sugar, millet flour, and brown rice flour results in a lovely golden brown cake. (If an all-purpose gluten-free flour mix is used, you'll most likely end up with more of a "yellow cake" look. Oh, and I also added almond liqueur because Chelsey (The Crazy Kitchen) shared in her Dark Cherry Frozen Yogurt post that almond extract will give more of a black cherry flavor. (She learned that from David Lebovitz.) I had no almond extract on hand, but I did find the liqueur at the back of our liquor cabinet. Overall, we found this to be a very nice way to use cherries and enjoy cake at the same time. I also like that you can cut and flip (to expose the cherry base) a piece  of this cake easily—without it falling apart—after cooling.
As I told you Mr. GFE adores pies, but he happily ate this cake. I guess it was close enough to a pie with its coconut sugary-cherry base. I asked for his rating of this cake on a scale of 1 to 10 and he gave it an 8. To put that in perspective, the Blueberry Honey Pie rated a 9.2. The fact that blueberries are his favorite and he loves whipped cream may have been factors. It's tough living wth an armchair dessert critic. I'm not sure any of my desserts have ever received a 10 from him, but I'll keep trying!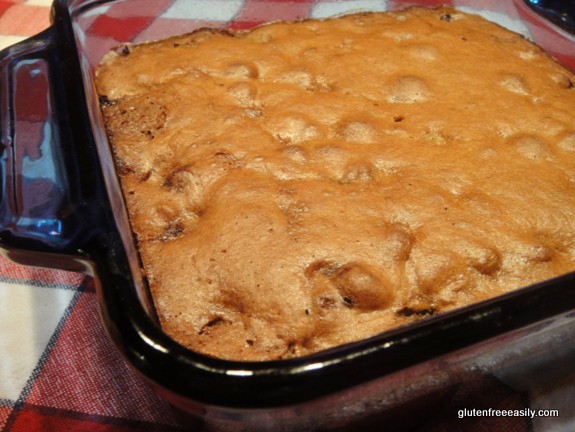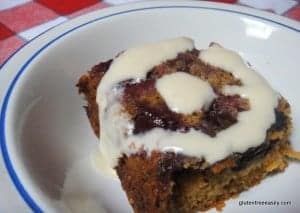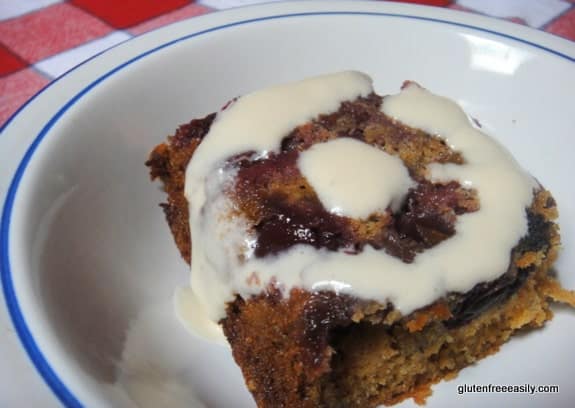 Print
Cherry Upside-Down Cake
Ingredients
For cherry base:
2 cups fresh cherries, pitted and halved (easily done—see that tip from Aubree, or follow this paper-clip pitting method that Chelsey also learned from David Lebovitz)
1 tsp orange zest
1 tsp sugar (I used coconut sugar)
Sprinkling of a little pumpkin pie mix or similar combination of spices
For cake batter:
½ cup butter (or coconut oil), or 1/3 cup olive oil (I used olive oil)
1/3 heaping cup sugar (I used heaping 1/3 cup coconut sugar)
2 eggs
1 cup gluten-free flour mix (I used ½ cup my gluten-free flour mix*, ¼ cup millet flour, and ¼ cup brown rice flour)
½ tsp baking powder
½ tsp baking soda
½ tsp Crème de Noyaux almond liqueur (or almond extract)
Instructions
Preheat oven to 350 degrees Fahrenheit.
Grease 8 x 8 inch pan.
Mix cherry base ingredients together and spread on bottom of pan.
Mix cherry batter together well and spread over cherry base.
Bake about 30 minutes or until fork inserted into cake comes out clean. Cool.
Serve au naturel, top with dairy-free whipped cream (my version or Diane's), or make a simple sauce for topping (mine was a mix of whipped, slightly "chunky" full- fat coconut milk and coconut sugar---very nice).
Notes
*As I've noted before, I can't always tolerate many of the healthier, gluten-free flours; e.g., sorghum, buckwheat. Therefore, my gluten-free flour mix is 3 parts Asian white rice flour (which is very finely ground) and 2 parts cornstarch. I gently mix three one-lb bags of the Asian white rice flour and two one-lb boxes of cornstarch in a very large bowl and then store the mix in several airtight containers. It's a very economical mix that works well in most recipes. No refrigeration is needed. However, I'm sure another mix of other gluten-free flours that one would use in a similar recipe could work as well. And, as always, if you do not need to eat gluten free, traditional all-purpose flour can be used instead.I used a large paper clip and employed the paper clip pitting method with great success. Who needs a cherry pitter? Okay, maybe if you were pitting tons of them, you might. By the way, I think this upside-down cake recipe would work for other fruits, too … like blueberries. If choosing super juicy fruit, you may have to adjust the amount of dry ingredients used.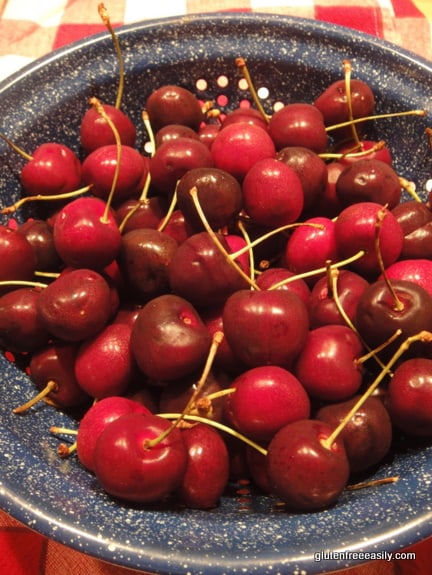 The Grab Bag Part (long, but worth it!) …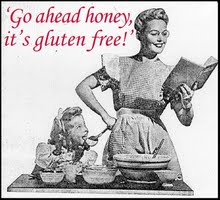 Did you see Zoe's roundup of the Cream of the Crop: Dairy-Free Delights for Go Ahead Honey, It's Gluten Free? It's been posted for a while now, but definitely worth a look! Incidentally, next month's host is Sheryl (Breaking Bread) with Ooh La La Bastille Day as the theme. Yes, French-themed recipes. See more specifics on the roundup and meet Sheryl here. Allons enfants de la Patrie … some things one never forgets from high school days and, specifically, French class.
Did you read this article on Lauren, our lovely Celiac Teen? I think the author did a really great job of capturing Lauren's character and talents. It's always wonderful when that happens, and it's so nice to see Lauren get such well-deserved accolades!
Have you been following Wendy's (Celiacs in the House) new 30 Days to 50 series? She's committed to getting as healthy as possible before she turns 50. I think most of us can identify with her passion to get healthier. Going gluten free can mean a huge improvement in health, but it's not necessarily a quick fix for all that ails us—especially when one has gone undiagnosed for a long time as Wendy did. I could also relate to Wendy's personal story on taking excellent care of her children, but not always herself. Wendy has called in some of the best gluten-free bloggers for this series—ones who have expertise in the areas of health, nutrition, and exercise. Incidentally, Wendy states that she doesn't believe in "bland and boring" or "pain and deprivation." I really like that philosophy, and I'll be following her series. You can read her initial posts here and here.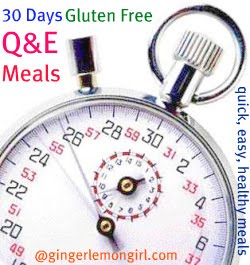 Carrie's (Ginger Lemon Girl) got the complete listing of her 30 Days of Gluten-Free Quick and Easy Meals up. Wow! This is a page you'll want to return to again and again, folks. Every meal can be made in 20 minutes or less! All meals are gluten free, but they also run the gamut of other needs, too. So many of them naturally meet one's specific needs–love that! I know I'll be referring to this listing whenever I personally need a quick, delicious meal idea.
Quorn … have you heard of it? It's a mycoprotein food product used as a meat substitute. Quorn refers to the brand as well as its products. You can read more about Quorn (from Wikipedia) here if you like, but of course, gluten-free readers are more interested in the gluten-free status of  Quorn products. While the company does not bill itself or its products as gluten free, some of its products have been erroneously promoted as such on the interwebs. After her daughter's violent reaction to a Quorn product, Kelly (The Spunky Coconut) contacted Quorn. In response, the company stated that the product her daughter had eaten does contain gluten even though it is not indicated on the label. Of course, this issue is a very serious one. Read Kelly's post with the company's statement here. Of course, Kelly is pursuing this issue with the appropriate folks, but please spread the word!
Recipe love … do you have an overload of veggies and/or fruit from your CSA or garden? Here are some mouth-watering ideas from several of my absolutely favorite gluten-free bloggers:
Melissa's Spinach Beet Zucchini Pizza (go look at Melissa's photo before you shake your head—I think you'll be surprised!)
Alta's Ratatouille (ratatouille is so much more than an animated movie)
Ali's Strawberry Hazelnut Shortcakes (just the name has one over the moon)
Karen's Apricot Blueberry Clafouti (I love even saying clafouti and I just saw some gorgeous apricots at the store)
Amy's Berry Lemonade Green Smoothie (Refreshing, delicious, and healthy. Incidentally, Amy is also giving away a copy of the much raved over The Ice Dream Cookbook; giveaway ends tomorrow, Sunday, July 11. Read her review and enter here.)
Aubree's Sweet and Spicy Cherry Salsa (you've had peach salsa, you've had mango salsa, you've had peach-mango salsa, but have you had cherry? I'm making this tomorrow for my support group's cookout/picnic!)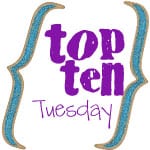 Speaking of Aubree, if you find yourself wanting the best recipes in the blogosphere, but are pressed for time in your reading of blogs and cookbooks (I hear you, dear), no worries … Aubree is doing it for you! Each week on Tuesday, she features her Top 10 choices from her blog reading of the previous week. I'm so honored that she's actually chosen a few of my recipes over the last several weeks! Check out Aubree's latest roundup here.
And, finally, next weekend is my birthday! Yep, the Beatles tune, Birthday, is playing in my head already. (I like this YouTube "video" because of the Beatle photos shared. And, for the record, I did watch the Beatles on televsion when they first appeared live on The Ed Sullivan Show in 1964! I was very young, but I still remember.) Sadly, I won't be attending the amazing Gluten-Free Gourmet Getaway that is being hosted by Good Commons, but if you are interested in a gluten-free getaway, discounts are available to my readers via this link. What I love on my birthday—more than anything in the world—is celebrating with friends and family. I consider my gfe readers to be both, so look for an extra special week of information and giveaways—-all gfe style, of course!
Don't forget the Cherry Upside-Down Cake … you know you want some. There are cherries at the farmers' markets and in the produce aisle at the grocery store right now. Just sayin'.