For affiliate links and as an Amazon Associate I earn from qualifying purchases.
One of the most popular spots in our area is Carl's Frozen Custard. Carl's is a family-owned ice cream "mecca." It's famous for its cones, sundaes (like Maple-Nut Ice Cream Sundae and Hot Fudge Ice Cream Sundae)–with dry nuts or wet nuts, shakes, malts, and slushies.
Carl's has been in business since 1947 and still uses its original 1940s Electro-Freeze ice cream machine. Housed in an Art Deco-style building, Carl's has colorful neon illumination, including a giant cone. This iconic location has been captured in paintings, on t-shirts, and more.
As far back as I can remember, my family and friends would go to Carl's. Carl's frozen custard has been on my mind lately because it opened for the season a week ago.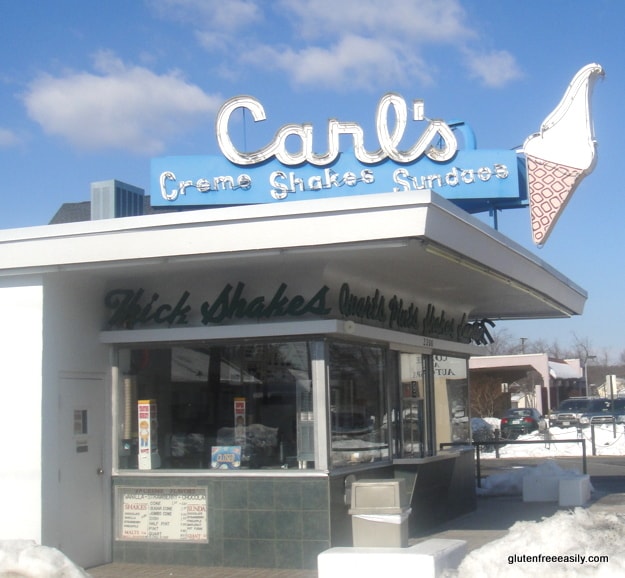 I don't remember a time when we didn't go to Carl's as a special treat. We lived a half-hour away and we didn't eat out all that often when I was growing up, so we didn't visit frequently.
Now I still live a half-hour away—just in another direction—so we still do not visit frequently. That makes any visit to Carl's a very special occasion.
However, there was a period of time (part of college and a few years afterwards) when I lived just a mile or two away from Carl's. In college, I even devised a Carl's diet.
Yes, I'll admit it. I'd go to Carl's when it opened at 11:00 am, get a small chocolate shake, inhale it, and then not ingest anything until I ate a small dinner. Oh, I did lose weight, but it was one of several foolhardy dieting strategies of youth and was soon abandoned. (Melissa's recent post on her fabulous Montana Cookies mentioned The Hollywood Cookie Diet, which reminded me of my short-lived Carl's Diet.)
Because Carl's is not open year round, we tend to go immediately when it opens for the season, stop a few times during the summer, and then stop by right before it closes in November. There are always a line of folks waiting (except when it's closed as shown in my photo).
Often it's a very long line, but the staff is the picture of efficiency, taking no time to exchange pleasantries. Non-locals are often amazed at how short the wait can be.
My favorites at Carl's have changed over time. There was a period of time where I went for a simple vanilla or chocolate sugar cone.
Then, I became somewhat addicted to the maple-nut sundaes. Imagine vanilla frozen custard covered with a gooey mixture of maple syrup and walnuts. That sundae was way too sweet, but hard to resist at the time.
When I became a teenager, hot fudge sundaes with nuts were my order. However, as I became more mobile, sitting to eat a sundae did not seem practical, so I moved on to chocolate shakes.
Then one day, Mr. GFE and I were both in line and we heard the person in front of us order a hot fudge shake. Hot fudge shake?!! We both looked at each other with raised eyebrows and when the cashier/server looked at me for my order, the words, "hot fudge shake" came out.
Mr. GFE ordered the same and we've never looked back. There's nothing mysterious about this treat. They simply add a squirt or two of hot fudge to the chocolate milkshake before completing the mechanical stirring action.
The flavor is fabulous. We both agree that we could never go back to a regular chocolate shake again.
Yes, the hot fudge shake is definitely our choice these days. But, when I saw Diane's secret ingredient was agave, Carl's maple-nut sundae came to mind.
I found a maple-walnut syrup recipe at Recipezaar.com that sounded similar to what I wanted. However, it contained corn syrup, maple syrup, and granulated sugar.
I omitted the corn syrup, omitted the granulated sugar, and added a small amount of agave—all of which increased the ratio of walnuts to syrup.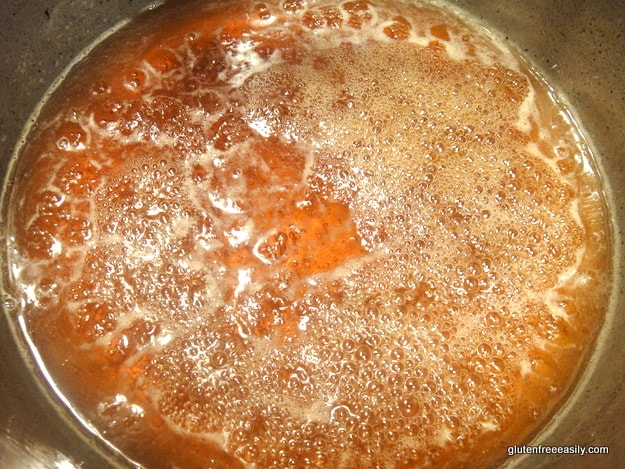 In the end, the taste and consistency of the maple-nut syrup I made using agave, maple syrup, and water was just right—plenty sweet, but not too sweet, with softened walnuts hunks, and, of course, no refined sugar. When the maple-nut syrup was finished cooking, the vanilla ice cream was also ready.
I waited for the maple-nut syrup to cool just a tad before ladling some over the ice cream. The resulting maple-nut sundae was incredibly good.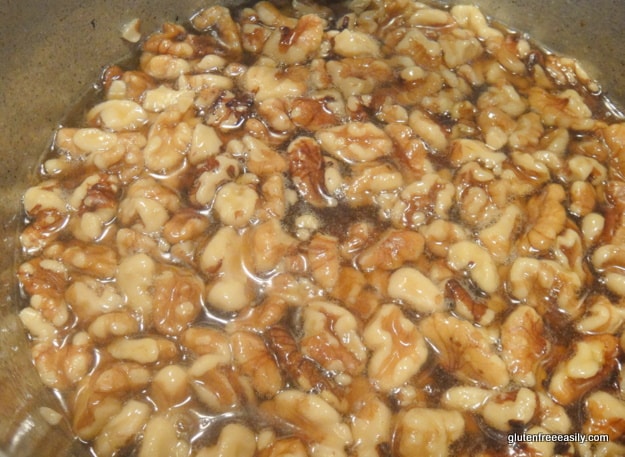 Then my immediate concern became the fact that I was home alone with enough ice cream and maple-nut syrup to make several sundaes. Miraculously, Son and a buddy of his showed up … whewww, that was close!
I fed them lunch and then served their sundaes. Son raved over his sundae, especially how good the walnuts tasted. That's saying a lot because he typically does not like nuts in his dishes.
This sundae is gluten free, dairy free, refined sugar free, egg free, soy free, and probably "more free," but it still tastes of indulgence.
Maple-Nut Ice Cream Sundae Recipe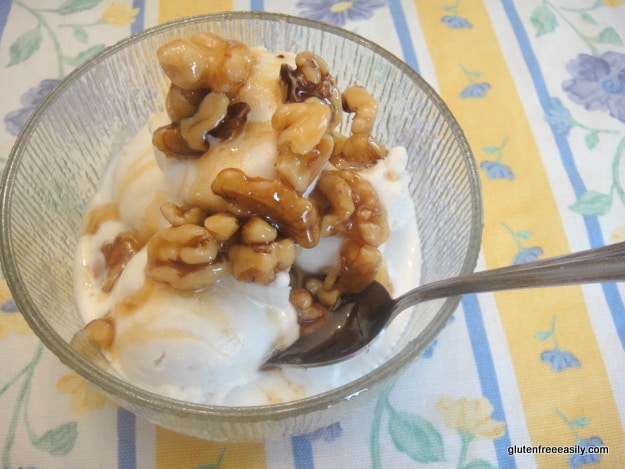 Yield: Enough syrup for four to six sundaes (depending on their size)
Maple-Nut Ice Cream Sundae
This Maple-Nut Ice Cream Sundae is really every bit as good as the one you can get at the famous Carl's Frozen Custard!
Ingredients
Vanilla Ice Cream
1/3 cup agave nectar or honey
3 cups full-fat coconut milk, chilled (2 cans)
1 ½ - 2 tsp vanilla extract (I used my homemade vanilla extract)
some scraping from inside one vanilla bean (optional, to taste)
Maple-Nut Syrup
1/2 cup agave nectar (or honey)
1 cup maple syrup
½ cup water
2 cups coarsely chopped walnuts (or walnut halves)
Instructions
Vanilla Ice Cream Instructions
Mix all together in bowl with mixer or in blender.
Add to ice cream maker and churn 20 to 30 minutes.
Chill in freezer after churning if needed.
Scoop and top with maple-nut syrup (recipe below).
Maple-Nut Syrup Instructions
Combine agave nectar, maple syrup, and water in sauce pan.
Bring to a boil slowly, stirring occasionally.
Reduce heat and simmer until syrup thickens, about 15 minutes.
Stir in walnuts; simmer about 5 minutes more. Mixture will thicken upon standing.
Cool enough to serve warm (but not hot) over ice cream or refrigerate and serve later.
Notes
I used a very heavy pan that was much larger than needed so I would not have to worry about stirring constantly to keep the mixture from burning.
I loved the process. As the mixture simmered and bubbled, it put on quite a show as you can see from the photo above.
The syrup will "harden" quite a bit in the refrigerator. Therefore, reheating or at least allowing syrup to return to room temperature may be necessary if it has been chilled for a long period of time.
While agave nectar results in a syrup that's closer in flavor to the orginal Carl's maple-nut syrup, honey will also work.
It might be Friday, but it's Sundae time … Maple-Nut Ice Cream Sundae time! Enjoy!
Originally published February 19, 2010, updated June 21, 2021.