For affiliate links and as an Amazon Associate I earn from qualifying purchases.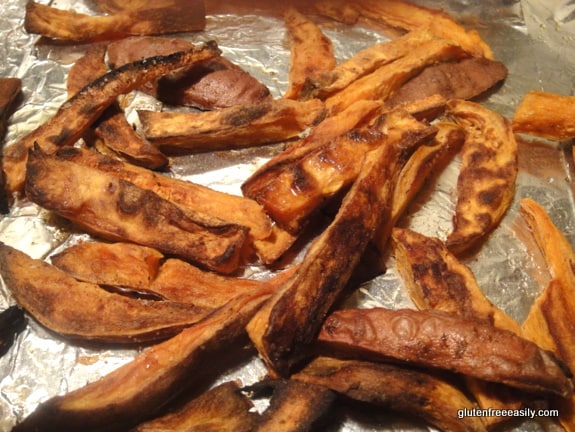 This post is linked to Slightly Indulgent Tuesdays, Gluten-Free Wednesdays, Wheatless Wednesday, and Simply Hot Recipes.
As most of you know, I love participating in the Adopt a Gluten-Free Blogger events! Started by Sea (Book of Yum) a few years back, these events are a wonderful way to connect with other bloggers, share what's on their blog, and actually make their recipes that you've already shared on Facebook, tweeted about, or just plain drooled over.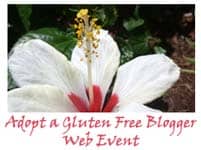 I adopted Jenny of Creative Cooking Gluten Free. I'm fairly certain that I met Jenny  on Twitter. However, I didn't really start to get to know Jenny until she won the giveaway for my gfe consultation. This was a fairly wide open offering ("let me tell you all about the gfe approach and how to adapt it to your needs!"). Jenny and I exchanged emails and she said she really wanted to learn more about mixing flours and which ones to use for which recipes. My heart sank. Working with many gluten-free flours is neither my gfe approach nor my personal strength. Don't get me wrong … it's admirable when skilled when gluten-free bloggers use a lot of amazing gluten-free flours and know exactly which weight flours work well with different recipes; it's just not my thing. I told Jenny there are folks like Amy (Simply Sugar & Gluten-Free) with her amazing flour tutorial series or Jenn (Jenn Cuisine) with her ongoing Gluten-Free Substitutions series—both of whom excel in this arena. I even offered to see if I could work out something with one of the gluten-free flour experts to work with her instead of me, but Jenny was a good sport and said she'd stick with me. Due to personal commitments on each side and, well, "life," we haven't yet had our gfe consultation via Skype, but we will after I return from BlogHer Food.
Of course, when I found out that a gluten-free blogger won my consultation, I immediately checked out her blog. As soon as I did, I told Jenny very honestly that I was happy to help, but flours aside I didn't think she needed me at all. If you take a look, you'll see what I mean. Jenny shares so many appealing dishes and she's already following a gfe-type approach—mostly using real food to make naturally gluten-free recipes, using some mainstream processed foods occasionally, and using a handful of gluten-free specialty products. There's not a single recipe on her site that I don't want to try! Many I have, in fact, drooled over. I had great plans to make a few of them, but then illness prevailed this past week. So while the chicken got thawed out for her Sweet and Spicy Chicken dish, sadly, it's still waiting for its rebirth as Jenny's takeoff on P.F. Chang's Spicy Chicken dish. I'm truly hoping that will happen this evening. When I do make this recipe, I will update this post to include that info and photos.
Yes, Jenny likes recreating P.F. Chang's dishes and I'm all for that as much of their gluten-free menu is fabulous. But I've eaten at P.F. Chang's a total of two times now, because the one closest to me is 90 minutes away. However, a dish that I had not noticed on the menu at P.F. Chang's is Shanghai Cucumbers. Now I have to try these cucumbers after seeing them on Jenny's blog . P.F. Chang's shared two of their recipes with the public for Celiac Awareness Day last month. Somehow I missed them, but thankfully, Jenny did not. She snared the recipes for Mongolian Beef and Shanghai Cucumbers. I have made braised cucumbers before … after seeing Julia and Julia and reading those were a Julia Child favorite. I enjoyed them, but the Shanghai Cucumbers look and sound much tastier—with gluten-free soy sauce, white vinegar, sesame oil, and toasted sesame seeds in the recipe. I plan to make them as a side dish soon.
What else am I eyeing over at Jenny's blog? Well, there's here Egg Drop Soup. That's a soup that I love and I have the perfect little spoon from the Polish Potter in Pike Place Market to savor it with now. Jenny uses snow peas in her recipes, a very nice addition in my opinion.  
There are Lemon Squares. Okay, I did attempt to make this recipe yesterday morning, but I found out that coconut oil and date sugar do not work in place of the butter and confectioner's sugar, respectively. Therefore, I didn't truly make Jenny's recipe. I made a "lark" of an adaptation. Sometimes larks work; sometimes they don't. I'm anxious to try that recipe again with better planning and reasonable substitutions. (Just in case you're a lemon lover, Iris (The Daily Dietribe) is challenging all to make classic lemon squares—gluten free, dairy free, and refined sugar free. Read more here.)
There's Apple Crisp. Who doesn't love a good apple crisp? Especially this time of year! Jenny has two versions, one made with almond flour and the other made with gluten-free flour and oats. Both look scrumptious to me!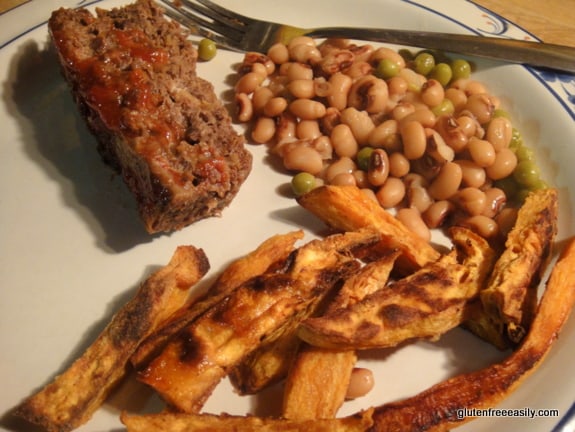 What DID I make? Well, obviously you know from my post title and photos, but first, let me just say that things have a way of working out. I've enjoyed sweet potato fries a few times while eating out at healthier restaurants, but I've never made my own. I've always thought about making them, but Mr. GFE doesn't like sweet potatoes (unless I use them in a crustless pie—I just substitute mashed sweet potatoes for pumpkin), so usually I get my sweet potato fix with a baked sweet potato for me and a baked russet for him. I would not have chosen to make these fries if I had not been put off schedule by illness a few days earlier. But I needed to make one of Jenny's recipes and I had several sweet potatoes in the pantry. So I made Jenny's oven-baked, simple Sweet Potato Fries. That was the right choice! They were very easy to make and absolutely delicious. Tossed with just a little olive oil and seasoning before baking, these Sweet Potato Fries are also very healthy. (I made most of them exactly per Jenny's directions, but added Old Bay seasoning to some—yum!) These fries made a perfect, colorful side dish for our Tasty Meat Loaf and black-eyed peas last night. (The meat loaf had been planned for a few days earlier with the meat already thawed, so I had to make that even though the Sweet and Spicy chicken was calling.) Well, I should say my side dish. Mr. GFE has never liked sweet potatoes. No worries. I enjoyed the fries he passed on last night as part of my lunch today. Things do indeed work out!
By the way, Jenny participated in the adoption event this month, too. She adopted our own "Glutadoodle," Heidi of the Adventures of a Gluten-Free Mom. Jenny did a terrific job making a few of Heidi's many amazing recipes and also capturing Heidi's positive and giving spirit! You can read her post here.
Last, but not least, I have to get in something about Jenny, herself, and her personal story. On Twitter and Facebook, Jenny is a very supportive, enthusiastic friend to all … whether the subject is food or just life. That says a lot to me and I truly appreciate our virtual friendship. Of course, like most of us, Jenny has a personal story. The personal stories are truly what drive us all to be either gluten-free bloggers or readers. Plus, as I've stated before, it's the personal stories that are helping folks "see the light" … realize that they might have celiac or non-celiac gluten issues and seek testing and embark on a gluten-free lifestyle. You can read Jenny's story on her About page and in her recent My Journey post. While you are there, just click on over to her Recipes page, too! Enjoy!